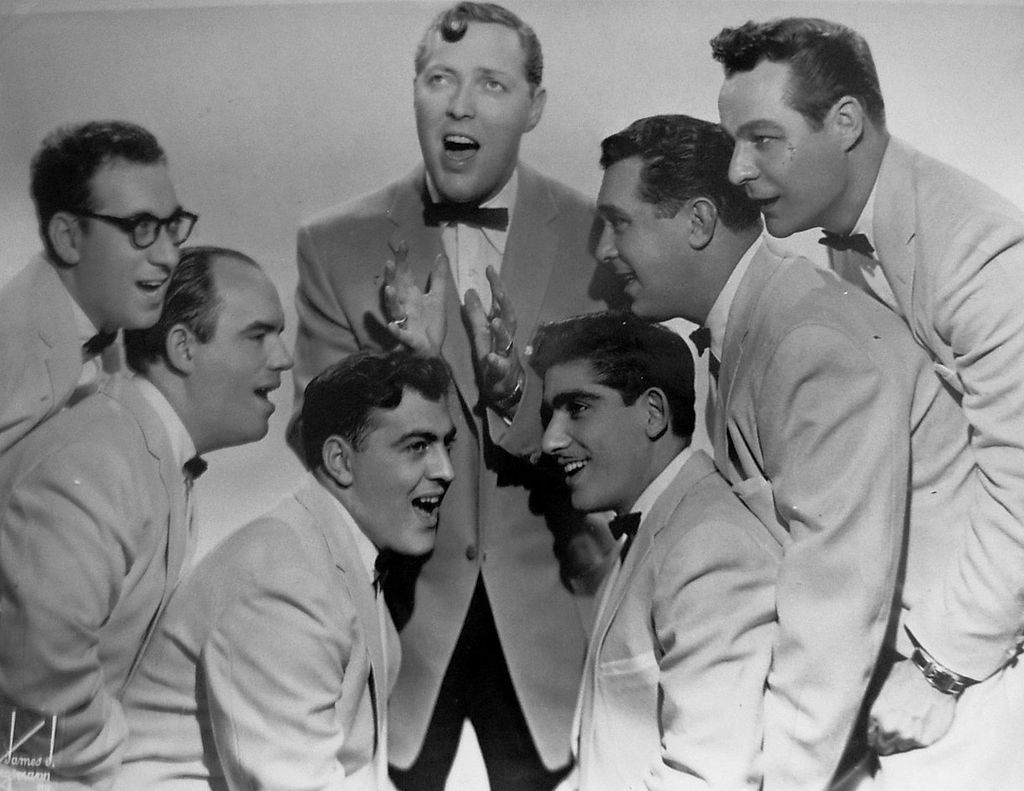 FROM WIKIPEDIA COMMONS
Bill Haley & His Comets were an American rock and roll band, founded in 1952 and continued until Haley's death in 1981. The band was also known as Bill Haley and the Comets and Bill Haley's Comets (and variations thereof). From late 1954 to late 1956, the group placed nine singles in the top 20, one of those a number one and three more in the top ten. The single "Rock Around the Clock" became the biggest selling rock and roll single in the history of the genre and retained that position for some years.[1]
Bandleader Bill Haley had previously been a country music performer; after recording a country and western-styled version of Jackie Brenston and his Delta Cats "Rocket 88", a rhythm and blues song, he changed musical direction to a new sound which came to be called rock and roll.
Though the group was considered to be at the forefront of rock and roll during the genre's formative years, the arrival of more risqué acts such as Elvis Presley and Little Richard by 1956 led the more clean-cut Haley and his Comets to decline in popularity. Haley would remain popular in Europe and go on to have a comeback as a nostalgia act in the 1970s, along with many of his contemporaries. Following Haley's death, no fewer than seven different groups have existed under the Comets name, all claiming (with varying degrees of authority) to be the continuation of Haley's group. As of the end of 2014, four such groups were still performing in the United States and internationally.
TODAY'S ALMANAC
Question of the Day
How do I keep rabbits from eating my flowers?
Try one of the following methods: (1) Dust the flowers with sulfur. (2) Sprinkle them with red pepper. (3) Spray them with a mixture of 1 teaspoon Lysol and 1 gallon water. (4) Spray them with a mixture of 1 ounce tartar emetic, 3 ounces sugar, and 1 gallon water. (5) Get a cat or a dog!
Advice of the Day
Few people know how to be old. —La Rochefoucauld
Home Hint of the Day
To clean metals (other than aluminum) before painting, wipe the metal with turpentine or paint thinner. Apply a metal primer, then a finish coat of good metal paint.
Word of the Day
Scoleciphobia
Fear of worms
Puzzle of the Day
Six-eighths of a discoverer, a preposition, and a vowel. (Use these clues to find the three "words" that, when combined, form the name of a flower.)
Answer: Columbine
Died
Henry Clay (politician) – 1852
Peter Jones (first native Methodist missionary to Ojibwa) – 1856
Elizabeth Barrett Browning (poet) – 1861
Fatty Arbuckle (actor) – 1933
Jayne Mansfield (actress) – 1967
Lana Turner (actress) – 1995
Rosemary Clooney (singer) – 2002
Katharine Hepburn (actress) – 2003
Joel Siegel (film critic) – 2007
Born
Dr. William Mayo (surgeon and founder of the Mayo Clinic) – 1861
Frank Loesser (composer) – 1910
Slim Pickens (actor) – 1919
Harmon Killebrew (baseball player) – 1936
Gary Busey (actor) – 1944
Richard Lewis (comedian & actor) – 1947
Leslie Browne (ballerina) – 1957
Kimberlin Brown (actress) – 1961
Martin Truex Jr. (race car driver) – 1980
Events
Townshend Revenue Acts passed by British parliament, establishing duties on tea, glass, paint, oil, lead, and paper imported into American colonies– 1767
San Francisco was founded– 1776
Last stone placed for second lighthouse to be built at Minot's Ledge, Massachusetts– 1860
Mesa Verde National Park in Colorado, containing prehistoric cliff dwellings, established by an act of Congress– 1906
Bill Haley and His Comets reached the top of the pop music charts with Rock Around the Clock""– 1955
The Rooms cultural facility opened in St. John's in Newfoundland and Labrador– 2005
Weather
Lake Havasu City, Arizona, had a temperature of 128 degrees F– 1905
Residents in Monticello, Florida, sweltered in record-breaking 109F heat.– 1931
Hurricane Alice dumped 27 inches of rain on the lower Rio Grande Valley in Texas– 1954
The Livingston (Alberta) Ranger Station received 44 inches of snow, making the record for the largest summer snowfall recorded in Canada– 1963
COURTESY www.almanac.com