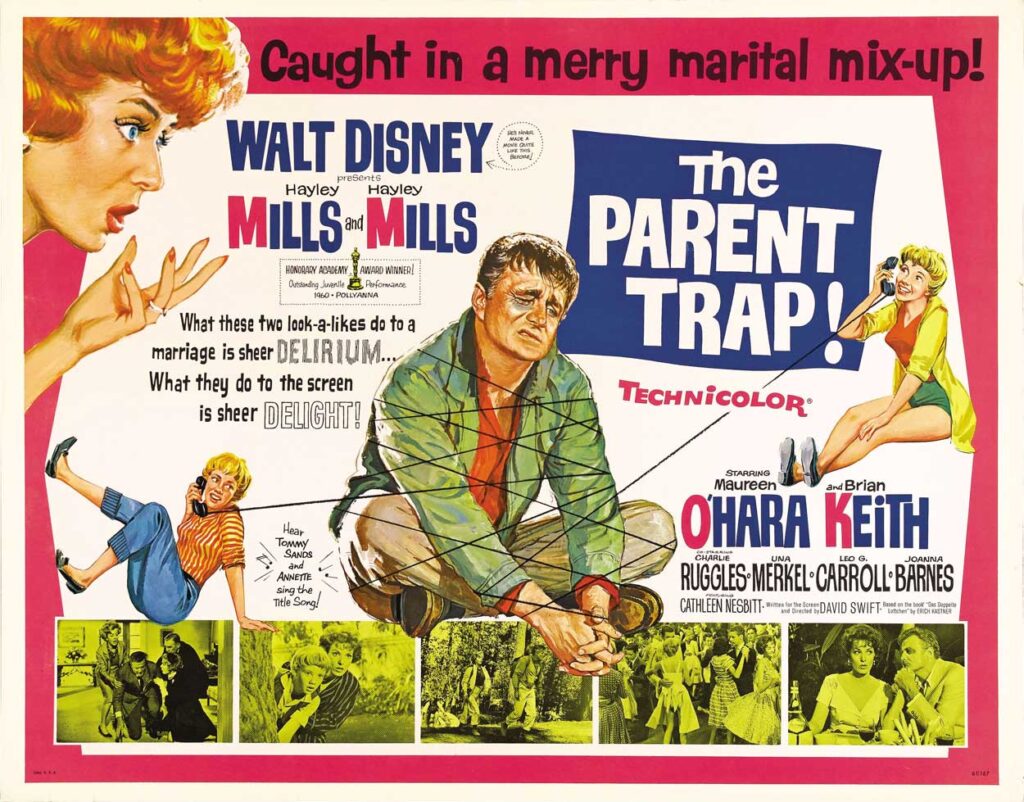 FROM WIKIPEDIA COMMONS
The Parent Trap is a 1961 American romantic comedy film written and directed by David Swift. It stars Hayley Mills (in a dual role), Maureen O'Hara, and Brian Keith. Based upon the 1949 book Lisa and Lottie (German: Das Doppelte Lottchen) by Erich Kästner,[4] The Parent Trap follows two teenage twins on a quest to reunite their divorced parents.
Produced by Walt Disney Productions, The Parent Trap was released on June 21, 1961 by Buena Vista Distribution, and grossed $25.1 million at the box office. It was nominated for two Academy Awards, was broadcast on television, saw three television sequels, was remade in 1998 with Lindsay Lohan, and has been released on digital stereo LaserDisc format in 1986 as well as VHS and DVD in 2002. The Parent Trap was Hayley Mills's second of six films for Disney.
TODAY'S ALMANAC
On National Indigenous Peoples Day (formerly named National Aboriginal Day), Canadians recognize the contributions of the First Nations, Métis, and Inuit peoples. The holiday is observed on June 21 each year because this date often coincides with the summer solstice, when many indigenous peoples celebrate their culture and heritage.
The summer solstice heralds the beginning of summer. The timing of the solstice depends on when the Sun reaches its farthest point north of the equator. The word solstice is from the Latin solstitium, from sol (sun) and stitium (to stop), reflecting the fact that the Sun appears to stop at this time (and again at the winter solstice). In temperate regions, we notice that the Sun is higher in the sky throughout the day, and its rays strike Earth at a more direct angle, causing the efficient warming we call summer. In the winter, just the opposite occurs: The Sun is at its southernmost point and is low in the sky. Its rays hit the Northern Hemisphere at an oblique angle, creating the feeble winter sunlight.
Question of the Day
How can I remove a photograph that is partially stuck to the glass of a picture frame without ruining the photo?
Try wiping it very gently with a slightly dampened cotton cloth. When the photo has absorbed some of the moisture, pull it gently or scrape under it gently with a thin, flat-edged tool. Remove the photo very carefully. The key here is very little, but just enough, water.
Advice of the Day
Don't brew beer while beans blossom.
Home Hint of the Day
Fresh grass clippings make excellent garden mulch. Spread the clippings so they're about 1 inch thick, but don't bunch them too heavily around young plants, as the grass can burn tender stalks.
Word of the Day
Batonophobia
Fear of plants
Puzzle of the Day
No more stars (Change these words into a single word.)
Astronomers
Died
King Edward III of England – 1377
Carroll O'Connor (actor) – 2001
Kermit Love (costume designer) – 2008
Charles Krauthammer (Pulitzer Prize-winning columnist) – 2018
Born
Charles Bowers Momsen (American vice admiral, inventor) – 1896
Jean-Paul Sartre (writer & philosopher) – 1905
Jane Russell (actress) – 1921
Judy Holliday (actress) – 1921
Maureen Stapleton (actress) – 1925
Doug Savant (actor) – 1964
Prince William of Wales (oldest son of Prince Charles and Princess Diana) – 1982
Events
John Archer became first to receive Bachelor of Medicine degree in U.S.– 1768
New Hampshire ratified the Constitution and was admitted as the 9th state– 1788
Cyrus H. McCormick was awarded a U.S. patent for a reaper– 1834
The ferris wheel debuted at the World's Columbian Exposition in Chicago– 1893
France surrendered to Germany (WW II)– 1940
Richard M. Nixon married Thelma Catherine Pat" Ryan"– 1940
Sesquicentennial U.S. postage stamp The Old Man of the Mountains" debuted"– 1955
First 999 emergency phone service in North America began, in Winnipeg, Manitoba– 1959
The original Walt Disney movie The Parent Trap debuted– 1961
Jim Bunning of the Philadelphia Phillies pitched a perfect baseball game– 1964
The first amendment to Canada's Constitution Act of 1982, which guaranteed the constitutional rights of Indians and Inuits, took effect– 1984
SpaceShipOne left the Earth behind and made its indelible entry in the history books as the first private spacecraft to carry humans into space– 2004
A 25-foot-tall, 17.5-ton treat of frozen Snapple juice melted, flooding Union Square in downtown Manhattan with kiwi-strawberry-flavored fluid– 2005
Tallest structure built with LEGOS (114 feet 11 inches) set Guinness World Record, Milan, Italy– 2015
Weather
The Apalachicola-Tallahassee area of Florida was hit by an early-season hurricane– 1886
Fifteen inches of snow was reported at the summit of Mount Evans in Colorado– 1989
Typhoon Fengshen, with winds of up to 121 miles per hour, struck the central and northern Philippines– 2008
Washington, D.C., had a record high temperature of 99 degrees Fahrenheit– 2012
Boston, Massachusetts, had a record high temperature of 96 degrees Fahrenheit– 2012
COURTESY www.almanac.com