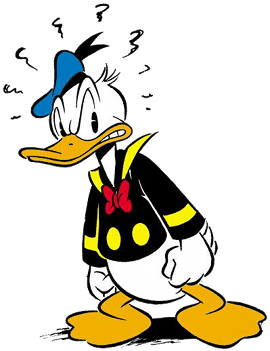 FROM WIKIPEDIA COMMONS
Donald Fauntleroy Duck is a cartoon character created by The Walt Disney Company. Donald is an anthropomorphic white duck with a yellow-orange bill, legs, and feet. He typically wears a sailor shirt and cap with a bow tie. Donald is known for his semi-intelligible speech and his mischievous, temperamental, and pompous personality. Along with his friend Mickey Mouse, Donald was included in TV Guide's list of the 50 greatest cartoon characters of all time in 2002, and has earned a star on the Hollywood Walk of Fame. He has appeared in more films than any other Disney character, and is the most published comic book character in the world outside of the superhero genre.
Donald Duck appeared in comedic roles in animated cartoons. Donald's first theatrical appearance was in The Wise Little Hen (1934), but it was his second appearance in Orphan's Benefit that same year that introduced him as a temperamental comic foil to Mickey Mouse. Throughout the next two decades, Donald appeared in over 150 theatrical films, several of which were recognized at the Academy Awards. In the 1930s, he typically appeared as part of a comic trio with Mickey and Goofy and was given his own film series starting with Don Donald (1937). These films introduced Donald's love interest and permanent girlfriend Daisy Duck and often included his three nephews Huey, Dewey, and Louie. After the film Chips Ahoy (1956), Donald appeared primarily in educational films before eventually returning to theatrical animation in Mickey's Christmas Carol (1983). His last appearance in a theatrical film was in Fantasia 2000 (1999). However, since then Donald has appeared in direct-to-video features such as Mickey, Donald, Goofy: The Three Musketeers (2004), television series such as Mickey Mouse Clubhouse (2006–2016), and video games such as QuackShot (1991).
In addition to animation, Donald is well known worldwide for his appearances in comics. Donald was most famously drawn by Al Taliaferro, Carl Barks, and Don Rosa. Barks, in particular, is credited for greatly expanding the "Donald Duck universe", the world in which Donald lives, and creating many additional characters such as Donald's rich uncle Scrooge McDuck. Donald has been a popular character in Europe, particularly in Nordic countries where his weekly magazine Donald Duck & Co [no] was the comics publication with the highest circulation from the 1950s to 2009. In Italy, Donald is a major character in many comics, including a juvenile version named Paperino Paperotto, and a superhero alter ego known as Paperinik (Duck Avenger in the US and Superduck in the UK).
TODAY'S ALMANAC
Question of the Day
What is root beer, and who created it?
Root beer was popularized in Philadelphia by a druggist named Charles Hires, who adapted an herbal tea recipe to make it. The drink was promoted heavily at the U.S. Centennial Exposition in 1876.
Advice of the Day
Stubborn handkerchief stains come clean if soaked for half an hour in salt water before washing in hot water.
Home Hint of the Day
To correct a cupped board, lay the concave side down in wet grass, in a sunny spot. The sun hitting the convex surface will contract that side faster than the wet side. Watch the board closely; it could take 4 hours or as long as 4 days to undo the cupping.
Word of the Day
Ancraophobia
Fear of wind
Puzzle of the Day
The most religious state in the United States. (Abbreviation of a U.S. state)
Mass
Born
Peter the Great (emperor of Russia) – 1672
Cole Porter (composer & lyricist) – 1891
Donald Duck (cartoon character) – 1934
Patricia Cornwell (author) – 1956
Michael J. Fox (actor) – 1961
Johnny Depp (actor) – 1963
Tedy Bruschi (football player) – 1973
Natalie Portman (actress) – 1981
Laurie Hernandez (Olympic gymnast) – 2000
Died
Charles Dickens (author) – 1870
Roosevelt Brown (football player) – 2004
Richard Eberhart (Pulitzer Prize-winning poet) – 2005
Adam West (actor) – 2017
Events
Jacques Cartier became the first European to discover the St. Lawrence River– 1534
Church of England fully adopted Book of Common Prayer– 1549
The first copyright for a book was given to The Philadelphia Spelling Book by John Barry– 1790
Irish-born British private Timothy O'Hea put out a fire in a gunpowder-loaded railcar in Danville, Quebec. The train had also been carrying hundreds of German immigrants who were locked in their cars. O'Hea was later awarded the Victoria Cross for his courage.– 1866
First degree earned via radio given to Clifford Lideen by University of Iowa– 1925
Donald Duck made his debut in the cartoon The Wise Little Hen""– 1934
Secretariat won the Triple Crown– 1973
Deanna Brasseur and Jane Foster became Canada's first female CF-18 jet fighter pilots– 1989
Weather
Worst tornado in New England history in Worcester County, MA – 90 people killed, $60 million in damages. Also a tornado in Exeter, NH, injured 5– 1953
Deadly tornado struck Worcester County, Massachusetts– 1953
Eastern Florida was hit by Hurricane Alma, the earliest hurricane landfall on the U.S. continent since 1825– 1966
COURTESY www.almanac.com