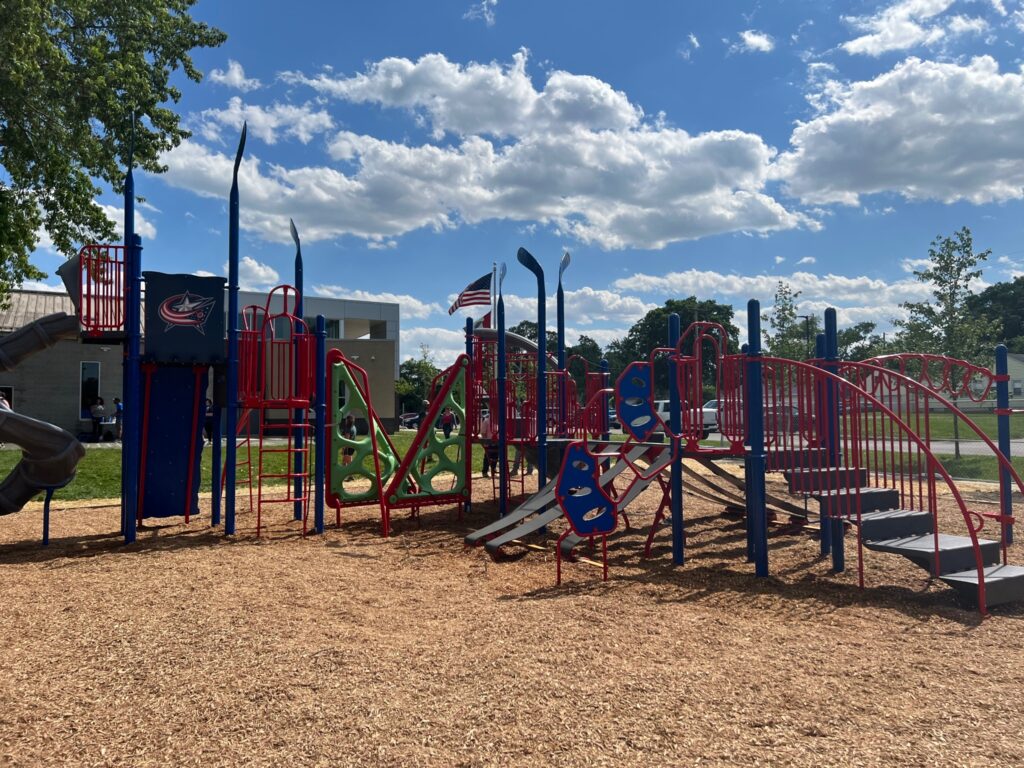 JUNE 6, 2022
The Blue Jackets-themed playground located in Driving Park marks the eighth to be built since 2016
COLUMBUS, OHIO – The Columbus Blue Jackets Foundation, in partnership with Columbus Recreation and Parks Department, spent the day building a custom Blue Jackets-themed playground to serve the Driving Park neighborhood. The project marks the eighth and final playground of a $400,000 grant commitment from the Columbus Blue Jackets Foundation to build and install Blue Jackets-themed playgrounds throughout central Ohio to help kids get healthy, play safely and stay active.
The project features a uniquely designed play structure outfitted with themed enhancements such as hockey stick posts, puck-studded climbing walls, and Blue Jackets images. The playground is divided into two age-appropriate areas and complimented by swing sets for kids and toddlers.
"The Blue Jackets Foundation is proud to partner with Columbus Recreation and Parks Department to provide the Driving Park community with a safe space for children to get out and play," said Katie Matney, Columbus Blue Jackets Foundation Executive Director. "It is an honor to help the City of Columbus toward its goal of having a park within a 10-minute walk of every home."
"Our more than 400 parks are a place of joy, and a place for children to get outside, be active and connect with each other," said Bernita A. Reese, CPRP, director of Columbus Recreation and Parks Department. "Generous partners like the Blue Jackets Foundation help us offer children in some of the most vulnerable neighborhoods high-quality spaces to play."
Launched in 2016, the grant has built playgrounds in Glenwood Park, Woodward Park, Scioto Southland Park, Windsor Park (Douglas Community Center), Barnett, Park, Beatty Park, and Linden Park. Blue Jackets front-office staff, coaches, current and alumni players, and community partners have joined Columbus Recreation and Parks volunteers to build several locations.
About The Columbus Blue Jackets Foundation
The Columbus Blue Jackets Foundation is dedicated to supporting Central Ohio youth health and wellness initiatives in the areas of pediatric cancer, reading, fitness through play, and the growth and development of amateur hockey. During the 2021-22 season, over 360 community programs were supported through donations and grants and more than 87,000 youth were impacted by programs funded by the Columbus Blue Jackets Foundation, which has awarded nearly $12 million in grants invested in the community since 2000. In addition, 550 schools in central Ohio participated in the club's no-cost hockey-themed education resources and more than 51,000 children were provided the opportunity to try hockey for the first time through no or low-cost sticks in hands programs offered by the Blue Jackets. For more information on the Columbus Blue Jackets Foundation, visit www.nhl.com/bluejackets/community/foundation.
COURTESY BLUE JACKETS COMMUNICATIONS