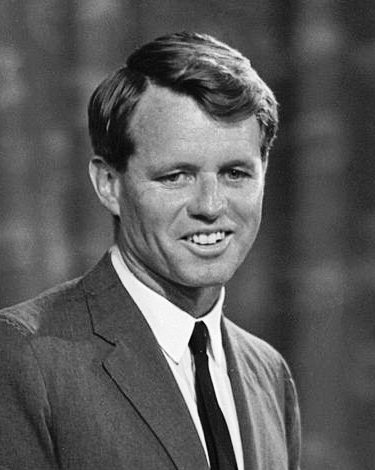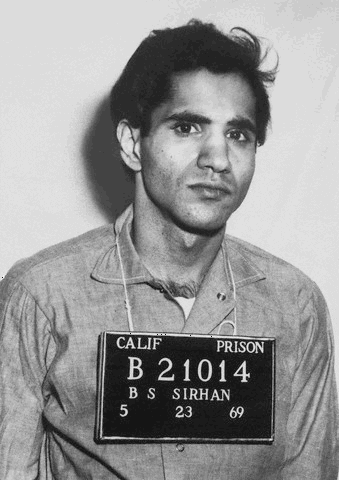 FROM WIKIPEDIA COMMONS
Sirhan Bishara Sirhan (/sɪərˈhɑːn/; Arabic: سرحان بشارة سرحان Sirḥān Bišāra Sirḥān, born March 19, 1944) is a Palestinian convicted murderer who was found guilty of the assassination of Robert F. Kennedy.
Kennedy, a United States Senator and brother of John F. Kennedy, was shot and mortally wounded by Sirhan at the Ambassador Hotel in Los Angeles, California, on June 5, 1968. He died the following day at Good Samaritan Hospital.
Sirhan was born to an Arab Christian family in Jerusalem, where he attended a Lutheran school. In 1989, he told David Frost: "My only connection with Robert Kennedy was his sole support of Israel and his deliberate attempt to send those 50 bombers to Israel to obviously do harm to the Palestinians." Some scholars believe that the assassination was the first major incident of political violence in the United States stemming from the Palestinian–Israeli conflict in the Middle East.
Sirhan was convicted of murder and is serving a life sentence at the Richard J. Donovan Correctional Facility in San Diego County, California. On August 27, 2021, after years of being denied parole, Sirhan was granted parole by a two-person panel of the California parole board. Prosecutors declined to participate or to oppose his release under a policy by Los Angeles County District Attorney George Gascón. On January 13, 2022, Governor Gavin Newsom blocked Sirhan's release on parole.
Robert F. Kennedy assassination
Around 12:15 a.m. PDT on June 5, 1968, Sirhan fired a .22 caliber Iver-Johnson Cadet revolver at United States Senator Robert F. Kennedy and the crowd surrounding him in the Ambassador Hotel in Los Angeles, shortly after Kennedy had finished addressing supporters in the hotel's main ballroom. Authors George Plimpton, Jimmy Breslin, Pete Hamill, former professional football player Rosey Grier, and 1960 Olympic gold medalist Rafer Johnson were among several men who subdued and disarmed Sirhan after a struggle.
Kennedy was shot three times—once in the head and twice in the back—with a fourth bullet passing through his jacket. He died almost 26 hours later at Good Samaritan Hospital. Five other people at the event were also shot, but all five recovered: Paul Schrade, an official with the United Automobile Workers union; William Weisel, an ABC TV unit manager; Ira Goldstein, a reporter with the Continental News Service; Elizabeth Evans, a friend of Pierre Salinger, one of Kennedy's campaign aides; and Irwin Stroll, a teenage Kennedy volunteer.
In a 2018 interview with The Washington Post, Robert F. Kennedy Jr. said that he traveled to the Richard J. Donovan correctional facility in California to meet with Sirhan, and that, after a relatively lengthy conversation (the details of which he would not disclose), believed that Sirhan did not kill his father and that a second gunman was involved.
TODAY'S ALMANAC
One Day to Save the World. In 1972, the United Nations General Assembly established this observance to raise environmental awareness across the globe. Beginning in 1974, the observance has been held annually on June 5, a date that commemorates the start of the landmark 1972 United Nations Conference on the Human Environment, in Stockholm, Sweden. Each year, World Environment Day focuses on a particularly pressing environmental issue, such as wildlife conservation, climate change, or our vital connection to nature. For official celebrations, a different host country is chosen yearly. In addition, many other countries also hold events, such as bicycle parades and tree planting. Never doubt that a small group of thoughtful, committed citizens can change the world; indeed, it's the only thing that ever has." –Margaret Mead, American anthropologist (1901–78)"
Whitsunday, or Pentecost, is the seventh Sunday after Easter. For Christians, this commemorates the descent of the Holy Spirit in tongues of flame upon the apostles. Because the disciples were said to have begun baptizing thousands of people soon afterward, Whitsunday or Pentecost became the traditional time for baptisms. Whit, a corruption of white, refers to the white baptismal garments worn on this day. It is also a time of spring festivals throughout Europe, with echoes of pagan spring rites such as morris dancing and dressing a young boy in greenery (Jack-in-the-Green) and marching him through the village.
Question of the Day
Where did the expression "the cat's pajamas" come from
Its origin is unknown, but by the turn of the 20th century in America, it was widely used to mean first-rate or attractive.
Advice of the Day
If you are suffering from jet lag, have a cup of chamomile tea.
Home Hint of the Day
An easy way to clean a barbecue grill top is to remove it after it has cooled and place it cooking side down on the grass. Leave it overnight and let the dew do the work. In the morning, wipe with a damp paper towel.
Word of the Day
Homichlophobia
The fear of fog or clouds
Puzzle of the Day
What bird is that whose name represents nothing, twice yourself, and fifty? (Hint: Think letters.)
Owl (O-U-U-L)
Died
Stephen Crane (author) – 1900
O. Henry (author) – 1910
Conway Twitty (country music singer) – 1993
Jeanette Nolan (actress) – 1998
Mel Torme (singer) – 1999
Ronald Reagan (40th U.S. president) – 2004
Jeff Hanson (singer & songwriter) – 2009
Ray Bradbury (science fiction author) – 2012
Kate Spade (fashion designer) – 2018
Born
Tony Richardson (director of film) – 1928
Bill Moyers (journalist) – 1934
Ron Livingston (actor) – 1968
Mark Wahlberg (actor) – 1971
Liza Weil (actress) – 1977
Events
Bananas were sold as a novelty at the Centennial Exhibition in Philadelphia– 1876
New York was first U.S. state to pass legislation on oleomargarine– 1877
Danish women were granted the right to vote– 1915
US troops liberate Rome (WWII)– 1944
The Marshall plan is announced by US Secretary of State George C. Marshall in address at Harvard University– 1947
Senator Robert Kennedy was shot by Sirhan Sirhan at the Ambassador Hotel in Los Angeles– 1968
Teton Dam in southeastern Idaho collapsed, resulting in a flood that killed 11 and left 30,000 homeless. The flood caused an estimated $1 billion in damages and nearly wiped out the Idaho cattle industry– 1976
Weather
34 tornadoes wound through Arkansas– 1916
A foot of snow fell at the Mammoth Mountain Ski Area in California– 1993
COURTESY www.almanac.com