May 31, 2022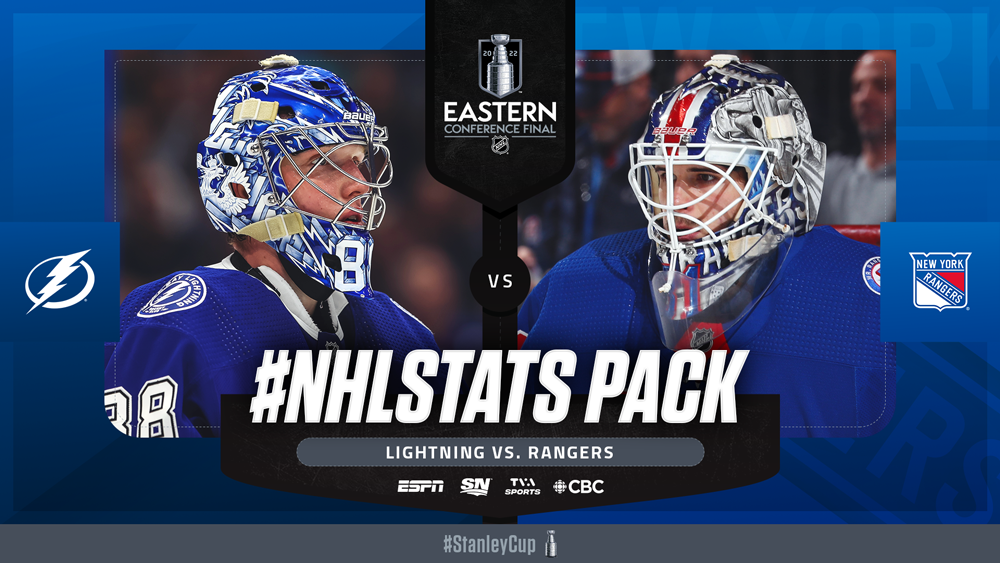 Playoff History
* This will be the second playoff meeting between the Rangers and Lightning, with the other also coming in the Eastern Conference Final – that occurred in 2015 when Ben Bishop lifted Tampa Bay into the Stanley Cup Final with his second Game 7 shutout of that postseason. Eight players who skated in that series are set to compete in the rematch this year: Steven Stamkos, Nikita Kucherov, Alex Killorn, Victor Hedman, Ondrej Palat and Andrei Vasilevskiy remain with the Lightning, and likewise for Chris Kreider with the Rangers. Ryan McDonagh, who was wearing the "C" for New York that year, will suit up for Tampa Bay.

* 2015 Conference Finals: The Rangers claimed a Game 1 victory in what was their 15th consecutive playoff game decided by a one-goal margin – the longest such run in NHL history. In Game 2, the "Triplets" line of Tyler Johnson, Nikita Kucherov and Ondrej Palat took over, combining for seven of their 24 points in the series – including what remains the only playoff hat trick in Lightning history. Like it will this year, the series shifted to Amalie Arena for Game 3, where the Lightning survived a late Rangers rally to claim a 6-5 win on the strength of a overtime goal by Kucherov. Chris Kreider notched the winner in Game 4 to even the series, but Ben Bishop was perfect in Game 5 with a 26-save shutout. The Rangers got the best of Bishop in Game 6 as three players had four or more points in a 7-3 victory that led to the series debut for Andrei Vasilevskiy (his second career playoff appearance). Bishop rebounded in Game 7 on Broadway to post the third series-clinching shutout in franchise history – something Vasilevskiy has done six times since – with Alex Killorn and Ondrej Palat providing the goals in a 2-0 win.

* The road team won five of the seven games in the 2015 Eastern Conference Final, tied for the most road wins in any series in Stanley Cup Playoffs history.

—

Matchup Focus: Vasilevskiy vs. Shesterkin and Hedman vs. Fox
* Two of the League's top netminders are set to go head-to-head in the Eastern Conference Final as Vezina and Conn Smythe Trophy winner Andrei Vasilevskiy will line up opposite 2021-22 Vezina Trophy finalist Igor Shesterkin. Vasilevskiy is coming off his fifth straight season with at least a share of the League lead in wins – a first in the expansion era (since 1967-68) – while Shesterkin topped all goaltenders in goals-against average (2.07) and save percentage (.935; the seventh-best on official record) en route to becoming a first-time NHL Awards finalist.

* Vasilevskiy enters his sixth Conference Finals with an active shutout streak of 103:53, following the sixth series-clinching shutout of his career (all since 2020). A perfect first period in Game 1 against the Rangers would put Vasilevskiy among the top five in franchise history for longest shutout streak by a goaltender and move him within 15 seconds of besting his career high (124:07 from Game 1 to Game 2 of the 2020 First Round – 90:27 of which came in overtime in the opener).

* Vasilevskiy held the Panthers – the NHL's highest-scoring team from the regular season – to one goal or fewer in every game during the second-round sweep and has an active stretch of five consecutive games allowing one goal or fewer. He accounts for one of 13 instances in NHL history of a goaltender allowing one goal or fewer in five straight starts within a playoff year (last: Tuukka Rask in 2013) and now can become the fourth goaltender in League history to extend that run to at least six games – only Patrick Lalime (6 in 2002 w/ OTT), Bill Durnan (6 in 1944 w/ MTL) and Alex Connell (6 in 1927 w/ SEN) have done so.

* Vasilevskiy (31-20) has 31 career wins in 52 games during the final-four and Stanley Cup Final combined, 10th in NHL history behind Jacques Plante (65-31), Turk Broda (56-37), Terry Sawchuk (52-44), Ken Dryden (50-21), Patrick Roy (49-33), Glenn Hall (43-58), Billy Smith (40-18), Martin Brodeur (40-28) and Johnny Bower (35-32). The only goaltenders from that group to make the majority of those appearances in the expansion era (since 1967-68) are Dryden, Roy, Smith and Brodeur.

* Shesterkin will make his first Conference Finals appearance at Madison Square Garden, where he is riding an active six-game winning streak dating to Game 2 of the First Round. That is the longest home winning streak in a single postseason by a goaltender in franchise history and the longest by any goaltender since last year when Vasilevskiy closed the postseason with a 6-0 run at AMALIE Arena. A Game 1 victory would make the Shesterkin the first NHL netminder with seven straight home wins in one playoff year since 2014 (Corey Crawford: 7-0 at home w/ CHI). Of note: Mike Richter (7-0 from 1992 to 1994) and Dave Kerr (6-0 from 1940 to 1941) won at least six consecutive home appearances for the Rangers over the course of multiple playoff years.

* Shesterkin (474 saves) has made nearly 100 more saves this postseason than the next closest goaltender entering the Conference Finals (Mike Smith: 381 saves) and already ranks among the top six for a single postseason among Rangers netminders (since 1955-56). The 26-year-old has also contributed offensively, add three assists to move within one of tying the single-postseason record for a goaltender, set in 2012 by Martin Brodeur (0-4—4).

* Shesterkin (8-6, 2.71 GAA, .926 SV%, 0 SO) has made 15 career postseason starts and carries similar numbers to what Vasilevskiy (8-7, 2.62 GAA, .921 SV%, 0 SO) had at the same stage of his career. The only active goaltenders with a higher save percentage than Shesterkin in playoff starts through 15 in his career are Mike Smith (.940), Braden Holtby (.937), Craig Anderson (.934), Robin Lehner (.928) and Martin Jones (.927).

* Shesterkin (2-0-0, 0.50 GAA, .985 SV%, 1 SO) has defeated Vasilevskiy (0-2-0, 3.03 GAA, .875 SV%) in each of their two head-to-head meetings, both during the 2021-22 regular season. Shesterkin also played the only other meeting this season between New York and Tampa Bay, defeating Brian Elliott on New Year's Eve.

* The Eastern Conference Final also pits two Norris Trophy winners against each other in New York's Adam Fox (2020-21) and Tampa Bay's Victor Hedman (2017-18), who also has a Conn Smythe Trophy to his name. Hedman is a Norris finalist once again in 2021-22, his sixth consecutive season among the top three in voting – the longest such streak since Nicklas Lidstrom from 1997-98 through 2002-03 (also 6).

—

Matchup Notes
* The Rangers swept the regular-season series against the Lightning in 2021-22, marking the first time the franchise has faced a defending Stanley Cup champion at least three times and won all the games.

* Mika Zibanejad was a factor in all three head-to-head games during the 2021-22 regular season: he notched the shootout winner on New Year's Eve (after a late tying goal by Tampa Bay's Corey Perry), scored a hat trick against Andrei Vasilevskiy in a 4-0 victory on Jan. 2 (with Igor Shesterkin posting a 38-save shutout) and clinched the series sweep by scoring the go-ahead goal with 16 seconds left in regulation on March 19.

* The Rangers are facing the defending Stanley Cup champions in the playoffs for the 17th time in franchise history and 11th in the NHL's expansion era (since 1967-68). They have lost their last six such series – including the most recent instance, in the 1992 Division Finals against Pittsburgh – and own an all-time series record of 6-10 in the previous matchups. Their wins came in the 1974 Quarterfinals (vs. MTL), 1973 Quarterfinals (vs. BOS), 1972 Quarterfinals (vs. MTL), 1940 Semifinals (vs. BOS), 1933 Stanley Cup Final (vs. TOR) and 1932 Semifinals (vs.MTL).

* After returning to the Rangers lineup in Game 6 of the Second Round and notching an assist in Game 7, Barclay Goodrow will now face former teammates with whom he won back-to-back Stanley Cups with in 2020 and 2021. He can become the 12th player in NHL history to win a championship with a team and then go on to eliminate that club from the playoffs the next season (min. 1 GP in series). The last such instance came in the 2010 Conference Semifinals when Hal Gill helped the Canadiens defeat the Penguins.

* The Lightning enter the Conference Finals as the oldest remaining club (avg. age: 28.9) and are set to face the Rangers, the youngest remaining team (avg. age: 26.7). New York's roster includes four players born in the 2000s: K'Andre Miller, Kaapo Kakko, Braden Schneider & Alexis Lafreniere, all of whom were selected in the NHL Draft from 2018 to 2020 (Cal Foote, born in 1998 and drafted in 2017, is the youngest Lightning player).

—

Conference Finals Experience
* Nearly every member of the Lightning roster (min. 1 game dressed in 2022 SCP) has played in the final four of the Stanley Cup Playoffs, with 18 of 21 players entering with experience in the next round (16 skaters, 2 goaltenders). The lone exceptions are Nicholas Paul, Brandon Hagel and Cal Foote.

* New York has eight players with Conference Finals experience, including six who have played this postseason: Chris Kreider, Barclay Goodrow, Ryan Reaves, Justin Braun, Jacob Trouba and Andrew Copp.

* Tampa Bay's roster includes the two most experienced active players (among skaters and goaltenders) in terms of games played in the final four, with Victor Hedman (41 GP) topping the list followed by Ryan McDonagh (39 GP). Only 10 defensemen in NHL history have more assists than Hedman (22) in the round leading into the Stanley Cup Final, while only 11 have more points than the Lightning blueliner (6-22—28). Of note: Red Kelly accumulated 22-39—61 in the round, but only 10-14—24 as a defenseman during his time in Detroit.

* Barclay Goodrow is set to become the fourth player in the NHL's expansion era (since 1967-68) to skate in the final-four across at least four consecutive seasons with three or more different clubs. He will join Glen Sather (5 – 1969 BOS, 1970 PIT, 1971-1973 NYR), Ty Conklin (4 – 2006 EDM, 2007 BUF, 2008 PIT, 2009 DET) and Larry Melnyk (4 – 1983 BOS, 1984-1985 EDM, 1986 NYR).
COURTESY NHLmedia.com