NHL Public Relations
May 28, 2022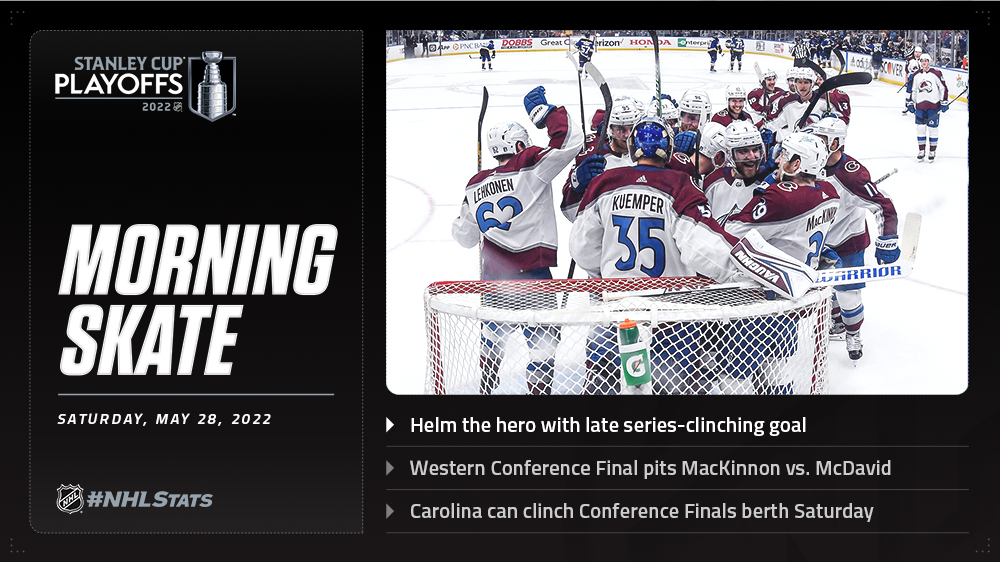 * Darren Helm had the second latest regulation-time series-clinching goal in NHL history as the Avalanche advanced to the Conference Finals for the first time in 20 years and ninth time in franchise history overall (also 2002, 2001, 2000, 1999, 1997, 1996, 1985 & 1982).

* Colorado will clash with Edmonton in the 2022 Western Conference Final, marking the first-ever playoff meeting between No. 1 overall picks Nathan MacKinnon and Connor McDavid.

* The Hurricanes can become the fourth and final team to reach the Conference Finals as they take a 3-2 series lead into Madison Square Garden on Saturday.

* Fans continued to tune in for the Second Round of the Stanley Cup Playoffs on ESPN/ESPN2 with 1.33M average viewers – up 27% versus the 2021 Second Round cable average. Click here for more ratings notes from @ESPNPR.

HELM THE HERO AS COLORADO CLINCHES FIRST CONFERENCE FINALS BERTH SINCE 2002
Darren Helm had the series-clinching goal with 5.6 seconds remaining in regulation as the Avalanche advanced to the Conference Finals for the first time in 20 years and ninth time in franchise history overall. Colorado's six previous trips all came within the club's first seven seasons after relocating from Quebec in 1995-96.


* Helm (59:54) scored the second latest regulation-time series-clinching goal in NHL history, behind only the winner by Maple Leafs forward Nick Metz (59:55)in Game 6 of the 1942 Semifinals over 80 years ago. Helm was also involved in the fifth latest series clincher in League history – he skated with Detroit when Johan Franzen beat Columbus goaltender Steve Mason at 19:13 of the third period in Game 4 of the 2009 Conference Quarterfinals.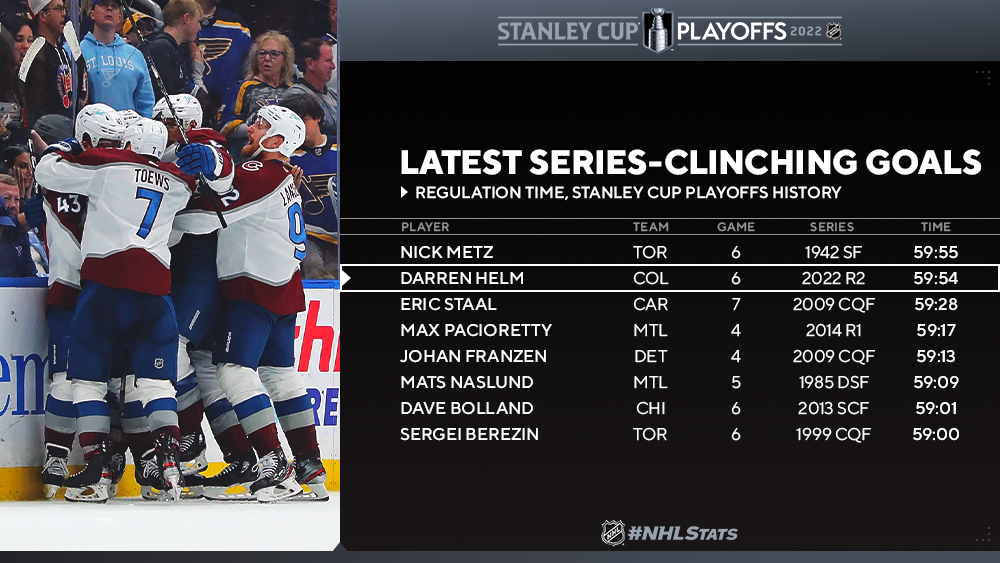 * Helm scored the second series-clinching goal of his NHL career – his first was the overtime winner exactly 13 years prior in Game 5 of the 2009 Conference Finals, giving the Red Wings their seventh straight series victory after the club had won the Stanley Cup during the previous year. The 13 years between series-clinching goals for Helm marks the second longest such gap in League history, behind only a 16-year stretch by Adam Oates (Game 7 of 1987 DF & Game 4 of 2003 CF).

* Helm (35 years, 126 days) became the oldest player in Avalanche/Nordiques franchise history to score a series-clinching goal, eclipsing the previous mark set by Andrew Brunette (32 years, 249 days) in Game 5 of the 2006 Conference Quarterfinals.

* Nathan MacKinnon, Cale Makar, Gabriel Landeskog, Mikko Rantanen and Nazem Kadri, who are the Avalanche's five highest scorers in the 2022 Stanley Cup Playoffs, are set to make their Conference Finals debut. Six current Colorado players have skated at least one game in the Conference Finals/Stanley Cup Semifinals: Andrew Cogliano (1-4—5 in 15 GP), Helm(2-0—2 in 11 GP), Andre Burakovsky (2-0—2 in 6 GP), Devon Toews (1-1—2 in 6 GP), Artturi Lehkonen (1-0—1 in 6 GP) and Josh Manson (0-1—1 in 6 GP).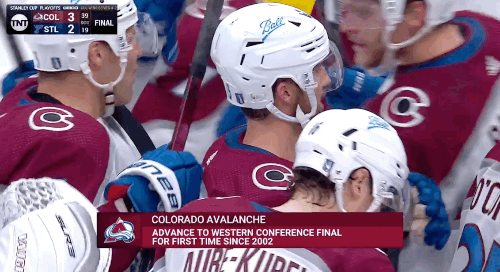 2022 WESTERN CONFERENCE FINAL PITS MacKINNON VERSUS McDAVID
The 2022 Western Conference Final will mark the first-ever playoff meeting between Avalanche forward Nathan MacKinnon and Oilers captain Connor McDavid, who own a combined 11 NHL Awards and have frequently dazzled the hockey world with highlight-reel plays since going No. 1 overall in the 2013 and 2015 NHL Draft, respectively.



* MacKinnon (8-5—13 in 10 GP) and McDavid (7-19—26 in 12 GP) share the team lead in scoring as their respective clubs enter the Western Conference Final, with both Colorado (4.30 G/GP) and Edmonton (4.33 G/GP) averaging over four goals per game this postseason. It will mark the first Conference Finals where each team entered the series while averaging at least four goals per game that postseason since 1989, when Calgary (4.36 G/GP) clashed with Chicago (4.00 G/GP).

* The Avalanche (MacKinnon & Erik Johnson) and Oilers (McDavid & Ryan Nugent-Hopkins) each feature two No. 1 overall picks. Their series is set to mark the fifth Conference Finals in the last 25 years where each team will have at least one No. 1 pick – the four previous series over that span were in 2018 (WSH: Alex Ovechkin; TBL: Steven Stamkos), 2016 (PIT: Sidney Crosby & Marc-Andre Fleury; TBL: Stamkos), 2015 (NYR: Rick Nash; TBL: Stamkos) and 2010 (CHI: Patrick Kane; SJS: Joe Thornton).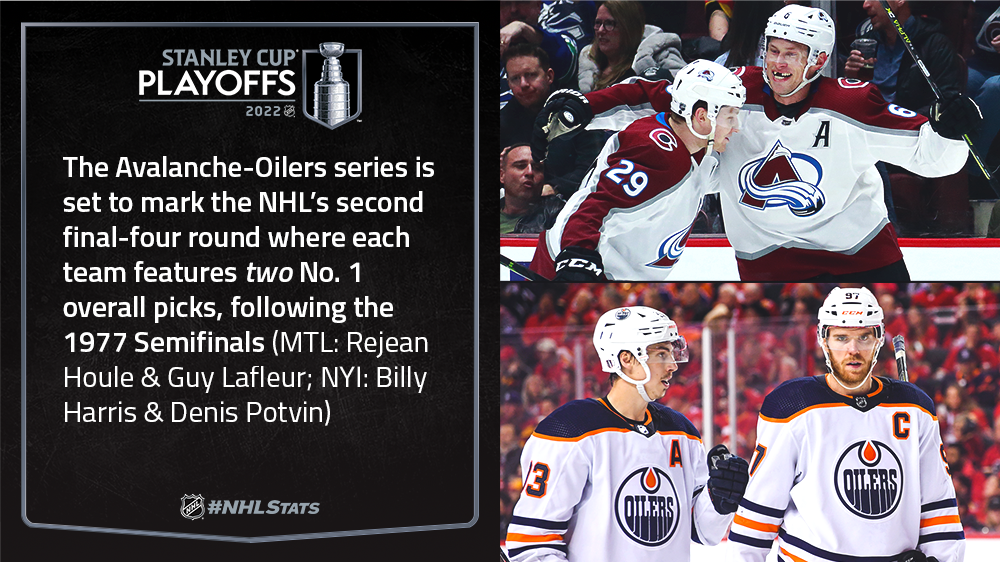 * MacKinnon (1.37 P/GP), McDavid (1.45 P/GP) and Oilers forward Leon Draisaitl (1.61 P/GP) rank among the top six in NHL history for points per game in the postseason (min. 30 GP), with the cohort also featuring Wayne Gretzky (1.84 P/GP), Mario Lemieux (1.61 P/GP) and Barry Pederson (1.53 P/GP). Gretzky, Lemieux and Pederson never faced one another in the Stanley Cup Playoffs.

* The franchises have met two times in the Stanley Cup Playoffs, with Colorado claiming a five-game win in the 1997 Conference Semifinals and Edmonton earning a 4-0 shutout in Game 7 of the 1998 Conference Quarterfinals. The Nordiques and Oilers never met in the WHA playoffs before joining the NHL in 1979-80.

* ICYMI: The NHL announced the 2022 Conference Finals schedule scenarios, with Game 1 between the Avalanche and Oilers set for Tuesday in Denver (8 p.m. ET on TNT, SN, CBC, TVAS).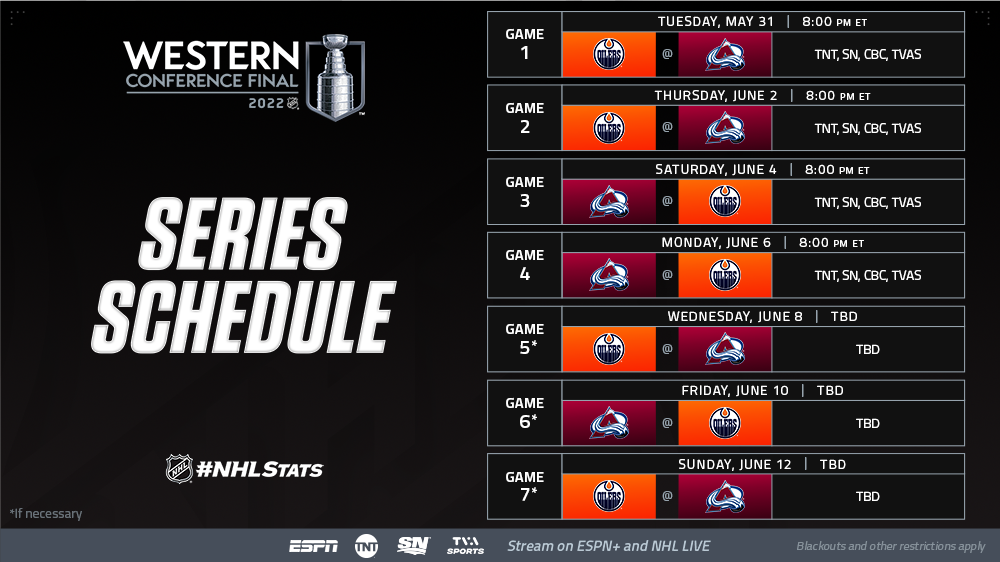 NHL WEEKLY PODCAST ROUNDUP:
Fantasy on Ice (5/23): Pete & Nick talk Round 2 with DFS and betting angles
NHL Draft Class (5/24): International prospects talk w/ Dir. of European Scouting Goran Stubb
Soul on Ice (5/24): Coyotes forward Boko Imama joins Jordan Buhat & Kwame Mason
NHL @TheRink (5/25):Dan & Shawn joined by ESPN analyst Ryan Callahan
Fantasy on Ice (5/26): Pete & Nick w/ Lauren Jbara of Pickwise/Bally Sports South
The Chirp (5/26): Daren is joined by his pal Nick Kypreos to talk Stanley Cup Playoffs

QUICK CLICKS

* #NHLStats: Live Updates for Friday, May 27
* Series Scenarios for Saturday, May 28
* Leon Draisaitl sends birthday wishes to Ben Stelter, who is battling cancer
* Brayden Point progressing, could return during 2022 postseason
* Episode 1 of "Quest For The Stanley Cup" on ESPN+, YouTube.com/NHL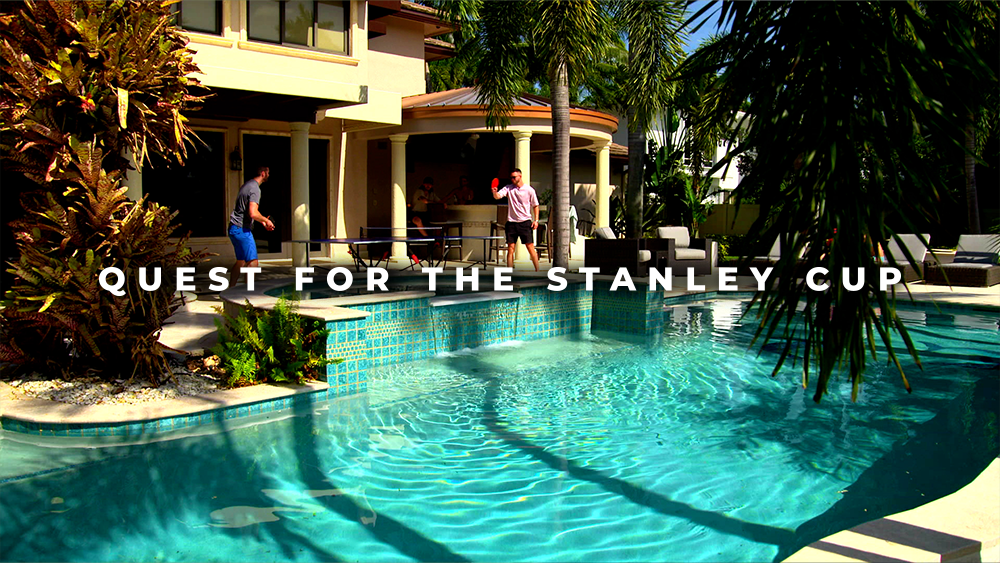 CAROLINA CAN CLOSE OUT SERIES BY EARNING FIRST ROAD WIN OF 2022 PLAYOFFS
The Hurricanes can clinch their fifth all-time Conference Finals berth and second in the last four seasons (also 2019, 2009, 2006 & 2002) as their Second Round series with the Rangers shifts back to Madison Square Garden for Game 6.

* Carolina, which is looking to snap its postseason-opening road losing streak at five games, holds an all-time series record of 9-0 (1.000) when leading 3-2 in a best-of-seven. That total includes five instances where the series-clinching win came in Game 6.

* New York yielded a perfect 3-0 record when facing elimination during the 2022 First Round, earning all three wins in come-from-behind fashion to rally from a 3-1 series deficit against Pittsburgh. Two of those victories are included in the Rangers' active five-game home winning streak.

* Jordan Staal (7-4—11 in 24 GP), whose brother, Marc, skated 13 seasons with the Rangers from 2007-08 to 2019-20, leads current Hurricanes players in career goals and points in potential series-clinching games. Max Domi, another Carolina player who had a close family member skate on Broadway, stole the show with 2-1—3 in the Hurricanes' last such contest (3-2 W vs. BOS in Game 7 of 2022 R1).

* Chris Kreider (13-3—16 in 24 GP) leads current Rangers skaters in career goals and points when facing elimination, including 3-0—3 during the 2022 First Round. Kreider's 13 goals in games where New York faced elimination are the most in franchise history, while his 16 points rank second behind former teammate Derick Brassard (7-12—19 in 16 GP).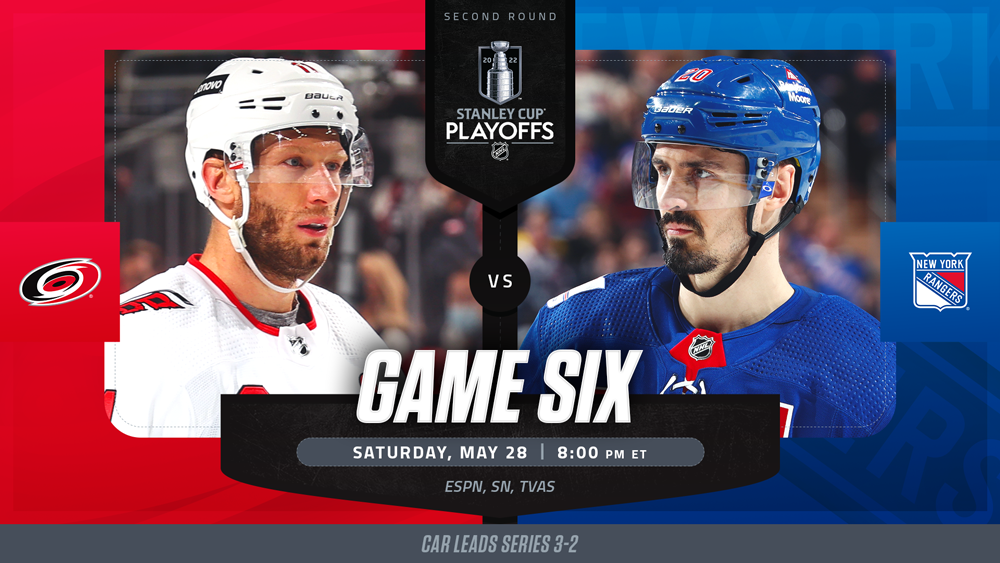 COURTESY NHLmedia.com