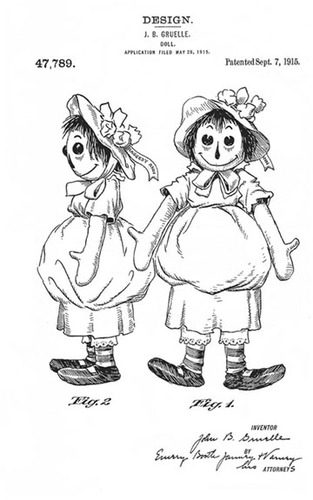 FROM WIKIPEDIA COMMONS
John Barton Gruelle (December 24, 1880 – January 9, 1938) was an American artist, political cartoonist, children's book and comics author, illustrator, and storyteller. He is best known as the creator of Raggedy Ann and Raggedy Andy dolls and as the author/illustrator of dozens of books. He also created the Beloved Belindy doll. Gruelle also contributed cartoons and illustrations to at least ten newspapers, four major news syndicates, and more than a dozen national magazines. He was the son of Hoosier Group painter Richard Gruelle.
CREATOR OF RAGGEDY ANN
The exact details of the origins of the Raggedy Ann doll and related stories are uncertain. Gruelle biographer Patricia Hall notes that according to an oft-repeated myth, Gruelle's daughter, Marcella, brought from her grandmother's attic a faceless rag doll on which the artist drew a face, and that Gruelle suggested that Marcella's grandmother sew a shoe button for a missing eye. Hall says the date of this supposed occurrence is given as early as 1900 and as late as 1914, with the locale variously given as suburban Indianapolis, Indiana, downtown Cleveland, Ohio, or Wilton, Connecticut. More likely, as Gruelle's wife, Myrtle, told Hall, Gruelle retrieved a long-forgotten, homemade rag doll from the attic of his parents' Indianapolis home sometime around the turn of the 20th century, a few years before the couple's daughter was born. As Myrtle Gruelle recalled, "There was something he wanted from the attic. While he was rummaging around for it, he found an old rag doll his mother had made for his sister. He said then that the doll would make a good story." She further explained that her husband "kept [the doll] in his mind until we had Marcella. He remembered it when he saw her play [with] dolls…. He wrote the stories around some of the things she did. He used to get ideas from watching her."
Hall notes another unproven legend states that Gruelle began writing and illustrating the Raggedy Ann stories while his daughter was gravely ill after receiving a routine smallpox vaccination at school, which was given without parental consent, and her death at age 13 inspired him to publish the stories and create the rag doll as a tribute to her memory. Another version of the doll's origins suggests that it appeared as a character in an illustrated poem in one of Gruelle's earlier books. Some journalistic sources have continued to repeat the various myths and legends.
A few of the details about the Raggedy Ann doll and its origins are documented. On September 7, 1915, the U.S. Patent Office approved U.S. Patent D47789, Gruelle's May 28, 1915, patent application for the design of the prototype that became the Raggedy Ann doll. Gruelle's patent application for the doll's design was already in progress around the time that his daughter, Marcella, became ill. The artist received final approval for the U.S. patent the same month as her death. On June 17, 1915, Gruelle applied for a trademark logo for the Raggedy Ann name, which he formed from a combination of names from two James Whitcomb Riley poems, "The Raggedy Man" and "Little Orphant Annie." The P. F. Volland Company published Gruelle's Raggedy Ann Stories (1918), the first in a series of books about his Raggedy Ann rag-doll character and her friends. Both became major successes. The book's first edition also included Gruelle's own version of the doll's origins and the related stories.
Although the female members of Gruelle's family may have made initial versions of the Raggedy Ann doll in Norwalk, Connecticut, to help market the related books, Gruelle soon established a merchandising agreement with P. F. Volland Company, his primary publisher, to begin manufacturing, selling, and promoting a mass-produced version of the doll. Raggedy Ann books and dolls became major successes. Two years later Gruelle introduced Raggedy Ann's brother, the mischievous and adventuresome Raggedy Andy, in Raggedy Andy Stories (1920). Gruelle also patented his design for a generic male doll (U.S. Patent D56149). A short time after its literary debut, Raggedy Andy appeared as a Volland-made doll. Gruelle was also awarded design patents for two duck toys in 1915. U.S. Patent D47787 is based on his character "Quacky Doodles" and U.S. Patent D47788 is based on his character "Danny Daddles." In addition, Gruelle applied for a stuffed elephant toy (U.S. Patent D56608) in 1920 and a stuffed bear toy (U.S. Patent D59553) in 1921.
TODAY'S ALMANAC
Question of the Day
Some candle wax dripped on a white tablecloth over the holidays. The cloth was washed before the wax was noted. The wax came off but left a stain. Is there a way to get this stain out of the cloth, or is it permanent?
You don't mention what sort of fabric the tablecloth is made of, but if it's cotton or linen, soak the spot in a small amount of bleach heavily diluted with water. Immerse the stained area in the water and let it sit for a few minutes, rubbing the discolored area gently. Rinse thoroughly. If the wax left a yellow stain, it can be removed by ordinary denture-cleaning tablets. Fill a container with warm water and immerse the stained portion. Add the denture tablets in the ratio recommended on the package and let them dissolve. Soak until the spot disappears.
Advice of the Day
It is unlucky to bring an umbrella aboard ship.
Home Hint of the Day
Because it is an excellent seal against dirt and can be washed repeatedly, enamel finish paint (either oil or latex) is especially good for kitchens, baths, and laundry rooms. Its glossiness will look best on smooth surfaces.
Word of the Day
Lilapsophobia
The fear of hurricanes or tornadoes
Puzzle of the Day
What city was made by time and labor?
Baltimore
(When the letters of the words "time" and "labor" are combined in a certain way, they spell "Baltimore.")
Born
Thomas Moore (poet) – 1779
Ian Fleming (writer) – 1908
Frank Drake (American astronomer) – 1930
Rudy Giuliani (politician) – 1944
Gladys Knight (singer) – 1944
Hunter Patch" Adams" (doctor) – 1945
Christa Miller (actress) – 1964
Kylie Minogue (singer) – 1968
Elisabeth Hasselbeck (The View co-host) – 1977
Jesse Bradford (actor) – 1979
Michael Oher (football player) – 1986
Cameron Boyce (actor) – 1999
Died
Noah Webster (writer) – 1843
Phil Hartman (actor) – 1998
Mildred Wirt Benson (original author, under the pen name Carolyn Keene, of the Nancy Drew mystery books) – 2002
Maya Angelou (poet) – 2014
Events
French West India Company secured royal grant of all French colonies in America– 1664
First stamp auction in the U.S.– 1870
The Sierra Club, dedicated to the conservation of natural resources, was founded– 1892
Patent application for John B. Gruelle's Raggedy Ann doll filed– 1915
R.H. Macy & Co. was incorporated– 1919
On With the Show, the first all-color talking picture, premiered in New York City– 1929
Golden Gate Bridge opened to vehicles– 1937
When a Man Loves a Woman by Percy Sledge topped charts– 1966
Mars 3 orbiter and lander was launched– 1971
An unidentified soldier killed during the Vietnam War was buried with military honors in the Tomb of the Unknowns in Arlington, Virginia. (He was later identified via DNA testing, and exhumed.)– 1984
The cover of Vanity Fair featured a photo of President Reagan and First Lady Nancy Reagan kissing– 1985
Hubble Space Telescope photographed unknown object TMR-1C– 1998
Baby Jessica McClure, who held the attention of the nation when she fell into an abandoned well at 18 months old, graduated from Greenwood High School in Texas– 2004
In Germany, several people reported seeing what seemed to be UFOs. A police investigation found that it was a 29-year old man proposing to his girlfriend accompanied by glowing paper lanterns– 2008
Weather
Three tornadoes tore through Cincinnati, Ohio– 1809
It was 97 degrees F in San Francisco, California– 1887
Mother Nature dumped up to 10 inches of snow on parts of Wisconsin– 1947
100 degrees F in Portland, Oregon– 1983
Large hail hit areas of Pennsylvania, New York, and New Jersey– 2019
COURTESY www.almanac.com