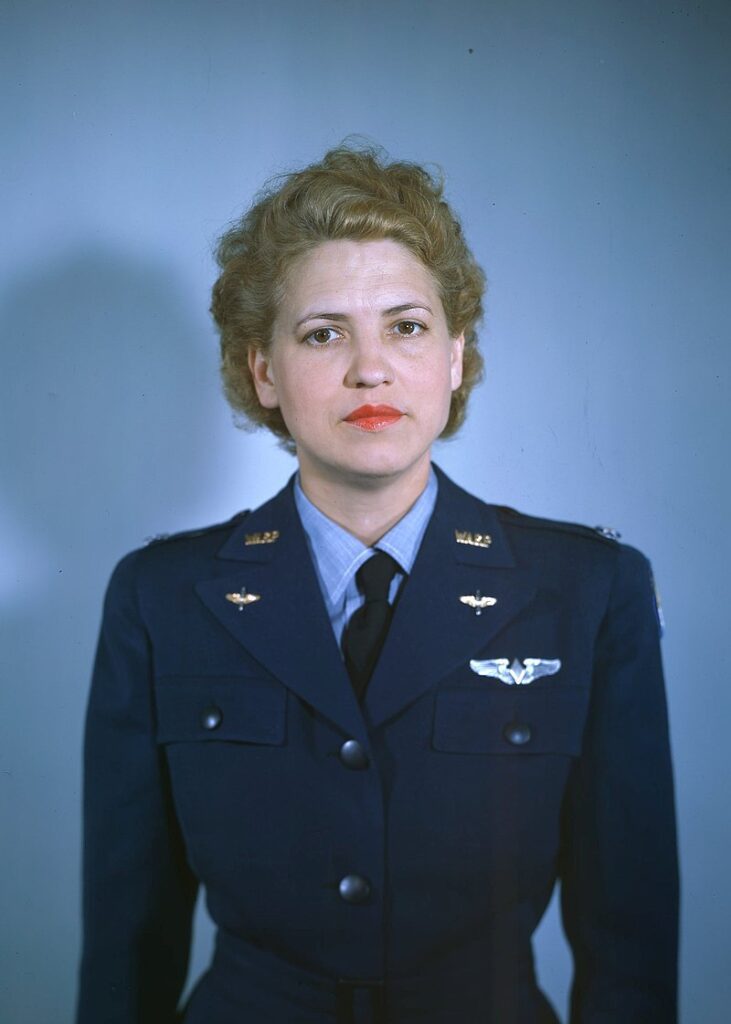 FROM WIKIPEDIA COMMONS
Jacqueline Cochran (May 11, 1906 – August 9, 1980) was an American pilot and business executive. She pioneered women's aviation as one of the most prominent racing pilots of her generation. She set numerous records and was the first woman to break the sound barrier on 18 May 1953. Cochran (along with Nancy Love) was the wartime head of the Women Airforce Service Pilots (WASP) (1943–1944), which employed about 1000 civilian American women in a non-combat role to ferry planes from factories to port cities. Cochran was later a sponsor of the Mercury 13 women astronaut program.
LEGACY
Cochran died on August 9, 1980, at the home in Indio, California, she had shared with her husband until his death four years earlier. She was a long-time resident of the Coachella Valley and is buried in Coachella Valley Public Cemetery. She regularly utilized Thermal Airport over the course of her long aviation career. The airport, which had been renamed Desert Resorts Regional, was again renamed Jacqueline Cochran Regional Airport in her honor.
Cochran's aviation accomplishments never gained the continuing media attention given those of Amelia Earhart. Also, Cochran's use of her husband's immense wealth reduced the rags-to-riches nature of her story. Nonetheless, she deserves a place in the ranks of famous aviators and as a woman who frequently used her influence to advance the cause of women in aviation.
Despite her lack of formal education, Cochran had a quick mind and an affinity for business and her investment in the cosmetics field proved a lucrative one. Later, in 1951, the Boston Chamber of Commerce voted her one of the 25 outstanding businesswomen in America. In 1953 and 1954, the Associated Press named her "Woman of the Year in Business".
Cochran served on the Board of Trustees for the George Washington University from 1962 until her passing in 1980.
Cochran donated a large amount of time and money to charity.
TODAY'S ALMANAC
Question of the Day
When my daughter and I wish on the "first star I see tonight," are we really wishing on a planet? How can we tell one from the other?Most likely that first bright star is a planet, but binoculars can probably help you tell for sure. Even a cheap pair will usually add enough magnification so that you can make out a planet. You can also try looking for the bright star night after night and notice if it seems to move across the sky against the backdrop of the other stars. If so, it's a planet, living up to its Greek name, which means "wanderer."
Advice of the Day
Crush the seeds of sweet cicely and use them as a polish for wooden furniture.
Home Hint of the Day
When you use the fan over your cook stove, be sure to open a window elsewhere in the house, too. This will give the fan a greater supply of air to blow, so it will be more effective.
Word of the Day
CeilometerA cloud yardstick. A ceilometer measures the height of clouds.
Puzzle of the Day
What kind of fish only swims at night?A starfish!
Born
Bertrand Russell (philosopher & mathematician) – 1872
Frank Capra (director) – 1897
Perry Como (singer) – 1912
Pope John Paul II – 1920
Brooks Robinson (baseball player) – 1937
Reggie Jackson (baseball player) – 1946
George Strait (country singer) – 1952
Tina Fey (writer & actress) – 1970
Jack Johnson (musician) – 1975
Died
Elizabeth Montgomery (actress) – 1995
Elvin Ray Jones (renowned jazz drummer and member of John Coltrane's quartet who also played alongside Duke Ellington, Charlie Parker, and Miles Davis) – 2004
Wayne Allwine (voice of Mickey Mouse for over 30 years) – 2009
Events
Montreal, Quebec, founded– 1642
Masses feared the end of the world during passage of Halley's Comet– 1910
U.S. Selective Draft Act passed– 1917
Tennessee Valley Authority created– 1933
TWA was first airline to fly the Douglas DC-2 aircraft– 1934
Aviator Jackie Cochran became the first woman to exceed Mach 1– 1953
Apollo 10 spacecraft launched from Cape Kennedy– 1969
India became world's sixth nuclear power– 1974
A magnitude 5.1 earthquake causes the cataclysmic eruption of Mount St. Helens, killing 57 people.– 1980
Law passed to remove Confederate flag from South Carolina statehouse– 2000
Randy Johnson made history by becoming the oldest major league player (at age 40) to throw a perfect game. Cy Young was previously the oldest to pitch perfection at 37– 2004
Weather
Major Arkansas River flood, Wichita, Kansas– 1877
Violent Lake Michigan storm wrecked several ships– 1894
Oklahoma experienced major floods– 1957
116 degrees F at Death Valley, California– 2006
COURTESY www.almanac.com