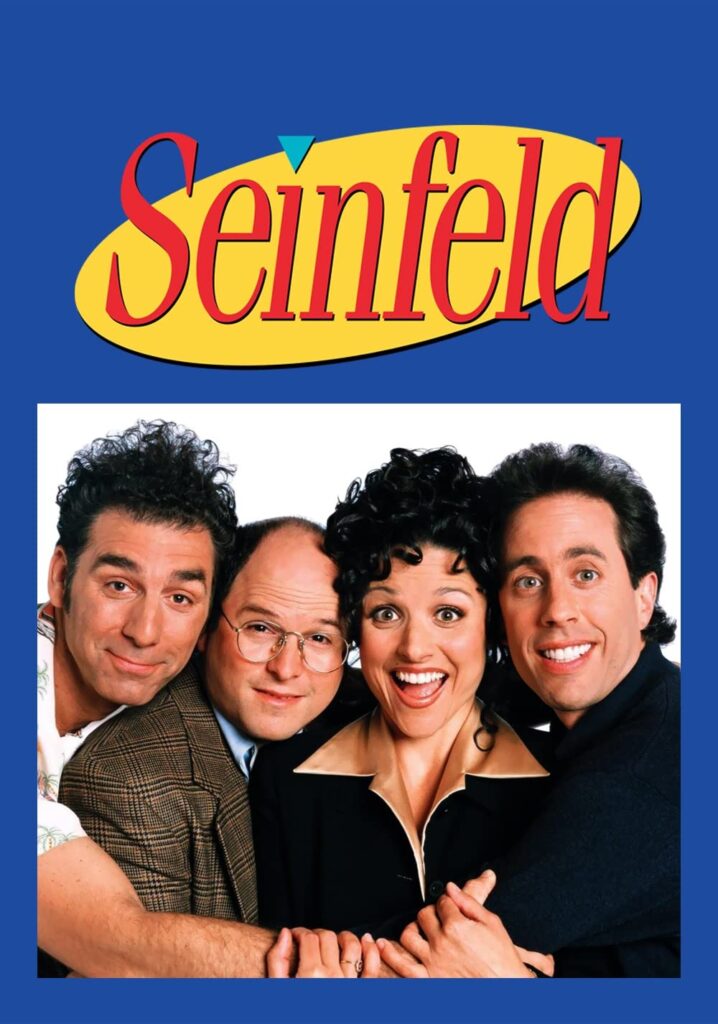 FROM WIKIPEDIA COMMONS
Seinfeld (/ˈsaɪnfɛld/; SYNE-feld) is an American sitcom television series created by Larry David and Jerry Seinfeld. It aired on NBC from July 5, 1989, to May 14, 1998, over nine seasons and 180 episodes. It stars Seinfeld as a fictionalized version of himself and focuses on his personal life with three of his friends: best friend George Costanza (Jason Alexander), former girlfriend Elaine Benes (Julia Louis-Dreyfus), and his neighbor from across the hall, Cosmo Kramer (Michael Richards). It is set mostly in an apartment building in Manhattan's Upper West Side in New York City. It has been described as "a show about nothing", often focusing on the minutiae of daily life.
As a rising comedian in the late 1980s, Jerry Seinfeld was presented with an opportunity to create a show with NBC. He asked Larry David, a fellow comedian and friend, to help create a premise for a sitcom. The series was produced by West-Shapiro Productions and Castle Rock Entertainment, and distributed by Columbia Pictures Television. It was largely written by David and Seinfeld, with script writers who included Larry Charles, Peter Mehlman, Gregg Kavet, Carol Leifer, David Mandel, Jeff Schaffer, Steve Koren, Jennifer Crittenden, Tom Gammill, Max Pross, Dan O'Keefe, Charlie Rubin, Marjorie Gross, Alec Berg, Elaine Pope, and Spike Feresten. A favorite among critics, the series led the Nielsen ratings in seasons six and nine, and finished among the top two (with NBC's ER) every year from 1994 to 1998. Only two other shows, I Love Lucy and The Andy Griffith Show, have finished their runs at the top of the ratings.
Seinfeld is widely regarded as one of the greatest and most influential sitcoms of all time. It has been ranked among television's best shows in publications such as Entertainment Weekly, Rolling Stone, and TV Guide. Its most renowned episodes include "The Chinese Restaurant", "The Soup Nazi", "The Parking Garage", "The Marine Biologist", and "The Contest". In 2013, the Writers Guild of America voted it the No. 2 Best-Written TV Series of All Time (second to The Sopranos). E! named it the "Number 1 reason the '90s ruled", and quotes from numerous episodes have become catchphrases in American popular culture.
TODAY'S ALMANAC
Question of the Day
I am an actuary. Often people ask me about the origin of the word. Do you have an answer?According to the dictionary, an actuary is a statistician who computes insurance risks and premiums. It comes from the Latin actuarius, "secretary of accounts," and acta, "records."
Advice of the Day
Add salt to the water under a double boiler; it will make the water boil faster.
Home Hint of the Day
Duct tape is a fibered tape known for its strength, durability and water resistance. It's a quick fix for everything from leaky canoes to ripped seat covers to damaged pipes to broken furniture.
Word of the Day
The Saffir-Simpson Hurricane ScaleThe Saffir-Simpson Hurricane Scale is a 1 to 5 rating based on a hurricane's intensity. It is used to estimate a hurricane's potential impact on coastal areas, including property damage and flooding. Wind speed, measured using a 1-minute average, is the determining factor in the scale.
Category 1: wind speeds 74-95 mph
Category 2: wind speeds 96-110 mph
Category 3: wind speeds 111-130 mph
Category 4: wind speeds 131-155 mph
Category 5: wind speeds over 155 mph
Puzzle of the Day
Why did the spider buy a car?Because he wanted to take it out for a spin!
Born
Gabriel Daniel Fahrenheit (physicist) – 1686
Bobby Darin (singer) – 1936
George Lucas (filmmaker) – 1944
David Byrne (musician) – 1952
Cate Blanchett (actress) – 1969
Amber Tamblyn (actress) – 1983
Rob Gronkowski (football player) – 1989
Miranda Cosgrove (actress) – 1993
Died
Henry John Heinz (founder of the H. J. Heinz Company) – 1919
Billie Burke (actress) – 1970
William Lear (inventor) – 1978
Rita Hayworth (actress) – 1987
Harry Blackstone Jr. (magician) – 1997
Frank Sinatra (singer & actor) – 1998
Robert Stack (actor) – 2003
Anna Lee (actress whose career in films and television spanned nearly 70 years) – 2004
Stanley Kunitz (United States poet laureate 2000-01, Pulitzer Prize winner) – 2006
B. B. King (blues legend) – 2015
Tim Conway (comedian & actor) – 2019
Grumpy Cat (feline celebrity with a grumpy expression) – 2019
Events
Jamestown, Virginia, became the first permanent British settlement in North America– 1607
At four years old, Louis XIV became King of France– 1643
Lewis and Clark's expedition left St. Louis for the West. The Corps of Discovery, as it was later to be called, originally included approximately 45 people.– 1804
34 cavalry disembarked at Indianola, Texas– 1856
Copyright registered for J. Phillip Sousa's Stars and Stripes Forever" march"– 1897
The Sparrow and the Hawk, a serial for kids, was broadcast for the first time over CBS radio– 1945
President Eisenhower broke ground for the Lincoln Center– 1959
First manned U.S. space station launched– 1973
The final episode of Seinfeld aired– 1998
Statue honoring the women athletes of the All-American Professional Baseball League installed at the National Baseball Hall of Fame, Cooperstown, New York– 2006
Racehorse Winning Brew ran 43.97 mph– 2008
Racehorse Winning Brew ran a quarter mile in 20.57 seconds at the Penn National Race Course in Grantville, Pennsylvania– 2008
Weather
Ten degrees below zero F at Climax, Colorado– 1896
The fourth-longest dry spell in Texas ended with 0.01 inch of rain in Brownsville– 1984
COURTESY www.almanac.com