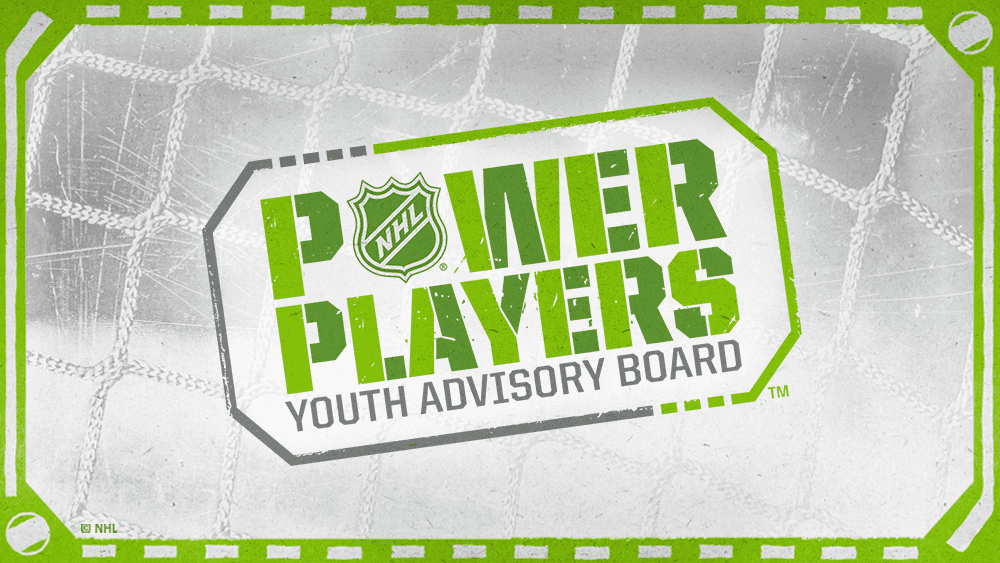 Gen Z Advisory Program Preparing to Drop the Puck on Fourth Season
NEW YORK (May 11, 2022) – For the fourth straight year, the National Hockey League (NHL) will accept applications for NHL Power Players™, a youth advisory board which brings together young hockey fans, ages 13-17, to help advise the NHL on hockey-related topics important to their generation. Starting today through Wednesday, June 1, fans may apply at https://www.nhl.com/fans/power-players to be considered. NHL Power Players™ alumni from the 2021-22 NHL® season are also eligible to apply.
The NHL will select 25 young hockey fans from across the U.S. and Canada for NHL Power Players™ based on creative ideas they want to share with the NHL as it relates to their local communities, the sport as a whole, social media and fan-driven content. Candidates will go through a multi-part application process with the League to be selected.
This group of youth advisors will participate in meetings conducted remotely throughout the year (via phone, general internet access and Zoom) to provide honest and impartial suggestions and opinions to the NHL on various topics including marketing of the game, community engagement, rules of play, events and social media content. Participants will serve as an advisor for one season and help increase fandom amongst fans 17 and under.
"NHL Power Players is the gift that keeps on giving," said Heidi Browning, NHL Senior Executive Vice President & Chief Marketing Officer. "Engaging with Generation Z is a linchpin to our growth, and it's essential for us to connect with this generation to further advance our great sport. Over the past three years the NHL Power Players have advised us on everything from fan engagement, to technology and diversity and inclusion, and we're thrilled to be selecting our fourth-year class to learn about all of their new and valuable insights."
To be eligible to apply for NHL Power Players™, you must:
* Be between the ages of 13-17 years old living in the U.S. or Canada
* Be open, honest and willing to share your ideas with the NHL and your peers
* Have access to internet, E-mail and Zoom
* Have access to social media platforms; Instagram, Facebook, Twitter (not required, but a plus); and
* Have a passion for hockey.
NHL Power Players™ will have the opportunity to be featured in League marketing (i.e., NHL Social™ content), and receive exclusive NHL Power Players™ merchandise. Participants chosen for NHL Power Players™ will be announced in advance of the 2022-23 NHL season.
Legal Disclaimer
Privacy Notice: The NHL will use the information you provide in connection with your application (e.g., on the application form and/or via a video submission) in order to assess your application and interest in the NHL Power Players™ Youth Advisory Board (the "Advisory Board") program. Applications will be reviewed by the NHL Power Players™ Committee (the "Committee") who will select a list of potential candidates. Those candidates will then be asked to provide a video submission in response to an interview question posed by the NHL. The Committee will then review all video submissions and select a list of finalists. All finalists will participate in a phone/video call interview before final Advisory Board members are selected. We collect your parent's (or legal guardian's) contact information so that we can notify them that you have submitted an application and, if you are accepted, to obtain their consent for your participation in the Advisory Board. Please ensure you obtain your parent's (or legal guardian's) consent to provide us their contact information for this purpose. If you are selected for a position on the Advisory Board, we will also collect and use any feedback or ideas you provide, and some of this information may be shared with NHL member teams. To learn more, please read our NHL Power Players™ Youth Advisory Board Privacy Notice.
About the NHL
The National Hockey League (NHL®), founded in 1917, consists of 32 Member Clubs. Each team roster reflects the League's international makeup with players from more than 20 countries represented, all vying for the most cherished and historic trophy in professional sports – the Stanley Cup®. Every year, the NHL entertains more than 670 million fans in-arena and through its partners on national television and radio; more than 191 million followers – league, team and player accounts combined – across Facebook, Twitter, Instagram, Snapchat, TikTok, and YouTube; and more than 100 million fans online at NHL.com. The League broadcasts games in more than 160 countries and territories through its rightsholders including ESPN, Turner Sports and NHL NetworkMC in the U.S.; Sportsnet and TVA Sports in Canada; Viaplay in the Nordic Region; and CCTV and Tencent in China; and reaches fans worldwide with games available to stream in every country. Fans are engaged across the League's digital assets on mobile devices via the free NHL® App; across nine social media platforms; on SiriusXM NHL Network Radio™; and on NHL.com, available in eight languages and featuring unprecedented access to player and team statistics as well as every regular-season and playoff game box score dating back to the League's inception, powered by SAP. NHL Original Productions and NHL Studios produce compelling original programming featuring unprecedented access to players, coaches and League and team personnel for distribution across the NHL's social and digital platforms.
The NHL is committed to building healthy and vibrant communities using the sport of hockey to celebrate fans of every race, color, religion, national origin, gender identity, age, sexual orientation, and socio-economic status. The NHL's Hockey Is For Everyone™ initiative reinforces that the official policy of the sport is one of inclusion on the ice, in locker rooms, boardrooms and stands. The NHL is expanding access and opportunity for people of all backgrounds and abilities to play hockey, fostering more inclusive environments and growing the game through a greater diversity of participants. To date, the NHL has invested more than $100 million in youth hockey and grassroots programs, with a commitment to invest an additional $5 million for diversity and inclusion programs over the next year.
COURTESY NHLmedia.com