May 12, 2022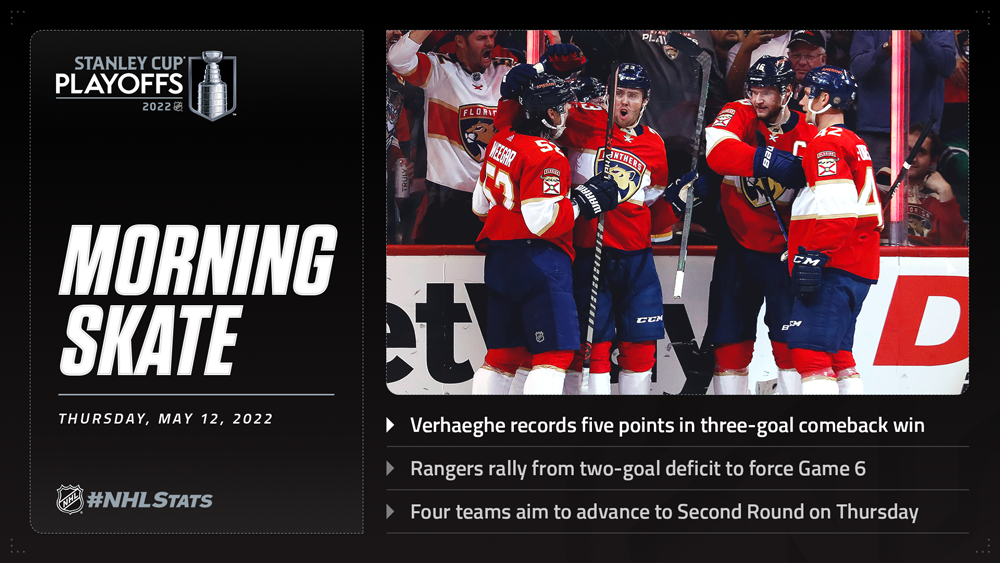 * The "Comeback Cats" lived up to their nickname once again, while there was "No Quit in New York" as the Rangers also rallied from a multi-goal deficit Wednesday to force Game 6 in their First Round series.

* The 2022 First Round became the fourth opening round in NHL history where seven series will require at least six games, following the 1991 and 1992 Division Semifinals (8) as well as the 2010 Conference Quarterfinals (7).

* The Flames scored three times in the third period and are now one victory away from earning their first best-of-seven series win since 2015.

* The Hurricanes, Maple Leafs, Blues and Kings can punch their ticket to the Second Round of the 2022 Stanley Cup Playoffs via a Game 6 victory Thursday.

VERHAEGHE HAS FIVE POINTS AS PANTHERS POST THREE-GOAL COMEBACK WIN
Carter Verhaeghe (2-3—5) factored on each of Florida's five unanswered goals, including scoring the game winner at 3:04 of the third period, as the Panthers overcame a 3-0 deficit to stun the Capitals and take a 3-2 lead in their First Round series.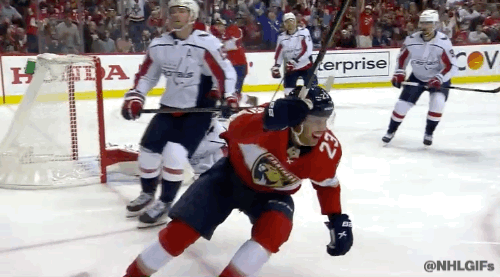 * Verhaeghe established a new franchise record for most points in a postseason game and has a team-leading 5-5—10 during the 2022 Stanley Cup Playoffs for Florida, which needs one win to earn its first series victory in 26 years.

* Verhaeghe became the first player in franchise history to score five goals in a postseason series. His 10 points are tied for the most by a Panthers player in a single playoff round (also Jonathan Huberdeau: 2-8—10 in 2021 R1).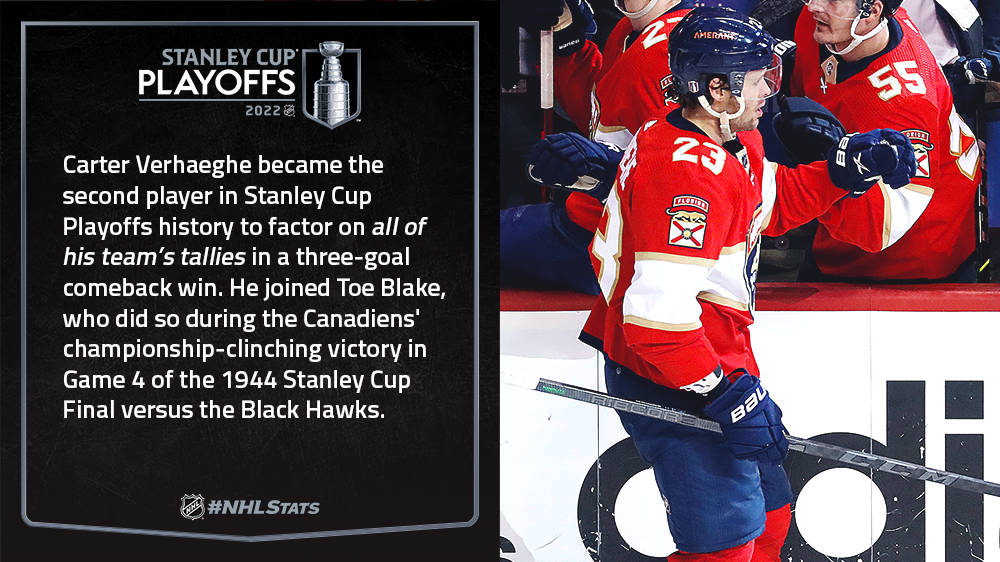 * ICYMI: The NHL announced that Game 6 between the Panthers and Capitals has been set for 7:30 p.m. ET on Friday, May 13, in Washington. It will mark the first potential series-clinching contest for Florida since Game 7 of the 2012 Conference Quarterfinals against New Jersey.

MORE "COMEBACK CATS" #NHLSTATS

* The Panthers recorded their sixth three-goal comeback win of 2021-22 (5 regular season, 1 playoffs), the highest combined total by a team in a single NHL season. The previous mark was five, achieved by Edmonton during the 1983-84 campaign en route to the franchise's first Stanley Cup (4 regular season, 1 playoffs).

* Florida became the fourth team in NHL history to earn a comeback win in consecutive playoff games with one involving scoring a tying goal in the final 5:00 of regulation and one involving overcoming a three-goal deficit. The Panthers followed the Flyers (Game 3 & Game 4 of 1977 QF), Islanders (Game 3 & Game 4 of 1993 DSF) and Canucks (Game 5 of 1994 CF & Game 1 of 1994 SCF).

* The Panthers earned their second three-goal comeback win during the Stanley Cup Playoffs. The first was over 10 years ago, in Game 3 of the 2012 Conference Quarterfinals.

RANGERS RALLY TO FORCE GAME 6 AGAINST PENGUINS
The Penguins opened up a 2-0 lead with the opportunity to advance to the Second Round of the 2022 Stanley Cup Playoffs, but Alexis Lafrenière (1-1—2) scored one of three Rangers goals in a span of 2:42 – the fastest three goals in a potential elimination game in franchise history – and assisted on Filip Chytil's game winner to help New York force a Game 6 against Pittsburgh.

* The Rangers are no strangers to rallying from a multi-goal deficit to stave off elimination, with the most famous instance coming when Mark Messier guaranteed to reporters that New York, down 3-2 in the 1994 Conference Finals against New Jersey, would force a Game 7. Trailing 2-0 in Game 6, Messier scored a hat trick en route to helping the Rangers win the contest, the series and eventually the Stanley Cup.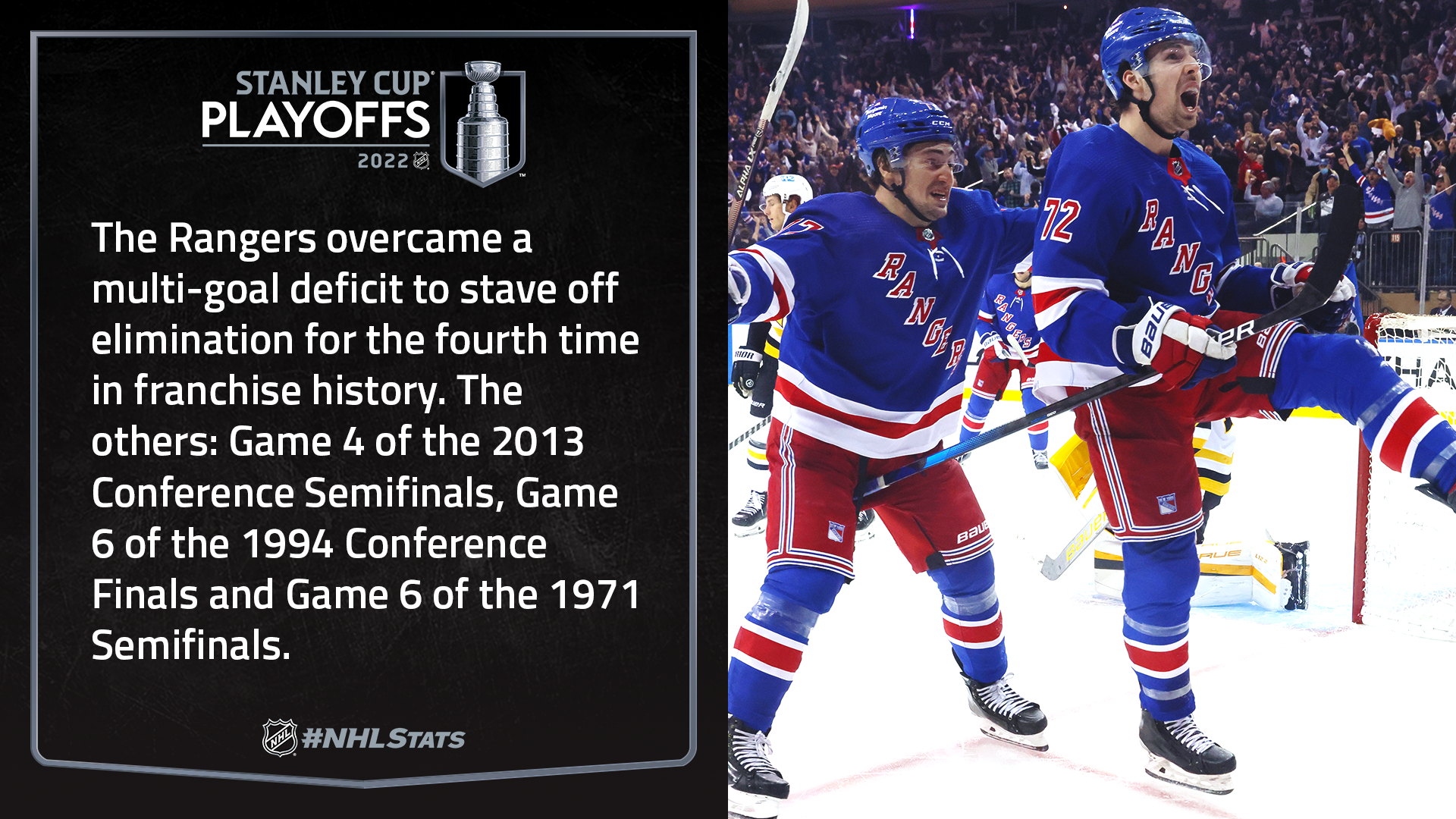 * Lafrenière (20 years, 212 days) has points in each of his past three outings after scoring his first career Stanley Cup Playoffs goal in Game 4. He became the fourth player in Rangers history to score in consecutive playoff games at age 20 or younger, joining Don Maloney (3 GP & 2 GP in 1979), Steven Rice (2 GP in 1991) and Mike Allison (2 GP in 1981).

* Chytil (22 years, 248 days) scored his first career game-winning goal in the Stanley Cup Playoffs. Only three other players in franchise history have scored a game-winning goal when facing elimination at age 22 or younger: Chris Kreider (Game 6 of 2012 CQF & Game 4 of 2013 CSF), Michael Del Zotto (Game 7 of 2012 CSF) and Don Murdoch (Game 2 of 1978 PRLM).

THIRD-PERIOD COMEBACK PROPELS FLAMES TO GAME 5 WIN
Mikael Backlund (1-1—2) tied the game with 13:11 remaining in regulation and Andrew Mangiapane (1-1—2) scored the go-ahead goal less than four minutes later as Calgary claimed a 3-2 lead in its First Round series. The Flames earned their first third-period comeback win in the Stanley Cup Playoffs since 2015, when they had three such victories – one was in Game 6 of the First Round versus Vancouver, which was the last time Calgary won a best-of-seven series.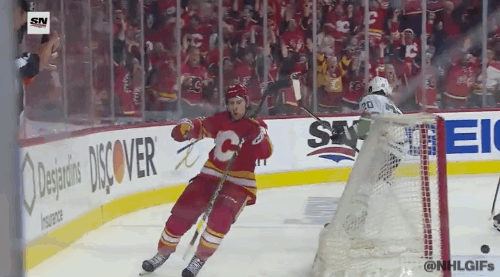 * Jacob Markstrom (20 saves) earned his 40th win of 2021-22 (37 regular season, 3 playoffs), the most combined victories in a season by a Flames goaltender since 2008-09 when Miikka Kiprusoff had 47 (45 regular season, 2 playoffs). Markstrom was recently named a finalist for the 2021-22 Vezina Trophy and can become the first Calgary netminder to claim the award since Kiprusoff in 2005-06.

QUICK CLICKS

* #NHLStats: Live Updates for Wednesday, May 11
* Series Scenarios for Thursday, May 12
* Darnell Nurse suspended one game for head-butting; teammate Zack Kassian fined
* NHL accepting applications for Power Players youth advisory board
* Michael Bunting, Moritz Seider and Trevor Zegras voted Calder Trophy finalists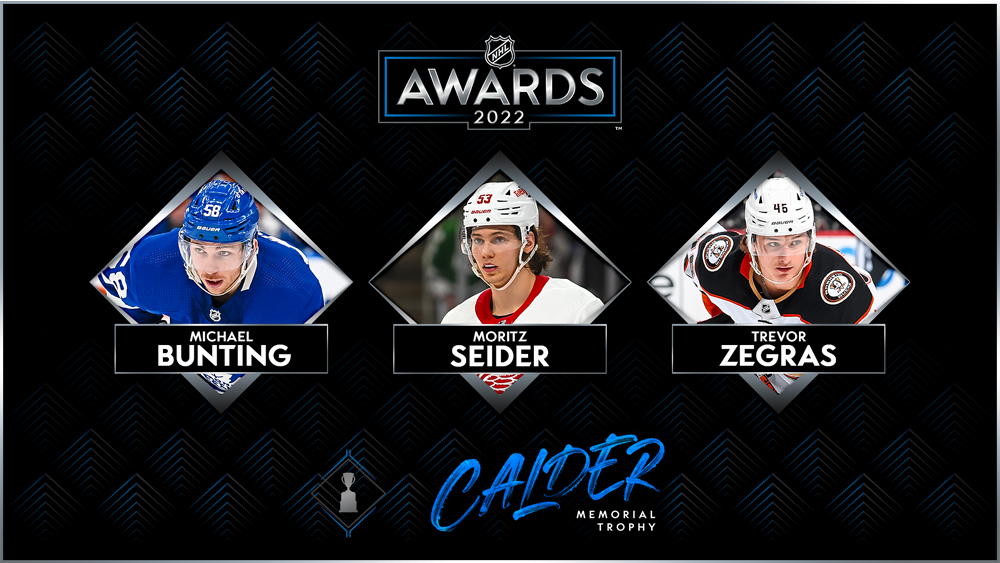 FOUR TEAMS LOOK TO ADVANCE TO 2022 SECOND ROUND THURSDAY
Carolina, Toronto, St. Louis and Los Angeles can clinch a berth in the Second Round of the 2022 Stanley Cup Playoffs as four Game 6s go Thursday. Teams that hold a 3-2 lead in a best-of-seven own an all-time series record of 332-88 (.790), including an 8-1 mark in the 2021 Stanley Cup Playoffs (4-1 in 2021 R1).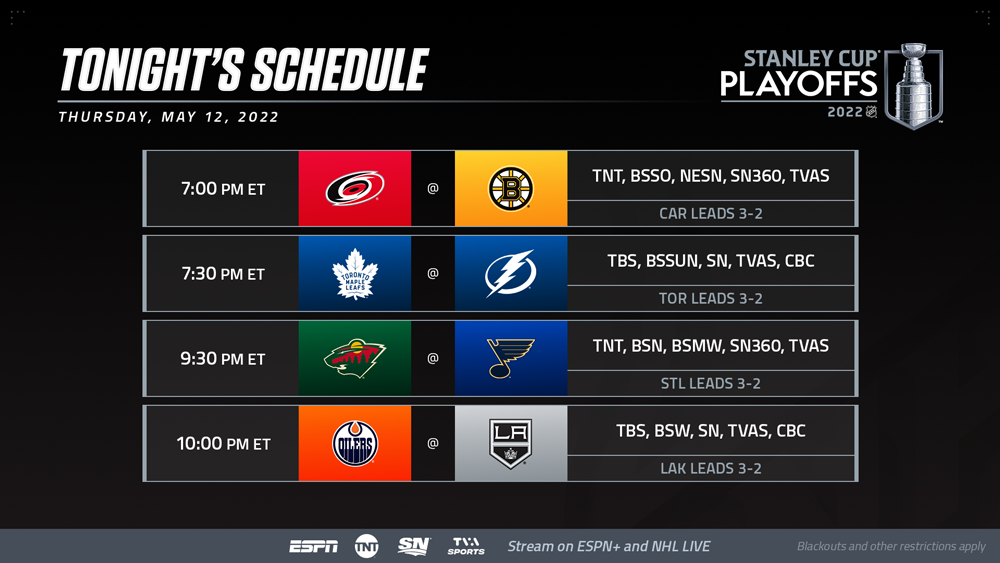 COURTESY NHLmedia.com