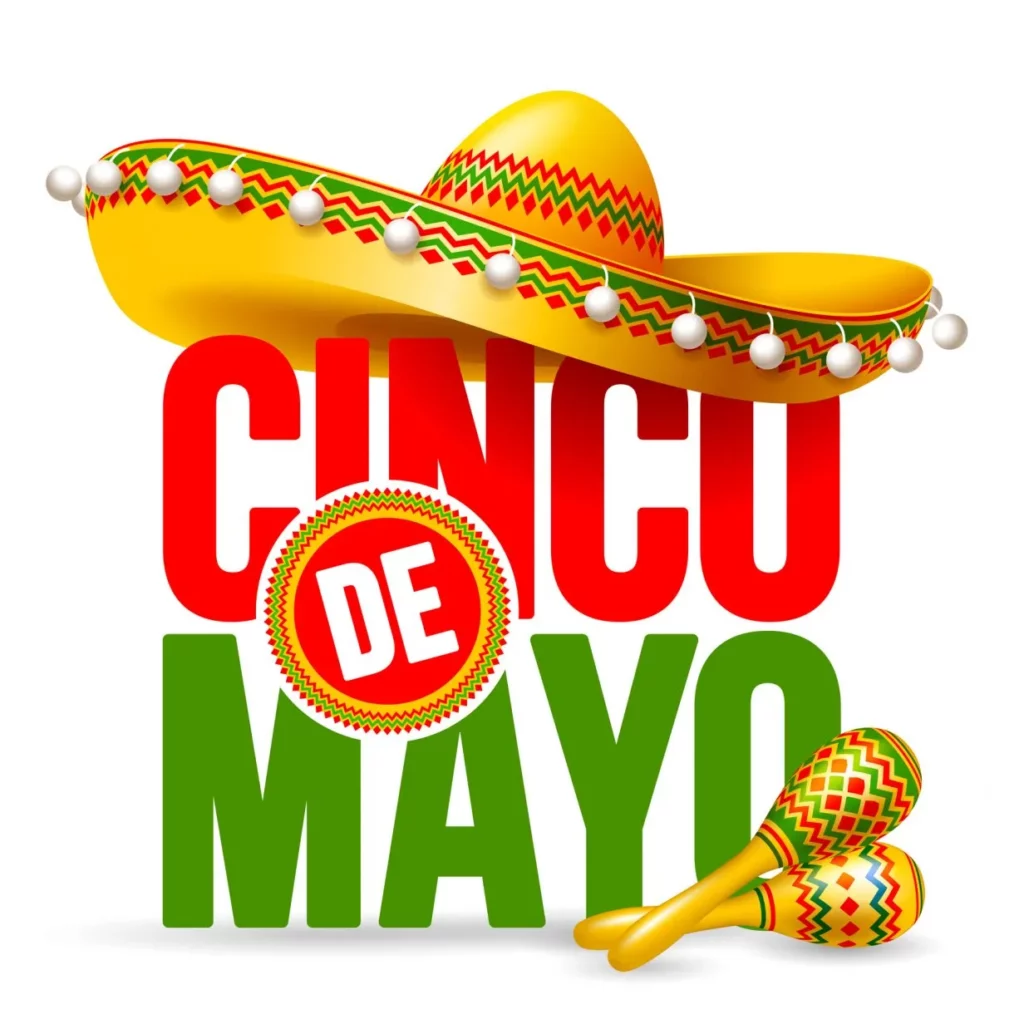 FROM WIKIPEDIA COMMONS
Cinco de Mayo (pronounced [ˈsiŋko̞ ðe̞ ˈma̠ʝo̞] in Mexico, Spanish for "Fifth of May") is a yearly celebration held on May 5, which commemorates the anniversary of Mexico's victory over the Second French Empire at the Battle of Puebla in 1862, led by General Ignacio Zaragoza. The victory of a smaller, poorly equipped Mexican force against the larger and better-armed French army was a morale boost for the Mexicans. Zaragoza died months after the battle from an illness, and a larger French force ultimately defeated the Mexican army at the Second Battle of Puebla and occupied Mexico City.
More popular in the United States than Mexico, Cinco de Mayo has become associated with the celebration of Mexican-American culture. Celebrations began in California, where they have been observed annually since 1863. The day gained nationwide popularity beyond those of Mexican-American heritage in the 1980s due to advertising campaigns by beer, wine, and tequila companies; today, Cinco de Mayo generates beer sales on par with the Super Bowl. In Mexico, the commemoration of the battle continues to be mostly ceremonial, such as through military parades or battle reenactments. The city of Puebla marks the event with various festivals and reenactments of the battle.
Cinco de Mayo is sometimes mistaken for Mexico's Independence Day—the most important national holiday in Mexico—which is celebrated on September 16, commemorating the Cry of Dolores in 1810, which initiated the war of Mexican independence from Spain. Cinco de Mayo has been referenced and featured in entertainment media, and has become an increasingly global celebration of Mexican culture, cuisine, and heritage.
TODAY'S ALMANAC
Question of the Day
I saw an old sign that read "Think Safety First … Philip Morris" and had a picture of a bellboy on it. What do bellboys, cigarettes, and safety have in common?The cigarette company's logo — or mascot — was a bellboy. In fact, an actor played the role for years, both in TV and radio commercials (his famous line was "Call for Philip Morris!") and promotional appearances. We can't be 100 percent sure, but we think the old signs appeared along roads and highways as public service announcements urging traffic safety.
Advice of the Day
Never spend your money before you have it. —Thomas Jefferson
Home Hint of the Day
Don't apply any manure or compost that's not thoroughly decomposed to the early garden. Such treatments can burn seedlings and attract flies that introduce root maggots.
Word of the Day
BlueyA bushman's blanket; — named from its color, or a bushman's bundle; a swag; — so called because a blanket is sometimes used as the outside covering.
Puzzle of the Day
Why isn't your nose 12 inches long?Because then it would be a foot!
Born
Robert Browning (poet) – 1812
Johannes Brahms (composer) – 1833
Peter Ilyich Tchaikovsky (composer) – 1840
Eva Peron (wife of Argentine President Juan Peron) – 1919
Darren McGavin (actor) – 1922
Anne Baxter (actress) – 1923
Alex Smith (football player) – 1984
Died
Salmon P. Chase (Chief Justice of the United States) – 1873
Douglas Fairbanks, Jr. (actor) – 2000
Events
First inaugural ball in U.S.– 1789
Haworth Parsonage was the recipient of the first copies of the Brontë sisters' Poems– 1846
American Medical Association founded– 1847
The first Naval Academy Band arrived at the United States Naval Academy– 1853
Wagon-mounted fire escape ladder patented– 1878
The R.M.S. Lusitania was torpedoed by a German submarine off the coast of Ireland and sank with a loss of 1,198 lives, including 139 Americans, bringing the U.S. and Germany to the brink of war (WW I)– 1915
First exhibit by Group of Seven" artists"– 1920
The world's first projection planetarium installed, Deutsches Museum, Munich, Germany– 1925
9.4-inch-long, 14-pound pearl reportedly collected on this day from giant clam at Palawan Island, Philippines– 1934
Glenn Miller recorded Chattanooga Choo Choo""– 1941
President Ford declared an end to the Vietnam War– 1975
Bigfoot reported seen in Hollis, NH– 1977
Canadian-bred Sunny's Halo won the Kentucky Derby– 1983
27th U.S. Amendment ratified– 1992
Steve Nash of the Phoenix Suns was named MVP for the 2005-06 basketball season. He became the 9th player in NBA history to receive the honor in back-to-back seasons– 2006
282 people carried water jugs on their heads (in Toronto), setting a world record– 2011
Weather
A tornado in Natchez, Mississippi, was the most deadly and destructive in early U.S. history, killing 317 people.– 1840
54 degrees F, Sacramento, California– 1905
Sacramento, California, had a temperature of 105 degrees F– 1987
Rochester, New York, received ten inches of snow– 1989
FROM WIKIPEDIA COMMONS
Stephen John Nash OC OBC (born 7 February 1974) is a Canadian professional basketball coach and former player who is the head coach of the Brooklyn Nets of the National Basketball Association (NBA). He played 18 seasons in the NBA, where he was an eight-time All-Star and a seven-time All-NBA selection. Nash was a two-time NBA Most Valuable Player while playing for the Phoenix Suns.
After a successful high school basketball career in British Columbia, Nash earned a scholarship to Santa Clara University in California. In his four seasons with the Broncos, the team made three NCAA Tournament appearances, and he was twice named the West Coast Conference (WCC) Player of the Year. Nash graduated from Santa Clara as the team's all-time leader in assists and was taken as the 15th pick in the 1996 NBA draft by the Phoenix Suns. He had minimal impact and was traded to the Dallas Mavericks in 1998. By his fourth season with the Mavericks, he was voted to his first NBA All-Star Game and earned his first All-NBA selection. Together with Dirk Nowitzki and Michael Finley, Nash led the Mavericks to the Western Conference Finals the following season. He became a free agent after the 2003–04 season and returned to the Phoenix Suns.
In the 2004–05 season, Nash led the Suns to the Western Conference Finals and was named the league's MVP. He was named MVP again in the 2005–06 season and was runner-up for a third consecutive MVP to Nowitzki in 2006–07. Named by ESPN in 2016 as the seventh-greatest point guard of all time, Nash led the league in assists and free throw percentage at various points in his career. He is also ranked as one of the top players in NBA league history in three-point shooting, free throw shooting, total assists, and assists per game.
Nash has been honoured for his contributions to various philanthropic causes. In 2006, he was named by Time as one of the 100 most influential people in the world. Nash was appointed to the Order of Canada in 2007 and invested to the order in 2016, and was awarded an Honorary Doctor of Laws from the University of Victoria in 2008. Nash has been a co-owner of the Vancouver Whitecaps FC of Major League Soccer (MLS) since the team entered the league in 2011. From 2012 to 2019, he served as general manager of the Canadian men's national basketball team, for whom he played from 1991 to 2003, making one Olympic appearance and being twice named FIBA AmeriCup MVP. In 2021, Nash was named to the NBA 75th Anniversary Team.
COURTESY www.almanac.com