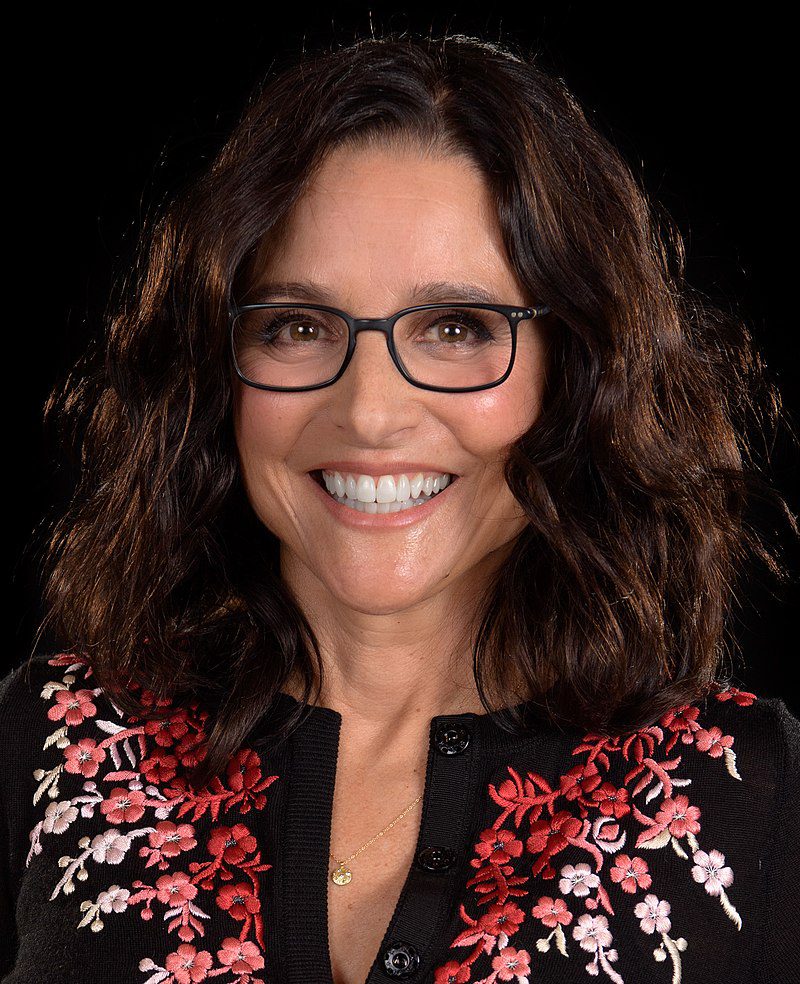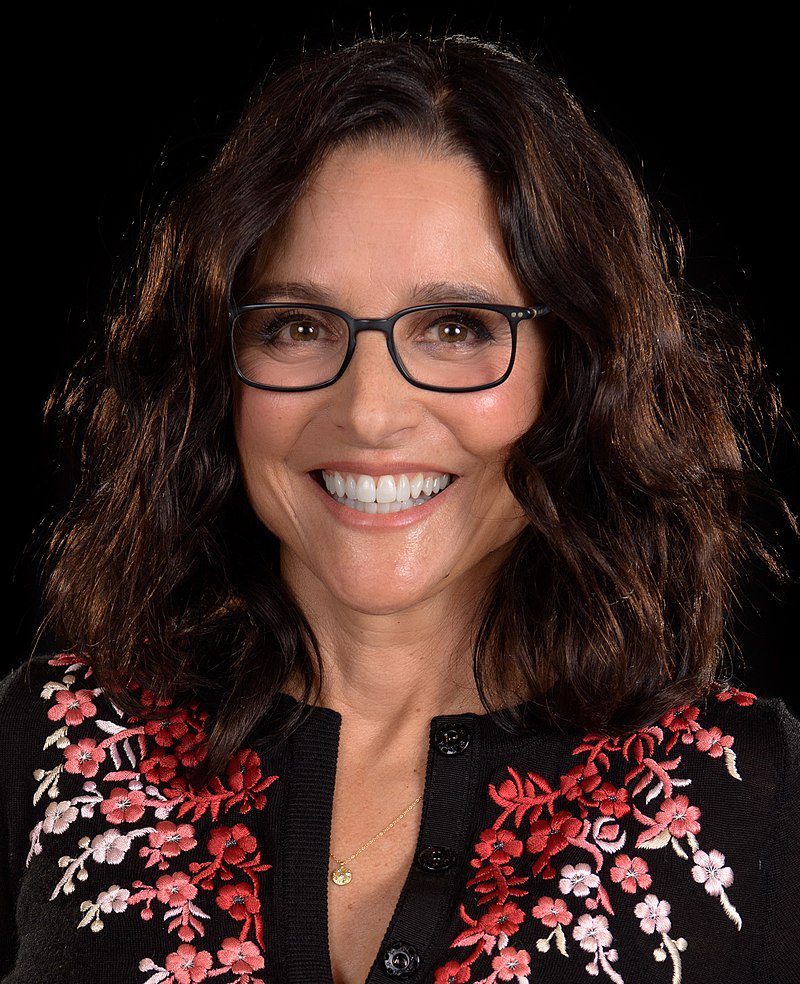 FROM WIKIPEDIA COMMONS
Julia Scarlett Elizabeth Louis-Dreyfus (/ˈluːi ˈdraɪfəs/ LOO-ee-DRY-fəss; born January 13, 1961) is an American actress, comedian, and producer. She is known for her work in the comedy television series Saturday Night Live (1982–1985), Seinfeld (1989–1998), The New Adventures of Old Christine (2006–2010), and Veep (2012–2019). She is one of the most award-winning actresses in American television history, having received more Primetime Emmy Awards and more Screen Actors Guild Awards than any other performer, tying Cloris Leachman (with eight) for the most acting wins.
Louis-Dreyfus broke into comedy as a performer in The Practical Theatre Company in Chicago, Illinois, which led to her casting in the sketch show Saturday Night Live from 1982 to 1985. Her breakthrough came in 1990 with a nine-season run playing Elaine Benes on Seinfeld, one of the most critically and commercially successful sitcoms of all time. Her other notable television roles include Christine Campbell in The New Adventures of Old Christine, which had a five-season run on CBS; and Selina Meyer in Veep, which ran for seven seasons on HBO. Her film roles include Hannah and Her Sisters (1986), National Lampoon's Christmas Vacation (1989), Deconstructing Harry (1997), and Enough Said (2013). She also provided voices for the animated films A Bug's Life (1998), Planes (2013), and Onward (2020). In 2021, she began portraying Valentina Allegra de Fontaine in the Marvel Cinematic Universe.
Louis-Dreyfus has received eleven Emmy Awards, eight for acting and three for producing. She has also received a Golden Globe Award, nine Screen Actors Guild Awards, five American Comedy Awards, and two Critics' Choice Television Awards. Louis-Dreyfus received a star on the Hollywood Walk of Fame in 2010 and was inducted into the Television Academy Hall of Fame in 2014. In 2016, Lena Dunham in Time named Louis-Dreyfus as one of the 100 most influential people in the world in the artists category in the annual Time 100 list. In 2018, she received the Mark Twain Prize for American Humor, presented by the Kennedy Center as America's highest comedy honor.
TODAY'S ALMANAC
Question of the Day
How do you keep casement windows from sticking after you paint them?Rub them with a bar of soap or a candle stub. Or spray them with a lubricant such as WD-40.
Advice of the Day
If you stub your toe, kiss your thumb and you'll see your beau.
Home Hint of the Day
When building a walk or patio from bricks, use weatherproof bricks. These bricks have been baked longer and have a hard surface that repels water. Soft bricks will absorb water over time and freeze and crack in the winter.
Word of the Day
WallopA quick, rolling movement; a gallop. To boil with a continued bubbling or heaving and rolling, with noise.
Puzzle of the Day
Which chef in the kitchen wears the largest hat?The one with the largest head.
Born
Horace Mann (American educator) – 1796
Audrey Hepburn (actress) – 1929
Randy Travis (country music singer) – 1959
Ana Gasteyer (actress) – 1967
Lance Bass (singer) – 1979
Alexander Gould (actor, voice of Nemo in Finding Nemo) – 1994
Died
Moe Howard (actor) – 1975
Fredric Baur (credited with creating Pringles and its can. Part of Mr. Baur's cremated remains were buried in a Pringles can.) – 2008
Dom DeLuise (actor) – 2009
Ellen Albertini Dow (actress) – 2015
Events
American Academy of Arts and Sciences incorporated, in Boston, Massachusetts– 1780
First general meeting of the Society of the Cincinnati, in Philadelphia– 1784
Haymarket Affair, Chicago, Illinois– 1886
First Freedom Ride began– 1961
First on-the-road Spacemobile lecture– 1961
National Guardsmen killed 4 antiwar demonstrators at Kent State University– 1970
Rain caused deadly sinkhole and landslide in St.-Jean-Vianney, Quebec– 1971
Margaret Thatcher became the United Kingdom's first female Prime Minister– 1979
Magellan spacecraft launched from Space Shuttle Atlantis– 1989
Love Bug computer virus caused billions of dollars in damages– 2000
Actress Julia Louis-Dreyfus received a star on the Hollywood Walk of Fame. However, her name was misspelled.– 2010
Royal Canadian Mint produced its last penny– 2012
Weather
Nine inches of snow fell at Waltham, Massachusetts– 1812
Twelve inches of snow fell near Keene, New Hampshire– 1812
Two tornadoes struck Austin, Texas– 1922
Missoula, Montana, had 6.5 inches of snow– 1961
Damaging windstorm in southern Ontario produced 78-mph wind gusts in Hamilton– 2018
COURTESY www.almanac.com