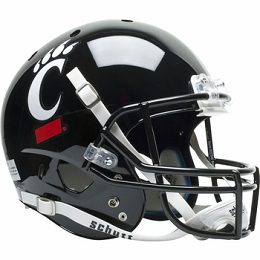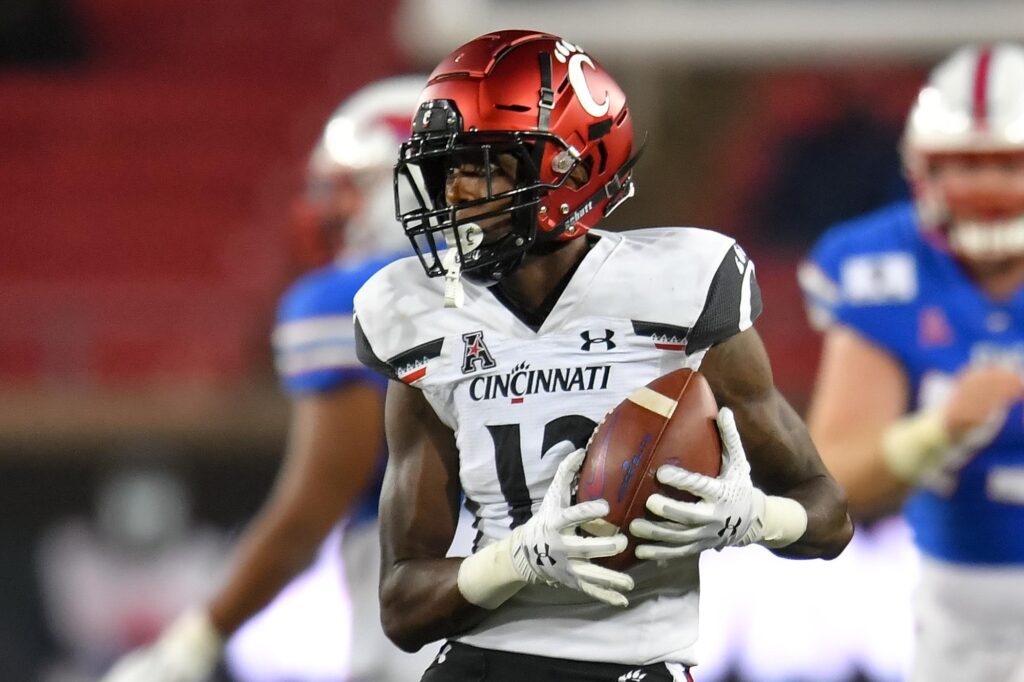 April 28, 2022
The All-American cornerback becomes third UC first-rounder and first in 50 years
LAS VEGAS – Cincinnati cornerback Ahmad "Sauce" Gardner donned a sharp powder blue suit on Thursday night outside of the Caesar's Forum.
His outfit featured not one, but two, 'sauce' chains to match the glitz and glamour of night one of the NFL Draft in Las Vegas.
"You can never have too much sauce," Gardner said before the first round began.
The New York Jets agreed, making the Detroit, Mich., native the No. 4 overall pick in the 2022 NFL Draft.
He's the highest drafted Bearcat in school history and the first UC first round selection in more than 50 years. He joins Greg Cook (No. 5, 1969) and Bob Bell (No. 21, 1971) as the third NFL Draft first-round pick from the University of Cincinnati.
"I'm thrilled for Ahmad and his family," said Cincinnati head coach Luke Fickell, who joined Gardner in Las Vegas. "The Jets are getting a guy that is a true lockdown cornerback who can play the boundary, the field, or wherever you need him. But most importantly they are getting a competitor, a guy that is a pro, and a guy that is going to make their locker room better. He is as talented as any player I have been around, but also an outstanding person. He was a true game-changer for this program. I told him when he first got here that he was 'Ahmad' until he gets drafted, and then I would call him by his nickname. That day is here and I'm happy to say how excited I am for 'Sauce.'"
Gardner is the eighth draft pick from UC under Fickell, who started with the Bearcats in 2017.
He becomes the third Bearcat drafted by the Jets, joining offensive lineman Jason Fabini (fourth round, No. 111, 1998) and linebacker Alex Gordon (second round, No. 42, 1987).
Gardner famously never allowed a touchdown pass over 1,000 snaps in college, collecting All-AAC First Team honors three years in row, First Team All-America accolades in 2020 and 2021, and leading the Bearcats to a school-record 13 wins and their first-ever College Football Playoff appearance last fall.
He became just the third Bearcat to be named a consensus All-American.
He was a unanimous selection as the AAC's Defensive Player of the Year in 2021 after he tallied 40 tackles, three sacks, three interceptions and 60-yard scoop-and-score touchdown following a blocked kick at ECU.
Gardner burst onto the scene with pick-six against UCF as a true freshman in 2019 and never left the field, finishing with 99 tackles, 18 passes defended and nine interceptions despite rarely being targeted.
Several more Bearcats will be drafted this weekend and the record for most Bearcats selected in a single draft (six, 2009) is expected to be broken.
THE BEARCATS ARE READY TO RELOAD
Led by the reigning consensus National Coach of the Year Luke Fickell and 12 returning starters, the Bearcats are the two-time defending AAC Champions and are coming off of a 13-1 season that culminated in a trip to the 2021 College Football Playoff. With a 44-7 mark since the start of 2018, Cincinnati's 86% winning percentage ranks among the nation's Top 5 winning percentages over the last four years.

FOLLOW THE BEARCATS
For all the latest information on Cincinnati Athletics, please visit GoBEARCATS.com. For up-to-the-minute updates, follow Cincinnati Athletics on Twitter, Instagram and Facebook.
COURTESY UC SPORTS COMMUNICATIONS