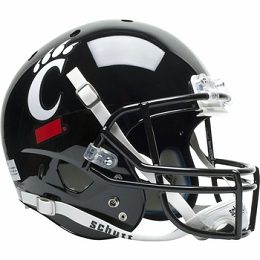 CINCINNATI – The Cincinnati football program has had more than 100 Bearcats selected in the NFL Draft since 1940. Coming off the program's first-ever trip to the College Football Playoff during a record-breaking 2021 season, the Bearcats are expected to have the most players drafted in program history beginning this Thursday at the 2022 NFL Draft in Las Vegas, Nevada.
Cornerback Ahmad "Sauce" Gardner is projected to be a first-round pick, while quarterback Demond Ridder is projected to go in the first or second round. Several other Bearcats are expected to be drafted in Round 2-3 on Friday or Rounds 4-7 on Saturday.
See below for some other Cincinnati football NFL Draft notes:
DRAFT PICKS UNDER FICKELL
Heading into the 2022 NFL Draft, Cincinnati has had seven Bearcats drafted in the Luke Fickell era. Fickell has had more than 40 draft picks overall in his coaching career.
Cincinnati NFL Draft Picks since 2018:
OL James Hudson, 2021, Round 4, Pick 110, Cleveland Browns
S Darrick Forrest, 2021, Round 5, Pick 163, Washington Football Club
S James Wiggins, 2021, Round 7, Pick 243, Arizona Cardinals
RB Gerrid Doaks, 2021, Round 7, Pick 244, Miami Dolphins
TE Josiah Deguara, 2020, Round 3, Pick 94, Green Bay Packers
DT Cortez Broughton, 2019, Round 7, Pick 254, Los Angeles Chargers
OL Korey Cunningham, 2018, Round 7, Pick 254, Arizona Cardinals
FIRST-ROUND SAUCE
Cornerback Ahmad "Sauce" Gardner is expected to be Cincinnati's third-ever first round pick and first since 1971. He has a chance to be the highest player ever selected, surpassing Greg Cook (fifth, 1969).
Cincinnati First Round NFL Draft Picks All-Time
1971, DL Bob Bell, No. 21, Detroit Lions
1969, QB Greg Cook, No. 5, Cincinnati Bengals
WHERE WILL RIDDER GO
Quarterback Desmond Ridder is expected to be the fifth Bearcats QB selected all-time. He is projected to be selected in the first or second round.
All-Time Cincinnati QB Draft Picks
2010, Tony Pike, Round 6, Pick 204, Carolina Panthers
1988, Danny McCoin, Round 11, Pick 281, Cincinnati Bengals
1969, Greg Cook, Round 1, No. 5, Cincinnati Bengals
1960, Jack Lee, Round 6, No. 61, St. Louis Cardinals
RECORDS WILL BE BROKEN
The record for most Bearcats selected in a single draft is six in 2009 – a record that is expected to fall in 2022 after eight Bearcats were invited to the NFL Combine.
Most Bearcats Selected in a Single Draft
Six – 2009: Connor Barwin (2nd), Kevin Huber (5th), DeAngelo Smith (5th), Brandon Underwood (6th), Mike Mickens (7th), Trevor Canfield (7th)
CUMMINGS COULD ADD ANOTHER FIRST ROUND PICK
New UC offensive line coach Mike Cummings coached the No. 1 overall pick in the 2013 NFL Draft, OT Eric Fisher, while at Central Michigan.
Two of his other former Chippewa offensive line proteges in Bernard Raimann and Luke Goedeke are both predicted to go early in the 2022 draft.
Raimann is Dane Brugler's No. 5 offensive tackle and No. 36 overall prospect, while Goedeke is Brugler's fifth-ranked guard and No. 76 overall player.
WHAT THE EXPERTS ARE SAYING
The Athletic's Dan Brugler has six Bearcats ranked in his Top 100 Big Board – the second-most of any school behind National Champion Georgia (nine).
Most Prospects in The Athletic's NFL Draft Expert Dane Brugler's Top 100 Big Board
Georgia 9
Cincinnati 6
Alabama 5
Ohio State 4
Oklahoma 4
Michigan 3
Bearcat Overall Rnk Position Rnk
CB Ahmad Gardner 5 1
QB Desmond Ridder 40 3
S Bryan Cook 77 6
CB Coby Bryant 87 11
WR Alec Pierce 89 12
Edge Myjai Sanders 100 19
Longtime ESPN Draft guru Mel Kiper has four Bearcats being selected in the first two rounds.
ESPN's Mel Kiper two-round mock draft (updated April 13)
1-2. CB Ahmad Gardner, Detroit Lions
2-40. QB Desmond Ridder, Seattle Seahawks
2-53. WR Alec Pierce, Green Bay Packers
2-59. Edge Myjai Sanders, Green Bay Packers
Another ESPN draft expert, Jordan Reid, has eight Bearcats off the board by early in the fourth round.
ESPN's Jordan Reid seven round mock (updated April 11)
1-9. CB Ahmad Gardner, Seattle Seahawks
2-42. QB Desmond Ridder, Indianapolis Colts
3-78. WR Alec Pierce, Cleveland Browns
3-99. Edge Myjai Sanders, Cleveland Browns
3-101. S Bryan Cook, Philadelphia Eagles
4-110. LB Darrian Beavers, Baltimore Ravens
4-111. RB Jerome Ford, New York Jets
4-113 CB Coby Bryant, Washington Commanders
ESPN's Todd McShay has two Bearcats in the first round.
ESPN's Todd McShay two-round mock (updated April 5)
1-10 CB Ahmad Gardner, New York Jets
1-32           QB Desmond Ridder, Detroit Loins
COURTESY UC SPORTS COMMUNICATIONS