April 25, 2022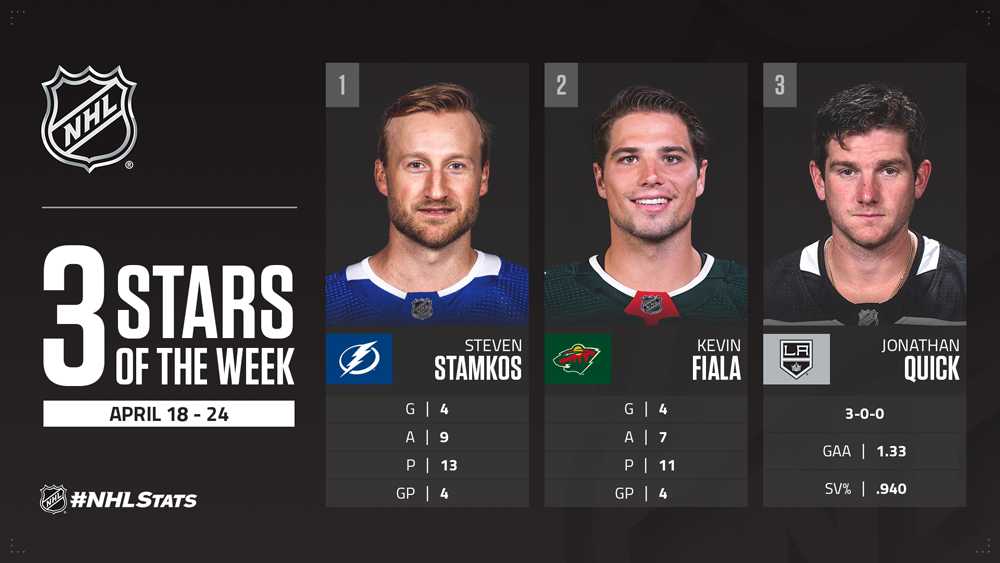 NEW YORK (April 25, 2022) – Tampa Bay Lightning center Steven Stamkos, Minnesota Wild left wing Kevin Fiala and Los Angeles Kings goaltender Jonathan Quick have been named the NHL's "Three Stars" for the week ending April 24.
FIRST STAR – STEVEN STAMKOS, C, TAMPA BAY LIGHTNING
Stamkos led the NHL with 4-9—13 in four contests, picking up at least three points in each of his appearances to power the Lightning (49-22-8, 106 points) to a 3-1-0 week. He recorded his 12th career three-assist performance – and third of the season (also Dec. 9 at TOR: 1-3—4 and March 16 at SEA: 0‑3—3) – in a 4-3 loss to the Detroit Red Wings April 19. Stamkos, who was drafted first overall by Tampa Bay in 2008, then surpassed Martin St. Louis as the franchise's all-time leading scorer with 1-2—3 in an 8-1 triumph over the Toronto Maple Leafs April 21. He followed that with another 1-2—3 outing in a 6-2 victory against the Nashville Predators April 23 before capping the week with 2-2—4, his 18th career four-point game and second of the season (also Dec. 9 at TOR), in an 8-4 win over the Florida Panthers April 24. The 32-year-old captain of the two-time defending Stanley Cup champions – who has multiple points in six straight outings dating to April 14 (5-12—17) – ranks eighth in the League with 37-60—97 through 78 total games this season, one point shy of his career high established in 2018-19 (45-53—98 in 82 GP).
SECOND STAR – KEVIN FIALA, LW, MINNESOTA WILD
Fiala registered multiple points in all four of his contests, totaling 4-7—11 and two game-winning goals to propel the Wild (51-21-7, 109 points) to a perfect week. He scored the decisive marker in each of his first two outings, potting 1-1—2 in a 2-0 victory against the Montreal Canadiens April 19 and two goals in a 6-3 triumph over the Vancouver Canucks April 21. Fiala then set a career high and single-game franchise record with five assists in a 6-3 win versus the Seattle Kraken April 22. He closed the week with 1-1—2, his fifth straight multi-point performance and seventh in his last eight appearances dating to April 12 (9-12—21), in a 5-4 overtime victory against the Nashville Predators April 24. The 25-year-old veteran of eight NHL seasons, who also was named "Second Star" for the week ending April 17, has established career highs in goals (33), assists (51), points (84) and game-winning goals (7) through 79 total contests thus far in 2021-22.
THIRD STAR – JONATHAN QUICK, G, LOS ANGELES KINGS
Quick stopped 63 of the 67 shots he faced, compiling a 3-0-0 record, 1.33 goals-against average and .940 save percentage to lift the Kings (43-27-10, 96 points) to a perfect week as they pursue their first playoff berth since 2018. The Milford, Conn., native reached the 20-win milestone for the ninth time (a feat achieved by only five other U.S.-born goaltenders in NHL history) with 29 saves in a 2-1 victory over the Anaheim Ducks April 19. He then denied 15 shots in a 4-1 triumph against the Chicago Blackhawks April 21 before finishing the week with 19 saves in a 4-2 win versus the Ducks April 23. The 36-year-old Quick has appeared in 45 total games this season, going 22-13-9 with a 2.58 goals-against average, .909 save percentage and two shutouts.
COURTESY NHLmedia.com