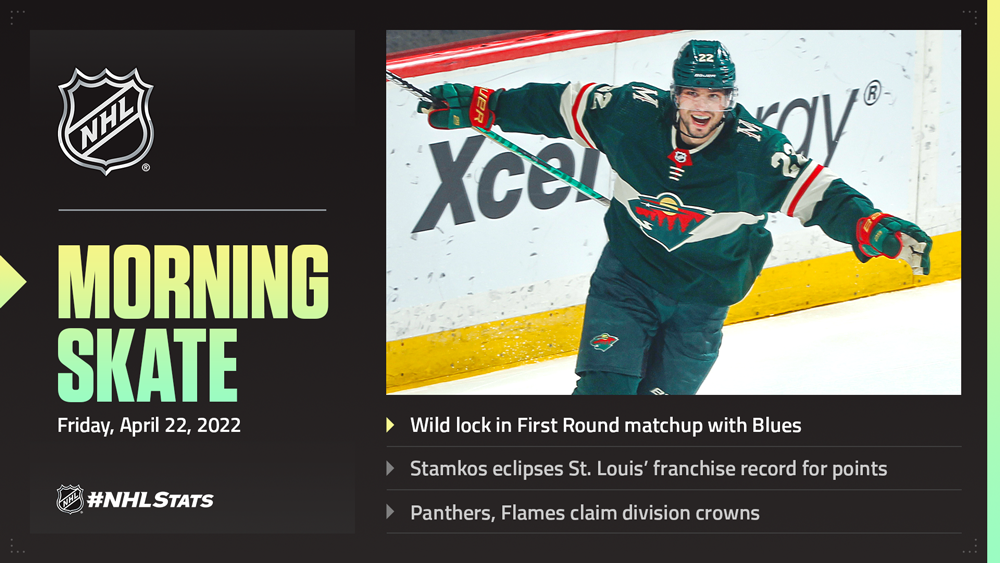 * Two division titles and one playoff matchup were decided Thursday, while two other teams secured home ice in the First Round of the 2022 Stanley Cup Playoffs.
* The Blues and Wild became the first guaranteed series in the 2022 Stanley Cup Playoffs – on the same day early registration opened for the annual Bracket Challenge.
* Matthew Tkachuk joined the century club and became the first Calgary player since Jarome Iginla to score 40 goals in a season. He is thesixth player to hit the 100-point mark in 2021-22, tied for the most over the past 14 years (since 2007-08).
* Steven Stamkos set a franchise record for career points as the Lightning kept their bid for home ice alive with a victory over the Maple Leafs – a potential opponent in the First Round.

FIRST PLAYOFF MATCHUP SECURED: WILD VERSUS BLUES
Kirill Kaprizov and Mats Zuccarello each posted 1-2—3 as the Wild (49-21-7, 105 points) improved to 11-0-1 in their past 12 games at Xcel Energy Center dating to March 16. Minnesota's victory ensured a First Round matchup with St. Louis in the 2022 Stanley Cup Playoffs.



* This will be the third series between Minnesota and St. Louis, with the lower seed having won each of the previous head-to-head meetings. It will also mark the sixth time that two teams square off in the playoffs after facing one another in an outdoor game earlier in the season (also VGK-COL in 2020-21, CGY-WPG in 2019-20, ANA-LAK in 2013-14, PHI-BOS in 2009-10 and DET-CHI in 2008-09).

2017 First Round – STL 4, MIN 1
St. Louis took a 3-0 series lead, guided by Jake Allen who became the first goaltender in Blues history to win the first three games of a playoff series while allowing no more than one goal in each contest. Allen stopped 114 of 117 shots through three contests, including a 51-save effort in Game 1 – the fourth-highest total in a playoff game in franchise history.

2015 First Round – MIN 4, STL 2
After being acquired by the Wild in January 2015, Vezina Trophy finalist Devan Dubnyk claimed all four victories against the Blues including Minnesota's first-ever series-clinching win on home ice in Game 6. With the series tied 2-2, Dubnyk had consecutive 4-1 wins – stopping a combined 66 of 68 shots in those contests – to help Minnesota clinch a series before Game 7 for the first time.

STAMKOS SETS FRANCHISE RECORD IN POTENTIAL PLAYOFF PREVIEW
Steven Stamkos (1-2—3) became the franchise leader in points while Nikita Kucherov (1-1—2) reached the 600-point mark as the Lightning put eight past the Maple Leafs in a potential First Round preview. The victory propelled Tampa Bay (47-22-8, 102 points) three points clear of Boston (47-25-5, 99 points) for third place in the Atlantic Division, moving them closer to a first-ever postseason matchup against Toronto (51-21-6, 108 points).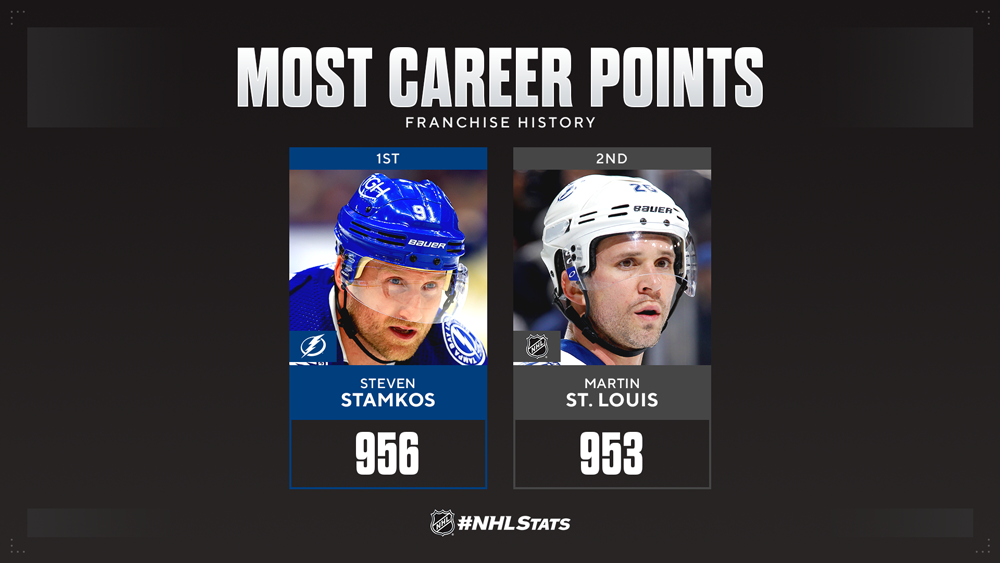 * Tampa Bay scored at least eight goals in a game for the first time in more than two years (9-2 W vs. VAN on Jan. 7, 2020). The seven-goal win marked the Lightning's largest-ever margin of victory over the Maple Leafs – the last time they posted a larger margin of victory against any team was Dec. 7, 2006 (8-0 W vs. ATL).

* Kucherov (241-360—601 in 557 GP) became the fourth player in franchise history to reach the 600-point milestone. Only five active players have tallied 600 points in fewer games than Kucherov: Connor McDavid (421 GP), Sidney Crosby (430 GP), Alex Ovechkin (464 GP), Evgeni Malkin (490 GP) and Leon Draisaitl (544 GP).
PANTHERS, FLAMES CLAIM DIVISION TITLES
The Panthers (56-15-6, 118 points) and Flames (48-20-10, 106 points) each won Thursday to claim the Atlantic and Pacific Division titles, respectively. Florida also guaranteed itself the top seed in the Eastern Conference – the first time the club has done so in its 28-season history.
* The Panthers matched a franchise record with their 12th straight victory and claimed their 33rd home win of 2021-22 – tied for the second most in NHL history by any team in a single season, (1995-96 DET: 36 &1975-76 PHI: 36). Florida has two home games remaining.

* Florida, 10-0-0 at FLA Live Arena dating to March 3, has two double-digit home winning streaks in 2021-22 after going 11-0-0 from Oct. 14 to Nov. 24. Only two other teams in NHL history have recorded two separate home winning streak of 10-plus games in the same campaign: the 1995-96 Red Wings (12 GP; 2x) and 1955-56 Canadiens (11 GP & 10 GP).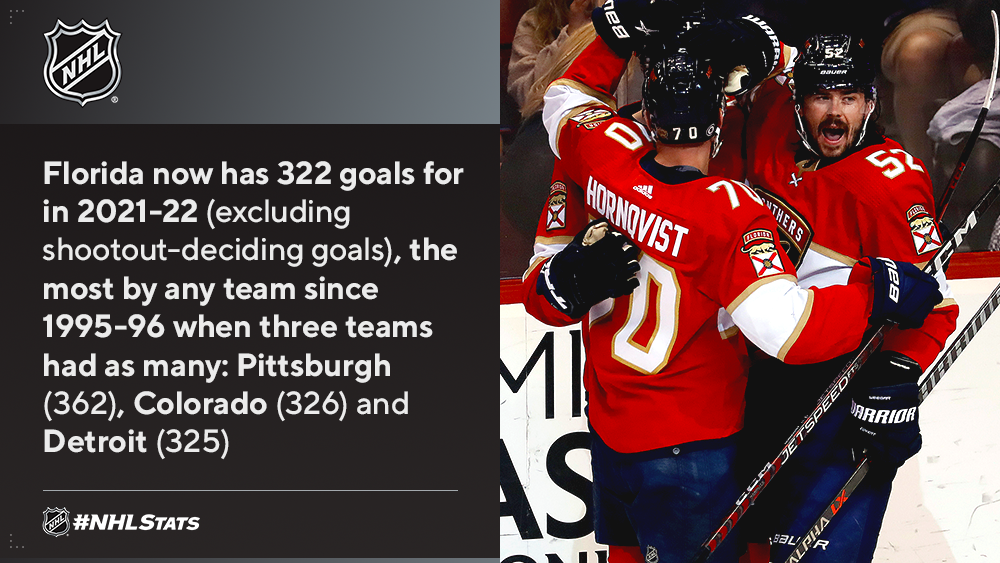 * Matthew Tkachuk (1-0—1) opened the scoring with his 40th goal of the season and reached the 100-point mark for the first time in his career as the Flames clinched a division title for the eighth time in franchise history and first since 2018-19. Calgary is the only Canadian-based team to clinch a division multiple times in the past decade.

* Tkachuk (40-60—100 in 78 GP) and Johnny Gaudreau (38-71—109 in 78 GP) became the fourth set of Flames teammates to both reach 100 points in a campaign, joining Bob MacMillan and Guy Chouinard in 1978-79, Al MacInnis and Theo Fleury in 1990-91, as well as Hakan Loob and Mike Bullard in 1987-88. The Scottsdale, Ariz., native also helped 2021-22 become the third season in NHL history to feature at least three U.S.-born players with 100 points.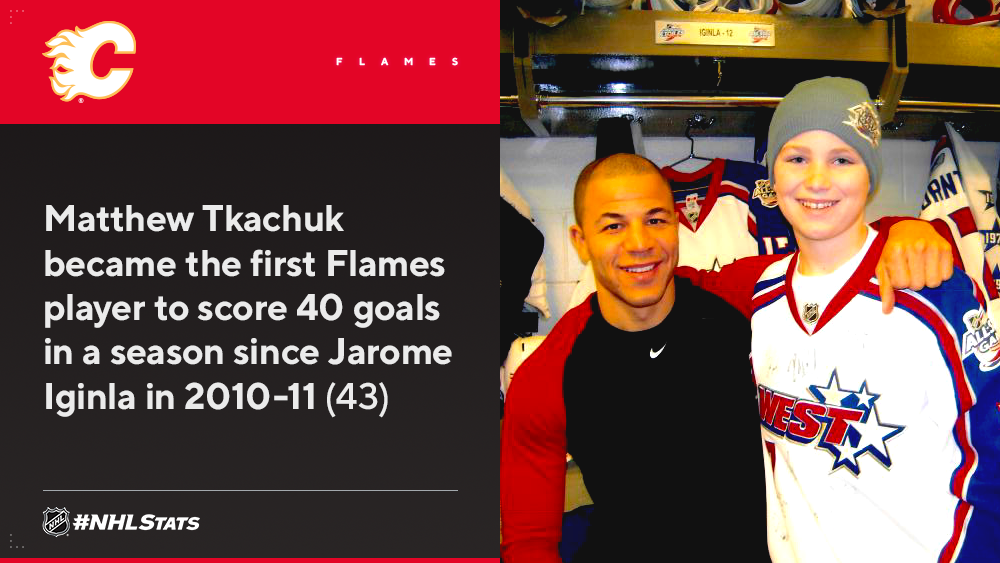 HURRICANES, RANGERS BATTLE FOR NO. 1 SEED IN METROPOLITAN DIVISION
The battle for the No. 1 seed in the Metropolitan Division – the only first-place finish yet to be decided – will be settled in the final week of the regular season after the Hurricanes (50-20-8, 108 points) and Rangers (51-21-6, 108 points) each won Thursday. Both clubs secured a top-two finish in the division and home ice in the First Round of the 2022 Stanley Cup Playoffs.
* Both Carolina and New York have four games remaining, including a head-to-head showdown April 26. The Hurricanes own the edge in regulation wins (the first tiebreaker) and also in the season series to date (CAR: 2-1-0; NYR: 1-2-0).
* After trailing by two, Teuvo Teravainen (20-42—62) scored the first of four unanswered goals and became the fifth Hurricanes player to reach 20 markers this season to help Carolina earn its 50th win of 2021-22. The only other time the club won 50 contests in a campaign was 2005-06 (52), the year they hoisted their first Stanley Cup.

* Andrew Copp (3-0—3) started strong and scored three goals in the first period – a first by a Rangers player in more than 35 years – while Adam Fox reached 60 assists on the season (in his 200th NHL game) and Artemi Panarin collected four helpers as the Rangers clinched home ice for the first time since 2015. Copp scored the first of two hat tricks Thursday as the total increased to 98 in 2021-22 – the most in one season in 29 years (112 in 1992-93).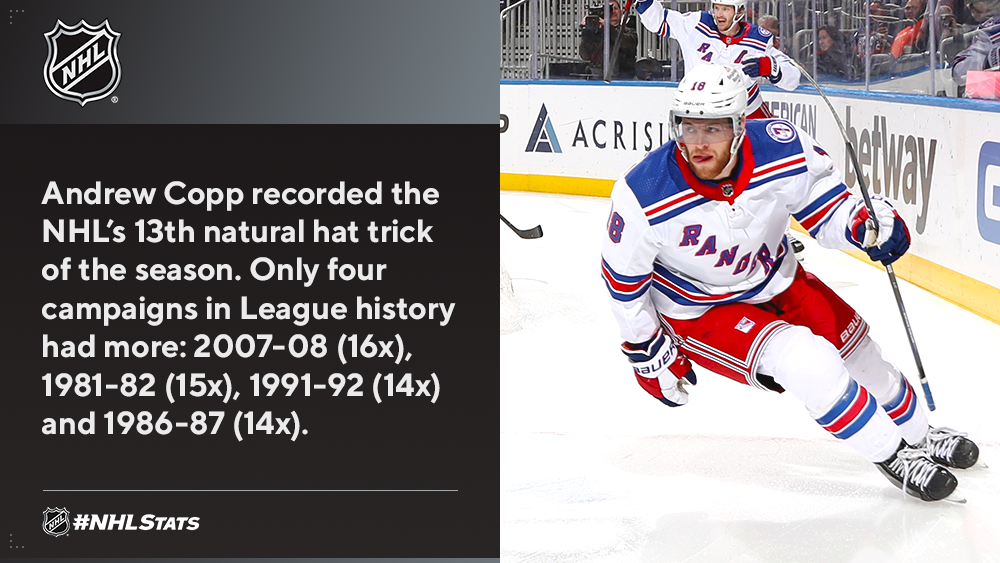 DANAULT SCORES AGAIN WHILE ATHANASIOU DAZZLES IN KINGS WIN
Phillip Danault (1-0—1) opened the scoring by extending his goal streak to five games – the longest run by a Kings player since 2014-15 (Marian Gaborik: 5 GP) – and Andreas Athanasiou scored a highlight-reel tally as the Kings (42-27-10, 94 points) moved within two points of the idle Oilers (45-26-6, 96 points) for second place in the Pacific Division. Both Edmonton and Los Angeles continue to push for a berth in the 2022 Stanley Cup Playoffs, with only one spot in the Pacific Division secured and just over a week remaining in the regular season.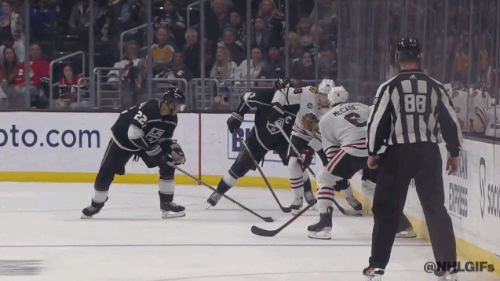 GUENTZEL, DeSMITH HELP PENGUINS CAPTURE CRUCIAL POINTS
Needing a point to maintain their third-place positioning in the Metropolitan Division over the idle Capitals (43-23-11, 97 points), the Penguins (44-23-11, 99 points) received standout performances from Jake Guentzel (3-0—3) and Casey DeSmith (52 saves) en route to victory.
* Guentzel scored his fifth career hat trick and was one of two players to reach the 40-goal mark Thursday (also Matthew Tkachuk), bringing the NHL's 2021-22 total to 11 – tied for the second most over the past 24 years (since 1997-98) behind the 13 in 2018-19 and 2000-01.

* DeSmith, the fifth netminder to make 50-plus saves in a game in 2021-22, also established the most saves in a shutout performance by a Penguins goaltender (regular season or playoffs), besting Jean-Sebastien Aubin (45 on March 9, 2004 vs. DAL).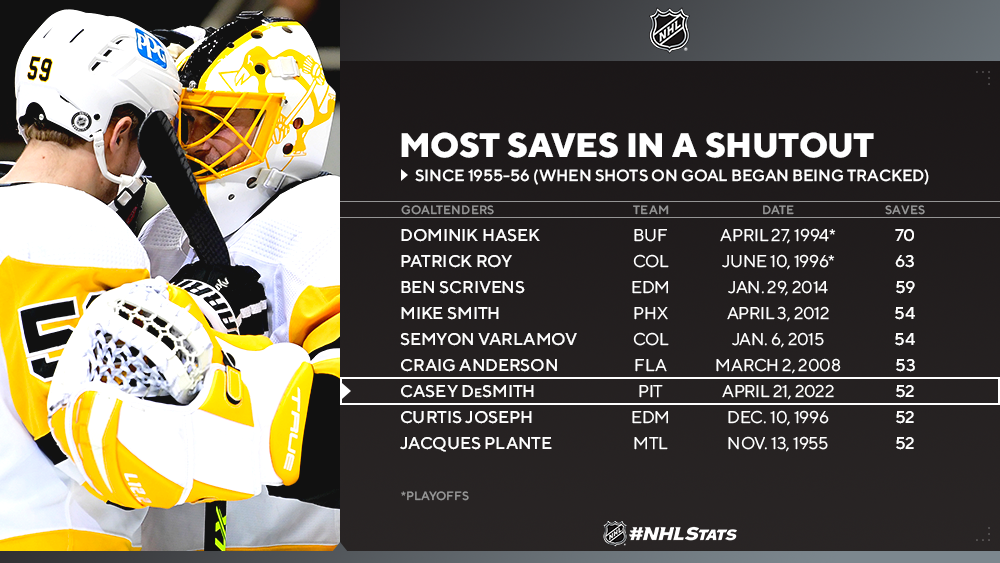 QUICK CLICKS
* Thursday's edition of #NHLStats: Live Updates
* Owen Power scores first NHL goal
* Predators-Sharks, Avalanche-Blue Jackets to play in NHL Global Series
* Robert Thomas extends point streak to 15 games
* 2022 Stanley Cup Playoffs Bracket Challenge registration open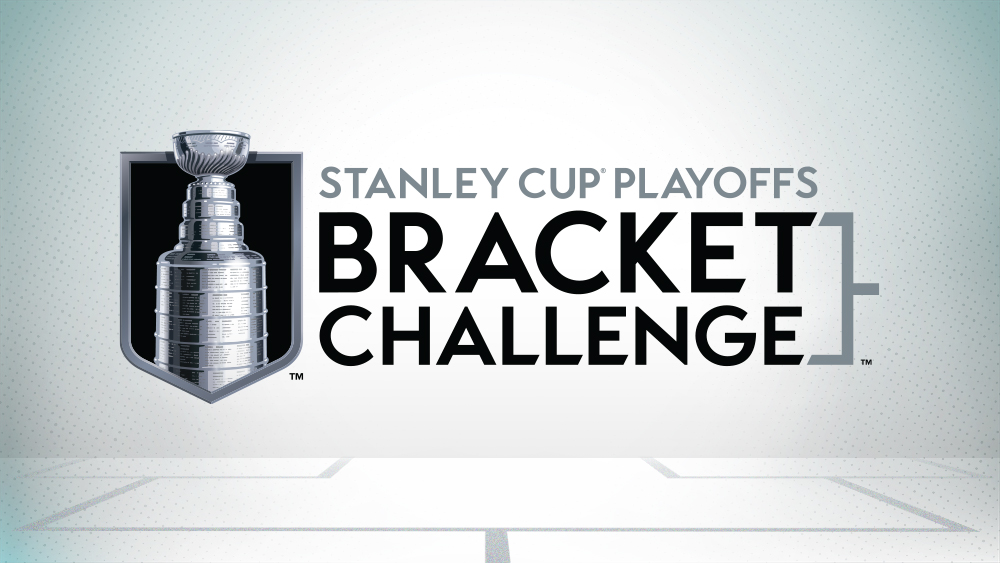 OILERS LOOK TO CONTINUE RECENT SUCCESS ON HOME ICE
The Oilers (45-26-6, 96 points) are inching closer to just their third 100-point campaign in the past 35 years (103 in 2016-17 & 106 in 1986-87) and will put their 12-game home point streak on the line when the Avalanche (55-16-6, 116 points) visit Rogers Place. Edmonton, which is in a position to clinch a playoff berth Friday, has its sights set on registering a home point streak of at least 13 contests for the third time in franchise history, following 14-game runs in 1989-90 (11-0-3) and 2003-04 (10-0-4).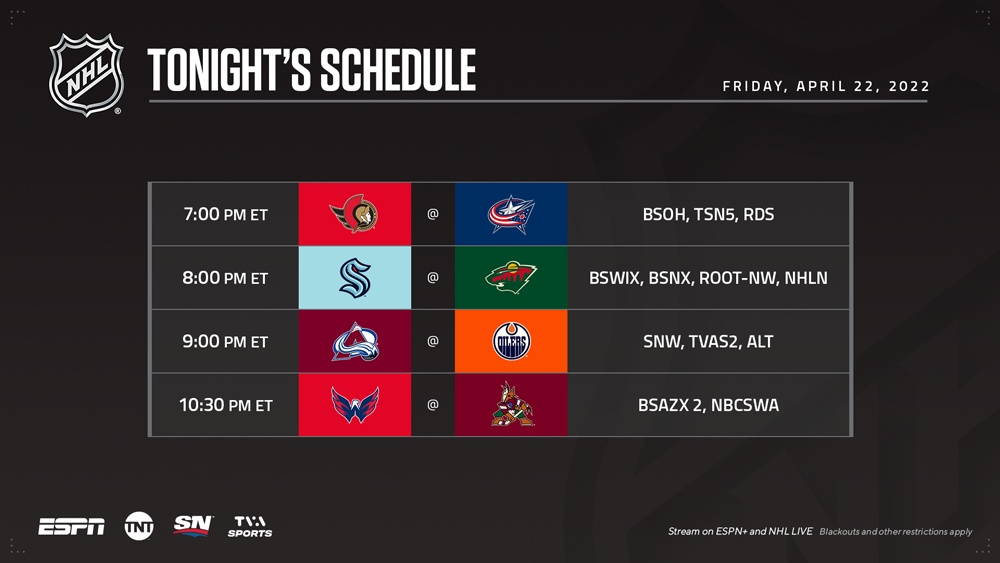 COURTESY NHLmedia.com