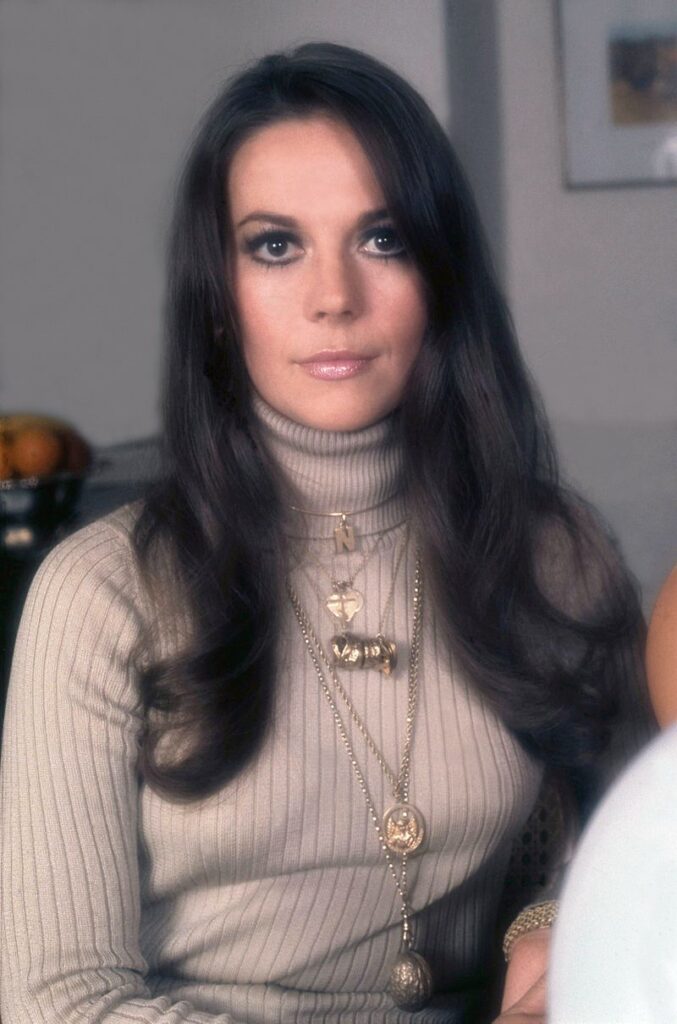 FROM WIKIPEDIA COMMONS
Natalie Wood (born Natalie Zacharenko, July 20, 1938 – November 29, 1981) was an American actress and model who began her career in film as a child and successfully transitioned to young adult roles. She was the recipient of four Golden Globes and three Academy Award nominations.
Born in San Francisco to Russian immigrant parents, Wood started acting at age four and was given a co-starring role at age 8 in Miracle on 34th Street (1947). As a teenager, she was nominated for an Academy Award for Best Supporting Actress for her performance in Rebel Without a Cause (1955), followed by a role in John Ford's The Searchers (1956). Wood starred in the musical films West Side Story (1961) and Gypsy (1962), and received nominations for an Academy Award for Best Actress for her performances in Splendor in the Grass (1961) and Love with the Proper Stranger (1963). Her career continued with films such as Sex and the Single Girl (1964), Inside Daisy Clover (1965), and Bob & Carol & Ted & Alice (1969).
During the 1970s, Wood began a hiatus from film and had two daughters: one with her second husband Richard Gregson, and one with Robert Wagner, her first husband whom she married again after divorcing Gregson. She acted in only two feature films throughout the decade, but appeared slightly more often in television productions, including a remake of From Here to Eternity (1979) for which she won a Golden Globe Award. Wood's films represented a "coming of age" for her and for Hollywood films in general. Critics have suggested that her cinematic career represents a portrait of modern American womanhood in transition, as she was one of the few to take both child roles and those of middle-aged characters.
Wood died off of the coast of Santa Catalina Island on November 29, 1981, at age 43, during a holiday break from the production of her would-be comeback film Brainstorm (1983) with Christopher Walken. The events surrounding her death have been the subject of conflicting witness statements, prompting the Los Angeles County Sheriff's Department, under the instruction of the coroner's office, to list her cause of death as "drowning and other undetermined factors" in 2012.
In 2018, Robert Wagner was named as a person of interest in the ongoing investigation into Wood's death.
TODAY'S ALMANAC
Question of the Day
Do British scones always contain raisins? Where can I find a "genuine" recipe? Those I've tried don't do justice to "real" scones.No, British scones do not always contain raisins; they are optional. Here is a recipe for Cream Tea Scones that appeared in the Canadian edition of The 1997 Old Farmer's Almanac: 2 cups all-purpose flour; 2 tablespoons sugar; 1 tablespoon baking powder; 1/2 teaspoon salt; 1/2 cup butter; 1 egg; 2/3 cup milk or light cream. Combine the dry ingredients and cut in the butter. Beat the egg lightly, reserving a tablespoon for topping. Add milk to remaining egg, beat, and add to dry ingredients. Stir to make a soft dough, knead, and roll out on a lightly floured board. Cut into 2-1/2 inch rounds. Place on an ungreased baking sheet, and brush with reserved egg. Bake at 425 degrees F for 12 to 14 minutes. We should point out that our "all-purpose" flour is a little harder than the "plain" flour called for in traditional British recipes, which gives a slightly softer scone. A good substitute for plain flour is half all-purpose flour and half cake and pastry flour.
Advice of the Day
Eat artichokes to satisfy a sweet tooth.
Home Hint of the Day
Knots on new woodwork will bleed through a careless paint job. Apply a coat of a white shellac stain-kill product such as B-I-N. Let the shellac dry, prime the bare wood, then paint over it with any color.
Word of the Day
ShantyA small crude shelter used as a dwelling. A rhythmical work song originally sung by sailors.
Puzzle of the Day
Where do cows go on Saturday night?To the moo-vies!
Born
William Shakespeare (playwright) – 1564
James Buchanan (15th U.S. president) – 1791
Lester Pearson (Canadian prime minister) – 1897
Shirley Temple Black (actress) – 1928
Roy Orbison (musician) – 1936
Lee Majors (actor) – 1939
Tony Esposito (hockey player) – 1943
Judy Davis (actress) – 1955
Valerie Bertinelli (actress) – 1960
George Lopez (comedian & actor) – 1961
Melina Kanakaredes (actress) – 1967
Kal Penn (actor) – 1977
Chloe Kim (Olympic snowboarder) – 2000
Died
William Shakespeare (playwright) – 1616
William Wordsworth (poet) – 1850
Harold Arlen (composer) – 1986
Howard Cosell (sports journalist) – 1995
Paul K. Keene (pioneer of organic farming in U.S.) – 2005
Boris Yeltsin (president of Russia) – 2007
David Halberstam (Pulitzer Prize-winning reporter) – 2007
Events
Church of England annulled the marriage between Catherine of Aragon and King Henry VIII– 1533
First postage stamps issued in Canada– 1851
Guelph, Ontario, incorporated as a city– 1879
Hank Aaron hit his first major league home run– 1954
Ranger 4 spacecraft launched– 1962
Natalie Wood made Harvard history when she became the first performer voted the year's worst by the Harvard Lampoon to show up and accept her citation– 1966
Weather
Denver received 23 inches of snow in 24 hours– 1885
Ice out, Lake Winnipesaukee, NH– 2007
COURTESY www.almanac.com