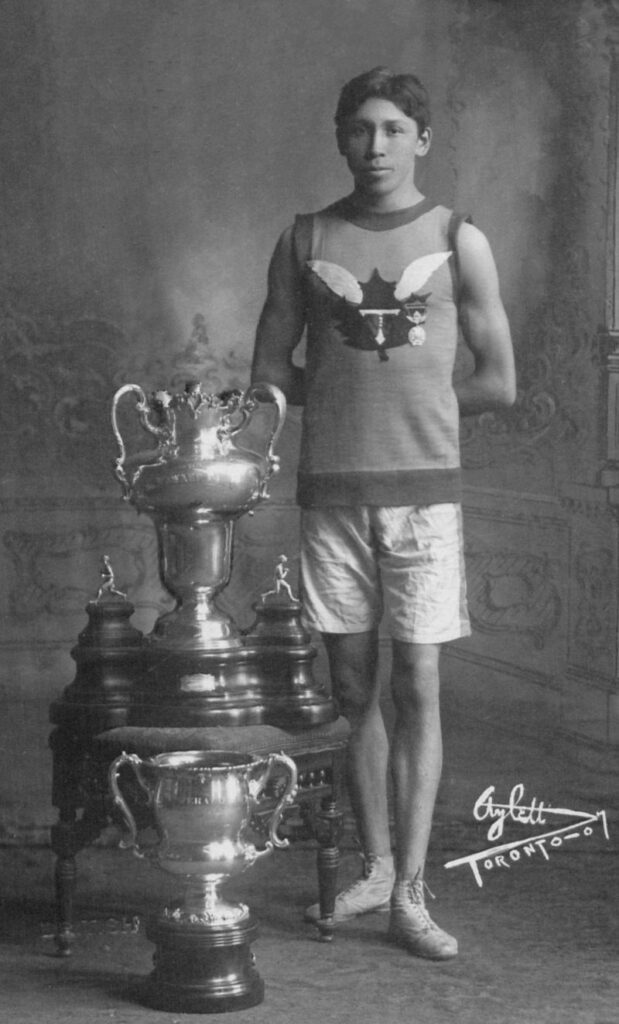 FROM WIKIPEDIA COMMONS
Thomas Charles Longboat (July 4, 1886 – January 9, 1949, Iroquois name: Cogwagee) was an Onondaga distance runner from the Six Nations Reserve near Brantford, Ontario and, for much of his career, the dominant long-distance runner. He was known as the "bulldog of Britannia" and was a soldier in the Canadian Expeditionary Force (CEF) during the First World War.
Legacy
After Longboat's death, Alfred Shrubb stated in an interview that "he was one of the greatest, if not the greatest marathoner of all time."
In 1951, the Tom Longboat Awards were instituted by Jan Eisenhardt. This program, administered since 1999 by the Aboriginal Sport Circle, annually honours outstanding First Nations athletes and sportsmen in each province; national male and female winners are selected from the provincial winners. Longboat was inducted into both Canada's Sports Hall of Fame, (in 1955) the Ontarian Sports hall of Fame and the Indian Hall of Fame.
Longboat is also commemorated annually by the Toronto Island 10 km race.
In 1976, Longboat was designated a National Historic Person.
In 1978, in honour of Longboat, the Scarborough Board of Education opened the doors to their newest school: Tom Longboat Junior Public School.
Tom Longboat was inducted into the Ontario Sports Hall of Fame in 1996. He was the first person of Native American descent (Onondaga) to win the Boston Marathon, and one of only two Native Americans ever to win it (the other being Ellison Brown, a Narragansett).
A 46-cent first-class postage stamp honouring Longboat was issued by Canada Post on February 17, 2000.
In 2008, the St. Lawrence Neighbourhood Association organized the naming of many lanes in their area of the City of Toronto. A lane south of Longboat Avenue was officially named Tom Longboat Lane in 2013. (City by-Law 174–2013)
In 2008, June 4 was officially declared "Tom Longboat Day" in Ontario with the passage of Bill 120, a Private Member's Bill put forward by MPP Michael Colle.
Google's June 4, 2018 Doodle celebrates the life and legacy of Tom Longboat, and was distributed across Canada and the United States.
Tom Longboat appears as a character in Zoe Leigh Hopkins's 2021 film Run Woman Run, portrayed by Asivak Koostachin.
TODAY'S ALMANAC
Question of the Day
How does one care for a bronze statue that is kept outdoors?It depends on how long the bronze statue has been outdoors. We consulted an expert on the subject, who advised us that before bronze statues leave the foundry, they are protected by a cedar wax coating that effectively seals the bronze from penetrating oxygen. The coating will last for a few years, but a wash with plain soap and water, followed by an application of wax (there is one specifically made for bronze), is recommended after two to three years and annually thereafter. If the statue has been outdoors for many years and is covered by a grayish-green substance, then there are two methods of cleaning: a form of sand-blasting known as the glass-bead method, or the use of an acid to remove the grayish-green corrosion. However, either method should be carried out by a professional.
Advice of the Day
Prune roses in the spring to encourage growth.
Home Hint of the Day
You can take the rust off tools by wiping them with kerosene and then scrubbing with steel wool. If the rust is heavy, soak them for a while — t's fine to immerse the handles too.
Word of the Day
RegattaOriginally, a gondola race in Venice; now, a rowing or sailing race, or a series of such races.
Puzzle of the Day
What happened to the female cat who swallowed a ball of yarn?She had mittens.
Born
Roger Sherman (American statesman) – 1721
Dick Sargent (actor) – 1930
Jayne Mansfield (actress) – 1933
Tim Curry (actor) – 1946
Ashley Judd (actress) – 1968
James Franco (actor) – 1978
Kate Hudson (actress) – 1979
Hayden Christensen (actor) – 1981
Died
Charles Darwin (naturalist) – 1882
Daphne du Maurier (author) – 1989
Norris McWhirter (co-founder of the Guinness Book of Records, final arbiter on everything from the fastest climb of Mount Everest to the world's longest hot dog) – 2004
Events
The American Revolution began with the first shot fired at Lexington (no one knows from which side). The shot heard round the world" (a reference from Ralph Waldo Emerson's poem "The Concord Hymn") occurred at the North Bridge in Concord later that same day. It was the first exchange where colonial militiamen were ordered to fire upon British soldiers."– 1775
The Boston Marathon was held for the first time– 1897
Great fire in Toronto started– 1904
Canadian runner Tom Longboat won the Boston Marathon in 2 hours, 24 minutes, and 24 seconds– 1907
Women granted the right to vote in Alberta, Canada– 1916
Leslie Irvin made the first free-fall parachute jump, Dayton, Ohio– 1919
John C. Miles won Boston Marathon– 1926
Oxford English Dictionary completed– 1928
Surgeon's Loch Ness monster hoax photo taken– 1934
Movie Stand Up and Cheer released in U.S., first to seriously launch Shirley Temple's film career– 1934
Spring peepers heard in Dublin, NH– 1941
WIYY DJ Bob Rivers began an on-air vigil until baseball's Baltimore Orioles won (which was in 258 hours)– 1988
Oklahoma City bombing– 1995
Cardinal Joseph Ratzinger of Germany was elected pope. He chose the name Pope Benedict XVI. He was the oldest pope elected since 1730– 2005
NASA's Ingenuity helicopter became the first aircraft to make a powered, controlled flight on another planet (Mars).– 2021
Weather
Last snow of a late winter raised snow cover to 3 feet in southern New Hampshire– 1785
In the second day of an early-season heat wave in the Northeast, Providence, Rhode Island, reached 98 degrees F– 1976
The Boston Marathon was run in 90-degree heat– 1976
The temperature reached 88 degrees F in Portsmouth, New Hampshire– 2004
Lead, South Dakota, received 59 inches of snow– 2006
COURTESY www.almanac.com