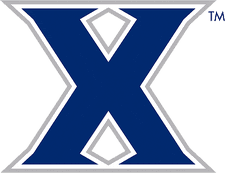 03.25.22
CINCINNATI – Xavier University officially introduced Sean Miller as the Sedler Family Men's Basketball Head Coach today during a public event and press conference at Cintas Center.

"Xavier is thrilled to welcome Sean Miller and his family back to Victory Parkway," said Greg Christopher, Vice President and Director of Athletics. "Sean is an elite college basketball coach and a proven winner who understands the expectations, traditions and values of Xavier and the BIG EAST Conference. He will bring a high level of energy and excitement to our program and he will do it the right way."

Miller previously spent eight years at Xavier, including five years as head coach, 2004-09, and three years as the associate head coach, 2001-04, under Thad Matta. He spent 12 years, 2009-21, as the head coach at Arizona. Miller owns a 422-156 (.730) record in 17 years as a head coach, including a 120-47 (.719) mark in five seasons leading Xavier. In his 17 years as a head coach, Miller enjoyed nine conference championship seasons and 11 NCAA Tournaments, including four Elite Eights and two Sweet 16s.

"Amy and I are humbled to be returning to Xavier," said Miller. "Xavier and the BIG EAST Conference both hold special places in my heart. I enjoyed my experience competing at the highest level in the BIG EAST as a player and have always dreamed of being a head coach in the best basketball league in the country. Xavier has always done things the right way. This is an incredible opportunity for us to build on Xavier's successful tradition and take the program to new heights."
FIRST STINT AS XAVIER HEAD COACH
Xavier made the NCAA Tournament in each of Miller's final four seasons at the helm, including the Elite Eight in 2008 and the Sweet 16 in 2009, and won four Atlantic 10 Championships, including three regular season titles and one tournament title. XU won a school-record 30 games in 2008 on the way to the Elite Eight. Miller was named the 2007-08 Atlantic 10 Conference Coach of the Year after leading Xavier to a 14-2 record and a second straight A-10 Regular Season Title. The National Association of Basketball Coaches named Miller as its 2008 NABC District 10 Coach of the Year and he was a finalist for numerous National Coach of the Year awards.
BEFORE COMING TO XAVIER
Miller came to Xavier for the first time in 2001 as Associate Head Coach under Thad Matta after coaching stops at North Carolina State, Pittsburgh, Miami (Ohio) and Wisconsin.
SUCCESS AT ARIZONA
In his 12 seasons in Tucson from 2009-21, Miller recorded a 302-109 (.735) mark. Arizona made seven NCAA Tournament appearances, including three Elite Eights and two Sweet 16s. Miller, who guided Arizona to five regular season Pac-12 Conference Championships and three conference tournament titles, was named Pac-10/12 Coach of the Year three times, receiving the honor in 2011, 2014 and 2017. In 12 years under Miller's direction, the Arizona program produced a total of 13 NBA Draft picks, including five lottery picks among a total of nine first-round selections.
USA BASKETBALL SUCCESS
Miller made his mark with USA Basketball as well. Miller was elevated from assistant coach to head coach of the U.S. Men's U19 National Team in 2015, leading the United States to the gold medal at the FIBA U19 World Championship in Crete, Greece, and was named the 2015 USA Basketball National Co-Coach of the Year. Miller's first gold medal with USA Basketball came as a player in 1991, when he helped propel the U.S. to gold in men's basketball at the World University Games in Sheffield, England.
SUCCESS AS A PLAYER IN THE BIG EAST
Miller, 1987-88 BIG EAST Freshman of the Year, helped lead Pittsburgh to the 1988 BIG EAST regular-season title, as well as three NCAA Tournament appearances. A member of the Pitt All-Centennial Team that was convened in 2005, Miller ranks in the top 20 on the program's career scoring chart with 1,282 points. He also ranks 10th on the NCAA Division I free throw shooting list at .885 and stands fourth on the BIG EAST's career assists chart for league play.

A legend at Blackhawk High School in the Pittsburgh area, Miller was inducted into the Western Pennsylvania Interscholastic Athletic League Hall of Fame in 2012.
SEAN MILLER PERSONAL FILE
FAMILY
Miller and his wife, Amy, have three boys, Austin (27), Cameron (24), Braden (20). Miller, 53, is a native of Beaver Falls, Pa.
THE MILLER FILE
Date of Birth: Nov. 17, 1968
Hometown: Beaver Falls, Pa.
Education: Pittsburgh '92 (B.A.)
Wife: Amy
Children: Austin, Cameron, Braden
COLLEGIATE COACHING EXPERIENCE
Arizona, Head Coach – 2009-21
Xavier, Head Coach – 2004-09
Xavier, Associate Head Coach – 2001-04
N.C. State, Associate Head Coach – 1996-2001
Pittsburgh, Assistant Coach – 1995-96
Miami (Ohio), Assistant Coach – 1993-95
Wisconsin, Assistant Coach – 1992-93
PLAYING EXPERIENCE
Pittsburgh, 1987-92
U.S. World University Games Team, 1991
COURTESY XAVIER ATHLETIC COMMUNICATIONS