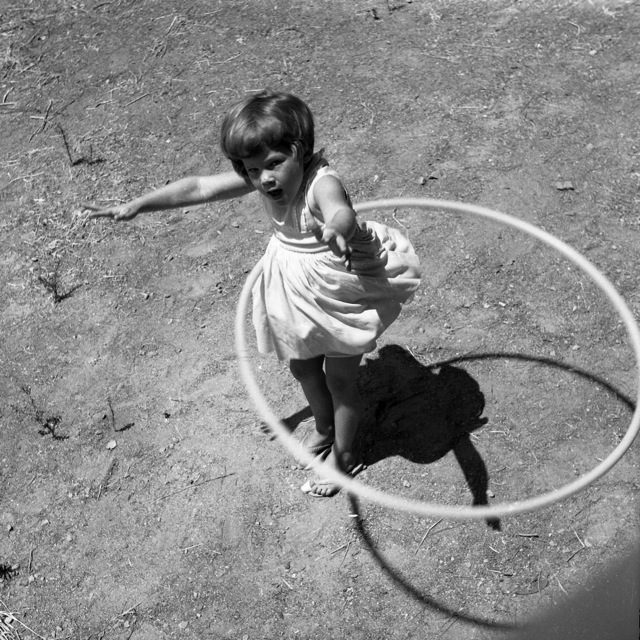 FROM WIKIPEDIA COMMONS
A hula hoop is a toyhoop that is twirled around the waist, limbs or neck. They have been used by children and adults since at least 500 BC. The modern hula hoop was inspired by Australian bamboo hoops. The new plastic version was popularized in 1958 by the Wham-O toy company and became a fad. Hula hoops for children generally measure approximately 70 centimetres (28 in) in diameter, while those for adults measure around 100 centimetres (39 in). Traditional materials for hoops include willow, rattan (a flexible and strong vine), grapevines and stiff grasses. Today, they are usually made of plastic tubing.
TODAY'S ALMANAC
Question of the Day
I am looking for a recipe to make honey by boiling clover blossoms. My grandmother made it for my father when he was a child. Any information?The best recipe we know is to get a beehive. Only Mother Nature can make a tree, and only a bee can make honey. But we do have a recipe for red clover syrup from a reader. Use 4 cups of flowers, 4 cups of water and 4 cups of sugar. Bring the flowers to a boil, then simmer them for 15-20 minutes. Cover the pot and let sit overnight. In the morning strain the liquid into another large pot and squeeze the clover to get all the "juice" out. Add sugar and simmer on stove until the liquid is reduced to the right consistency. Add some boiled beet juice (not pickled beets) to add color and make it look more like real pancake syrup.
Advice of the Day
Gratitude is the memory of the heart.
Home Hint of the Day
Prune evergreen trees and bushes at least 2 months before summer dry spells, so the pruned branches have time to recover.
Word of the Day
Neap TideA tide of decreased range that occurs twice a month, when the Moon is in quadrature (during its first and last quarters, when the Sun and the Moon are at right angles to each other relative to Earth).
Puzzle of the Day
When do 2 and 2 make more than 4?When they make 22.
Died
Crispus Attucks (first casualty of Boston Massacre) – 1770
Joseph Stalin (Russian leader) – 1953
Patsy Cline (singer) – 1963
John Belushi (actor) – 1982
Born
William Steinway (piano manufacturer) – 1835
Howard Pyle (illustrator) – 1853
Benjamin Franklin Norris (novelist) – 1870
Emmett J. Culligan (founder of the world's largest water treatment organization) – 1893
Misao Okawa (Japanese woman who would later be recognized as the world's oldest person of her time. She died on April 1, 2015, and lived to be 117 years old.) – 1898
Rex Harrison (actor) – 1908
Jack Cassidy (actor) – 1927
Dean Stockwell (actor) – 1936
Paul Sand (actor) – 1941
Robert Patrick "Rocky" Bleier (football player ) – 1946
Andy Gibb (musician) – 1958
Elise Burgin (tennis player) – 1962
Jake Lloyd (actor) – 1989
Events
Boston Massacre. Five American rioters killed in skirmish with British troops– 1770
Zachary Taylor was inaugurated as the 12th U.S. President; Millard Fillmore became Vice President– 1849
Impeachment proceedings of President Andrew Johnson began– 1868
First radio broadcast of a musical composition took place when Lee De Forest transmitted a performance of Rossini's William Tell Overture from Telharmonic Hall in NY to the Brooklyn Navy Yard– 1907
Montana and Nevada enacted the first old age pensions in the U.S.– 1923
Fire destroyed more than 320 cars at an auto show in Los Angeles, California– 1929
The Gandhi-Irwin Pact between Mahatma Gandhi and Viceroy Edward Wood, Lord Irwin, brought a halt to the civil disobedience campaign with Gandhi accepting the federal constitution plan adopted by the conference in return for British efforts to lessen repression– 1931
In a speech at Missouri's Westminster College, Winston Churchill introduced the phrase iron curtain to describe the repression of Soviet-dominated Europe– 1946
Hula hoop was patented– 1963
Ask President Carter, the first presidential phone-in radio show was broadcast on CBS– 1977
Voyager I relayed data from Jupiter, including photographs of its four largest moons– 1979
Standard Oil Co. of California and Gulf Corp. agreed to merge in a $13.3 billion transaction– 1984
Martha Stewart was found guilty of conspiracy, obstruction of justice, and two counts of making false statements in her trial determining if she and her ex-broker lied to the government about her sale of ImClone Systems stock in December 2001– 2004
Weather
6.96 inches of rain fell at Butlerville, Indiana– 1897
Calculations for the first computerized weather forecast began at a U.S. Army research laboratory. It took the computer about 24 hours to generate the forecast for the next 24 hours. Researchers were hopeful, however—two of the first four predictions were somewhat accurate.– 1950
On the morning and afternoon, thunderstorms dropped up to three inches of small hail around Colorado Springs. Later that evening, the southeastern Denver area experienced strong thunderstorms, with up to three inches of hail, 2.4 inches of rain, and wind gusts to 50 miles per hour.– 1990
COURTESY www.almanac.com