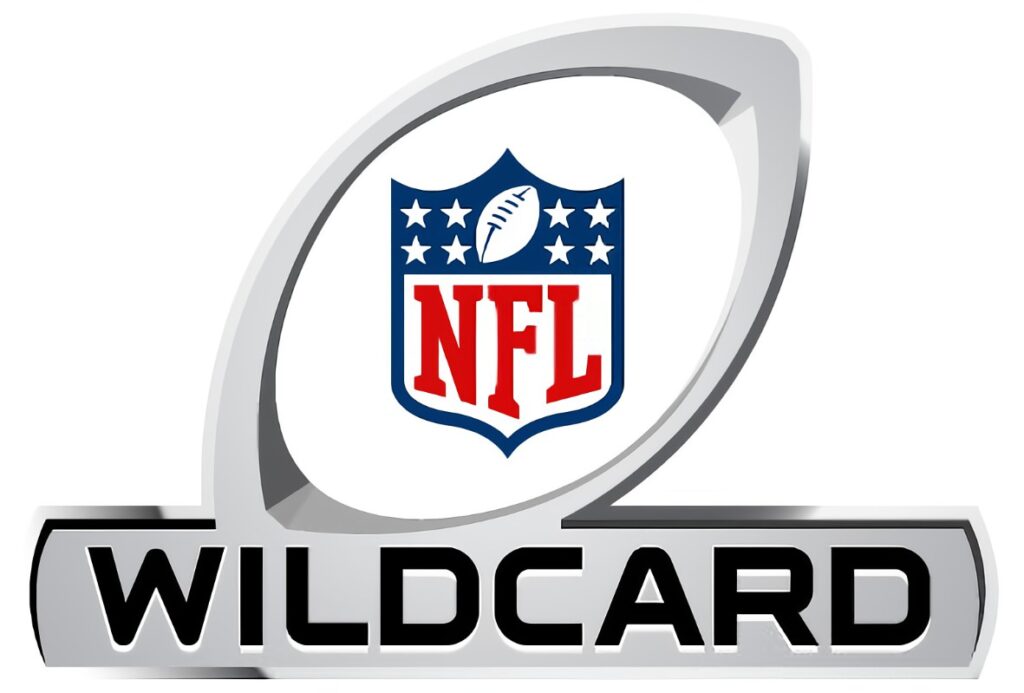 MORE TEAMS, MORE GAMES, MORE WILD: The addition of a third Wild Card team in each conference and the subsequent expansion of the playoffs last year has resulted in a Super Wild Card Weekend of NFL action. For the second consecutive season, there will be six games, with two on Saturday, January 15, three on Sunday, January 16, and for the first time since 1988, an NFL postseason game will be played on a Monday (January 17).
Seven of the 12 teams in action this weekend are new to the postseason in 2021, having missed the playoffs a year ago: ARIZONA, CINCINNATI, DALLAS, LAS VEGAS, NEW ENGLAND, PHILADELPHIA and SAN FRANCISCO. Two of those teams – Cincinnati (AFC North) and Dallas (NFC East) – won their divisions.
Since 1990, at least four teams every season have qualified for the playoffs after failing to make the postseason the year before. Additionally, at least two teams have won their divisions the season after missing the playoffs in 18 of the past 19 years, including 2021.
Each of the 12 teams playing this weekend hope to earn their first of four wins needed to capture the Lombardi Trophy. Winners in the Wild Card round have won the Super Bowl 10 times, including the TAMPA BAY BUCCANEERS last season.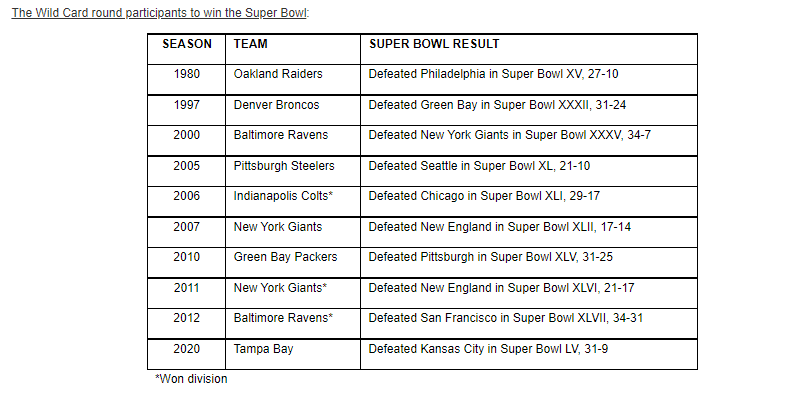 – SUPER WILD CARD WEEKEND —
POSTSEASON ALL-TIME LEADING PASSERS: Three of the top seven most prolific postseason quarterbacks are a part of the 2021 playoff field vying for the Super Bowl LVI title.
Tampa Bay quarterback TOM BRADY enters the 2021 postseason as the league's all-time playoff leader in games started by a quarterback (45), wins by a starting quarterback (34), passing yards (12,449), touchdown passes (83), Super Bowl titles (seven) and Super Bowl MVPs (five). He led the Buccaneers to the Super Bowl LV title last season and joined Pro Football Hall of Famer PEYTON MANNING as the only starting quarterbacks to win Super Bowls with multiple franchises.
Green Bay quarterback AARON RODGERS, who will make his 2021 playoff debut in the NFC Divisional playoffs, ranks tied for second in postseason touchdown passes (45), sixth in postseason passing yards (5,669) and seventh in postseason games started (20) among quarterbacks all-time.

Pittsburgh quarterback BEN ROETHLISBERGER enters the 2021 postseason ranking fifth all-time in passing yards (5,757), fifth in quarterback starts (22) and seventh in touchdown passes (34) in playoff history.
This postseason, both Rodgers and Roethlisberger can surpass Pro Football Hall of Famers BRETT FAVRE (5,855 passing yards, third-most) and JOE MONTANA (5,772, fourth-most) on the all-time postseason passing yards list.
With a Pittsburgh victory against Kansas City on Sunday night (8:15 PM ET, NBC/Peacock/Telemundo), Roethlisberger would tie Pro Football Hall of Famers TERRY BRADSHAW (14 wins), JOHN ELWAY (14) and PEYTON MANNING (14) for the third-most playoff wins by a starting quarterback in NFL history.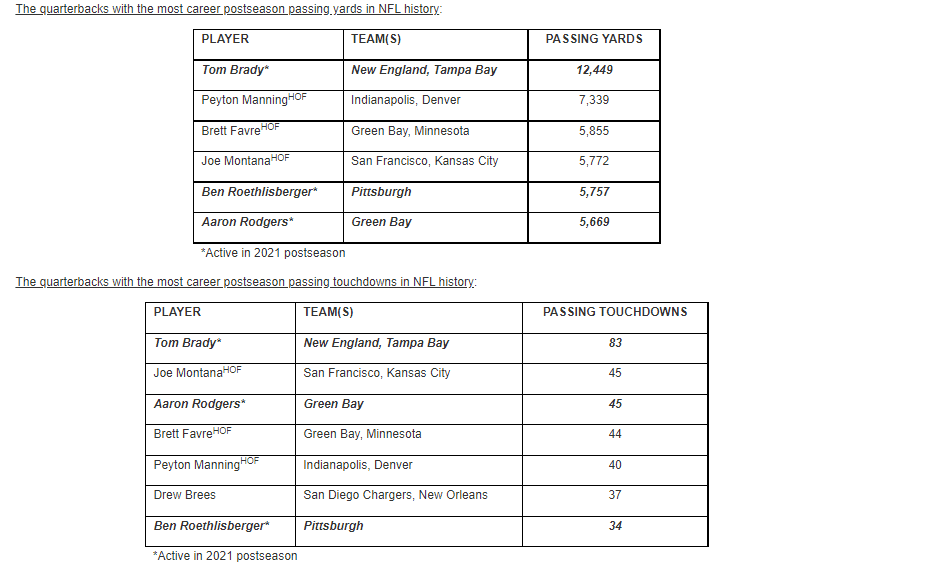 — SUPER WILD CARD WEEKEND —
CHAMPS ARE HERE: The TAMPA BAY BUCCANEERS enter the 2021 postseason aiming to become the first team to repeat as Super Bowl champions since New England in 2004. Last year, they became the first team in NFL history to score at least 30 points in four consecutive playoff games within a single postseason in route to a Super Bowl LV championship.
If Tampa Bay scores at least 30 points against Philadelphia on Sunday (1:05 PM ET, FOX/FOX Deportes), it will become the third team ever to score at least 30 points in five-or-more consecutive postseason games.
The teams to score at least 30 points in the most consecutive postseason games in NFL history:

Tampa Bay running back LEONARD FOURNETTE totaled 448 scrimmage yards (112 per game) in the Buccaneers' four playoff games last year and scored a touchdown in each contest. Going back to his 2017 postseason with Jacksonville, Fournette has scored a touchdown in six consecutive playoff games.
With a touchdown against Philadelphia, Fournette would become the sixth running back all-time to score a touchdown in seven-or-more consecutive postseason games.

— SUPER WILD CARD WEEKEND —
KANSAS CITY STARS: The KANSAS CITY CHIEFS enter the 2021 postseason aiming to become the fourth team ever to advance to three consecutive Super Bowls, joining Miami (1971-73), Buffalo (1990-93) and New England (2016-18).
Quarterback PATRICK MAHOMES is expected to make his ninth-career postseason start, having surpassed 250 passing yards in each of his previous eight playoff starts. With at least 250 passing yards against Pittsburgh on Sunday night (8:15 PM ET, NBC/Telemundo/Peacock), Mahomes will tie DREW BREES (nine consecutive games from Feb. 7, 2010 to Jan. 13, 2019) for the second-most consecutive postseason games with at least 250 passing yards NFL history. Only TOM BRADY (12 from Feb. 1, 2015 to Feb. 3, 2019) has more.

Mahomes has guided the Chiefs to a playoff win each of the past three years and with a victory on Sunday night will become the fourth quarterback ever to win at least one postseason game in four of his first five seasons, joining JOE FLACCO, DONOVAN MCNABB and RUSSELL WILSON.
Mahomes could also become the sixth quarterback with at least one victory in each of his first four postseason appearances.
Tight end TRAVIS KELCE surpassed 100 receiving yards in each of Kansas City's three playoff games last season and can join ANTONIO BROWN (four consecutive games from Jan. 3, 2015 to Jan. 15, 2017) and LARRY FITZGERALD (four consecutive games from Jan. 3, 2009 to Feb. 1, 2009) as the only players ever to record at least 100 receiving yards in four consecutive postseason games.
In his career, Kelce has recorded at least 100 receiving yards in six postseason games, tied for the second-most ever. Only Pro Football Hall of Famer JERRY RICE (eight games) has more.

Kelce also recorded at least 10 receptions in both the AFC Championship Game and Super Bowl LV last year and can become the first player ever to register at least 10 catches in three consecutive postseason games and the first player in postseason history to record four games with at least 10 receptions.
Kelce has 992 receiving yards in 12 career postseason games and can join ROB GRONKOWSKI (1,273 receiving yards) as the only tight ends with at least 1,000 receiving yards in postseason history.
— SUPER WILD CARD WEEKEND —
TOP OF THE CHARTS: The BUFFALO BILLS finished the regular season with the top-ranked scoring defense (17.0 points per game allowed), while the NEW ENGLAND PATRIOTS ranked second (17.8 points per game allowed).
After splitting their regular-season series, the teams will meet for a third time on Saturday night in Buffalo (8:15 PM ET, CBS/Paramount+). Since 2000, this will mark the sixth postseason matchup to feature the top-two scoring defenses.

If New England rookie quarterback MAC JONES makes the start on Saturday, he would become the third rookie quarterback to start a playoff game against the top-ranked scoring defense in the Super Bowl era, joining JOE FLACCO (2008 AFC Championship Game) and ROBERT GRIFFIN III (2012 NFC Wild Card round).

The Bills led the league in point differential (+194) while the Patriots ranked third (+159). The meeting between Buffalo and New England marks the first Wild Card game since 1978 and third postseason game since 1970 to occur in the first round of the playoffs to feature two teams that each had a +150-point differential.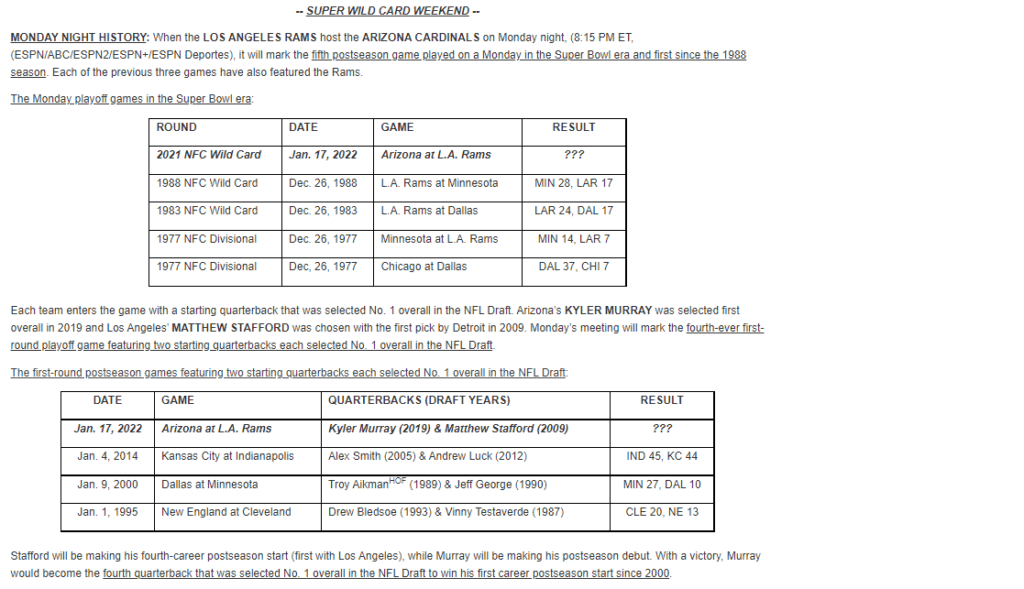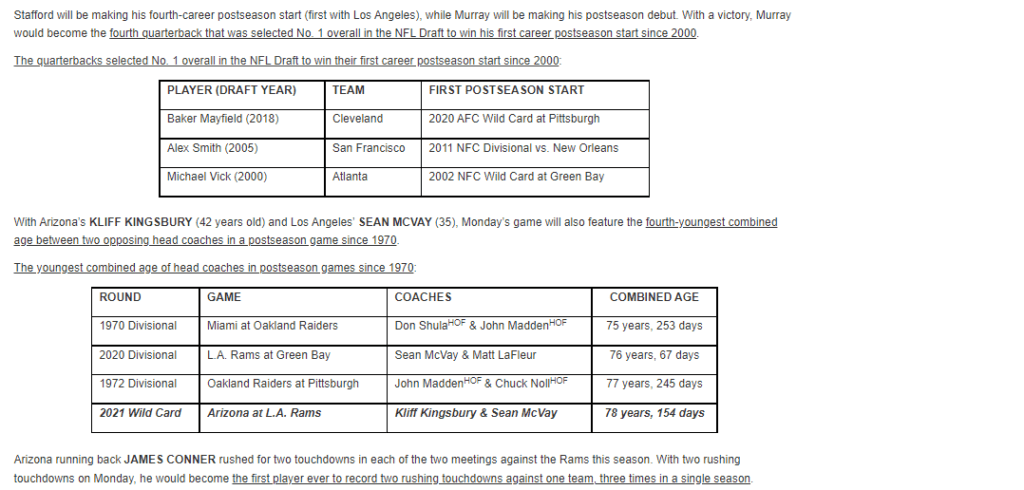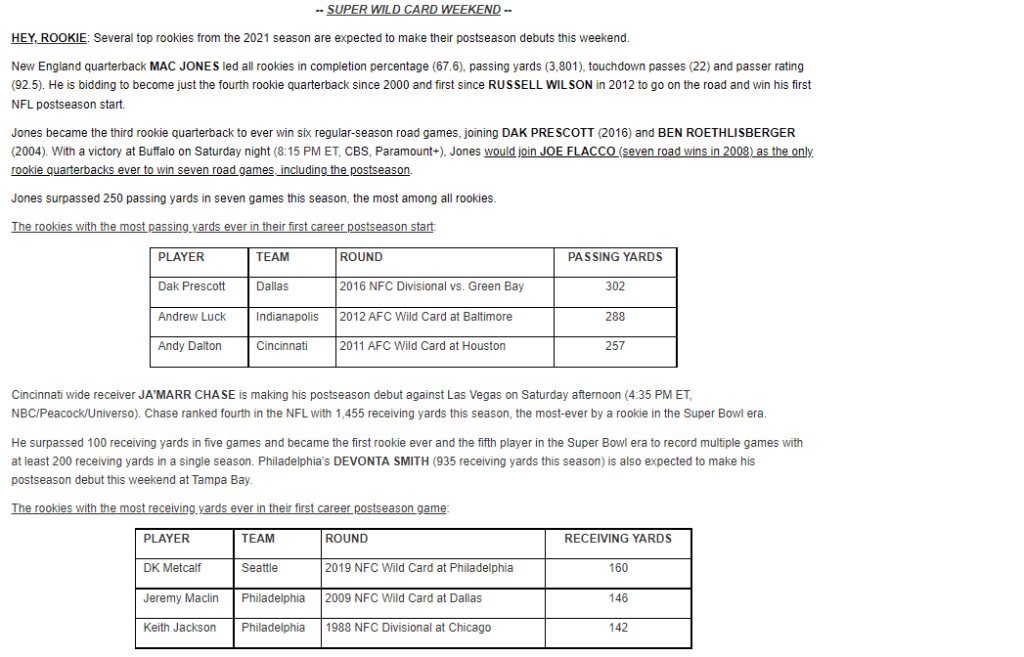 COURTESY NFLmedia.com