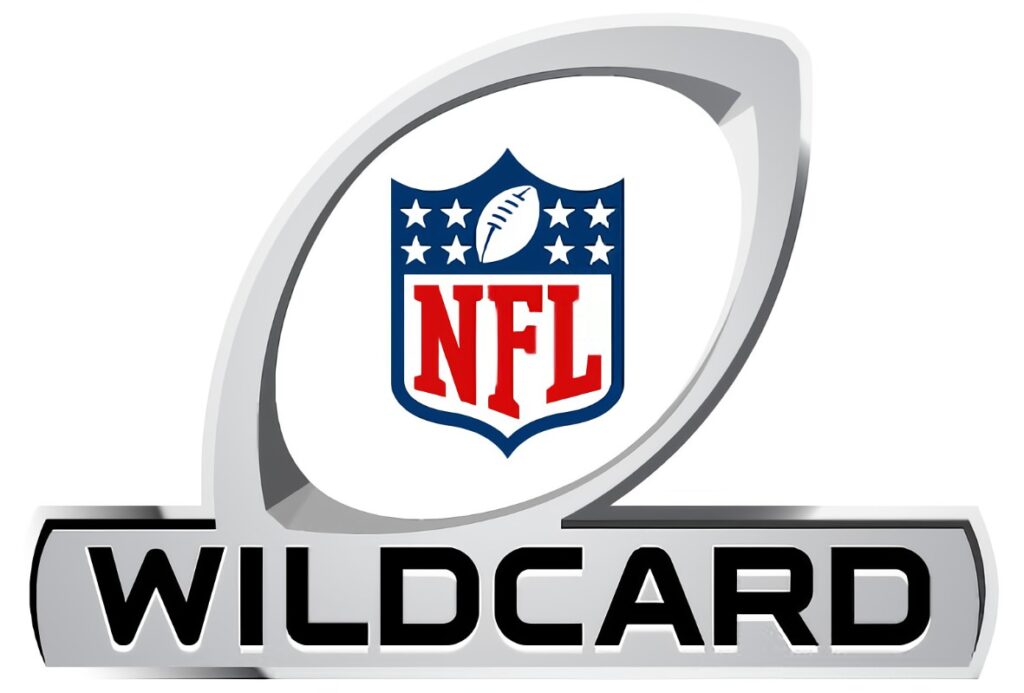 The NFL playoffs begin with Super Wild Card Weekend (January 15-17), which for the first time will conclude with a game on Monday night.
The NFL Super Wild Card Weekend schedule:

The NFL expanded the playoffs last season for the first time since 1990, adding a third Wild Card team in each conference and in the process creating "Super Wild Card Weekend" – three Wild Card games on Saturday and three games on Sunday.
With the addition of a Monday night game to the 2021 playoffs, Super Wild Card Weekend will now have two Wild Card games on Saturday (4:30 PM and 8:15 PM ET), three on Sunday (1:00 PM, 4:30 PM, and 8:15 PM ET), and one on Monday (8:15 PM ET).

On Saturday, the Las Vegas Raiders play at the Cincinnati Bengals (NBC, Peacock, Universo, 4:30 PM ET) and the New England Patriots visit the Buffalo Bills (CBS, Paramount+, 8:15 PM ET).

Super Wild Card Weekend continues Sunday as the Philadelphia Eagles visit the Tampa Bay Buccaneers (FOX, FOX Deportes, 1:00 PM ET), the Dallas Cowboys welcome the San Francisco 49ers (CBS, Paramount+, Nickelodeon, Amazon Prime Video, 4:30 PM ET) and the Pittsburgh Steelers travel to face the Kansas City Chiefs (NBC, Peacock, Telemundo, 8:15 PM ET).

Super Wild Card Weekend concludes with the Arizona Cardinals visiting the Los Angeles Rams on Monday night (ESPN/ABC, ESPN2, ESPN+ ESPN Deportes, 8:15 PM ET).
TURNAROUND TEAMS & CONSISTENT WINNERS HIGHLIGHT PLAYOFF FIELD
There are seven new playoff teams in 2021: ARIZONA, CINCINNATI, DALLAS, LAS VEGAS, NEW ENGLAND, PHILADELPHIA and SAN FRANCISCO.
Since 1990 – a streak of 32 consecutive seasons – at least four teams have qualified for the playoffs in every season that were not in the postseason the year before.
The teams since 1990 to make the playoffs a season after failing to qualify: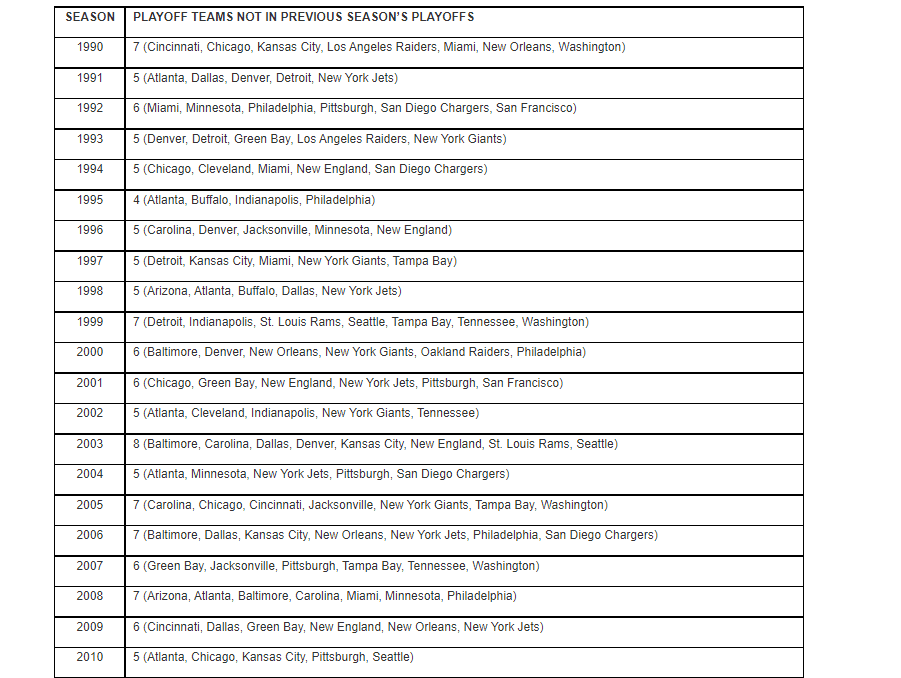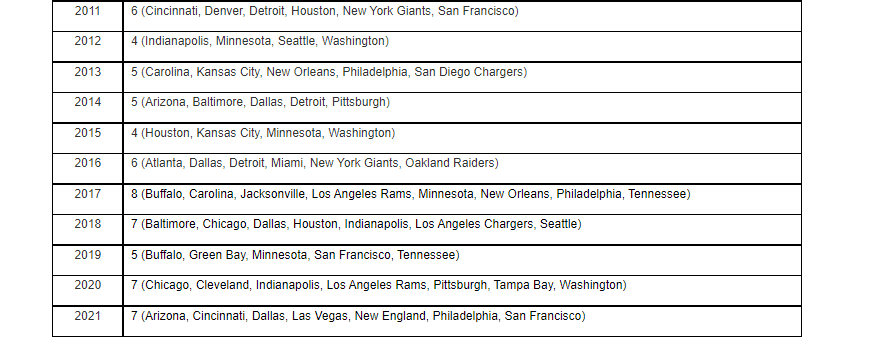 Two teams won division titles – Cincinnati (AFC North) and Dallas (NFC East) – after missing the playoffs last season. At least two teams have won their divisions the season after missing the playoffs in 18 of the past 19 years.
Cincinnati completed the "worst-to-first" turnaround, winning the AFC North the season after finishing in last place. At least one team has won its division the season after finishing in or tied for last place in 17 of the past 19 seasons.
The divisions with new champions in 2021:

In the 20 seasons since realignment in 2002, 30 of the 32 NFL teams have won a division title at least once.
How the 2021 playoff teams have fared in the 20 seasons since realignment in 2002 (2021 division winners in bold/italics):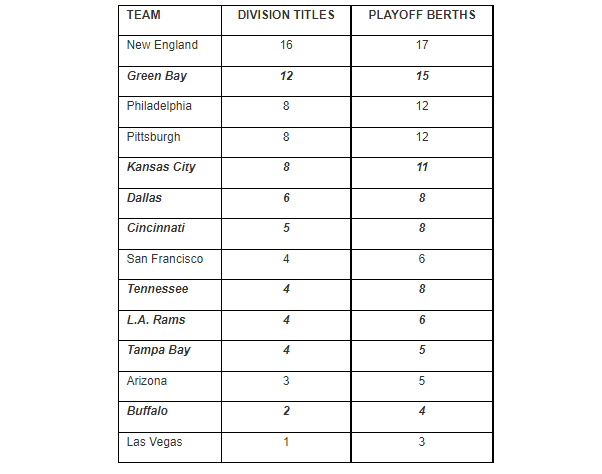 Seven of this season's 14 playoff teams have won at least one Super Bowl since 1999, capturing 14 of the past 22 Vince Lombardi Trophies. Those teams are the Patriots (XXXVI, XXXVIII, XXXIX, XLIX, LI, LIII), Buccaneers (XXXVII, LV), Steelers (XL, XLIII), Packers (XLV), Chiefs (LIV), Eagles (LII) and Rams (XXXIV).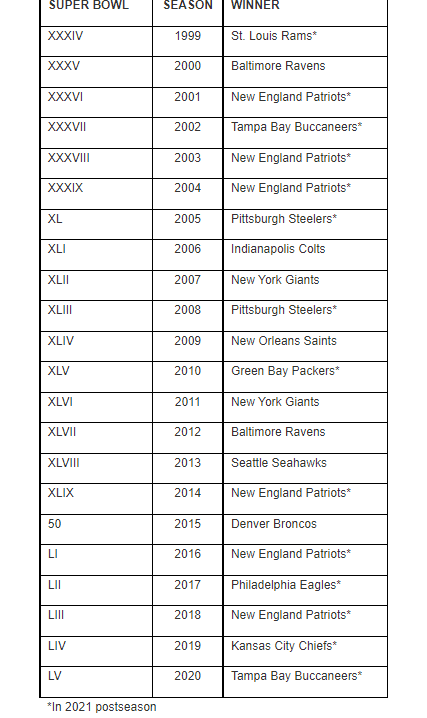 The New England Patriots (.638), San Francisco 49ers (.604) and Green Bay Packers (.600) have the three highest postseason winning percentages in NFL history, while the Patriots (37 wins), Packers (36) and Pittsburgh Steelers (36) have the most postseason wins all-time.
The 14 playoff teams and their postseason records: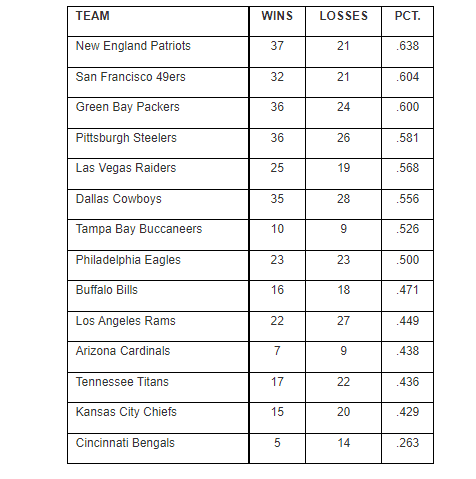 YOUTH & CONSISTENCY HIGHLIGHT THE PLAYOFF QUARTERBACKS
The 2021 postseason is filled with young stars on the rise and veterans at the top of their game at the quarterback position.
Six starting quarterbacks are under the age of 27 – Buffalo's JOSH ALLEN (age 25), Cincinnati's JOE BURROW (25), Philadelphia's JALEN HURTS (23), New England's MAC JONES (23), Kansas City's PATRICK MAHOMES (26) and Arizona's KYLER MURRAY (24). The only postseason with more was 2020 (seven).
Four quarterbacks have won at least one Super Bowl title, including three that have been named Super Bowl Most Valuable Player:
Tampa Bay quarterback TOM BRADY, who has a league-record seven Super Bowl titles after leading the Buccaneers to a Super Bowl LV title last season, led the NFL in passing yards (5,316) and passing touchdowns (43) as the Buccaneers earned their first NFC South division title since 2007. Brady is the postseason's all-time leader in games played (45), passing yards (12,449) and touchdown passes (83) and has been named Super Bowl MVP five times, more than any player in league history.

Kansas City quarterback PATRICK MAHOMES ranked fourth in the NFL with 4,839 passing yards and tied for fourth with 37 touchdown passes to help the Chiefs earn their sixth consecutive AFC West Division title and fourth since he became the starting quarterback in 2018. In eight career postseason starts, he has 2,324 passing yards (290.5 per game) with 21 touchdowns (17 passing, four rushing) against four interceptions for a 100.4 rating and has led the Chiefs to consecutive Super Bowl appearances. During the 2019 season, Mahomes became the youngest quarterback to win Super Bowl MVP honors as Kansas City earned the Super Bowl LIV title.

Green Bay quarterback AARON RODGERS, who is expected to make his 21st career playoff start in the Divisional round, can tie Pro Football Hall of Famer JOHN ELWAY (21 starts) for the sixth-most in NFL history. Rodgers led the NFL with a 111.9 passer rating and became the fourth quarterback since 1970 to lead the league in the category in at least four different seasons. In 20 career postseason starts, he has 5,669 passing yards (283.4 per game) with 49 touchdowns (45 passing, four rushing) and 13 interceptions for a 100.5 rating. Rodgers earned Super Bowl MVP honors when he led the Packers to a Super Bowl XLV championship in 2010.

Pittsburgh quarterback BEN ROETHLISBERGER has 22 career postseason starts, the fifth-most in NFL history, and can tie Pro Football Hall of Famer JOE MONTANA (23 starts) for the fourth-most all by a quarterback. He has totaled 5,757 passing yards and 37 touchdowns (34 passing, three rushing) in the playoffs and led the Steelers to Super Bowl titles in 2005 (XL) and 2008 (XLIII). In 249 regular-season games, he ranks fifth all-time in passing yards (64,088) and eighth in touchdown passes (418).

Five quarterbacks, including four age 25 or younger, are scheduled to make their playoff debuts:

Cincinnati quarterback JOE BURROW (age 25), the No. 1 overall pick in the 2020 NFL Draft, is slated to make his postseason debut on Super Wild Card Weekend. He finished the 2021 season ranked second in the NFL in passer rating (108.3), sixth in passing yards (4,611) and eighth in touchdown passes (34). In Week 16, Burrow recorded 525 passing yards, the fourth-most in a single game in NFL history.

Las Vegas quarterback DEREK CARR makes his playoff debut after ranking fifth in passing yards (career-high 4,804) during the 2021 regular season. He became the fourth player with at least 3,000 passing yards in each of his first eight seasons in NFL history and the fifth player to reach 30,000 passing yards (31,700) in his first eight seasons all-time.

Philadelphia quarterback JALEN HURTS (age 23), a second-round selection (No. 53 overall) in the 2020 NFL Draft, looks to make his playoff debut in the Wild Card round. He passed for 3,144 yards and 16 touchdowns in 15 games this season and led all quarterbacks in rushing yards (784) and rushing touchdowns (10). Hurts has five career games with at least two rushing touchdowns, the most by a quarterback in his first two seasons in the Super Bowl era.

New England rookie quarterback MAC JONES (age 23) makes his postseason debut after totaling 3,801 passing yards, 22 touchdown passes and a 92.5 rating in 17 starts, all the most among rookies this season. He completed at least 70 percent of his passes in nine games, tied for the most such games by a rookie quarterback all-time. Jones became the third rookie to win each of his first six road starts and the fourth rookie quarterback in the Super Bowl era to win seven consecutive starts (Weeks 7-13).

Arizona quarterback KYLER MURRAY (age 24), the No. 1 overall pick in the 2019 NFL Draft, makes his postseason debut after leading the Cardinals to their first playoff berth since 2015. Murray totaled 3,787 passing yards with 24 touchdowns and a 100.6 rating while adding 423 rushing yards and five rushing touchdowns. He became the first player with at least 70 touchdown passes (70) and 20 rushing touchdowns (20) in his first three seasons all-time.

Five starting quarterbacks will be making at least their second career postseason appearance:

Buffalo quarterback JOSH ALLEN, who led Buffalo to its second-consecutive AFC East division title, is expected to make his fifth-career postseason start. In his first four playoff starts, he has totaled 1,081 passing yards (270.3 per game) with five touchdowns against one interception for an 87.4 rating and added 237 rushing yards and one rushing touchdown. He also recorded a receiving touchdown in the 2019 Wild Card round. Allen has 103 touchdown passes and 31 rushing touchdowns since entering the NFL in 2018 and is the first player ever with at least 100 touchdown passes and 30 rushing touchdowns in his first four seasons.

San Francisco quarterback JIMMY GAROPPOLO is expected to make his fourth-career postseason start on Super Wild Card Weekend. He led the 49ers to a Super Bowl LIV appearance following the 2019 season. Garoppolo, who recorded 3,810 passing yards and 23 total touchdowns (20 passing, three rushing) in 15 starts this season, ranked third in the league with a 103.2 rating over the final 10 weeks of the regular season (Weeks 9-18).

Dallas quarterback DAK PRESCOTT makes his third trip to the postseason after leading Dallas to its first division title since 2018. In three career postseason starts, he has seven touchdowns (five passing, two rushing) with two interceptions and a 95.7 rating. Prescott ranked third in the league with a 104.2 passer rating this season and tied for fourth with a franchise-record 37 touchdown passes.

Los Angeles Rams quarterback MATTHEW STAFFORD makes his fourth-career postseason appearance and first with Los Angeles. He has at least 300 passing yards and a passer rating of 85-or-higher in two of his first three playoff starts, all of which occurred on the road. Stafford ranked second in touchdown passes (41), third in passing yards (4,886) and sixth in passer rating (102.9) this season.

Tennessee quarterback RYAN TANNEHILL is set to make his fifth-career postseason start when the Titans host their the Divisional playoff game after leading Tennessee to consecutive AFC South division titles. He recorded 3,734 passing yards and 21 touchdown passes in 2021 and is the only quarterback with at least seven rushing touchdowns in each of the past two seasons.
BEST NFL PLAYOFF PERFORMANCES
(Single postseason)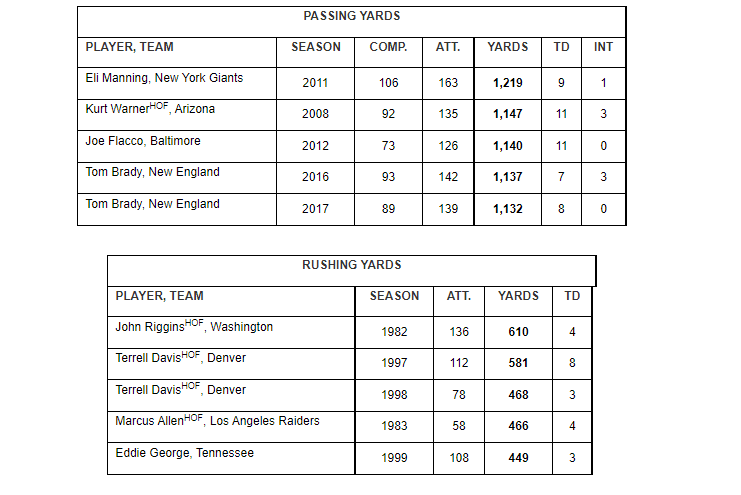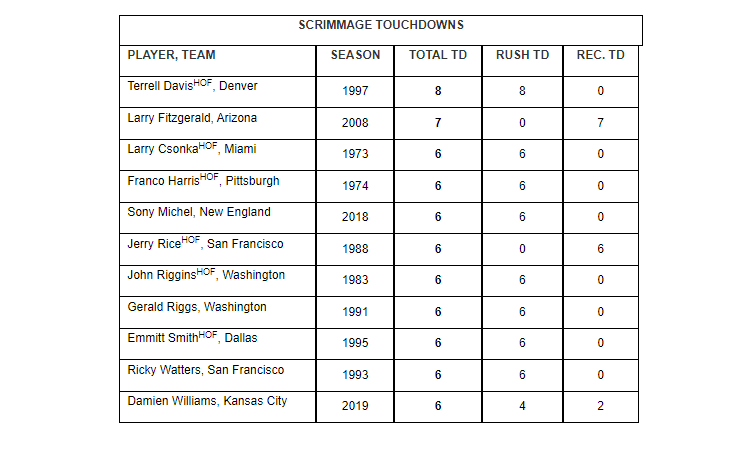 COURTESY NFLmedia.com