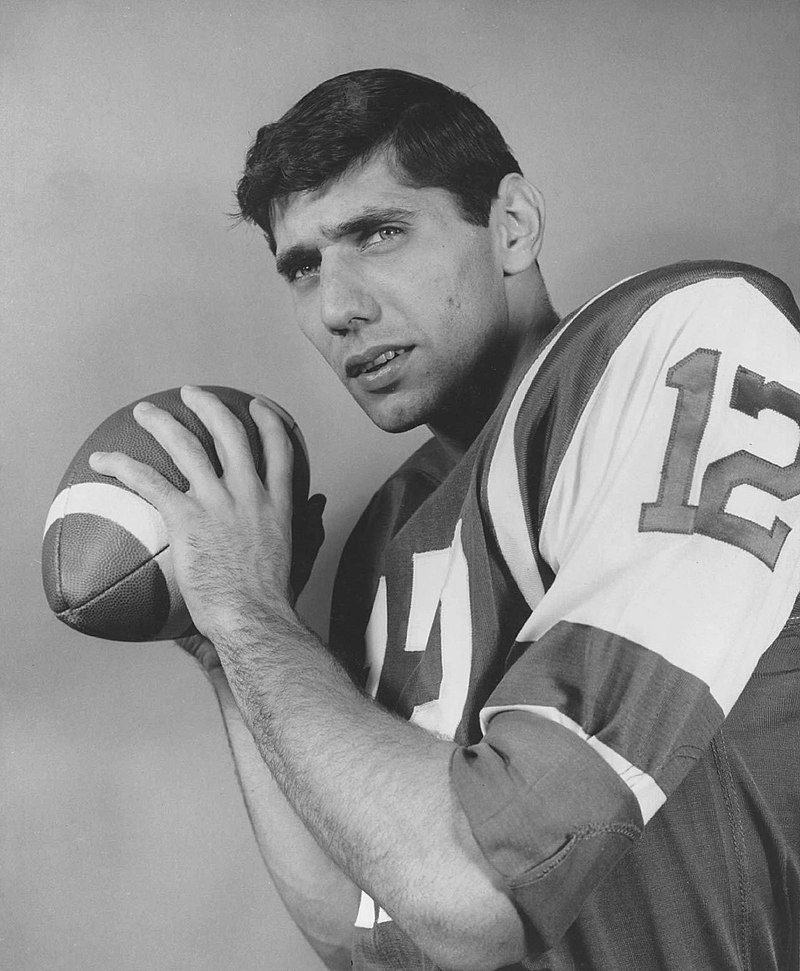 FROM WIKIPEDIA COMMONS
Joseph William Namath (/ˈneɪməθ/; NAY-meth; born May 31, 1943) is a former American football quarterback who played in the American Football League (AFL) and National Football League (NFL) for 13 seasons, primarily with the New York Jets. He played college football at Alabama, where he led the team to a national championship title, and was selected by the Jets first overall in the 1965 AFL Draft. During his five AFL seasons, he was a two-time MVP and twice led the league in passing yards while guiding the Jets to victory in one AFL championship and one Super Bowl. Both victories remain the Jets' only championships. Namath joined the NFL with the Jets in 1970 following the AFL–NFL merger, where he was the league's passing yards and touchdowns leader during the 1972 season. He played in New York for seven more seasons, with his final year spent as a member of the Los Angeles Rams.
Namath cemented his legacy in 1969 when he boldly guaranteed his heavy underdog Jets would win Super Bowl III before defeating the NFL's Baltimore Colts in one of the greatest sports upsets of all time. The Super Bowl victory was the first for an AFL franchise, helping dismiss notions that its teams were inferior to the NFL's, and demonstrating that they would enter the merger as equals. Namath received Super Bowl MVP honors in the game while becoming the first quarterback to win both a college national championship and a major professional championship.
Nicknamed "Broadway Joe", Namath became a media icon whose on-field success, fashion sense, lighthearted personality, and sex symbol status attracted mainstream popularity outside of sports. Although his statistics and win–loss record are unimpressive from a contemporary standpoint, Namath remains one of the league's most iconic and popular figures. He was inducted to the Pro Football Hall of Fame in 1985.
TODAY'S ALMANAC
Born
Nathaniel Bacon (colonial leader) – 1647
Justin Winsor (historian) – 1831
Frederick Varley (Canadian artist) – 1881
Count Folke Bernadotte (Red Cross official) – 1895
Isaac Asimov (author) – 1920
Renata Tebaldi (opera singer) – 1922
Julius LaRosa (singer) – 1930
Roger Dean Miller (singer) – 1936
Jim Bakker (evangelist) – 1939
Cuba Gooding Jr. (actor) – 1968
Taye Diggs (actor) – 1972
Kate Bosworth (actress) – 1983
Died
Bill Veeck (baseball player) – 1986
Pete Postlethwaite (actor) – 2011
Events
Georgia ratified the U.S. Constitution– 1788
Alice Sanger became the first female staffer for the White House– 1890
Elara, a Moon of Jupiter, discovered– 1905
Willis H. Carrier patented an air conditioner– 1906
Japanese invaded and occupied Manila and the Philipines after a successful attack on Pearl Harbor– 1942
USSR's Luna I was launched, becoming the first spacecraft to leave Earth's gravity. Later, it became the first to reach the Moon's vicinity and the first to orbit the Sun.– 1959
Fidel Castro and his followers captured Santiago, Cuba; Fulgencio Batista went into exile– 1959
The U.S. Federal Trade Commision charged seven record companies and eight distribution firms with paying disc-jockeys to play certain songs (Payola Incident)– 1960
General Lyman L. Lemnitzer became the supreme commander of NATO– 1963
The NY Jets signed quarterback Joe Namath for $427,000. At the time he was the highest paid player in pro football– 1965
Robert Clark was seated as the first African American legislator in Mississippi in 74 years– 1968
Kenneth Brugger and Cathy Aguado discovered first winter refuge of monarch butterflies, in Mexico– 1975
President Ronald Reagan and Prime Minister Brian Mulroney signed the final version of the U.S.-Canadian trade accord. The pact provided for the elimination of tariffs on most goods within 10 years and created a series of binational groups to regulate the agreement– 1988
Explosion in a West Virginia coal mine that led to the death of 12 of 13 miners—Sago Mine disaster– 2006
On this date a numerically rare event occurred: 01-02-2010 expressed backwards as a date is precisely 01-02-2010– 2010
Weather
Fourteen degrees F on Haleakala summit, Hawaii– 1876
Little Rock, Arkansas, received 13 inches of snow in 24 hours– 1893
A severe snowstorm began in New England. The Blue Hill observatory in Milton, Massachusetts, had 19 inches of snow in 24 hours.– 1904
Hawaii experienced one of its lowest temperatures on record, 14 degrees F, on Haleakala summit– 1961
Nor'easter flooded the East Coast– 1987
COURTESY www.almanac.com