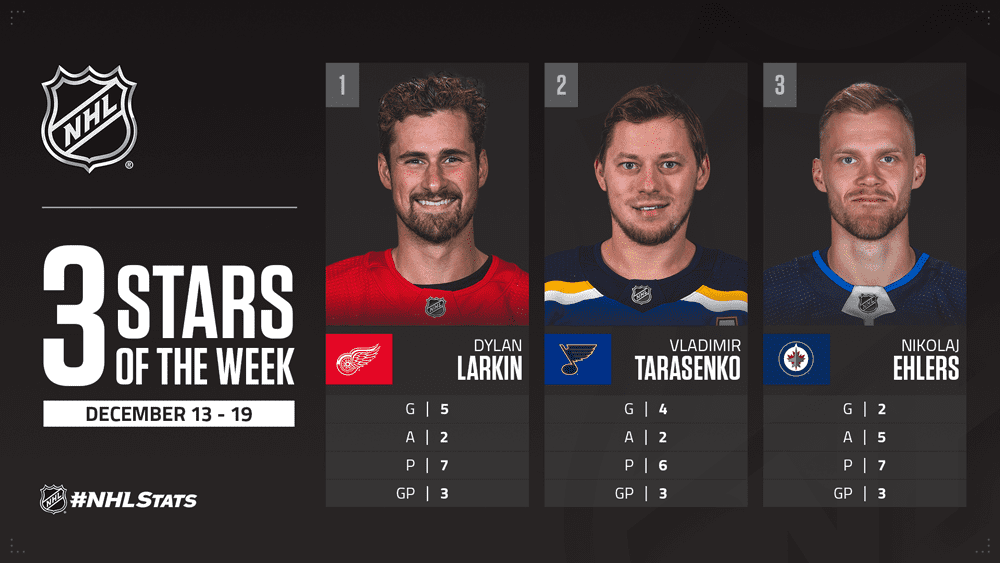 NEW YORK (Dec. 20, 2021) – Detroit Red Wings center Dylan Larkin, St. Louis Blues right wing Vladimir Tarasenko and Winnipeg Jets left wing Nikolaj Ehlers have been named the NHL's "Three Stars" for the week ending Dec. 19.
FIRST STAR – DYLAN LARKIN, C, DETROIT RED WINGS
Larkin led the NHL with five goals and seven points in three games (5-2—7) to propel the Red Wings (15-13-3, 33 points) to a 2-1-0 week and into the final Wild Card position in the Eastern Conference. The Detroit captain scored once in a 2-1 victory over the New York Islanders Dec. 14. He then registered 1-1—2, his seventh multi-point performance of the season, in a 5-3 loss to the Carolina Hurricanes Dec. 16. Larkin capped the week with 3-1—4, marking both his first career hat trick and four-point outing (460 GP), in a 5-2 triumph over the New Jersey Devils Dec. 18. The 25-year-old Waterford, Mich., native and 15th overall pick from the 2014 NHL Draft tops the Red Wings with 15-14—29 in 27 total contests this season. His 15 goals share 10th place in the League (with Sebastian Aho and Jake Guentzel).
SECOND STAR – VLADIMIR TARASENKO, RW, ST. LOUIS BLUES
Tarasenko ranked second in the NHL with four goals in three appearances (4-2—6) as the Blues (17-9-5, 39 points) went 2-1-0 to maintain third place in the Central Division. He posted 1-2—3, his second three-point effort of the season (also Nov. 27 vs. CBJ: 0-3—3), in a 4-1 victory against the Dallas Stars Dec. 14. Tarasenko then scored twice, including his 38th career game-winning goal (5th in franchise history), to help St. Louis complete a sweep of its home-and-home set with Dallas via a 4-1 triumph Dec. 17. He added his team-leading 12th goal of the campaign in a 4-2 loss to the Winnipeg Jets Dec. 19. The 30-year-old Yaroslavl, Russia, native and 16th overall selection from the 2010 NHL Draft paces the Blues with 12-17—29 in 31 total outings this season.
THIRD STAR – NIKOLAJ EHLERS, LW, WINNIPEG JETS
Ehlers factored on seven of Winnipeg's eight goals, placing second in the League with 2-5—7 in three contests to help the Jets (14-11-5, 33 points) go 1-2-0. He scored once in a 4-2 loss to the Buffalo Sabres Dec. 14. Ehlers then assisted on both Winnipeg goals in a 5-2 defeat against the Washington Capitals Dec. 17. He finished the week with 1-3—4, his fourth career four-point performance and second of the calendar year (also Jan. 26 vs. EDM: 1-3—4), in a 4-2 victory over the St. Louis Blues Dec. 19. The 25-year-old Aalborg, Denmark, native and ninth overall pick from the 2014 NHL Draft ranks third on the Jets with 12-12—24 in 30 total appearances this season.
COURTESY NHLmedia.com