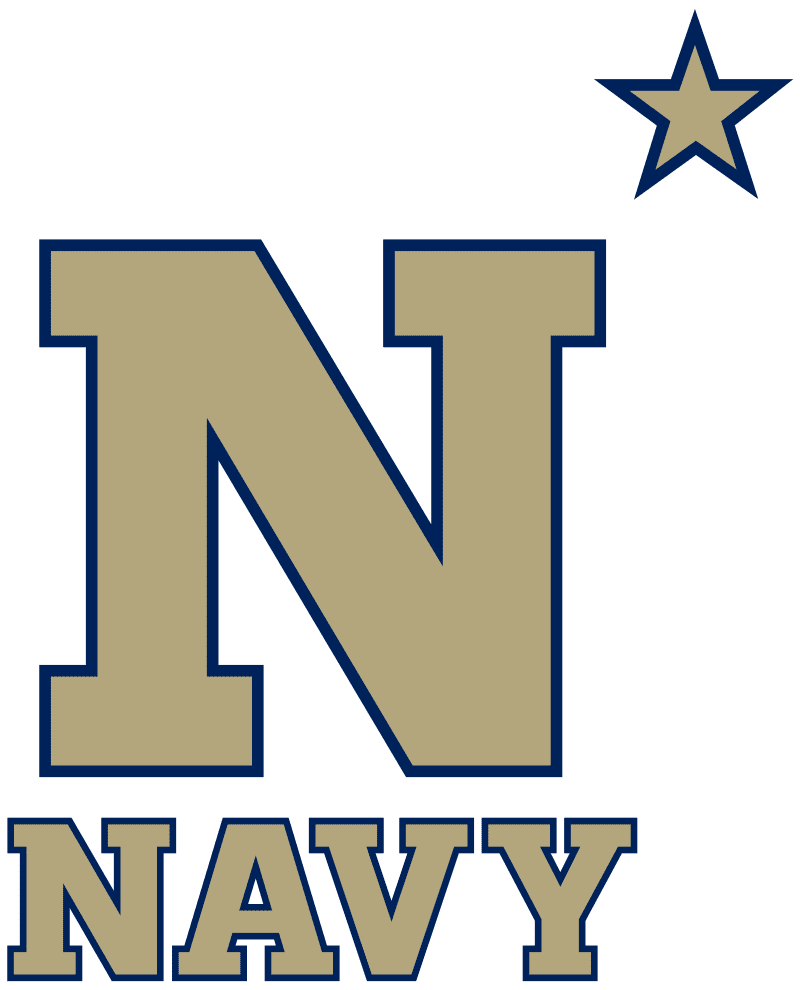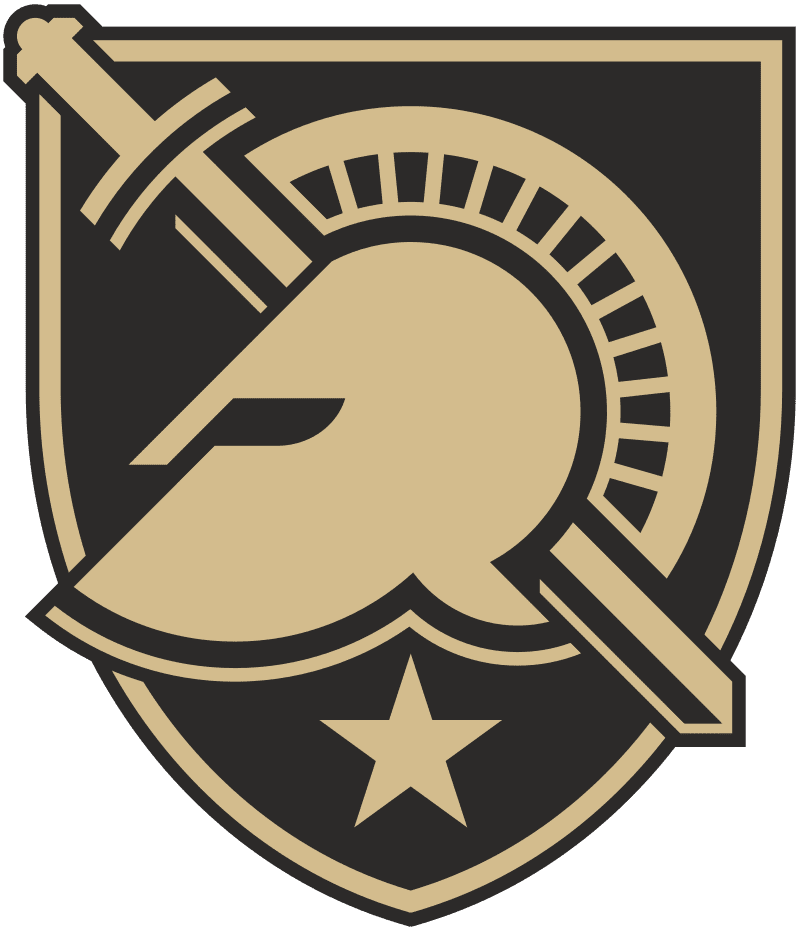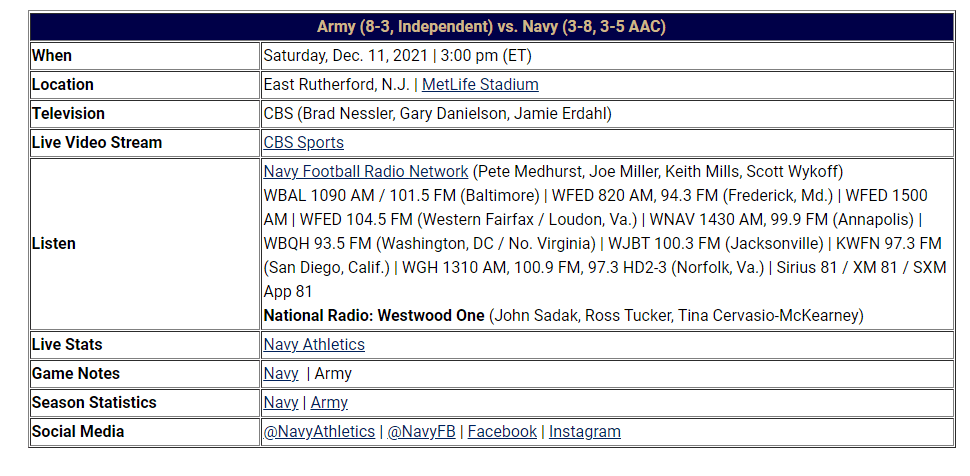 Opening Kick
• Army and Navy meet for the 122nd time in series history and for the fifth time in New Jersey when the two square off on Saturday afternoon (3:00 pm) at MetLife Stadium (82,500). The Army-Navy Game presented by USAA is the eighth-most played rivalry in the Football Bowl Subdivision.
• Navy leads the all-time series against Army 61-53-7 and is 3-1 against the Black Knights in games played at the Meadowlands Complex. Navy has won the last two games played in New Jersey by a combined score of 97-19 (58-12 in 2002, 39-7 in 1997).
• While Navy cannot win the Commander-In-Chief's Trophy, the Mids can prevent Army from winning it with a victory over the Black Knights. The last time the three schools went 1-1 against one another was in 1993 when Navy beat Air Force, Air Force beat Army and Army beat Navy. The last time Air Force beat Navy, Army beat Air Force and Navy beat Army was in 1980. That same scenario also played out in 1974 and 1976.
• Navy is 9-1 this year against Army in all sports: 1-0 in men's golf, men's soccer, women's cross country, men's cross country and women's soccer, 2-0 in sprint football and 2-1 in women's volleyball. Army and Navy meet in men's and women's swimming on Thursday, Dec. 9 in Annapolis leading up to the football game.
• With nine wins, Navy's Ken Niumatalolo is the winningest coach in the history of the Army-Navy game. College Football Hall of Famer and former Army coach Col. Earl "Red" Blaik is second with eight.
• Navy's 12 opponents this year are a combined 89-45 (.664), which is the third-toughest schedule in the country based on opponent winning percentage (does not include games against Navy).
• The ELO strength of schedule rankings by WarrenNolan.com also has Navy's schedule as the third toughest in the country behind Indiana and Georgia Tech.
• The Mids have faced three teams currently ranked in the Associated Press Top 25, including two in the top 5 – Cincinnati (#4), Notre Dame (#5) and Houston (#21).
• Eleven of Navy's 12 opponents are going to a bowl game, which is the most in the country. Among those 11 opponents is American Athletic Conference foe Cincinnati, who is in the College Football Playoffs. No team played the Bearcats closer than Navy, who lost to Cincinnati 27-20 on Oct. 23 in Annapolis.
• Niumatalolo is the eighth-longest tenured coach in the FBS.
• Navy is fielding one of its youngest teams in recent memory. The Mids have 2 freshmen and 10 sophomores on the offensive depth chart and 8 freshmen and 10 sophomores on the defensive depth chart (10 freshmen and 20 sophomores combined). Navy is starting 9 freshmen on the kickoff return team, including Maquel Haywood who is averaging a school-record 36.1 yards per return.
• Due to injuries, Navy has had to start 9 different combinations along the offensive line in its 11 games and has started 5 different offensive tackles, 5 different offensive guards and 3 different centers.
• Senior safety Kevin Brennan, senior wide receiver Mychal Cooper, senior linebacker Diego Fagot and senior slot back Chance Warren were selected as team captains for the 2021 season by their teammates. Being selected team captain is the greatest honor a Navy athlete can receive, to be chosen the leader of a group of leaders.
• Cooper was also chosen to serve as the Captain of the Captains by a vote of the team captains of all 33 of Navy's varsity sports. It's the second time in three years that a football player has been selected. Ford Higgins was the Captain of the Captains for the 2019-20 academic year.
Game Day Festivities
• The march-on of the Brigade of Midshipmen will take place at 12:10 pm, followed by the march-on of the Corps of Cadets at 12:40 pm.
• The Service Academy exhange of Midshipmen and Cadets who are spending the semester as their rival school will take place at 2:45 pm.
• Weather permitting, the Golden Knights and Leap Frogs will jump at 2:48 pm.
• The National Anthem will take place at 3:01 pm and will be sung by the glee clubs from both institutions.
• The Navy flyover will take place at 3:05 pm. The flyover will feature four Boeing F/A-18 Super Hornets from the "Ragin' Bulls" of Strike Fighter Squadron THREE SEVEN and the "Blacklions" of Strike Fighter Squadron TWO ONE THREE based out of Naval Air Station Oceana in Virginia Beach, Va. Piloting the lead aircraft will be Cmdr. Patrick Bookey, USNA Class of 2003. The wing aircraft will be piloted by Lt. Cmdr. Andrea Lazzaro, Class of 2010, Lt. Cmdr. William Craven, Class of 2011, Lt. Cmdr. Jayson Trembath, Class of 2007 and Lt. Mikaela Sakach, Class of 2017. Providing ground support will be Cmdr. Mike Tremel, USNA Class of 2004, Lt. Cmdr. Ryan Moore, Class of 2009, Lt. Cmdr. Andrew Wilkening and Lt. Natalie Sava, Class of 2018. The Ragin' Bulls and Blacklions are two of the Navy's premier strike fighter squadrons. The squadrons' mission, as part of the Carrier Air Wing, is to serve as the tip of the sword for the carrier fleet to include air superiority, strike, maritime superiority, and close air support in defense of our nation's interests.
• Kickoff is tentatively set for 3:10 pm.
• Following the game, the alma mater of the losing team will be played with both teams standing at attention, followed by the alma mater of the winning team. It is the greatest tradition in all of sports.
Broadcast Coverage
• CBS Sports will televise the Army-Navy game nationally with Brad Nessler, Gary Danielson and Jamie Erdahl on the call,
• Westwood One will have the national radio call with John Sadak, Ross Tucker and Tina Cervasio-McKearney. The game will air on over 325 Westwood affiliates and on SIRIUSXM Channel 84.
• ESPN College GameDay will broadcast live from MetLife Stadium from 9:00 am to 12 noon with Rece Davis, Kirk Herbstreit, Lee Corso, Desmond Howard, David Pollack, Gene Wojciechowski, Jen Lada and Chris Fallica.
• CBS Sports Network will air Inside College Football: Army-Navy March-On presented by USAA from 12:00-1:30 pm and Inside College Football: Army-Navy Tailgate presented by USAA from 1:30-2:30 pm. Hosts Brent Stover and Tina Cervasio-McKearney, along with analysts Randy Cross, Houston Nutt and Kevin Carter will cover all of the sights and sounds of the pregame festivities from MetLife Stadium.
• CBS Sports will also air its studio pregame, halftime and postgame coverage live from inside the stadium. Coverage on CBS will begin at 2:30 pm with College Football Today. Adam Zucker, Brian Jones and Rick Neuheisel will count down to kickoff, previewing the action and setting the stage for America's Game.
• The Navy Football Insider Show with Joe Miller will air on Thursday night from 7:00-8:00 pm on WBAL Radio (1090 AM, 101.5 FM). Pete Medhurst, Keith Mills and Scott Wykoff will also contribute to the show.
• The Navy Football Tailgate Show on WNAV Radio 1430 AM / 99.9 FM will air from 1:00-2:00 pm with Wylie Baker and Bill Lusby serving as the hosts.
• The Navy Football Special Edition Army-Navy Insider Show with Wykoff, Mills, Miller and Medhurst will air on on WBAL Radio (1090 AM, 101.5 FM) from 12:00-2:00 pm.
• The Navy Football Pregame Show with Medhurst, Miller, Mills and Wykoff and special commentary from John Feinstein will get underway at 2:00 pm on the Navy Radio Network, followed by game action beginning at 3:00 pm with Medhurst, Miller and Mills on the call.
• Following the contest, Medhurst, Miller, Mills and Wykoff will recap the day's events in a 30-minute postgame show.
Scouting Army
8-3 Overall | Independent
Head Coach: Jeff Monken
• Army enters the contest on a four-game winning streak, beating Air Force (21-14 OT), Bucknell (63-10), UMass (33-17) and Liberty (31-16).
• Army is led by fifth-year quarterback Christian Anderson, who has rushed for 519 yards and 6 touchdowns while completing 21 of his 44 pass attempts for 545 yards and 5 touchdowns.
• Sophomore running back Tyrell Robinson leads Army in rushing with 582 yards and 3 touchdowns on just 59 carries (9.9 yds/carry). Bruising junior fullback Jakobi Buchanan has 11 rushing touchdowns and has 111 carries for 412 yards, while fourth-year junior quarterback Tyhier Tyler has rushed for 470 yards and 7 touchdowns.
• Sophomore wide receiver Isaiah Alston is Army's leading receiver with 18 catches for 384 yards and 3 touchdowns, while Robinson has 9 catches for 268 yards and 3 touchdowns.
• The Army defense is led by senior linebacker Arik Smith (66 tackles, 9 tackles for loss, 2 sacks), junior outside linebacker Andre Carter (35 tackles, 15 tackles for loss, 13.5 sacks), junior defensive back Marquel Broughton (59 tackles, 3 tackles for loss, 2 interceptions, 5 pass breakups) and third-year sophomore corner Jabari Moore (35 tackles, 2 interceptions, 6 pass breakups).
• Zach Harding is averaging 44.3 yards per punt, while kicker Cole Talley is 5-7 on field goals and 40-42 on extra points.
Commander-In-Chief's Trophy
• The Commander-In-Chief's Trophy is presented annually to the winner of the football competition among the three major service academies — Army, Navy and Air Force — and is named in honor of the President of the United States.
• Navy has won the trophy 11 of the last 18 years and has won 27 of the last 38 Service Academy games against Air Force and Army.
• Navy has won the trophy a total of 15 times in school history: 1973, 1975, 1978, 1979, 1981, 2003, 2004, 2005, 2006, 2007, 2008, 2009, 2012, 2013, 2015 and 2019.
• When there is no clear-cut winner, the trophy remains with the winner of the previous year's competition. The last time that happened was 1993.
• The three-sided trophy stands two-and-a-half-feet tall and is engraved with the academy seals. Reproductions of the three mascots — the Army Mule, the Navy Goat and the Air Force Falcon — are ensconced on the respective sides of this bauble. The trophy is sponsored by the West Point Association of Graduates, the Naval Academy Alumni Association and the Air Force Association of Graduates.
• The year in which the trophy is won is engraved on a plate gracing the respective academy's side of the trophy.
Navy Athletics, Under Armour Unveil Naval Aviation Uniform for Army-Navy Game
• Navy Athletics and Under Armour unveiled a naval aviation-themed uniform Navy will wear for Saturday's game against Army at MetLife Stadium in East Rutherford, N.J.
• Using one of the most famous Navy career paths as an inspiration, the 2021 "Fly Navy" uniform highlights classic American symbolism and the most utilized multirole fighter jet in air carrier aviation, the F/A-18E/F Super Hornet. Unmatched across the globe, America's fleet of 11 nuclear-powered aircraft carriers can deploy up to 44 of these strike fighters at a time; and with a massive arsenal of diverse firepower, the Super Hornet will remain the backbone of the carrier air wing well into the future.
• Prominently featured on the shoulder of the jersey and right side of the helmet is the U.S. military aircraft national insignia, the "roundel," which adorns aircraft piloted by all branches of the military. The left side of the helmet is emblazoned with an F/A-18 Super Hornet, which are exclusively operated by naval aviators. The Super Hornet, along with the F-35C Lightning II, represent the U.S. Navy's fleet of strike fighter aircraft. The F/A-18 Super Hornet is also the jet flown by the Navy's elite flight demonstration squadron, the Blue Angels.
• On the back of the helmet, three wings are featured which comprise the naval aviation career field: Single Anchor, Navy Pilot; Double Anchor, Navy Flight Officer; AC, Air Crew.
• Featured on the left upper chest is the Strike Fighter Wing, U.S. Atlantic Fleet patch. Based at Naval Air Station Oceana, this wing encompasses over 16 operational fighter squadrons. Each squadron consists on average of 10-12 aircraft, 22 officers and 190 enlisted personnel. The Strike Fighter Wing's mission is to provide U.S. Atlantic Fleet commanders with combat-ready strike fighter squadrons which are fully trained, properly manned, well maintained and supported.
• The 2021 Army-Navy helmet shells were each hand-painted to depict an accurate representation of the F/A-18 Super Hornet. This monochrome color palette is accented by the red, white, and blue colors drawn from the United States military aircraft roundel.
• Every detail of these custom masterpieces is color-matched to the uniform, tying the ensemble together in a meaningful and visually accurate way. Each helmet took an average production time of three hours, for a total timeline that spanned nearly six months.
• Responsibilities of a naval aviator may include searching for underwater threats, delivering payloads of incredible firepower or critical manpower and executing strategic aerial maneuvers anywhere from the stratosphere to just hundreds of feet above the sea.
• Naval aviators fly some of the most innovative and high-tech aircraft in the world, providing vital attack, defense and logistic support to the Fleet and controlling and maintaining all internal and external aircraft systems. Navy pilots and Naval Flight Officers (NFOs) are important components in an exclusive, world-class group of naval officers.
• On average, 300 Naval Academy graduates are selected each year to commence naval aviation training in order to become Navy pilots and flight officers.
• The following Navy football players received Navy Pilot or Naval Flight Officer as their Service Assignment: Ben Fee (Naval Flight Officer), Daniel Taylor (Navy Pilot) and Chance Warren (Navy Pilot).
Seniors Receive Service Assignments
• The 25 seniors on the Navy football team received their service assignments on Nov. 18.
• 14 seniors will be commissioned Ensigns in the Navy, while 11 will be commissioned 2nd Lieutenants in the United States Marine Corps upon graduation in May.
Carlinos Acie: Surface Warfare
Pierce Banbury: Information Professional
Nick Bernacchi: Submarines (Nuclear)
Kevin Brennan: Marine Corps Ground
Mattie Conlon: Surface Warfare
Mychal Cooper: Surface Warfare
Diego Fagot: Marine Corps Ground
Ben Fee: Naval Flight Officer
Marcell Gleaton: Marine Corps Ground
Jamal Glenn: Surface Warfare
Tyger Goslin: Marine Corps Ground
James Harris II: Surface Warfare
Mitchell Johns: Marine Corps Ground
John Kelly III: Marine Corps Ground
Cal Long: Marine Corps Ground
Michael McMorris: Surface Warfare
Chike Otaluka: Surface Warfare
Isaac Ruoss: Marine Corps Pilot
Michael Salisbury: Naval Officer
Daniel Taylor: Navy Pilot
Bryce Texeira: Submarines (Nuclear)
Chance Warren: Navy Pilot
J'arius Warren: Marine Corps Ground
Mitchell West: Marine Corps Ground
Deondrae Williams: Marine Corps Ground
Playing Against or In The Home State
•    Navy has five players on its roster from the state of New York and five more from New Jersey.  
•     Players on the depth chart from New York include second-team sophomore quarterback Xavier Arline (Wading River), second-team senior offensive tackle Mattie Conlon (The Bronx), second-team senior raider John Kelly III (Staten Island) and third-team junior offensive tackle Joseph Petti (Yonkers).
•     Players on the depth chart from New Jersey include starting safety and team captain Kevin Brennan (Westfield), who is out for the year with an injury, third-team junior quarterback Maasai Maynor (North Brunswick), starting freshman linebacker Colin Ramos (Wayne) and second-team junior wide receiver Mark Walker (Paterson).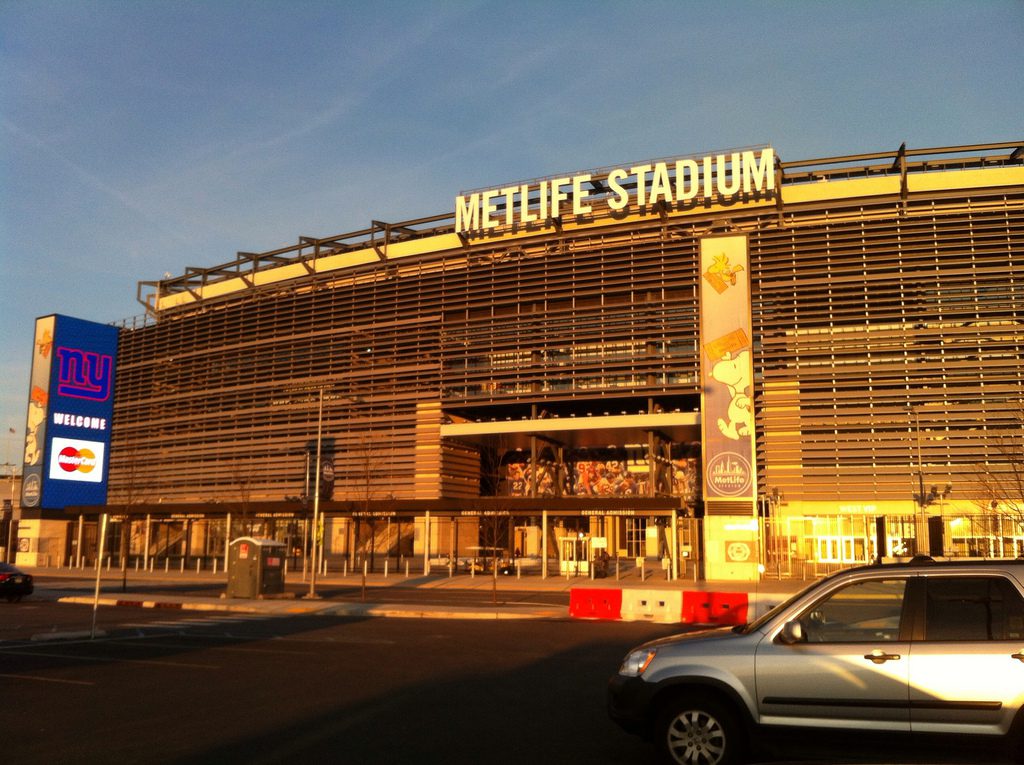 COURTESY NAVY ATHLETIC COMMUNICATIONS