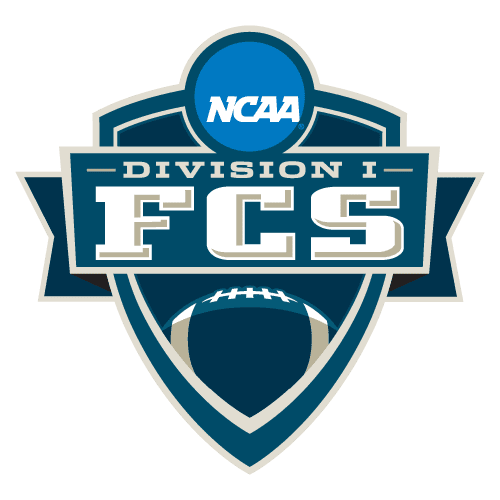 12/4/2021 
FARGO, N.D. – No. 2 seed North Dakota State (11-1) will host seventh-seeded East Tennessee State (11-1) in the quarterfinals of the NCAA Division I Football Championship at 11 a.m. Saturday, Dec. 11, at Gate City Bank Field at the Fargodome. The game will be played before a national television audience on ESPN.
This will be the first meeting between North Dakota State and East Tennessee State, the Southern Conference champion. NDSU and ETSU are scheduled to play a home-and-home series in 2024 (Johnson City) and 2026 (Fargo).
THIS WEEK: No. 2 seed North Dakota State (11-1) hosts Southern Conference champion and No. 7 seed East Tennessee State (11-1) in the quarterfinals of the NCAA Division I Football Championship at 11 a.m. Saturday, Dec. 11, at Gate City Bank Field at the Fargodome (18,700). The winner advances to the semifinals to face No. 3 seed James Madison or No. 6 Montana.

TELEVISION: Live coverage on ESPN and the ESPN app begins at 11 a.m. with Anish Shroff (play-by-play), Mike Golic Jr. (analyst) and Taylor McGregor (reporter).

RADIO: Coverage begins at 10 a.m. on the Peterson Farms Seed Bison Radio Network including Bison 1660 and 107.9 The Fox in Fargo with Jeff Culhane (play-by-play), Phil Hansen (analyst) and Cole Jirik (sideline). Extended coverage locally on Bison 1660 and 92.7 FM includes "Bison Tailgate" from 7:00-8:00, "Bison Game Day" from 8:00-10:00 and the "Bison Hotline" call-in show following the network broadcast.

ONLINE: NDSU All Access offers free audio streams during the NCAA FCS playoffs through GoBison.com/allaccess and the NDSU Athletics mobile app. Live in-game statistics will be available on NCAA.com. Follow along with in-game updates on Twitter @NDSUfootball.

TICKETS: Tickets are available at GoBison.com/tickets or by calling the Bison Ticket Office in the south lobby of the Sanford Health Athletic Complex at (701) 231-6378 between 8 a.m. and 4 p.m. Monday through Friday. Game day ticket sales at the Fargodome begin at 8 a.m.

THE SERIES: This is the first meeting between North Dakota State and East Tennessee State. The teams are scheduled to play a home-and-home series in 2024 (Johnson City) and 2026 (Fargo). NDSU has won all six previous meetings with Southern Conference opponents Furman (1-0), Georgia Southern (3-0) and Wofford (2-0). This is ETSU's first game against a Missouri Valley Football Conference opponent.

BISON RUN PAST SALUKIS IN SECOND ROUND: North Dakota State rushed for 389 yards and controlled the ball for nearly 38 minutes in a 38-7 second round win over Southern Illinois. TaMerik Williams rushed 17 times for 112 yards and two touchdowns and quarterback Quincy Patterson had seven carries for 84 yards and one score. NDSU's 62 rushing attempts and 23 first downs rushing were both Bison FCS playoff records. NDSU scored on its first four possessions and had five scoring drives nine plays or longer. Michael Tutsie made seven tackles and the Bison had three sacks, six tackles for loss and eight pass breakups while holding SIU to 2 of 13 on third down and just 281 yards of total offense, a season-low for the Salukis against FCS opponents.

FAMILIAR FOES: North Dakota State improved to 8-0 against fellow Missouri Valley Football Conference members in the NCAA playoffs with the second round win over Southern Illinois. NDSU won seven of those games at home and beat Illinois State for the 2014 national championship in Frisco, Texas. The Bison and Redbirds did not meet in the regular season that year.
NDSU vs. MVFC in Postseason
2012 – Second Round def. South Dakota State 28-3
2014 – Second Round def. South Dakota State 27-24
2014 – Championship def. Illinois State 29-27
2015 – Quarterfinal def. Northern Iowa 23-13
2016 – Quarterfinal def. South Dakota State 36-10
2018 – Semifinal def. South Dakota State 44-21
2019 – Quarterfinal def. Illinois State 9-3
2021 – Second Round def. Southern Illinois 38-7

12th STRAIGHT POSTSEASON: North Dakota State is in the postseason for the 12th straight season dating back to 2010 when the Bison advanced to the FCS quarterfinals in their first appearance. NDSU has a 38-3 record in the FCS playoffs, including a 29-1 record in the Fargodome. This is North Dakota State's 35th postseason appearance since 1964. The Bison are 73-16 all-time in the postseason including a 68-15 record in the NCAA playoff format since 1973.
Most Consecutive FCS Playoff Appearances
17 – Montana, 1993-2009
14 – New Hampshire, 2004-2017
12 – North Dakota State, 2010-2021
10 – Eastern Kentucky, 1986-1995
Most FCS Playoff Games Won
45 – Georgia Southern
38 – North Dakota State
34 – Montana
Highest FCS Playoff Winning Percentages
.927 – North Dakota State (38-3)
.793 – Marshall (23-6)
.777 – Youngstown State (28-8)
.776 – Georgia Southern (45-13)
12 STRAIGHT QUARTERFINALS: North Dakota State has advanced to the FCS quarterfinals for the 12th straight season, the longest streak in FCS history. NDSU is one of only three teams to have made the FCS semifinals at least nine times joining Georgia Southern (13) and Montana (11).
Most Consecutive FCS Quarterfinal Appearances
12 – North Dakota State, 2010-2020
6 – Appalachian State, 2005-2010
6 – Marshall, 1991-1996
6 – Georgia Southern, 1985-1990
6 – Georgia Southern, 1997-2002
IN THE SEMIFINALS: North Dakota State advanced to an FCS-record nine straight semifinals from 2011-2019. NDSU is one of only three teams to reach the semis at least nine times.
Consecutive FCS Semifinal Appearances
9 – North Dakota State, 2011-2019
6 – Marshall, 1991-1996
5 – Georgia Southern, 1998-2002
4 – Eastern Kentucky, 1979-1982
4 – Youngstown State, 1991-1994
Most FCS Semifinal Appearances
13 – Georgia Southern
11 – Montana
9 – North Dakota State
8 – Delaware
8 – Youngstown State
A LOOK THAT'S HARD TO BEAT: NDSU will wear its green "Harvest Helmet" and alternate gold jerseys this week. NDSU is 34-0 in gold jerseys since their first appearance in the 2011 season opener, 21-0 in green helmets since their November 2015 debut, and 15-0 in the gold jersey/green helmet combo.

SEED HISTORY: North Dakota State is a top-two seed for the ninth time in 12 appearances in the FCS playoffs, and the Bison will have home field advantage through the semifinal round. NDSU was seeded third in 2015, but still hosted a semifinal game en route to the national title that year after a quarterfinal loss by No. 2 seed Illinois State. NDSU was not seeded in 2010 and 2020, and both of those appearances ended with quarterfinal losses to the eventual national champion.

TITLE TOWN: North Dakota State won its 10th Missouri Valley Football Conference championship in 11 years and its sixth outright title since joining the league in 2008. The Bison won nine straight conference titles from 2011-2019 including five outright (2012, 2013, 2017, 2018, 2019). NDSU has won 37 total conference titles in program history.

THE SENIORS: North Dakota State has 13 seniors who will not return to the program next season. The list includes former tight end and current student assistant Austin Avery, defensive tackles Michael Buetow, Costner Ching and Lane Tucker, tight ends Josh Babicz and Noah Gindorff, linebackers Jackson Hankey and Mason Hofstedt, defensive ends Logan McCormick and Brayden Thomas, kicker Jake Reinholz, offensive tackle Cordell Volson and wide receiver Christian Watson. Buetow, Thomas and Volson are currently in their extra year of eligibility due to COVID-19's impact on the 2020 season. Twelve other NDSU seniors are eligible to return for an extra season in 2022.

FOUR ALL-STAR INVITES: Tight ends Noah Gindorff and Josh Babicz have been invited to the NFLPA Collegiate Bowl at Rose Bowl Stadium in Pasadena on Jan. 29, and offensive lineman Cordell Volson and wide receiver Christian Watson have invites to the East-West Shrine Bowl at Allegiant Stadium in Las Vegas on Feb. 3 during NFL Pro Bowl week.

ACADEMIC ALL-DISTRICT: North Dakota State fullback Hunter Luepke, kicker Jake Reinholz and defensive tackle Lane Tucker were voted to the CoSIDA Academic All-District Team for their combined athletic and academic performance. Luepke and Tucker are repeat selections to the all-district team. All three are on the ballot for CoSIDA Academic All-America® honors to be announced mid-December. To qualify, a student-athlete must be a starter or important reserve with at least a 3.30 cumulative grade-point average and sophomore athletic and academic standing.

COACH OF THE YEAR: NDSU's Matt Entz was voted Bruce Craddock MVFC Coach of the Year for the second time in three years and was named AFCA FCS Region 4 Coach of the Year for the third straight season. Entz has a 34-4 record as head coach and is 20-3 in the league. He is a finalist for the 2021 Stats Perform FCS Eddie Robinson Award.

ALL-CONFERENCE: North Dakota State led all schools with seven first-team picks on the All-Missouri Valley Football Conference team. Christian Watson took two spots as the first team wide receiver and all-purpose player. FB Hunter Luepke, OL Cordell Volson and Cody Mauch, DE Brayden Thomas and SS Michael Tutsie also made the first team. NDSU had four second team selections: TE Josh Babicz, LB Jackson Hankey, LB Jasir Cox and RS Jayden Price. Honorable mentions included TE Noah Gindorff, DT Eli Mostaert and DT Lane Tucker.

ALL-NEWCOMER TEAM: North Dakota State running back TaMerik Williams, quarterback Quincy Patterson, defensive end Loshiaka Roques and cornerback Marques Sigle were named to the Missouri Valley Football Conference All-Newcomer Team.

LINEBACKER DUO NAMED: NDSU has two All-MVFC linebackers in the same season for just the third time in 14 years with second-team picks Jackson Hankey and Jasir Cox. Hankey is NDSU's leading tackler for the third straight season with 74 total tackles and a team-high 59 rushing tackles for the nation's No. 7 rushing defense. Cox tied for second in MVFC play with a team-high three interceptions and is NDSU's third leading tackler with 43 stops. The other NDSU linebacker duos named All-MVFC were in 2014 Carlton Littlejohn (1st) and Travis Beck (2nd) and 2017 Nick DeLuca (1st) and Jabril Cox (2nd).

PRICE AMONG NCAA LEADERS: Punt returner Jayden Price's 14.8 career average per return ranks second in school history and second among active players in FCS behind Samford's Montrell Washington (16.4). Price, the first team All-MVFC return specialist, is sixth in FCS this season averaging 13.3 yards per punt return. He had a 45-yard touchdown against Valparaiso one week after having a 60-yard TD nullified by penalty in the season-opener against Albany. He has three punt returns of 40-plus yards and has moved into ninth all-time at NDSU with 400 career punt return yards.

ETSU BRINGS DUAL RUNNING THREAT: East Tennessee State has the No. 8 rushing attack in the FCS averaging 225.8 yards per game with the nation's leading rusher Quay Holmes averaging 126.5 yards per game and 6.1 yards per carry. Holmes is fourth in FCS all-purpose yardage and fellow running back Jacob Saylors is fifth averaging 151.4 and 147.8 yards per game, respectively. Saylors is the sixth-ranked kickoff returner in FCS averaging 29.4 yards per attempt. Holmes, who ranks second in the FCS with 20 total touchdowns this year, is No. 3 among FCS active career leaders with 4,198 rushing yards and second with 6,265 career all-purpose yards.

VETERAN LINEMEN: Offensive lineman Cordell Volson will appear in his 63rd career game this week, which will be a new NDSU record. This will be the 64th career game for Bison defensive tackle Michael Buetow, who played in 43 contests over three seasons at Division II Minnesota State Mankato before transferring to NDSU last year. Both players are in their extra season of eligibility due to COVID-19's impact on the 2020 season.
NDSU Career Games Played
62 – Cordell Volson, OT (38 starts, 2017-21)
61 – Christian Dudzik, CB/S (61 starts, 2011-14)
61 – Kyle Emanuel, DE (50 starts, 2011-14)
61 – Andrew Bonnet, FB (29 starts, 2012-15)
61 – Ben LeCompte, P (0 starts, 2012-15)
THOMAS LEADS SACK ATTACK: North Dakota State has registered 43 sacks this year, which is tied for fifth most in school history and four shy of the school-record 47 sacks set by the 1974 and 2018 Bison teams. NDSU has five games with five sacks this year, and the Bison rank fourth nationally with a conference-best 3.584 sacks per game. Brayden Thomas, who finished second in the voting for MVFC Defensive Player of the Year, leads the Bison with 8.0 sacks and 12.5 tackles for loss despite missing two games with an elbow injury.

GROUND GAME: North Dakota State has the No. 2 rushing offense in FCS averaging 281.6 yards per game. NDSU has seven backs averaging better than 5.0 yards per carry, and the team's 6.34 yards per carry would rank fourth best in school history. This is the third time in the past four years the Bison have averaged more than six yards per rush. Yet, with seven players getting at least 30 carries, NDSU finished the regular season without a 500-yard rusher for the first time since 1975 (excluding the abbreviated 2020-21 season).

WATSON OVER 2,000: Senior wide receiver Christian Watson is the eighth player to reach 2,000 career receiving yards in NDSU history. Watson currently ranks eighth all-time at NDSU with 2,079 yards, 153 yards shy of seventh place Warren Holloway (2008-11). Watson's 20.58 yards per catch average ranks fourth in school history. He has four TD catches of 65-plus yards this season.

PLAYERS OF THE WEEK: North Dakota State had three players earn five Player of the Week awards in the Missouri Valley Football Conference this season. Cordell Volson was a three-time Offensive Lineman of the Week, Jake Reinholz was Special Teams Player of the Week after kicking three FGs and one extra point in the 16-10 win at North Dakota, and Quincy Patterson was Newcomer of the Week after rushing for 100 yards and passing for 124 yards in the win at Illinois State. Additionally, the entire NDSU offensive line was honored as a unit for their performance in helping the Bison rush for 454 yards at Youngstown State.

BRINGING THE NOISE: The Fargodome is one of the loudest venues in college football, and crowd noise continues to work in favor of the Bison this year. NDSU opponents have been whistled for 13 false starts in seven home games this season.

BISON AT HOME: The Bison have a 174-27 record in the Fargodome, 29-5 at home against FCS Top 10 ranked teams, and winners of 72 of the last 74 home games over non-conference opponents. North Dakota State has a 29-1 record in the Fargodome during the NCAA playoffs since 2010 with the only loss coming to eventual national champion James Madison in the 2016 semifinals. NDSU's 32-game home winning streak in the Fargodome from September 2017 through April 2021 was the fourth longest in NCAA FCS history. The Bison have gone unbeaten at home in 12 of 28 seasons played in the Fargodome.

ON THE ROAD: North Dakota State has a 47-6 record in true road games since 2011, and that record is 57-6 including 10 neutral site games over the same span. NDSU's 2-2 road record in the spring season of 2020-21 was the first time since 2010 the Bison have lost multiple road games.

BISON RETURNING TO TWIN CITIES: North Dakota State will host Eastern Washington on the opening weekend of the 2023 season at U.S. Bank Stadium, home of the Minnesota Vikings. NDSU drew a crowd of 34,544 fans to the 2019 season opener against Butler at Target Field, home of the Minnesota Twins.

NEW INDOOR FACILITY: Construction began in mid-September on the Nodak Insurance Company Football Performance Complex, the new indoor practice facility for NDSU athletic teams. The entire cost of the estimated $37.2 million building project is being privately funded. The complex will have two artificial turf football fields. The indoor field will be a full 120 yards long and 60 yards wide with a roof clearance of 72 feet at the peak. Seven overhead doors will open from the indoor facility onto the outdoor practice field, scoreboards and play clocks will be provided on both fields, and LED lighting systems will be installed indoors and outdoors.

#PROBISON: NDSU has 12 former players in the pros including Packers OL Billy Turner (8th year), Colts QB Carson Wentz (6th), Steelers OL Joe Haeg (6th), Ravens LB Chris Board (4th), Chargers QB Easton Stick (3rd), Vikings TE Ben Ellefson (2nd), Steelers LB Derrek Tuszka (2nd), 49ers QB Trey Lance (1st), Titans OL Dillon Radunz (1st) and Cowboys LB Jabril Cox (1st). OL Zack Johnson (2nd) is on the Broncos practice squad after spending time with the Cardinals practice squad and being activated for one game with the Cardinals. RB Bruce Anderson (3rd) is in the Canadian Football League with the Edmonton Elks. NDSU has a 13th former player, WR Darrius Shepherd (3rd), available as a free agent. Shepherd spent Week 10 on the Cardinals practice squad.

16-TIME NATIONAL CHAMPIONS: North Dakota State has won 16 football national championships. NDSU claimed three College Division national championships in 1965, 1968 and 1969 via the national polls, five Division II playoff titles in 1983, 1985, 1986, 1988 and 1990, and was the first team in college football history to win five straight national titles with FCS crowns in 2011, 2012, 2013, 2014 and 2015 before winning again in 2017, 2018 and 2019.

SUCCESS VS. THE FBS: NDSU has a 9-3 record against Football Bowl Subdivision opponents and has won six in a row against FBS foes since 2010 with wins at Kansas (6-3), Minnesota (37-24), Colorado State (22-7), Kansas State (24-21), Iowa State (34-14) and 11th-ranked Iowa (23-21). NDSU's first three FBS wins were against Ball State (2006), Central Michigan (2007) and Minnesota (2007). North Dakota State has three future FBS games against Arizona (2022), Colorado (2024) and Oregon (2028).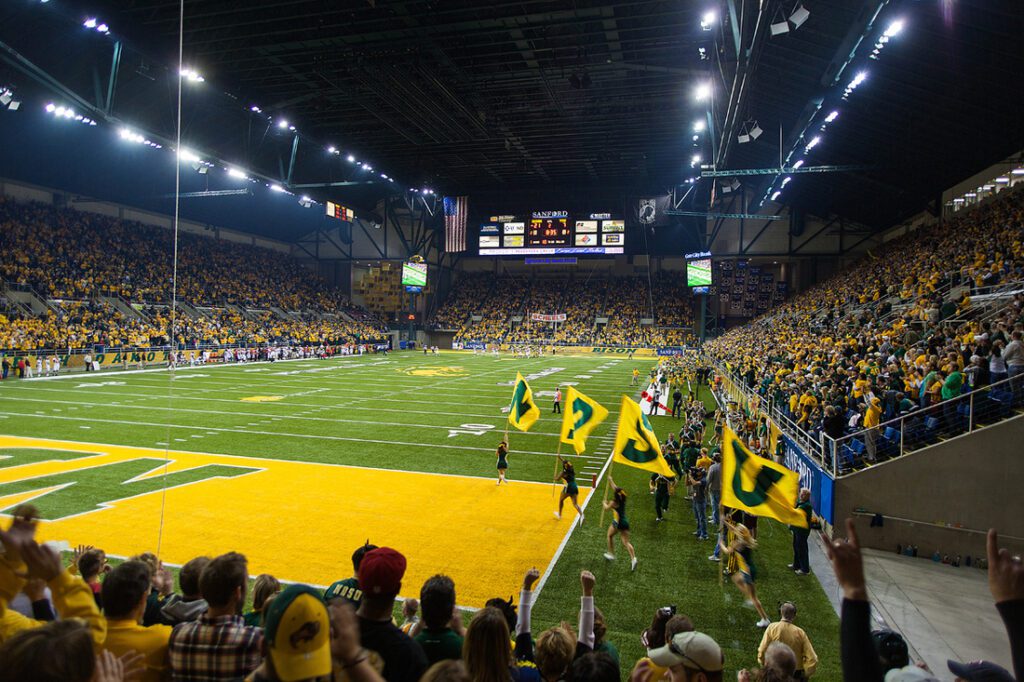 COURTESY NORTH DAKOTA STATE ATHLETIC COMMUNICATIONS