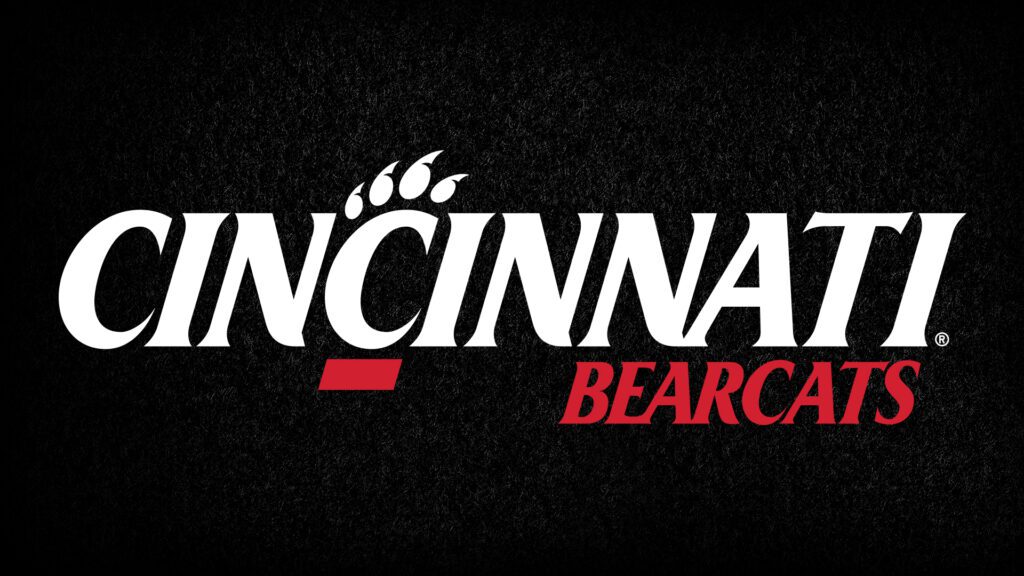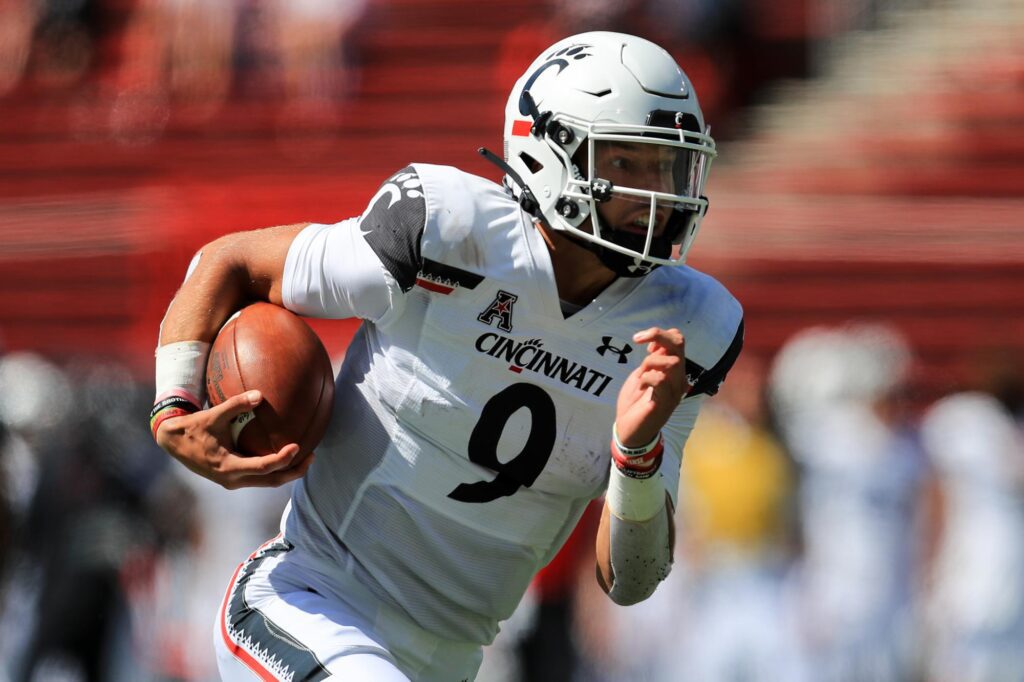 November 26, 2021
GREENVILLE, N.C. – Senior quarterback Desmond Ridder passed for 301 yards and two touchdowns to lead the No. 4-ranked Cincinnati football team to a 35-13 victory over East Carolina on Friday at Dowdy-Ficklen Stadium.

The Bearcats will now host No. 19/16/24 Houston on Saturday, Dec. 4 at 4 p.m. (ABC) in the American Athletic Conference Championship Game at Nippert Stadium. UC is seeking its second straight AAC Championship, having defeated Tulsa, 27-24, in Cincinnati to win the 2020 league title.

The Bearcats secured the second 12-0 regular season in school history, joining the 2009 Cincinnati squad, and snapping ECU's four-game winning streak in the process.
"We knew there were more things at stake," head coach Luke Fickell said. "It's great when you have a mature group that you don't have to go over every little thing. You trust that they're enjoying it, but they have to understand that to whom much is given, much is expected."

Ridder surpassed 12,000 career total yards in the game, becoming the AAC and Cincinnati career-record holder, passing USF's Quinten Flowers (11,802) and Cincinnati's current quarterbacks coach and passing game coordinator Gino Guidugli (11,930). He also passed Flowers (112 touchdowns) for the AAC career TDs responsible mark with 113. 

Senior wide receiver Alec Pierce recorded his third 100-yard game of the season, finishing with eight receptions for 136 yards and one touchdown. Junior running back Jerome Ford totaled 85 rushing yards and a score on 20 carries. He moved into second-place in single-season rushing touchdowns (17) and overall touchdowns (18) by a Bearcat, behind only Michael Warren (19 rush, 20 overall in 2018). Ford has 1,056 yards this season, marking the 19th 1,000-yard rushing season in Cincinnati history. 

Junior nickelback Arquon Bush blocked a field goal for a second straight week, swatting away a 35-yard attempt in the fourth quarter, which junior cornerback Ahmad "Sauce" Gardner returned 60 yards for a touchdown to give Cincinnati a commanding 28-6 lead with 11:17 remaining in the game. 

ECU held a 3-0 lead at the end of the first quarter, but Cincinnati scored three straight touchdowns in a dominant second quarter to take a 21-3 advantage into halftime. 

Ridder found senior tight end Leonard Taylor for a 44-yard touchdown just over a minute into the second quarter to make the score 7-3. The play capped a five-play, 76-yard drive that also included Ridder tossing a 21-yard strike to sophomore wide receiver Jadon Thompson that gave UC's senior signal caller the AAC record for career total yards. 

After the Blackcats defense stopped ECU on its first possession of the second quarter, Ridder found Pierce for a 53-yard gain on first down. Ford bulldozed his way into the end zone for a 2-yard score two plays later to put Cincinnati up, 14-3, at the 10:32 mark in the second quarter. 

Later in the second quarter, Ridder made a spectacular play on 3rd-and-12 from his own 10-yard line, evading two tackles before using a spin move to get out of trouble and throwing a 24-yard strike to junior wide receiver Tre Tucker for the first down. A few plays later, Ridder tossed a 28-yard touchdown to Pierce to make the score 21-3. 

Cincinnati nearly scored a fourth touchdown in the second quarter, but Ford fumbled the ball at the ECU 3-yard line. 

East Carolina scored the only points of the third quarter on a 44-yard field goal from Owen Daffer to make the score 21-6. 

After Gardner's touchdown on the blocked kick, East Carolina scored its first touchdown of the game when Holton Ahlers found Jsi Hatfield for a 12-yard touchdown to make the score 28-13 with 9:38 left.  

Senior linebacker Darrian Beavers caught his first interception of the season in the fourth quarter. Cincinnati went on to nearly score their fourth touchdown of the game before Ridder's pass attempt was intercepted by ECU in the Bearcats' endzone.

A forced fumble by senior defensive lineman Jabari Taylor led to a graduate defensive tackle Marcus Brown recovery for the Bearcats to get the ball back on offense. Junior running back Ryan Montgomery rushed up the middle for 25 yards before scoring a two-yard rushing touchdown to make the game final, 35-13.
COURTESY UC ATHLETIC COMMUNICATIONS