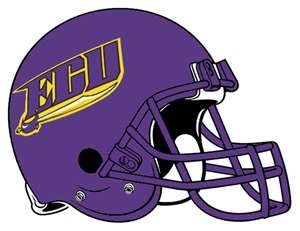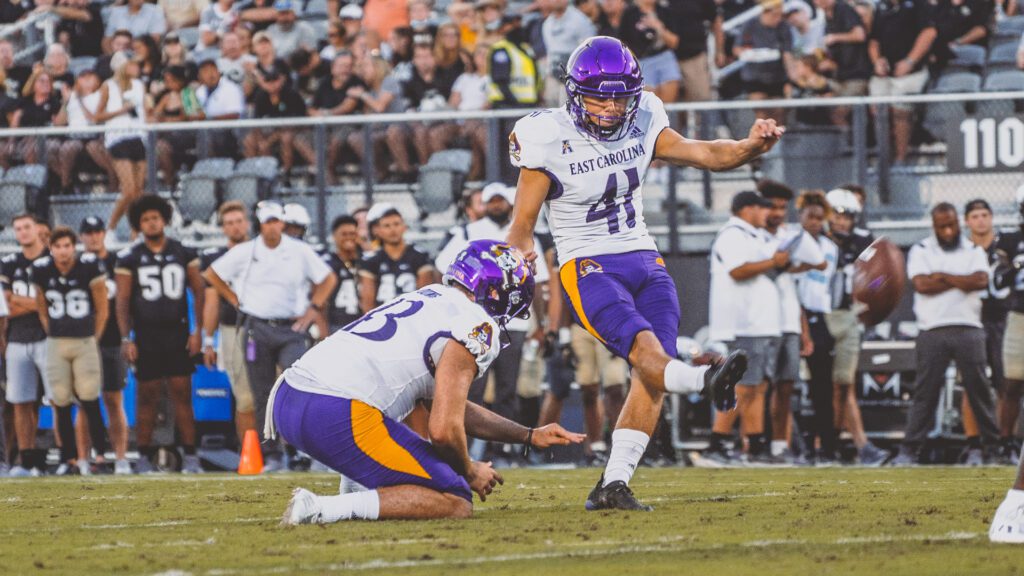 November 20, 2021
Game Book | ECU Notes | Photo Gallery

ANNAPOLIS, Md. – In a season filled with high drama, down-to-the-wire finishes and seemingly improbable comebacks, East Carolina etched yet another chapter Saturday, this time against a long-time nemesis on a cold afternoon at Navy-Marine Corps Memorial Stadium.
Freshman Owen Daffer drilled a 54-yard field goal as time expired – eclipsing his previous best by 16 yards – to lift the Pirates to a 38-35 victory that spoiled the day for the Midshipmen and their 25 seniors. The thrilling win not only gave the Pirates their fourth consecutive win but raised their record to 7-4 overall and 5-2 in the American Athletic Conference, securing the first winning season since 2014. It also marked the first win over Navy since 2011 and only the second in the nine-game series.
"I've had some game-winning kicks before, walk-offs, but that one's incredible," ECU head coach Mike Houston said. "On the road, at Navy, 54-yarder, I mean congratulations to him. What a freaking kick.
"That's probably as long as anything he has hit in practice," Houston said. "He was dead-on. He said, 'I'm good, coach,' and the kids were all-in on it."
Daffer's game-winner became quite a bit more daunting in the final seconds after ECU lost both an opportunity to get off another play and drawing a five-yard penalty. ECU had tied it at 35-35 with 5:01 to play on a Holton Ahlers touchdown pass and two-point conversion before forcing Navy (2-8, 2-5 AAC) to punt with 1:11 to play.
Ahlers, who was sensational in throwing for 405 yards and three touchdowns, got the Pirates in position to score with a 46-yard pass to Tyler Snead. But after Keaton Mitchell managed just 1 yard, the clock drained down to 4 seconds.
A false start penalty moved the ball back to the 36 – a timeout rescued the Pirates from a 10-second runoff and ending regulation.
Houston opted for the kick rather than one heave to the end zone.
"We had a Hail Mary called, but I begged coach to kick it," Ahlers said. "I said, He can make it, he can make it,' and he went out there and drilled it.
"I just knew he was prepared for the moment," Ahlers said. "I'm just super proud of him. He's a young kid that in that pressure could have done a lot of different things, and he stepped up and nailed it."
Navy coach Ken Niumatalolo called two timeouts in an attempt to ice Daffer, but the freshman from Wilmington who had hit from 25 and 37 earlier in the game said he remained calm.
"I was pretty calm," Daffer said. "I was just thinking walk-off home run, why not?
"That's something I hold my hat on and I rely on, is that I can come through in big-time situations," Daffer said. "I just keep on getting chances to prove it, and I thank God that I'm able to come through them."
Coming into Saturday, Daffer had converted 14 of 17 field goals – eight from 21-29 yards and six from 33-38 yards. His longest attempt of the year came from 44.
"My farthest in high school was 50, so that was farther than any kick I've ever had in a game," Daffer said. "I was pretty confident about it. I kicked a 65 a couple of times in practice, one time in a competition, so I was pretty confident."
The kick made sure a strong offensive performance by the Pirates did not go unrewarded. Ahlers turned in his best performance of the season, completing 27 of 32 passes in throwing for 400-plus yards for the fifth time in his career and coming up with clutch play after clutch play. He also rushed for 48 yards on seven carries.
"When he's playing well, we've got a dang good football team," Houston said.
Mitchell rushed for 94 yards on 18 carries, eclipsing 1,000 yards for the season and adding his 12th and 13th plays of 20-plus yards. Snead extended his streak of games with a catch to 32 and finished with five overall – and all came at critical times – for 137 yards and a pair of touchdowns. Audie Omotosho had a team-high seven grabs for 90 yards.
The Pirates needed that production to keep pace with Navy, which looked sharp after an open date. The Middies had scored 20 or more points in just four games this season and averaged 16.8 points per game but finished with a season-high for points and rushed for 345 yards.
An entertaining and fast-paced first half featured seven scores on the first seven possessions – Navy ran just one play on its final series – with the Pirates leading 24-21. Ahlers had a hot hand from the start, completing 11 of 12 passes for 197 yards and a pair of touchdowns and picking up 20 yards on a pair of carries.
Four of those passes netted at least 20 yards, highlighted by a 40-yard touchdown pass to Snead on the Pirates' second series and a 54-yarder to C.J. Johnson to convert a third down on the last scoring drive.
The Middies had 184 yards rushing by halftime. Quarterback Tai Lavatai completed all three of his passes, including two for touchdowns.
The Pirates wasted little time setting the tone for an offensive shootout, electing to go on offense after winning the coin toss and zipping 75 yards in just six plays and 2:46. Mitchell started and ended the drive with electric runs, gaining 23 on the game's first snap to go over 1,000 yards for the season and scoring on a 10-yard dash. He accounted for 49 yards on four carries on the drive, and Ahlers completed both of his passes – both to Ryan Jones — for 26 yards.
Navy tied on a 4-yard pass from Lavatai to Michael Cooper, but the Pirates answered when Ahlers hooked up with Snead for 40 yards. Lavatai's 4-yard pass to Chance Warren tied again.
The Pirates settled for Daffer's 37-yard field goal at the end of a 12-play drive before Navy jumped ahead 21-17 on an 18-yard run by Isaac Ruoss. ECU found the end zone once more before halftime when Ahlers flipped a 5-yard pass to Jones on fourth-and-2 with just 18 seconds showing
Two lightning-strike plays in the fourth quarter nearly sealed it for Navy. Carlinos Acie ended a second-half standoff just 57 seconds into the fourth quarter when he took a pitch and raced 90 yards for a 28-24 lead. Following another Daffer field goal after the Pirates stalled at the 7, Maquel Haywood returned the ensuing kickoff 98 yards to give Navy a 35-27 lead.
Facing perhaps their final possession, the Pirates drove 70 yards in seven plays to tie it. Ahlers looked for Snead on fourth-and-4 from the 28 and found his dependable target for a touchdown. Ahlers then teamed up with Johnson, his former high school teammate, for the two-point pass.
Navy picked up three first downs and reached the ECU 44 before being forced to punt. That set up the dramatic finish and a third win straight win in November, only enhancing next Friday's game against undefeated Cincinnati.
"The fans and alumni remember November," Houston said. "You win big ballgames in the month of November, that's when you have special seasons. That's what these kids are doing right now. They're winning big ballgames in the month of November, and they've set us up for one heck of a matchup next Friday. We need Pirate Nation to show up. We need Dowdy-Ficklen packed to the gills."
COURTESY EAST CAROLINA ATHLETIC COMMUNICATIONS