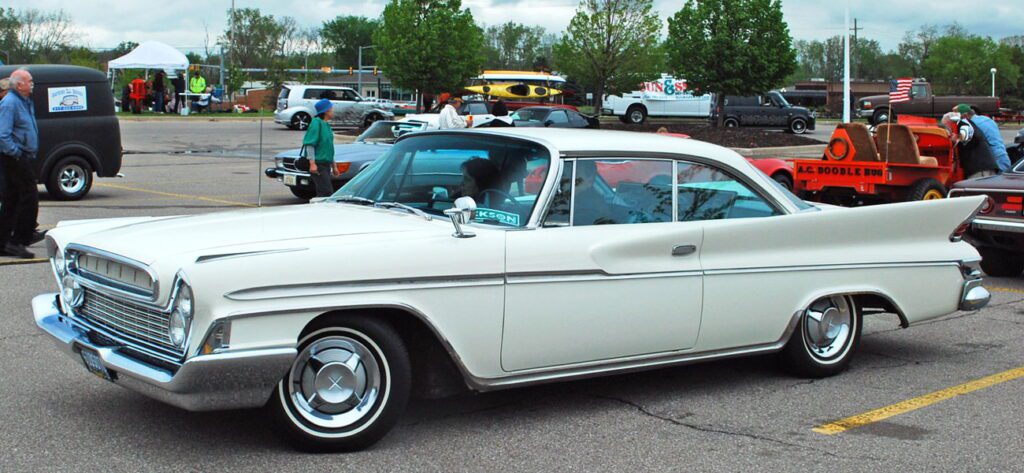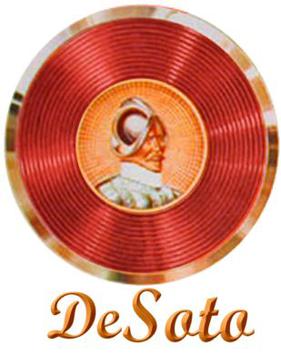 FROM WIKIPEDIA COMMONS
DeSoto (sometimes De Soto) was an American automobile marque that was manufactured and marketed by the DeSoto division of Chrysler Corporation from 1928 to the 1961 model year. More than two million passenger cars and trucks bore the DeSoto brand in North American markets during its existence.
Termination factors
Despite being a successful mid-priced line for Chrysler Corporation for most of its life, DeSoto's failure was attributable to a combination of corporate mistakes and external factors beyond Chrysler's control. The market segment DeSoto was positioned in was already filled with brands made by rivals Ford and General Motors. Compounding this, in 1961 Chrysler brought out its new entry-level Newport model – an upper-tier DeSoto competitor – at the same time it killed those models off. By 1961 the DeSoto brand had been pushed to the brink.
Recession[edit]
The 1958 recession seriously affected demand for mid-priced automobile makes. DeSoto sales were particularly affected, and sales failed to recover in 1959 and 1960. With falling sales, the 1959 and 1960 models were very similar to the concurrent Chryslers. Moreover, rumors that DeSoto would soon be discontinued did not help sales.
TODAY'S ALMANAC
Question of the Day
Do we know when the first tornado hit the United States?No. Tornado records have been kept only since 1916.
Advice of the Day
Everyone can keep house better than her mother until she trieth.
Home Hint of the Day
To get a screw into a tight place, push the screw through the sticky side of a piece of masking tape, then tape the screw to the screwdriver. After the screw is well seated, pull the tape and screwdriver free.
Word of the Day
TidyBeing in proper time; timely; seasonable; favorable; as, tidy weather. Arranged in good order; orderly; appropriate; neat; kept in proper.
Puzzle of the Day
What word in our language has all the vowels in alphabetical order?Facetiously
Born
Carl Maria von Weber(composer)– 1786
Asa Gray(botanist)– 1810
Elizabeth Gilmer(journalist)– 1870
Clarence Day(author)– 1874
Walter Seymour Allward(Canadian sculptor)– 1875
George Wald(chemist)– 1906
Imogene Coca(actress)– 1908
Alan Shepard, Jr.(astronaut)– 1923
Mickey Mouse(cartoon character)– 1928
Margaret Atwood(author)– 1939
Linda Evans(actress)– 1942
Elizabeth Perkins(actress)– 1960
Owen Wilson(actor)– 1968
David Ortiz(baseball player)– 1975
Died
Chester Arthur(21st U.S. president)– 1886
Marcel Proust(novelist)– 1922
Niels Bohr(physicist)– 1962
Joseph P. Kennedy, Sr.(patriarch of the Kennedy family)– 1969
Cab Calloway(bandleader)– 1994
Norma Connolly(actress)– 1998
James Coburn(actor)– 2002
Events
William Tell shot an apple off of his son's head– 1307
Captain Nathaniel B. Palmer discovered Antarctica– 1820
Mark Twain's, The Celebrated Jumping Frog of Calaveras County, was published– 1865
U.S. railroads adopted four standard time zones– 1883
Standard Railway Time went into effect for most North American railroads– 1883
The animated short, Steamboat Willie, was released featuring Mickey Mouse– 1928
Ben-Hur, the film epic starring Charlton Heston, premiered in N.Y.C.– 1959
The Chrysler Corporation announced the discontinuation of its DeSoto line of cars, in production since 1928– 1960
First commercial push-button telephone introduced, in Pennsylvania– 1963
Bill Watterson's comic strip, Calvin and Hobbes, made its debut– 1985
Weather
72 degrees F in Youngstown, Ohio– 1958
New York State received 6 to 16 inches of snow– 1959
Twenty inches of lake effect snow fell east of Cleveland, Ohio– 1989
COURTESY www.almanac.com