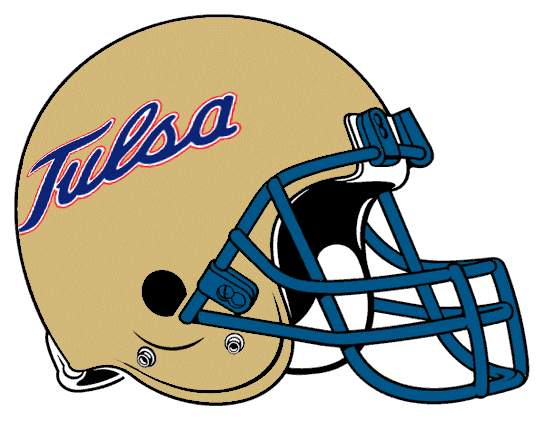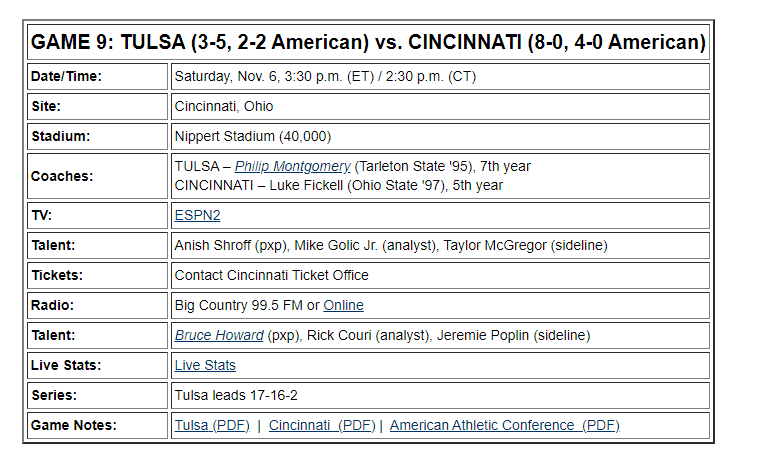 CINCINNATI, Ohio  –– The stage is set . . . ESPN Gameday . . . 2021 American Athletic Conference Championship Game rematch. . .  and the home team comes into the contest ranked No. 2 in the nation.
 
The No. 2-ranked Cincinnati Bearcats will look to improve its unblemished record to 9-0 overall and 5-0 in the AAC, while Tulsa is looking to rebound from a three-point loss last week against Navy.
 
A year ago, after the regular season match-up was canceled twice, the two teams met at Nippert Stadium for the AAC Championship. The Bearcats hit a game-winning field goal as time elapsed for a 27-24 victory.
 
Saturday's game marks the highest-ranked opponent Tulsa has faced since playing at No. 1 Oklahoma on Sept. 3, 2011.
 
Tulsa is making its second trip to the state of Ohio this season after earlier taking the No.9-ranked Ohio State Buckeyes down to the wire, before falling late. Tulsa will need the same offensive production that produced 501 total yards against the Buckeyes. It will be a tough chore as the Bearcats rank second nationally for scoring defense, fourth for passing yards allowed and ninth for total defense.
 
Meanwhile, the Hurricane defense will need to be at the top of its game to slow down the nation's 10th-ranked scoring offense.
 
Cincinnati's defense is strong across the board and led by perhaps the nation's best cornerback tandem and a linebacker corps that is extremely active. Linebackers Joel Dublanko, Darrian Beavers and Deshawn Pace rank 1-2-3 in tackles and have combined for 18.5 TFL for -61 yards Dublanko has a team-high 69 stops, followed by Beavers with 58 and Pace with 55.
 
Upfront, a veteran group including seniors Myjai Sanders and Malik Vann on the outside and graduate Curtis Brooks in the middle have proven to give offensive lines and opposing quarterbacks fits. Van has 28 stops and 7.5 TFL for -25 yards, while Sanders has tallied 19 tackles, 4.5 TFL and a team-high eight QB hurries.
 
Corners Ahmad Gardner and Coby Bryant give the Bearcats one of the top corner duos in the country. Bryant has a team-high nine pass breakups, three interceptions and 25 stops, while Gardner is a lockdown corner with 20 tackles, two pickoffs and two breakups.
 
Senior safeties Bryan Cook and Ja'von Hicks along with junior nickel Arquon Bush have combined for 85 tackles and 10 pass breakups
 
The Hurricane will need to score points in the red zone and eliminate turnovers and penalties to have success against the nation's second-ranked team. Tulsa's offense puts up 438 yards per game with a balanced attack that rushes for 176.9 yards on 303 carries and passing for another 261.8 yards on 257 attempts.
 
Davis Brin, who has completed 149-of-257 passes for 2,095 yards and 11 touchdowns, handles the signal-calling duties for the Hurricane. He has three running backs and three receivers who share most of the touches.
 
Those three receivers have each totaled over 450 yards through eight games, as Josh Johnson leads the way with 600 yards and three touchdowns. Sam Crawford Jr. has 457 yards and four TDs on 25 catches, while Juan Carlos Santana has caught 31 passes for 455 yards.
Johnson has turned in three 100+ receiving games this year, while Crawford has two and Santana has one 100-yard receiving game.
 
Tulsa's running game has had three runners gain over 100 yards in at least one game this season. Shamari Brooks has three 100+ games, while Deneric Prince has a 151 and 110-yard outings and Anthony Watkins has turned in a 115-yard game.
 
On the year, Brooks leads the way with 588 yards, followed by Prince with 406 yards and Watkins with 358 yards on the ground. Earlier this season, Brooks became the fifth player in school history to rush for over 3,000 yards in a career.
 
The backs run behind a veteran and versatile offensive line, led by all-AAC tackles Tyler Smith on the left side and Chris Paul at right tackle. Dylan Couch and X'Zauvea Gadlin are slotted at guard and Gerard Wheeler handles the snapping duties.
 
Tulsa tight ends Ethan Hall and James Palmer have been important cogs in Tulsa's run game.
 
The Cincinnati offense is steered by veteran quarterback Desmond Ridder as the senior has completed 63.6 percent of his passes for 1,847 yards and has rushed for another 181 yards
 
Rider has targeted 14 different receivers this year, but his favorite targets have been Alec Pierce, Tyler Scott and tight end Josh Whyle. Pierce has caught 29 passes for 490 yards and two TDs, while Scott has totaled 280 yards and Whyle has 212 yards and a team-high five receiving TDs.
 
As good as Ridder and his receivers have been, junior running back Jerome Ford has been a beast carrying the load for the Bearcats. He has rushed for 864 yards, a 6.4 average per attempt, 14 TDs and 108.0 yards per game.
 
Ford runs behind an offensive line, without a senior in the group, that measures 6'5″, 313 pounds.
 
As for UC's offensive attack, the onus falls on the Hurricane defense to limit the high-powered Bearcat attack. Tulsa will have to stop the running of Ford and the niftiness of Ridder.
 
The Hurricane is led upfront by tackle Jaxon Player, nose guard Tyarise Stevenson and end Cullen Wick. Anthony Goodlow, Deven Lamp, Joseph Anderson and Elijah Taylor also see considerable playing time up front. Player has tallied 27 stops with seven tackles for -18 yards to lead the front line.
 
Tulsa's linebacker corps has seen a number of players contributing this season. Yohance Burnett, Justin Wright and Grant Sawyer are the starters. Treyvon Reeves, who was a starter in 2020, has been back in the lineup after missing the first four contests. Robert Revels III, Dorian Hopkins and Mitchell Kulkin will see playing time as well.
 
Burnett leads the linebackers with 52 tackles, while Justin Wright has totaled 45 stops and 4.5 TFLs for -17 yards. Sawyer has collected 24 tackles, Hopkins 20 and Revels has 11.
 
Tulsa cornerback Tyon Davis leads the Hurricane in tackles with 53 stops and has seven pass breakups, while fellow corner Travon Fuller leads Tulsa with eight pass breakups and two interceptions to rank 12th nationally with 10 passes defended.     
 
Tyree Carlisle, Reggie Ellis and Kenney Solomon add depth at the corner slots.
 
The safety position brings experience to the secondary with three seniors – TieNeal Martin, Cristian Williams and Bryson Powers. Sophomore Jaise Oliver and junior LJ Wallace have filled in at strong safety the last two games for an injured Kendarin Ray, and will continue to do so as Ray will be out for the remainder of the season.
 
Powers has totaled 34 tackles, one pass breakup, one forced fumble and the one interception this season. Martin has 22 stops and three breakups and Williams has collected 14 tackles in just four games played.
Special team's coverage has been an area of concern for the Hurricane as opponents have returned three kickoffs and one punt for touchdowns this year. Tulsa's kickoff return team showed its capability last week with a 97-yard Anthony Watkins score.
 
Tulsa has experience with both their kicker and punter. Senior Zack Long has connected on 10-of-10 field goals this year, including a season-long of 45 yards. Sophomore Lachlan Wilson has averaged 47.3 yards on 43 punts and has placed 15 inside the 20-yard line.
 
Long snapper Rey Higuera is in his fifth season starting for the Hurricane, while Cannon Montgomery handles the holding duties for the fourth year.
 
The game will be aired on ESPN2 beginning at 2:30 p.m. (CT).
COURTESY TULSA ATHLETIC COMMUNICATIONS