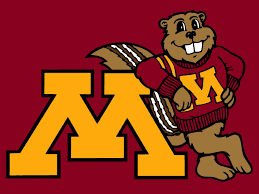 TOP NINE TACKLERS BACK
Senior linebacker Mariano Sori-Marin returns as
the team's top tackler from a year ago, registering 54 stops
in seven games in 2020. He also made 1.5 tackles for loss,
broke up three passes and one forced fumble. His top performance last season came at Nebraska when he recorded
a career-high 18 tackles and forced a fumble en route to
winning Big Ten Defensive Player of the Week honors.
With Sori-Marin leading the way, Minnesota's top nine
tacklers from a year ago are all back in 2021, including
senior defensive lineman Boye Mafe, who led the squad
with 5.5 tackles for loss and 4.5 sacks last season.

In the defensive backfield, junior Tyler Nubin was
second on the team a year ago with 41 tackles, and he was
one of five Gophers with an interception. Senior Jordan
Howden ranked third with 37 tackles, while sixth-year
senior Coney Durr was fourth with 29 stops in addition
to his team-leading five pass breakups. Durr also had an
interception.
GRAD TRANSFERS BOOST D
While the Gophers' defense has a lot returning in
2021, three grad transfers are looking to provide an instant
impact this season.

Linebacker Jack Gibbens spent the past four
seasons at the FCS level with Abilene Christian where
he totaled 258 tackles, 22.5 tackles for loss, seven sacks
and five interceptions. He was the team's leading tackler this past season and was second in both 2019 and 2018 Gibbens' accolades at ACU included being a 2020
Campbell Trophy Finalist and 2019 First Team CoSIDA
Academic All-American.

After two seasons at Iowa Western, defensive
lineman Val Martin comes to Minnesota following three
years at North Carolina State where he made 29 tackles
in 22 games. In 2020, Martin played in eight games and
recorded 12 tackles with one forced fumble.

Fellow defensive lineman Niles Pinckney brings a
championship pedigree to the Golden Gophers after
being a part of two national titles in five years at Clemson.
Pinckney was credited with 98 tackles (13.5 for loss), three
sacks, a forced fumble and three fumble recoveries in
1,125 defensive snaps over 55 career games (15 starts)
from 2017-20 for the Tigers.
NEW SPECIAL TEAMS FACES
The Gophers return redshirt junior kicker Brock
Walker (2-3 FG in 2020), sophomore kicker Dragan
Kesich (24 kickoffs in 2020) and sophomore punter Marc
Crawford (37.8 avg. in 2020) for 2021, but they also welcome in three transfer specialists.

Redshirt senior Will Mobley spent the past four
seasons at Temple where he was 26-35 (74.3%) on field
goals with a career long of 44 yards. He was also 99-104
(95.2%) on extra points, including a Temple-record 51
straight made in 2018.

Daniel Sparks was a freshman last year at
Louisiana-Monroe, playing in all 10 games for the
Warhawks. He averaged 44.6 yards on 30 punts and also
kicked off 33 times with six touchbacks.

Senior Matthew Trickett comes to Minnesota after
three seasons at Kent State where he earned All-MAC
First Team honors in 2018 and was the MAC Special
Teams Player of the Year in 2019. He made 47-57 (82.5%)
field goals and was 94-95 on PATs for 235 career points.
In 2019, he tied for the NCAA lead and set a Kent State
record with 29 made field goals.
MAFE, FAALELE ON 'FREAKS' LIST
Seniors Boye Mafe and Daniel Faalele both
appeared on the "2021 College Football Freaks List" from
The Athletic's Bruce Feldman.

Mafe came in at No. 17 of 101 players listed. "He's put
on more than 50 pounds since arriving at Minnesota and
weighs 263 now, up from 260 last year," Feldman wrote.
"Mafe (4.5 sacks in six games in 2020) says he did a lot
of single-leg work this offseason in hopes of improving his
footwork." Among Mafe's weight room numbers listed by
Feldman are a vertical jump of 40.5 inches, a broad jump of
10-6, a 4.57 40 and power cleaning 400 pounds."
Faalele was ranked No. 29. "Two years ago, Faalele
ranked No. 11 on this list because of his freakish combination
of enormous size and a surprisingly athletic 29-inch vertical
and 8-7 broad jump, but as he's reshaped his body, he's
become a lot more nimble and flexible," Feldman wrote.
MILESTONE WATCH
Mohamed Ibrahim is 160 yards shy of 3,000 career
rushing yards. He would become the eighth player in program
history to reach the number.

Tanner Morgan has 46 career touchdown passes,
putting him four away from joining Adam Weber (72), Bryan
Cupito (55) and Asad Abdul Khaliq (55) as the only Gopher
QBs to reach at least 50 career touchdown passes.

With 25 career pass breakups, Coney Durr is six PBUs
short of tying Trumaine Banks, Ukee Dozier and Michael
Lehan for the school record of 31.
GOPHER GRADUATES
Minnesota's 2021 roster features 26 student athletes who have already graduated: Blaise Andries, Brock
Annexstad, Zack Annexstad, Chris Autman-Bell, Micah
Dew-Treadway, Coney Durr, Clay Geary, Jack Gibbens.
Justus Harris, Phillip Howard, Mohamed Ibrahim, Ko
Kieft, Boye Mafe, Val Martin, Bishop McDonald, Will
Mobley, Tanner Morgan, Conner Olson, Esezi Otomewo,
Samuel Pickerign, Nyles Pinckney, Axel Ruschmeyer,
Thomas Rush, Sam Schlueter, Calvin Swenson and
Matthew Trickett.
2X ACADEMIC ALL-AMERICAN
In mid-July, offensive lineman Blaise Andries was
named to the 2020 Academic All-America Division I Football
First Team selected by the College Sports Information
Directors of America (CoSIDA). This honor recognizes the
nation's top student-athletes for their combined performances
on the field and in the classroom.

Andries, who is majoring in Mathematics and is an aspiring actuary, is a repeat honoree after being named Second
Team last season. He is Minnesota's first repeat selection
since Sam Renner, who was named Second Team in both
2018 and 2019.

Andries was named Academic All-Big Ten in 2020, 2019
and 2018 and was selected All-Big Ten Third Team in 2020
and 2019.
D FINISHES STRONG IN 2020

After a slow start to the 2020 season, the defense
under Joe Rossi clamped down over the final five games,
giving the unit momentum heading into 2021.

In back-to-back losses to Michigan and Maryland to
open the season, the Gophers allowed 47 points, 578 yards
of total offense, over 309 yards passing and nearly 270 rushing yards per contest.
However, over the final five games of the season
Minnesota cut its points allowed in half, took over 85 yards
off its rushing yards allowed and over 140 yards off its passing yards allowed. The team's total defense figure dropped
by more than 225 yards over its final five games and its
yards per play allowed fell by over 3.5 yards.
However, over the final five games of the season
Minnesota cut its points allowed in half, took over 85 yards
off its rushing yards allowed and over 140 yards off its passing yards allowed. The team's total defense figure dropped
by more than 225 yards over its final five games and its
yards per play allowed fell by over 3.5 yards.
2020 DEFENSIVE IMPROVEMENT
FIRST 2 GAMES STAT FINAL 5 GAMES
47.0 Points Allowed 23.4
268.5 Rush Yards Allowed 182.6
309.5 Pass Yards Allowed 168.4
578.0 Total Offense Allowed 351.0
9.48 Yards Per Play Allowed 5.85
The Gophers held three of their final five opponents
to 20 points or less, four to less than 350 yards of total
offense, four to less than 200 yards rushing and four to less
than 150 yards passing
TWO GOPHERS DRAFTED
Minnesota had two players selected in the 2021 NFL
Draft. Baltimore took Rashod Bateman with the 27th overall
pick, making him the first Minnesota receiver ever to be
taken in the first round and the first Gopher selected in the
first round since Laurence Maroney was taken 21st overall
by New England in 2006.

On day two, Benjamin St-Juste was selected in the
third round by Washington with the 74th overall pick. He
was the third Minnesota defensive back drafted in the last
two years, joining Antoine Winfield Jr. (No. 45 to Tampa
Bay in 2020) and Chris Williamson (No. 247 to the New
York Giants in 2020).

The 2021 draft was the first time that Minnesota had
two top-75 selections since 1978 when three linebackers
were taken in the top 43 picks.
COACHING EXPERIENCE
Four of Minnesota's assistant coaches have head
coaching experience. Mike Sanford Jr. (OC/QBs) was the
head coach at Western Kentucky from 2017-18, while Paul
Haynes (Cornerbacks) led Kent State from 2013-17. Joe
Harasymiak (Defensive Backs, Safeties and Co-DC) was
the head coach at Maine from 2016-18 and was named
the 2018 FCS Coach of the Year. Clay Patterson (Tight
Ends) was the head coach at Northeastern Oklahoma A&M
College from 2016-17, earning conference coach of the year
honors in 2017.
ALL-TIME VS. OHIO STATE
Minnesota vs. Ohio State: 7-45
Home: 4-22
Road: 3-23
A WIN WOULD…
• Snap an 11-game losing streak overall to Ohio State
(last win in 2000) and a 13-game losing streak at home
to the Buckeyes (last win in 1981)
• Be Minnesota's fi fth win in its last six season openers
• Improve Minnesota to 97-35-6 all-time in season
openers and 4-1 under head coach P.J. Fleck
• Push the Gophers' record to 101-30-7 all-time in
home openers
• Be the first Minnesota win over an AP Top-4 team
since beating No. 2 Penn State, 24-23, on Nov. 6, 1999
(lost last four such games)
GOPHERS VS. BUCKEYES FACTS
LAST WINS
• Minnesota Home Win: 11/7/81 (35-31)
• Minnesota Road Win: 10/14/00 (29-17)
• Ohio State Home Win: 10/13/18 (30-14)
• Ohio State Road Win: 11/15/14 (31-24)
GOPHERS' LONGEST STREAKS
• Current Streak: Lost 11
• Home Streak: Lost 13
• Away Streak: Lost 6
• Win Streak All-Time: 2 (10/28/22-11/28/31)
• Home Win Streak: 2 (10/28/22-11/28/31)
• Away Win Streak: Never won back-to-back
• Losing Streak All-Time: 16 (11/6/82-10/23/99)
• Home Losing Streak: 13 (9/29/84-Present)
• Away Losing Streak: 15 (10/30/65-10/17/98)
THIS AND THAT
• Most Gophers Points – Win: 35 (35-31, 11/7/81)
• Fewest Gophers Points – Win: 9 (9-0, 10/28/22)
• Most Gophers Points – Loss: 37 (37-41, 10/28/89)
• Most Ohio State Points – Win: 69 (69-18, 10/1/83)
• Fewest Ohio State Points – Win: 9 (9-3, 11/13/76)
• Most Ohio State Points – Loss: 31 (31-35, 11/7/81)
• Largest Gopher Win Margin: 27 (27-0, 10/15/49)
• Largest Ohio State Win Margin: 51 (69-18, 10/1/83)
• Times Gophers Shut Out: 7 (MR: 0-44, 10/28/06)
• Times Ohio State Shut Out: 2 (MR: 0-27, 10/15/49)
• Overtime Games: 0
• Tie Games 0
GOPHER UPPERCLASSMEN
The 2021 season is unique in the number of players
still competing in their fi fth season of compeition and
beyond. Below is a list of those players for Minnesota.
FIFTH YEAR OR MORE (22)
Fifth Year (14)
Andries, Blaise OL
Annexstad, Brock WR
Autman-Bell, Chris WR
Gibbens, Jack* LB
Harris, Justus DB
Ibrahim, Mohamed RB
Mafe, Boye DL
Mobley, Will* K
Morgan, Tanner QB
Otomewo, Esezi DL
Pickerign, Sam QB
Ruschmeyer, Axel OL
Schmitz, John Michael OL
Swenson, Calvin DB
Sixth Year (7)
Durr, Coney DB
Geary, Clay WR
Kieft, Ko TE
Martin, Val* DL
Olson, Conner OL
Pinckney, Nyles* DL
Schlueter, Sam OL
Seventh Year (1)
Dew-Treadway, Micah* DL
ON THIS DATE
Minnesota is 2-0 all-time when playing on Sept. 2.
• 2000: 47-10 vs. Louisiana Monroe
• 2010: 24-17 at Middle Tennessee State
2021 PRESEASON HONORS
Chris Autman-Bell
• Second-Team All-Big Ten (PFF)
• Third-Team All-Big Ten (Phil Steele)
• Fourth-Team All-Big Ten (Athlon Sports)
• Watch List: NFLPA Collegiate Bowl Big Board
Blaise Andries
• Second-Team All-Big Ten (Athlon Sports, PFF, Phil Steele)
• Watch List: NFLPA Collegiate Bowl Big Board
DeAngelo Carter
• Allstate AFCA Good Works Team nominee
Coney Durr
• Third-Team All-Big Ten (PFF, Phil Steele)
Daniel Faalele
• Third-Team All-Big Ten (Phil Steele)
• Honorable Mention All-Big Ten (PFF)
• Watch Lists: Polynesian College Football Player of the
Year Award, NFLPA Collegiate Bowl Big Board,
Reese's Senior Bowl
Justus Harris
• Honorable Mention All-Big Ten (PFF)
Mohamed Ibrahim
• First-Team All-America (Walter Camp)
• Second-Team All-America (AP, Athlon Sports, CBS, Phil Steele)
• No. 55 on ESPN's Top 100 Players for 2021
• First-Team All-Big Ten (Athlon Sports, PFF, Phil Steele)
• Big Ten Football Preseason Honors list (B1G Media)
• Watch Lists: Doak Walker Award, Maxwell Award, NFLPA
Collegiate Bowl Big Board, Reese's Senior Bowl,
Walter Camp Player of the Year
Boye Mafe
• Second-Team All-Big Ten (PFF)
• Third-Team All-Big Ten (Athlon Sports)
• Watch List: NFLPA Collegiate Bowl Big Board, Reese's
Senior Bowl
Tanner Morgan
• Second-Team All-Big Ten (Phil Steele)
• Third-Team All-Big Ten (Athlon Sports)
• Honorable Mention All-Big Ten (PFF)
• Watch Lists: Davey O'Brien Award, Maxwell Award,
Reese's Senior Bowl, Unitas Golden Arm Award,
Wuerffel Trophy
Conner Olson
• First-Team All-Big Ten (Phil Steele)
• Third-Team All-Big Ten (Athlon Sports, PFF)
• Watch List: Campbell Trophy, NFLPA Collegiate Bowl Big
Board, Outland Trophy
Esezi Otomewo
• Watch List: NFLPA Collegiate Bowl Big Board
Nyles Pinckney
• Third-Team All-Big Ten (Phil Steele)
Sam Schlueter
• Fourth-Team All-Big Ten (Athlon Sports)
• Watch List: NFLPA Collegiate Bowl Big Board
John Michael Schmitz
• Second-Team All-Big Ten (Athlon Sports)
• Third-Team All-Big Ten (PFF, Phil Steele)
• Watch List: NFLPA Collegiate Bowl Big Board, Rimington Trophy
Mariano Sori-Marin
• Fourth-Team All-Big Ten (Phil Steele)
Matthew Trickett
• First-Team All-Big Ten (PFF)
COURTESY MINNESOTA ATHLETIC COMMUNICATIONS