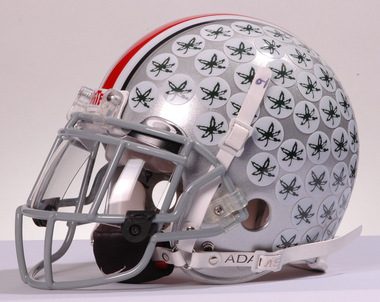 Ryan Day welcomes back 12 starters as Ohio State seeks a fifth consecutive Big Ten title
COLUMBUS, Ohio – The 132nd season of Ohio State football began bright – and early – this past Wednesday morning when the Scarlet and Gray hit the practice field at 7:30 a.m. for the first of their 25 schedule practices prior to the opener at Minnesota on Sept. 2.
Ohio State's training camp roster will include 110 players, including 41 returning letterwinners and 12 starters (six on offense, five on defense and one specialist). Head coach Ryan Day enters his third season guiding the Buckeyes and has a career record of 23-2 with 17 consecutive regular season wins.
What – and Who – is New with the Buckeyes
The Buckeyes had one opening among position coaches this offseason following the retirement of defensive coordinator Greg Mattison. Day filled that spot by promoting Parker Fleming to special teams coordinator. Fleming had worked for the previous two seasons as a quality control coach for special teams.
Kerry Coombs, who was the defensive coordinator and secondary coach in 2020, will have the sole title of defensive coordinator in 2021 while Matt Barnes went from safeties coach to secondary coach.
There will be several new faces on the coaching staff in 2021, however. Veteran coaches Paul Rhodes and Paul Fitch were brought on as analysts while Ricky Brown is a new quality control coach working with special teams. Billy Fessler, Kennedy Cook, Grayson Miller and Lorenzo Jackson all return as graduate assistants while Keenan Bailey and Joe Bolden enter their second seasons as quality control coaches.
And, there's more! Among the support staff, several new staff members were brought on this spring/summer:
§ Jocelyn Gates was hired in June as Ohio State's Senior Associate Athletics Director with administrative oversight of football. She comes to Columbus from Boston College.
§ Former captain CJ Barnett is the Director of Player Development;
§ Erin Dunston is now the Buckeyes' Director of On-Campus Recruiting;
§ Candace Johnson was hired last spring as the program's coordinator of career and professional development;
§ The social/digital media staff now includes Addison Skaggs, Director of Creative Media and Post Production and CJ Campbell, Assistant Director, Creative and Branding
Seeking a Fifth Big Ten Title
Ohio State had already made history as the only team to win four consecutive outright Big Ten titles and in 2021 it will be vying for championship No. 5.
Quarterbacks Take Center Stage
While the race to take over for departed starting quarterback Justin Fields will be intriguing, the group enters training camp without a single player who has completed a pass in a college game. On the eve of camp, the Buckeyes' three scholarship quarterbacks – C.J. Stroud, Jack Miller and Kyle McCord – along with J.P. Andrade and Jagger LaRoe met the media to talk more about the competition.
§ Jack Miller: "We all push each other every single day, and I think this is how you get the best out of yourself is being in a competition like this with guys that are just as good as you. I think it's how you get better."
§ C.J. Stroud: "At the end of the day you got to go out there and prove it so. Spring ball is more individual and fall camp is trying to get better as a team, so the more I can do that as a team it will make me a better quarterback overall."
§ Kyle McCord: "When you take a step back and look at all the great players and quarterbacks who have come through this program, to have an opportunity to compete for the job is something that not a lot of guys have done. I'm excited for it and what the future holds."
Seven Super Seniors
Seven seniors elected to utilize the NCAA's eligibility relief as a result of the COVID-19 pandemic and will thus be "super seniors" in 2021 (they will not count against Ohio State's scholarship numbers). They are: DT Haskell Garrett, CB Demario McCall, DT Antuwan Jackson, CB Marcus Williamson, OL Thayer Munford, TE Corey Rau and WR Chris Booker.
#GoBuckeyes
The People. The Tradition. The Excellence.
COURTESY OHIO STATE ATHLETIC COMMUNICATIONS