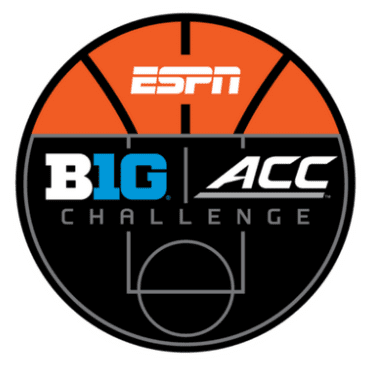 June 28, 2021
ROSEMONT, ILL. – The matchups for the 2021 Big Ten/ACC Men's Basketball Challenge, now in its 23rd year, are set and will be played on Monday, Nov. 29, Tuesday, Nov. 30 and Wednesday, Dec. 1. The Challenge matches all 14 Big Ten teams against 14 ACC teams. Tip times and network assignments will be announced at a later date. ESPN, ESPN2 and ESPNU will combine to televise all 14 games of the event, matching top college basketball programs playing for the Commissioner's Cup. All games will also be available to stream via the ESPN App.
Challenge highlights and notes:
The Big Ten captured the 2020 Challenge with a 7-5 record, marking the second year in a row that the Big Ten bested the ACC. Last year, two of the Challenge's 14 contests were not played due to COVID-19 concerns. In 2019, the Big Ten won the Challenge with an overall record of 8-6. The ACC leads the all-time series 12-7-3, with its last victory coming in 2017. The Big Ten has won seven of the last 12 Challenges dating back to 2009, with the ACC emerging victorious in 2016 and 2017, and the conferences splitting the Challenge three times (2012, 2013 and 2018).
During the 2020 Challenge, the Big Ten secured four top-25 ranked wins over the ACC: Illinois defeated then-ranked No. 10/11 Duke, Iowa topped then-ranked No. 16/14 North Carolina, Penn State took down then-ranked No. 15/15 Virginia Tech and Wisconsin knocked off then-ranked No. 23/22 Louisville.
Illinois' 83-68 win at then-ranked No. 10/11 Duke in the Challenge marked the second of two Big Ten victories over the Blue Devils at Cameron Indoor Stadium in 2020. Earlier in the season, Michigan State went on the road and defeated Duke 75-69. The Big Ten became the first conference, besides the ACC, to win two games at Cameron Indoor Stadium in the same season since the Southern Conference in 1981-82.
This year's Challenge features 16 teams that competed in the 2021 NCAA Division I Men's Basketball Championship. The Big Ten led all conferences with nine bids in last year's NCAA Tournament, while the ACC and Big 12 ranked second with seven teams each. The Challenge will feature a rematch between Rutgers and Clemson, who met in the first round of last year's NCAA Tournament. The Scarlet Knights defeated the Tigers 60-56 to secure their first NCAA Tournament win since 1983.
2021 Big Ten/ACC Men's Basketball Challenge Schedule
Monday, November 29
Notre Dame at Illinois
Iowa at Virginia
Tuesday, November 30
Indiana at Syracuse
Minnesota at Pittsburgh
Northwestern at Wake Forest
Duke at Ohio State
Florida State at Purdue
Clemson at Rutgers
Wednesday, December 1
Virginia Tech at Maryland
Michigan at North Carolina
Louisville at Michigan State
Nebraska at NC State
Miami at Penn State
Wisconsin at Georgia Tech
COURTESY THE BIG TEN CONFERENCE