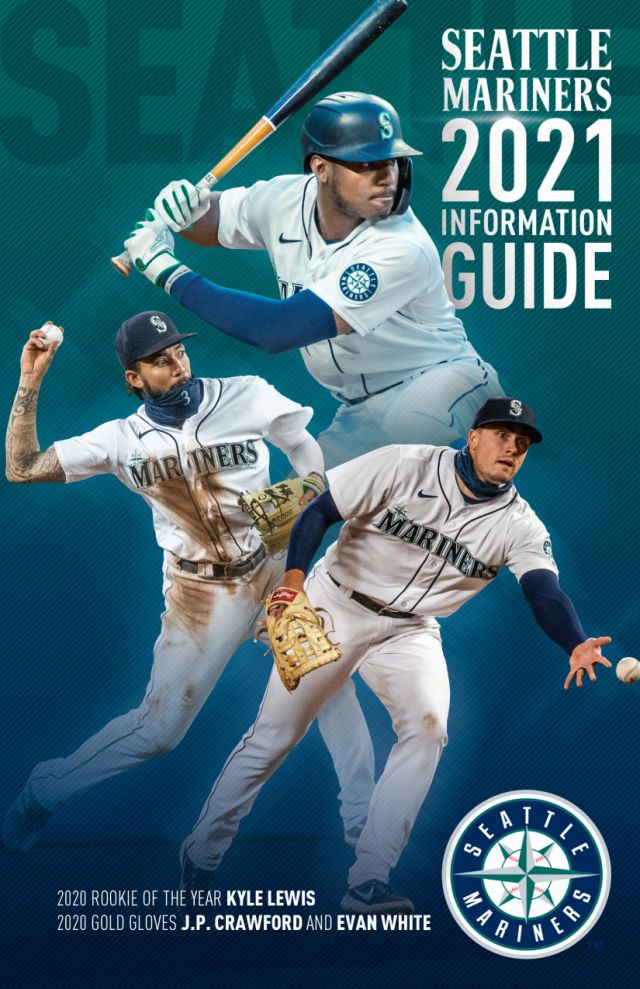 Sunday, June 13, 2021 Game #67 (31-35)
Progressive Field SEATTLE MARINERS (31-35) at CLEVELAND (34-27) Road #36 (14-21)
TODAY'S GAME INFORMATION
Starting Pitchers: RHP Logan Gilbert (1-2, 4.98) vs. RHP Shane Bieber (7-3, 2.96)
First Pitch: 1:10 pm ET / 10:10 am PT • Radio: 710 ESPN / Mariners.com • TV: ROOT SPORTS NW
Day Date Opp. Time (PT) Mariners Pitcher Opposing Pitcher RADIO
Monday June 14 vs. MIN 7:10 pm LHP Marco Gonzales (1-4, 5.45) vs. RHP Kenta Maeda (2-2, 5.27) 710 ESPN
Tuesday June 15 vs. MIN 7:10 pm RHP Chris Flexen (5-3, 4.68) vs. TBD 710 ESPN
Wednesday June 16 vs. MIN 7:10 pm LHP Justus Sheffield (5-5, 4.91) vs. TBD 710 ESPN
All games televised on ROOT SPORTS with home games featuring Spanish Audio via TV SAP
MOST TOTAL BASES,
AMERICAN LEAGUE
Rk. Player TB
Vladimir Guerrero Jr.-TOR….. 148
T2. Mitch Haniger-SEA………….. 130
Rafael Devers-BOS…………… 130
Marcus Semien-TOR…………. 130
T5. Shohei Ohtani-LAA……………. 129
Salvador Pérez-KC……………. 129
DEFENSIVE RUNS SAVED
LEADERS
Rk. Player DRS
J.P. Crawford-SEA………………. 8
T2. Michael A. Taylor-KC…………….. 7
Jacob Stallings-PIT………………. 7
T4. 6 players……………………………… 6
INSIDE THE NUMBERS
20
The Mariners have played in 20 onerun games this season, tied for most in
the American League with Minnesota…
Seattle is 13-7 (.650) in games decided
by 1 run this season, 2nd-best winning
percentage in the AL behind Los
Angeles-AL (11-5, .688).
22.0
Kendall Graveman had gone 18
consecutive outings, spanning 22.0
innings, without allowing a run before
César Hernández hit a solo home run
in the 8th inning yesterday…before the
homer, Graveman had not allowed a run
since Sept. 17, 2020 at San Francisco.
30%
Jake Fraley's 30 percent walk rate leads
the Majors among players with at least 50
plate appearances…Fraley has drawn 19
walks in 64 plate appearances…Yasmani
Grandal-CWS (28.2% BB rate) ranks 2nd
in the Majors (min. 50 PA).
294
Kyle Seager has recorded 294 career
doubles…he is 1 double away from
tying Ichiro Suzuki (295) for 3rd-most in
Mariners club history.
MOST EXTRA-BASE HITS,
AMERICAN LEAGUE
Rk. Player XBH
T1. Shohei Ohtani-LAA ……………….35
Rafael Devers-BOS……………….35
Vladimir Guerrero Jr.-TOR………33
T4. Mitch Haniger-SEA………………32
Matt Olson-OAK……………………32
Austin Meadows-TB ……………..31
T7. J.D. Martinez-BOS………………..29
Cedric Mullins-BAL……………….29
José Ramírez-CLE ………………..29
VS. CLEVELAND
Seattle and Cleveland meet for the final
of 7 matchups this season in a rubber
match for the season series…the Mariners took 3 out of 4 from Cleveland from
May 13-16 at T-Mobile Park and look to
avoid the sweep today at Progressive
Field.
Year Home Road Totals
2018 2-1 3-1 5-2
2019 0-3 1-2 1-5
2020 0-0 0-0 0-0
2021 3-1 0-2 3-3
All-Time 97-114 89-119 186-233
TODAY'S TILT…the Mariners wrap up their 11-day, 10-game road trip with a series finale at Cleveland (0-
2)…started the trip with a 4-game series split at Los Angeles-AL (2-2) and a 3-game series at Detroit (1-2)…
return to T-Mobile Park to start a 9-day, 8-game homestand vs. Minnesota (3 G, 6/14-6/16), Tampa Bay (4
G, 6/17-6/20) and Colorado (2 G, 6/22-6/23)…today's game will be televised on ROOT SPORTS, as well
as broadcast on 710 ESPN Seattle and the Mariners Radio Network.
ODDS AND ENDS…the Mariners lost yesterday by a 5-4 score in 10 innings…have won 10 of their last
19…are 13-9 in day games and 18-26 at night…are 17-14 at T-Mobile Park and 14-21 on the road…are
25-11 when scoring at least 4 runs and 6-24 when scoring 3 or fewer runs…are 22-3 when out-hitting their
opponent…are 10-10 in series finales.
• Yesterday – The Mariners reinstated INF/OF Dylan Moore from the 10-day Injured List…RHP Yohan
Ramírez was recalled from Triple-A Tacoma…OF Dillon Thomas and INF Donovan Walton were optioned to Triple-A Tacoma…C Jacob Nottingham was outrighted to Triple-A Tacoma.
• Extras – Seattle dropped its first extra inning game of the season yesterday…the Mariners 6-1 (.857)
record in extra inning games still ranks best in the Majors.
• 22-1 – For the first time this season, the Mariners yesterday lost a game which they led going into the
9th inning…Seattle falls to 22-1 this season when leading after 8 innings.
DOUBLE PLAYS…The Mariners defense has turned 67 double plays this season, most in the Majors…they
turned 2 yesterday, both off the bat of José Ramírez…Seattle holds a lead over Boston (64), San Diego (62),
Philadelphia (61) and Texas (61)…J.P. Crawford has been involved in 41 double plays defensively, most in
the Majors among non-first basemen.
MISSED YOU MOORE…Dylan Moore went 2-for-4 with a double, home run, 2 RBI and 1 walk in his return
to the lineup yesterday…it was Moore's first game with Seattle since May 18 after he was placed on the
10-day Injured List on May 19 with a left calf strain…5 of his last 6 games have come against Cleveland,
batting .333 (6×18) with 4 runs, 3 doubles, 3 home runs, 7 RBI, 2 walks and 3 stolen bases against them
with a .348 on-base percentage, .857 slugging and 1.205 OPS…in his last 17 games since April 30, Moore
is batting .259 (15×58) with 9 runs, 4 doubles, 5 HR, 15 RBI, 6 walks and 5 stolen bases…he is slugging
.586 in that span with a .914 OPS…his 9 stolen bases lead the Mariners and rank T7th in the AL.
J.P.: JUNE POWER…J.P. Crawford is batting .357 (15×42) in the month of June with 7 runs, 6 doubles, 1
home run, 6 RBI, 8 walks and 1 stolen base in 11 games…he's reached base safely in 9 of his 11 games
this month, hitting safely in 8…in the month, he's gotten on-base at a .442 clip, slugging .571 with a 1.014
OPS, all of which lead the club in June.
• The Best by Any Metric – Crawford leads the American League with 1.2 defensive Wins Above Replacement (Baseball-Reference)…he tied for the Major League lead with Ryan McMahon-COL…J.P.
leads the Majors with 8 defensive runs saved (FanGraphs).
• The Catalyst – Crawford is batting .309 (17×55) with 7 runs, 6 doubles, 1 home run, 6 RBI, 8 walks and
1 stolen base in 14 games batting in the leadoff spot this season…he has reached base in 25 of his 65
trips to the plate out of the leadoff spot…the Mariners shortstop is batting .247 (42×170) this season
when not occupying the #1 spot in the batting order.
ALL-STAR MITCH…Mitch Haniger reached base 3 times yesterday, going 1-for-3 with 2 walks…he is
batting .259 (65×251) with 43 runs, 15 doubles, 1 triple, 16 home runs, 40 RBI and 19 walks in 63 games
this season…Haniger has now equaled the amount of games played (63) that he registered during 2019.
• AL Outfielders – Among American League players with at least 60 percent of their games played in the
outfield this season, Haniger ranks 1st in extra-base hits (32), 2nd in runs (43), T2nd in hits (65), T3rd in
doubles (15), T1st in HR (16), 4th in RBI (40), 4th in slugging percentage (.518) and 7th in OPS (.828).
THE JAKE…Jake Fraley went 1-for-4 with a 2-run homer and walk yesterday…he leads the Majors with a
.484 on-base percentage among players with at least 50 plate appearances…in 17 games this season, the
outfielder has reached base safely in 15 of them…he also has the highest walk rate in the Majors among
players with at least 50 PA, drawing walks in 30.0% (19 BB in 64 PA) of his trips to the plate…Fraley ranks
T3rd on the team in walks despite accruing 169 fewer plate appearances than the next-closest Mariners
player with at least 19 walks (Ty France, 19 BB in 233 PA).
PLAYER'S BALL…The Mariners have used 51 players this season, most in the Majors…Los Angeles-AL,
Milwaukee, Minnesota, New York-NL and Pittsburgh are in a 5-way tie for the 2nd-most players used this
season with 45 players each…the Mariners have also used the most pitchers (29, including position player
Jack Mayfield) this season…Seattle has now used at least 50 players in a season 7 times in franchise
history (1999, 2015-19, '21)…the 2019 Mariners had a team-record 67 players appear in a game, which is
also a Major League record.
NEXT HOMESTAND…the Mariners have received permission from the state of Washington and King
County to increase seating capacity at T-Mobile Park for the next homestand from June 14-23…the
updated operations plan allows 26,265 tickets to be sold as vaccine only with no social distancing…the
remaining capacity will be sold in socially distanced pods of 1-6 seats for a total of 4,680 seats…total
ballpark capacity under the approved plan is 30,945 (out of 47,000).
ALL-STAR BALLOT…Mariners fans can cast their all-star ballots at https://www.mlb.com/all-star/ballot
until the voting period for Phase 1 concludes at 4:00 pm ET/1:00 pm PT on Thursday, June 24…on Sunday,
June 27, the top three vote-getters at each position (and the top nine outfielders) in each league will be
revealed at 12:00 p.m. (ET) on the 2021 Google MLB All-Star Ballot Finalists Show exclusively on MLB
Network, and they will advance to the second phase of voting to determine who makes the All-Star teams
and starts for each league.
AS YOU KNOW…Dylan Moore returned to the lineup yesterday…he started at 2nd base and batted 6th…
the 28-year-old reached base 3 times, going 2-for-4 with a run scored, double, home run, 2 RBI, 1 walk,
2 strikeouts and 1 stolen base, but…DID YOU KNOW?…that it marked just the 33rd time in Mariners
history that a player registered a double, home run and stolen base in the same game?…Kyle Seager
was the last to do it before Moore yesterday, accomplishing the feat this season on June 3 at Los
Angeles-AL…it also marked just the 12th time in Mariners history that a player registered a double, home
run, stolen base and walk in the same game…Seager was also the last to accomplish the feat before
Moore did it yesterday, doing it on Aug. 3, 2015 at Colorado.
TODAY'S MARINERS STARTER
RHP LOGAN GILBERT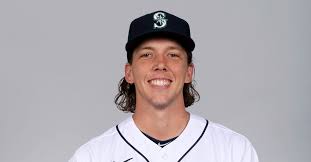 2021/Career MLB Breakdown:
W-L ERA G/GS IP H R ER BB SO HR
Overall 1-2 4.98 5/5 21.2 20 12 12 7 21 3
Home 0-2 6.39 3/3 12.2 14 9 9 3 12 2
Road 1-0 3.00 2/2 9.0 6 3 3 4 9 1
vs. CLE 0-1 9.00 1/1 4.0 5 4 4 0 5 2
ABOUT LOGAN GILBERT…
• 24-year-old right-handed pitcher is scheduled to make the 6th
start of his Major League career, his 2nd vs. Cleveland.
• Selected by Seattle in the 1st round (14th overall) of the 2018
MLB First-Year Player Draft; signed by Mariners scout Rob
Mummau.
• Named to the Mariners 60-man roster prior to the start of the
2020 season…spent season pitching at Mariners Alternate site
in Tacoma.
• In 2019, split season between A West Virginia (4/4-5/1), High-A Modesto (5/2-
7/14), and Double-A Arkansas (July 15-end), going 10-5 with a 2.13 ERA (32 ER,
135.0 IP) in 26 combined starts in first professional season.
• Spent 3 seasons at Stetson (FL) University, 2016-18…in 2017, was ASUN Pitcher
of the Year and ASUN 1st-Team All-Conference.
• Among all minor league pitchers in 2019, ranked 3rd in ERA (2.13), 5th in average
(.198), T7th in strikeouts (165), while his 10 wins were 2nd-most among all Mariners farmhands.
LAST OUTING…recorded his first Major League win on June 6 at Los Angeles-AL, tossing 5.0 innings of 1-run ball, allowing only 2 hits and 4 walks with
5 strikeouts…left the game with a 3-1 lead after the 5th inning on the way to
a 9-5 Mariners win vs. the Halos.
QUALITY…first career quality start on May 31 vs. OAK…received a no-decision
despite leaving with 4-2 lead after tossing 6.0 innings and allowing 2 earned
runs on 5 hits…matched career-high with 5 strikeouts.
MLB DEBUT…made his MLB debut on May 13 vs. CLE…threw 4.0 innings
and allowed 4 earned runs on 5 hits and no walks with 5 strikeouts and
2 home runs in 4-2 loss…was tagged with the loss…tossed 71 pitches (52
strikes) and two wild pitches…notched his first career strikeout in the 3rd inning (Céasar Hernández)…became the 42nd Mariners pitcher to start in MLB debut, the first since Justin Dunn, Sept. 12, 2019 vs. CIN.
RATIO THAT BATTER…Has struck out 21 (in 21.2 IP) in his career, while walking just 7, a 3.00 K/BB ratio…has struck out 4 or more in 4 of 5 career starts, while walking 1 or less in 3 of 5 starts.
STINGY…has allowed 3 runs or less in 29 of 32 professional appearances (4
of 5 Big League starts), including 23 appearances of 2 runs or less, 17 1-run
appearances and 10 scoreless outings…tallied 3 consecutive scoreless outings from Aug. 13-24, 2019, spanning 17.0 IP, while walking 5 and striking out 22…held opponents to a .145 batting average against during that span.
LAST MiLB OUTING…earned his 1st win of the minor league season in last
outing on May 7 vs. El Paso Chihuahuas…tossed 5.0 innings and allowed 1 run on 4 hits and no walks with 5 strikeouts in 8-2 Rainier win…left game with 3-1 lead after the 5th inning having thrown 77 pitches (47 strikes).
PROSPECT PEDIGREE…is rated as the No. 28 overall prospect on MLB Pipeline's 2021 Top-100 Prospects List…is the highest rated pitching prospect to appear for the Mariners since Taijuan Walker (No. 4) made his debut in 2013 season
2021 SPRING TRAINING RECAP…made 1 Cactus League start in this spring against the Los Angeles Angels…threw 2.0 innings, giving up 1 earned run on 2 hits with 4 strikeouts.
TAKING HOME THE HARDWARE…during the 2019 season, was named Pitcher of the Week twice en route to being named an All-Star for both the California (Single-A) League and Texas (Double-A) League, as well as an MiLB.com Organizational All-Star…rated as the #4 Prospect in the Texas League and the #7 Prospect in the California League by Baseball America following the season.
ALMOST A DOZEN…tallied a career-high 11 strikeouts on May 19, 2019 with Modesto at the Rancho Cucamonga Quakes…tossed 7.0 scoreless innings and allowed only 2 hits without issuing a walk…has struck out at least 5 batters in 22 of 27 career minor league starts.
PITCHER OF THE YEAR…received the Jamie Moyer Minor League Pitcher of the Year Award following the 2019 season…was honored in a pregame ceremony at T-Mobile Park along with other minor league award winners in the Mariners farm system on Sept. 27, 2019.
2019 RECAP…made his professional debut, splitting the season between A West Virginia (4/4-5/1), High-A Modesto (5/2-7/13), and Double-A Arkansas (July 15-end), going 10-5 with a 2.13 ERA (32 Er, 135.0 IP) in 26 combined starts in first professional season…limited opponents to a .198 (95×481) average, while walking 33 and striking out 165…among all minor league pitchers (min. 125.0 IP), ranked 3rd in ERA (2.13), 5th in average (.198), T7th in strikeouts (165), while his 10 wins were 2nd-most among all Mariners farmhands
AMONG STETSON ROYALTY…Gilbert is 1 of 4 active Stetson University players in the Major Leagues, joining Jacob deGrom, Corey Kluber, and Patrick Mazeika, which places Gilbert alongside 2 Cy Young Award winners…was the first pitcher from Stetson to be taken in the 1st round, and 1st Hatters 1st-rounder since 2003 (Brian Snyder)…drafted as highest pick in Stetson history at #14…during his 3 seasons with Stetson, Gilbert
was 23-3 with a 2.48 ERA… started in 33 of his 52 appearances, and pitched a total of 250.2 innings for the Hatters…ranks 1st in Stetson history for lowest opponent batting average (.201), 2nd in most strikeouts per 9 innings (11.24), 4th in most strikeouts (313), and 1st in most strikeouts looking (84)…in final season with the Hatters, he ranked 1st in the nation in fewest hits allowed per 9 innings (5.4), 2nd in total strikeouts (163), 4th in ERA (2.72), and 4th in WHIP (0.80).
CAREER…selected by Seattle in the 1st round (14th overall) of the 2018 MLB First-Year Player Draft and signed by Mariners scout Rob Mummau…has appeared in parts of 2 Minor League seasons in the Mariners organization (2019 & 2021), going 11-5 with a 2.12 ERA (33 ER, 140 IP) with 33 walks and 170 strikeouts in 27 career starts.
GILBERT'S 2021 STARTS scr
DT OPP SCR W-L IP H R ER BB SO HR left PC-K
5/13 CLE 2-4 L (0-1) 4.0 5 4 4 0 5 2 0-4 71-52
5/19 DET 2-6 L (0-2) 2.2 4 3 3 2 2 0 2-3 74-43
5/25 @OAK 4-3 ND 4.0 4 2 2 0 4 0 4-2 78-51
5/31 OAK 6-5 ND 6.0 5 2 2 1 5 0 4-2 80-47
MAY: 4 GS, 0-2, 5.94 16.2 18 11 11 3 16 2
6/6 @LAA 9-5 W (1-2) 5.0 2 1 1 4 7 1 3-1 105-64
JUNE: 1 GS, 1-0, 1.80 5.0 2 1 1 4 7 1
SEASON: 5 GS, 1-2, 4.98 21.2 20 12 12 7 23 3
GILBERT'S 2021 AAA TACOMA STARTS scr
DT OPP SCR W-L IP H R ER BB SO HR left PC-K
5/7 ELP 8-2 W (1-0) 5.0 4 1 1 0 5 0 3-1 67-47
AAA Totals: 1GS, 1-0, 1.80 5.0 4 1 1 0 5 0
GILBERT vs. CLEVELAND
Is making his 2nd career start vs. Cleveland…made his Major
League debut vs. Cleveland on May 13, 2021, tossing 4.0 innings
and allowing 4 runs with 5 strikeouts…here is how Logan has
faced vs. current Cleveland batters:
PLAYER AVG AB H HR RBI BB SO
Austin Hedges .000 2 0 0 0 0 1
Cesar Hernandez .000 2 0 0 0 0 1
Josh Naylor .500 2 1 0 0 0 0
Harold Ramirez .000 2 0 0 0 0 1
Jose Ramirez .500 2 1 1 2 0 0
Franmil Reyes .500 2 1 1 1 0 1
Eddie Rosario .000 2 0 0 0 0 0
Amed Rosario .500 2 1 0 0 0 0
TEAM PITCHING
W-L ERA CG/SV IP H R ER BB-I SO HR
Season Totals 31-35 4.63 0/17 573.2 540 321 295 220-8 524 76
Starters 16-23 4.80 0/0 322.1 310 187 172 124-4 277 52
Relievers 15-12 4.40 0/17 251.1 230 134 123 96-4 247 24
T-Mobile Park 17-14 3.91 0/8 281.0 231 128 122 97-3 258 33
Road 14-21 5.32 0/9 292.2 309 193 173 123-5 266 43
April 15-12 3.75 0/8 232.2 191 111 97 91-2 200 23
May 13-15 4.89 0/9 245.0 239 139 133 88-4 231 34
June 3-8 6.09 0/0 96.0 110 71 65 41-2 93 19
SEATTLE HITTERS vs. CLEVELAND 2021 CAREER HR @
AVG AB H HR RBI AVG AB H HR RBI CLE
Bauers .143 7 1 0 0 .120 25 3 1 2 0
Crawford .211 19 4 0 2 .211 19 4 0 2 0
Fraley .167 6 1 1 2 .167 6 1 1 2 1
France .182 11 2 0 0 .182 11 2 0 0 0
Godoy .000 3 0 0 0 .000 3 0 0 0 0
Haniger .353 17 6 2 3 .347 72 25 7 10 3
Long Jr. .000 3 0 0 0 .000 3 0 0 0 0
Moore .333 18 6 3 7 .321 28 9 4 8 2
Murphy .111 9 1 0 0 .308 13 4 0 1 0
Seager .095 21 2 1 1 .298 215 64 7 21 6
Trammell .000 4 0 0 0 .000 4 0 0 0 0
COURTESY SEATTLE MARINERS & MLBpressbox.com