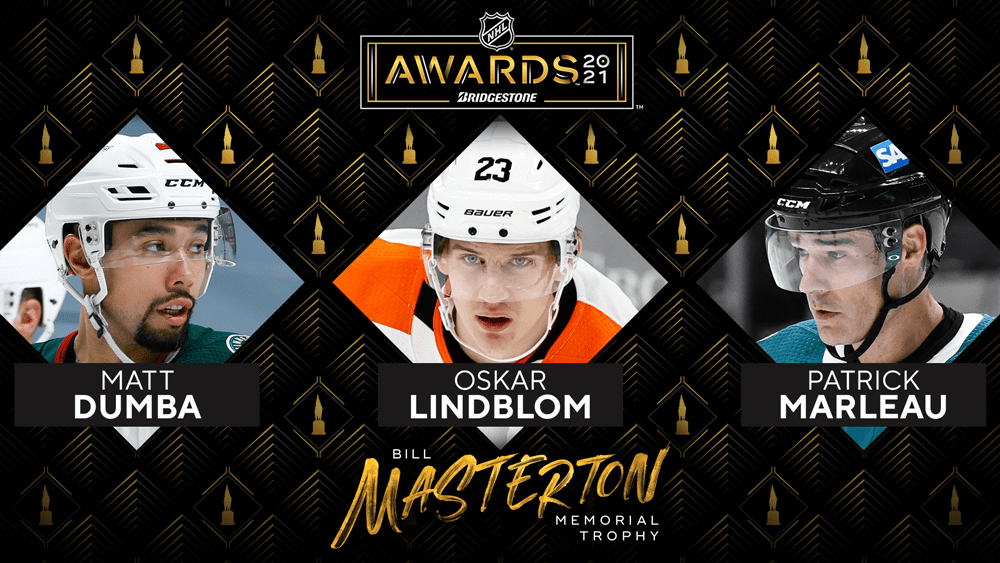 NEW YORK (June 8, 2021) – Minnesota Wild defenseman Matt Dumba, Philadelphia Flyers left wing Oskar Lindblom and San Jose Sharks center Patrick Marleau are the three finalists for the 2020‑21 Bill Masterton Memorial Trophy, which is awarded "to the player who best exemplifies the qualities of perseverance, sportsmanship and dedication to hockey," the National Hockey League announced today.
The local chapters of the Professional Hockey Writers Association (PHWA) submitted nominations for the Masterton Trophy after the conclusion of the regular season and the top three vote-getters were designated as finalists. The winners of the 2021 NHL Awards presented by Bridgestone will be revealed during the Stanley Cup Semifinals and Stanley Cup Final, with exact dates, format and times to be announced.
Following are the finalists for the Masterton Trophy, in alphabetical order:
Matt Dumba, D, Minnesota Wild
Dumba received the King Clancy Memorial Trophy in 2019-20 as he contributed his time, money and efforts to a number of community initiatives, co-founded the Hockey Diversity Alliance, and spoke out against racism and intolerance in hockey. Amidst backlash and online hate directed his way, Dumba has continued the work in 2020-21, hosting the inaugural Matt Dumba Hockey Without Limits Camp in February as part of Hockey Day Minnesota 2021. "I have a platform to make a change and make a difference. It'd be a shame if I let that go to waste," Dumba told the Minneapolis Star Tribune. "I think anyone that you talk to and who's been there on the ground supporting these kids and hearing their stories, I think that they would say the same. The smiles, the hope, just the energy that we're cultivating here is starting to change here in Minnesota, but I hope it's across North America and eventually the world."
Oskar Lindblom, LW, Philadelphia Flyers
Lindblom is a Masterton finalist for the second consecutive year. In December of 2019, he was diagnosed with Ewing's sarcoma, a rare type of bone cancer, and started treatment that sidelined him for the remainder of the regular season. The hockey world celebrated on July 2, 2020, when Lindblom rang a ceremonial bell to signify the end of his treatments and again when he returned to the Flyers' lineup for two games during the Stanley Cup Playoffs in September. An inspiration to teammates and opponents alike, Lindblom regained his regular place in the Flyers lineup in 2020-21, playing in 50 of 56 games, and was again declared cancer-free following a scan in March. "It goes up and down every day," Lindblom said. "You can feel great one day, another day you feel like you haven't played hockey for a while. You just have to battle through, try to be strong mentally and do your work every day and hopefully feel good."
Patrick Marleau, C, San Jose Sharks
Marleau celebrated a pair of historic achievements in 2020-21, overtaking Gordie Howe for the most regular-season games in NHL history and later becoming the fourth player to skate in 900 consecutive contests. Marleau, 41, dethroned Howe when he stepped onto the ice for his 1,768th career game April 19 at Vegas. Marleau finished his 23rd NHL season 23rd in League history in career goals (566) and 50th in career points (1,197). "To earn a precious spot in an NHL lineup night after night, year after year, you have to earn it every single game," Commissioner Gary Bettman said in a tribute recognizing Marleau's historic feat. "You have to possess talent that is extremely elite. An incredible passion for the game. A relentless drive to stay in shape and remain impactful by continuously improving and adapting your skills so that coaches simply cannot take you out of the lineup."
Bill Masterton Memorial Scholarship Fund
A $2,500 grant from the PHWA is awarded annually to the Bill Masterton Scholarship Fund, based in Bloomington, Minn., in the name of the Masterton Trophy winner.
History
The trophy was presented by the NHL Writers' Association in 1968 to commemorate the late Bill Masterton, a player with the Minnesota North Stars who exhibited to a high degree the qualities of perseverance, sportsmanship and dedication to hockey and who died on Jan. 15, 1968.
COURTESY NHLmedia.com