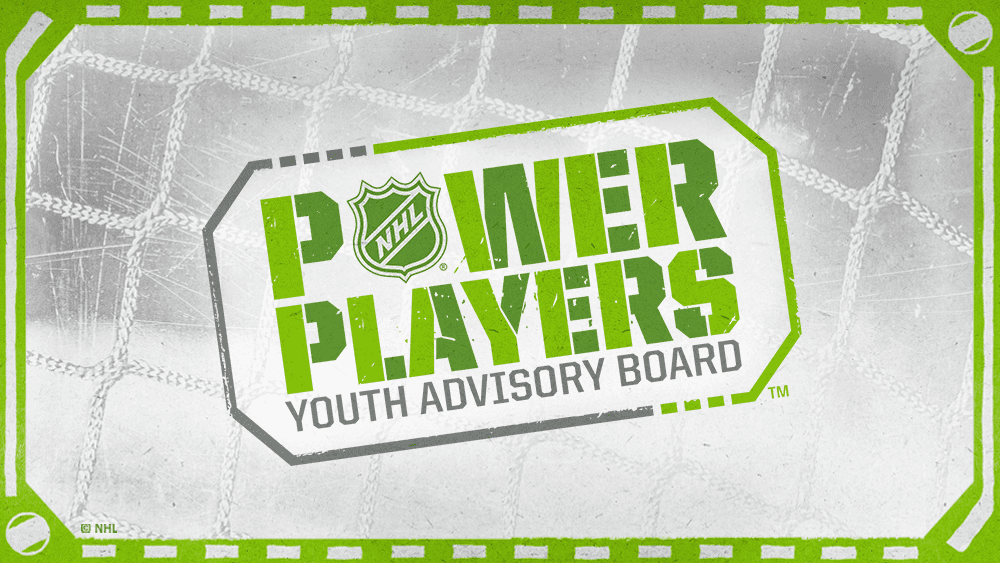 Third-Year Youth Program Helps Advise League on Hockey Matters
NEW YORK (June 3, 2021) – For the third straight year, the National Hockey League (NHL) will accept applications for NHL Power Players™, a youth advisory board which brings together young hockey fans, ages 13-17, to help advise the NHL on hockey-related topics important to their generation. Starting today through July 2, fans may apply at https://www.nhl.com/fans/power-players to be considered. NHL Power Players™ alumni from the 2020-21 NHL® season are also eligible to apply.
The NHL will select 25 young hockey fans from across the U.S. and Canada for NHL Power Players™ based on creative ideas they want to share with the NHL as it relates to their local communities, the sport as a whole, social media and fan-driven content. Candidates will go through a three-part interview process with the League to be selected.
This select group of youth advisors will participate in meetings conducted remotely throughout the year (via phone, general internet access and Zoom) to provide honest and impartial suggestions and opinions to the NHL on various topics including marketing of the game, community engagement, rules of play, events and social media content. Participants will serve as an advisor for one season and help increase fandom amongst fans 17 and under.
"NHL Power Players deliver key insights, creative ideas and honest feedback to the NHL. We are delighted to open the application process for a third consecutive year as we continue engaging with youth across the United States and Canada," said Heidi Browning, NHL Senior Executive Vice President & Chief Marketing Officer. "We look forward to finding the next class of NHL Power Players – young fans, who are passionate about hockey and knowledgeable about the game, but even more passionate about how we grow our sport now and in the future."
To be eligible to apply for NHL Power Players™, you must:
Be between the ages of 13-17 years old living in the U.S. or Canada
Be open, honest and willing to share your ideas with the NHL and your peers
Have access to internet and social media platforms; E-mail, Instagram, Facebook, Twitter, Zoom (not required, but a plus); and
Have a passion for hockey.
NHL Power Players™ will have the opportunity to be featured in League marketing (i.e., NHL Social™ content), and receive exclusive NHL Power Players™ merchandise and a certificate of completion. Participants chosen for NHL Power Players™ will be announced in advance of the 2021-22 NHL season.
Legal Disclaimer
Privacy Notice: The NHL will use the information you provide on the application form in order to assess your application and interest in the NHL Power Players™ Youth Advisory Board program. Applications will be reviewed by the NHL Power Players™ Committee who will select a list of finalists. All finalists will participate in a phone/video call interview before final board members are selected. We collect your parent's (or legal guardian's) contact information so that we can notify them that you have submitted an application and, if you are accepted, to obtain their consent for your participation in the Advisory Board. Please ensure you obtain your parent's (or legal guardian's) consent to provide us their contact information for this purpose. If you are selected for a position on the Advisory Board, we will also collect and use any feedback or ideas you provide, and some of this information may be shared with NHL member teams. To learn more, please read our NHL Power Players™ Youth Advisory Board Privacy Notice.
About the NHL
The National Hockey League (NHL®), founded in 1917, consists of 31 Member Clubs and proudly welcomes its 32nd franchise, the Seattle Kraken™, for the 2021-22 season. Each team roster reflects the League's international makeup with players from more than 20 countries represented, all vying for the most cherished and historic trophy in professional sports – the Stanley Cup®. Every year, the NHL entertains more than 670 million fans in-arena and through its partners on national television and radio; more than 151 million followers – league, team and player accounts combined – across Facebook, Twitter, Instagram, Snapchat and YouTube; and more than 100 million fans online at NHL.com. The League broadcasts games in more than 160 countries and territories through its rightsholders including NBC/NBCSN and the NHL Network™ in the U.S., Sportsnet and TVA in Canada, Viaplay in the Nordic Region and CCTV and Tencent in China. The NHL reaches fans worldwide with games available online in every country including via its live and on-demand streaming service NHL.TV™. Fans are engaged across the League's digital assets on mobile devices via the free NHL® App; across nine social media platforms; on SiriusXM NHL Network Radio™; and on NHL.com, available in eight languages and featuring unprecedented access to player and team statistics as well as every regular-season and playoff game box score dating back to the League's inception, powered by SAP. The NHL is committed to building healthy and vibrant communities through the sport of hockey by increasing youth participation and engagement; fostering positive family experiences; promoting inclusion, positive culture and leadership; and supporting sustainable community impact.
COURTESY NHLmedia.com