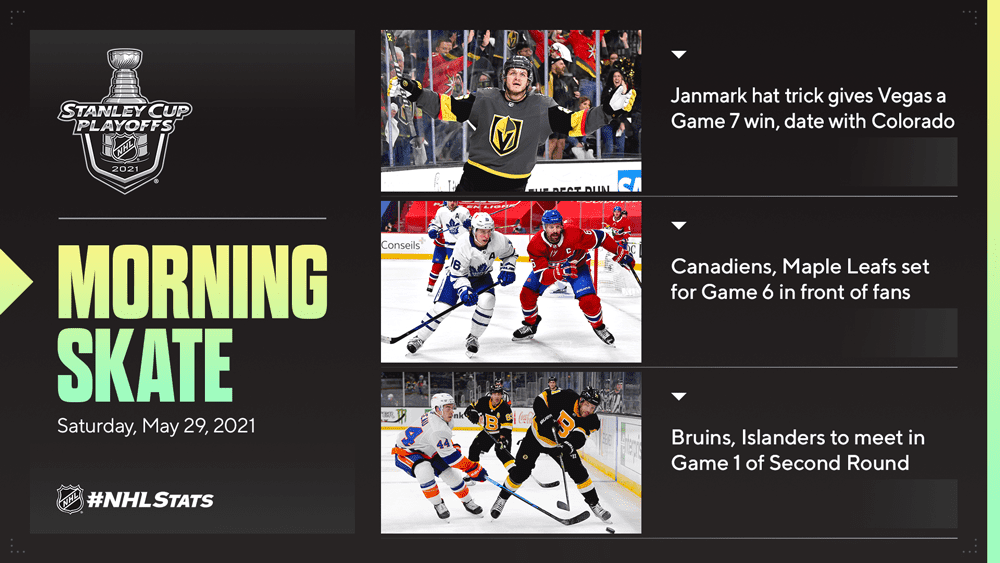 THREE HARD LAPS

* The home crowd left happy – and with fewer hats – following the first-ever Stanley Cup Playoffs Game 7 played in Las Vegas as the Golden Knights advanced to the Second Round.
* An NHL game in Canada will be played in front of fans for the first time in 14 and a half months as the Canadiens welcome both the Maple Leafs and a crowd of 2,500 to the Bell Centre for Game 6 on Hockey Night in Canada. Montreal will aim to force Game 7 against Toronto, a showdown seen only once before – nearly 60 years ago.
* For the first time since 2016, games in different playoff rounds will be contested on the same day as the Islanders visit the Bruins for Game 1 of their Second Round series.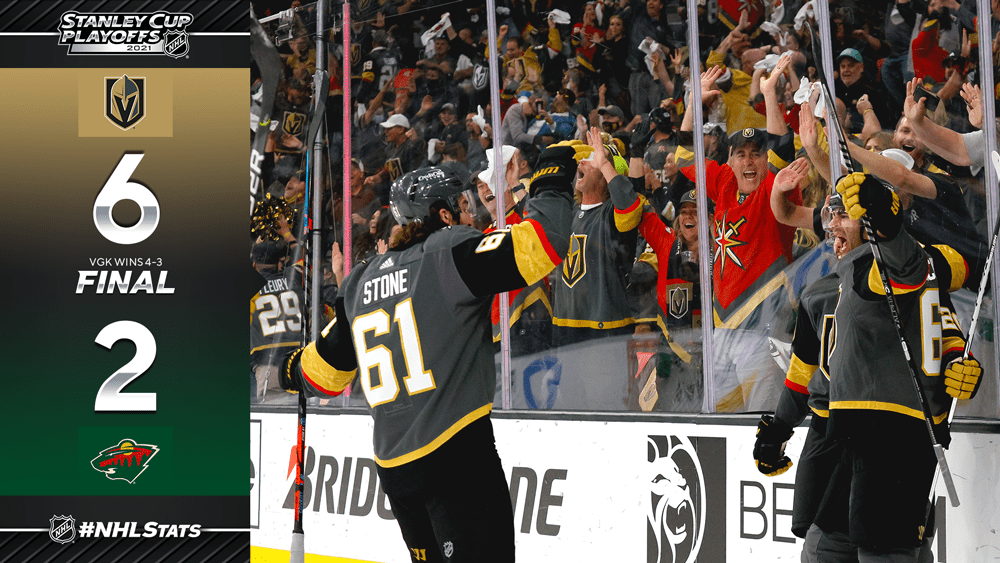 PACIORETTY WINNER, JANMARK HAT TRICK LIFT VEGAS IN GAME 7
Making his 2021 Stanley Cup Playoffs debut, Max Pacioretty scored the third go-ahead goal of the game at 7:44 of the second period and Mattias Janmark later completed the first hat trick of his NHL career as the Golden Knights won the first-ever Game 7 played in Las Vegas.
* The Golden Knights advance to the Second Round where they will face the Presidents' Trophy winning Avalanche for their first-ever head-to-head playoff series (Vegas defeated Colorado in the 2020 SCQ). Vegas will now try to achieve a feat accomplished by only four clubs in NHL history – win a Game 7 and then defeat the NHL's No. 1-ranked team in the next round.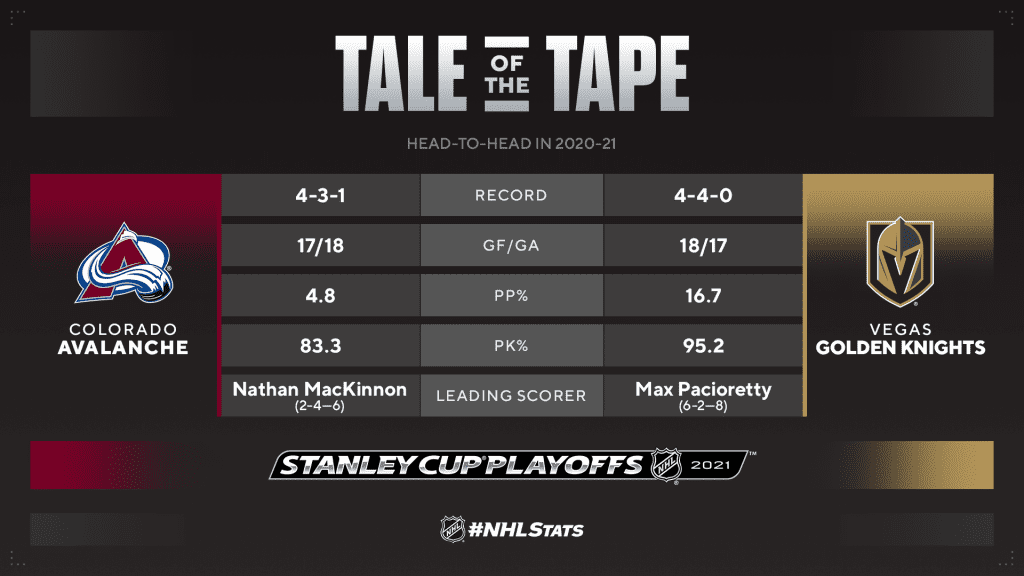 * Pacioretty scored his third career series-clinching goal and second in a Game 7. He became the 12th player in NHL history to score multiple career Game 7-clinching goals, joining Patrice Bergeron, Joe Pavelski, Bryan Rust and Paul Stastny as the only active players on that list. No players have three such goals.
JANMARK NETS EIGHTH GAME 7 HAT TRICK IN NHL HISTORY
Mattias Janmark gave the crowd of 12,156 at T-Mobile Arena plenty of reasons to celebrate – and toss their hats – as he netted the second playoff hat trick in franchise history.
* Acquired from Chicago (via San Jose) on April 12, Janmark entered the game with only one goal in a Vegas uniform (21 GP, regular season and playoffs). The 28-year-old also had only four career playoff goals to his credit before Friday, all with Dallas (45 GP).
* Janmark became the eighth player in Stanley Cup Playoffs history to score a hat trick in a Game 7 and the second in as many years to do so. It just so happens that Janmark also was involved in the last Game 7 hat trick – he celebrated Joel Kiviranta's three-goal performance in the 2020 Second Round as a member of the Stars.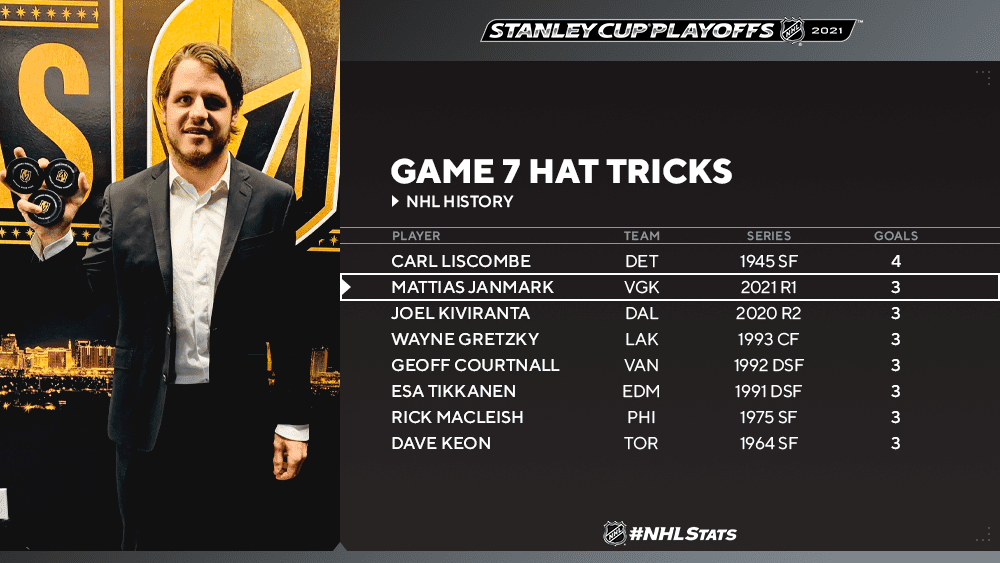 UPDATES TO GAME 7 LEADERBOARDS AND TRENDS
* Peter DeBoer improved to 6-0 in six career Game 7s; Tommy Ivan (4-0 w/ DET from 1949 to 1954) is the only other head coach in NHL history to win at least his first four Game 7s. Overall, DeBoer is the fourth head coach in NHL history to claim six Game 7 wins at any point in his career, following Darryl Sutter (7-3), Scotty Bowman (6-3) and Pat Burns (6-3).
* Defensemen Alec Martinez and Alex Pietrangelo each improved to 5-0 in career Game 7s and are now among a group of nine active players who won each of their first five or more Game 7s. Teammates Patrick Brown, Nicolas Roy and Zach Whitecloud all improved to 2-0.
* Marc-Andre Fleury (4-4) made 18 saves to become the 10th goaltender in NHL history (third active) with four or more career Game 7 wins. Fleury also became the sixth goaltender in League history to appear in eight career Game 7s.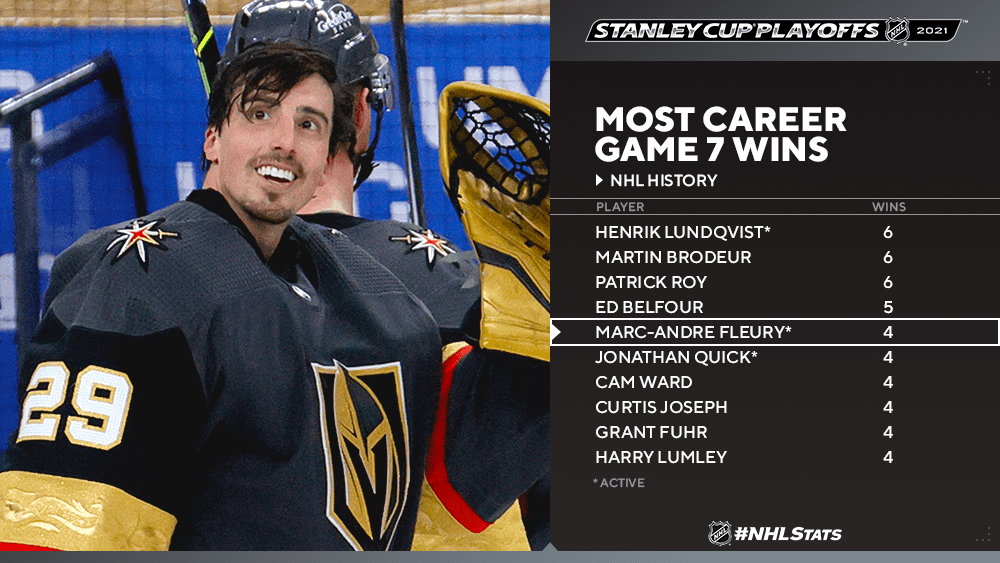 * The team that scores first improved to 136-46 (.747) in the 182 all-time Game 7s in the Stanley Cup Playoffs.

* Home teams improved to 106-76 (.582) in the 182 all-time Game 7s in the Stanley Cup Playoffs.
CANADIENS LOOK TO EXTEND FIRST ROUND AS SECOND ROUND BEGINS
The Canadiens will welcome fans back to Bell Centre when they try to force Game 7 in their First Round series against the rival Maple Leafs, with the puck dropping on the Second Round just 30 minutes later when the Islanders and Bruins clash at TD Garden.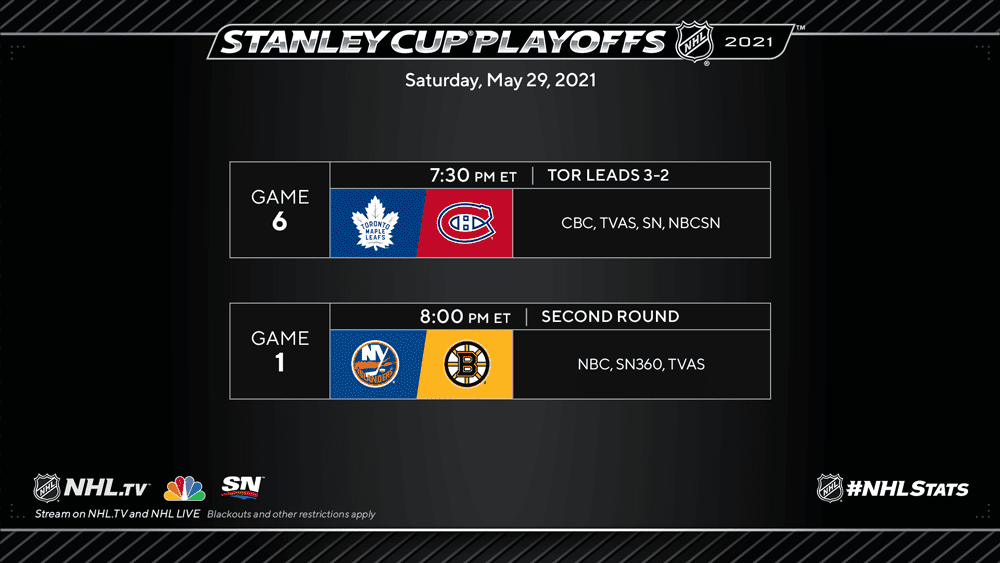 * This is the 10th day in the NHL's expansion era (since 1967-68) to include games from different rounds. Ironically, the only other instances in the last 47 years (April 27, 2016 and April 24, 1983) involved the two clubs opening the Second Round today.
* On April 27, 2016, the Islanders won Game 1 of their Second Round series against the Lightning – on the strength of a winning goal by John Tavares – hours before the Predators capped the First Round by claiming Game 7 against the Ducks.
* On April 24, 1983, the Bruins won Game 7 of their Division Finals series against the Sabres, with Brad Park scoring an overtime goal at Boston Garden about an hour before the final buzzer of an 8-4 Oilers victory at Northlands Coliseum in Edmonton against the Blackhawks in Game 1 of the Conference Finals. Two days later, Boston and New York met in the opening contest of what was their last playoff series until this year.
FANS WILL BE IN THE BUILDING AS MONTREAL TARGETS GAME 7 VS. TORONTO
Frontline workers will be among the 2,500 fans in attendance tonight when Montreal looks to extend its series against Toronto. The host Canadiens will look to set up the second all-time Game 7 against their 104-year rivals as they become the first Canadian team to open its doors to fans for a game since March 11, 2020.
* The Canadiens faithful also will have the opportunity to watch rookie Cole Caufield play in-person for the first time. Caufield, who entered the series in Game 3, registered his first career playoff point on the overtime goal in Game 5. He became the seventh player in franchise history to record his first career Stanley Cup Playoffs point in overtime and just the second to do so in the last 42 years (also Dale Weise: Game 1 of 2014 R1).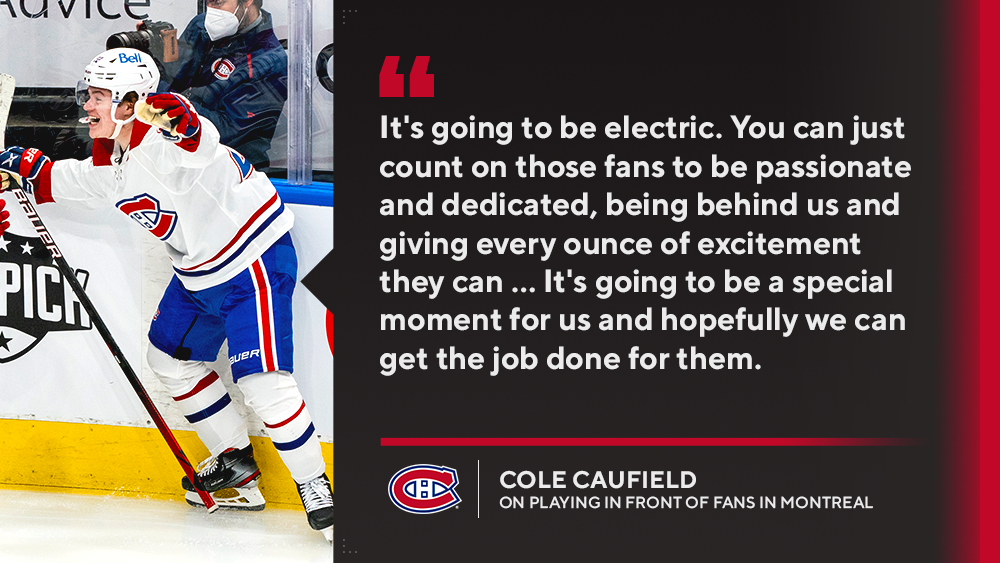 * The only Game 7 to date between Toronto and Montreal came in the 1964 Semifinals when Dave Keon scored all three Maple Leafs goals in a 3-1 victory as Toronto took the winner-take-all showdown en route to hoisting the Stanley Cup. Keon's hat trick was the second ever by an NHL player in a Game 7 (Carl Liscombe: 1945 SF w/ DET).
BRUINS HOST ISLANDERS IN FIRST PLAYOFF MEETING IN 38 YEARS
The Bruins will host the Islanders for Game 1 of their Second Round series, thanks in part to a victory over New York on May 10 that allowed Boston to clinch the No. 3 seed in the MassMutual East Division.

* In the last playoff game between these clubs, on May 7, 1983, Butch Goring opened the scoring just 33 seconds in and Mike Bossy scored four goals in an 8-4 Islanders victory to lift the then-three-time defending Stanley Cup champions to a Game 6 win at Nassau Coliseum.
* The goaltending matchup for this series could see Bruins veteran Tuukka Rask face either Ilya Sorokin or Semyon Varlamov in Game 1. Sorokin claimed all four Islanders victories in the First Round – one of 10 goaltenders in NHL history to win each of his first four career playoff appearances – while Varlamov backed New York to each of its five wins against Boston during the 2020-21 regular season.
* Rask, who ranks third among active goaltenders with 98 career playoff appearances, has allowed only one goal against in each of his last two outings. Rask has gone three consecutive games allowing one goal or fewer twice in his playoff career, in 2013 (5 GP; Game 5 vs. NYR and Games 1-4 vs. PIT) and in 2014 (3 GP; Games 1-3 vs. DET).
COURTESY NHLmedia.com