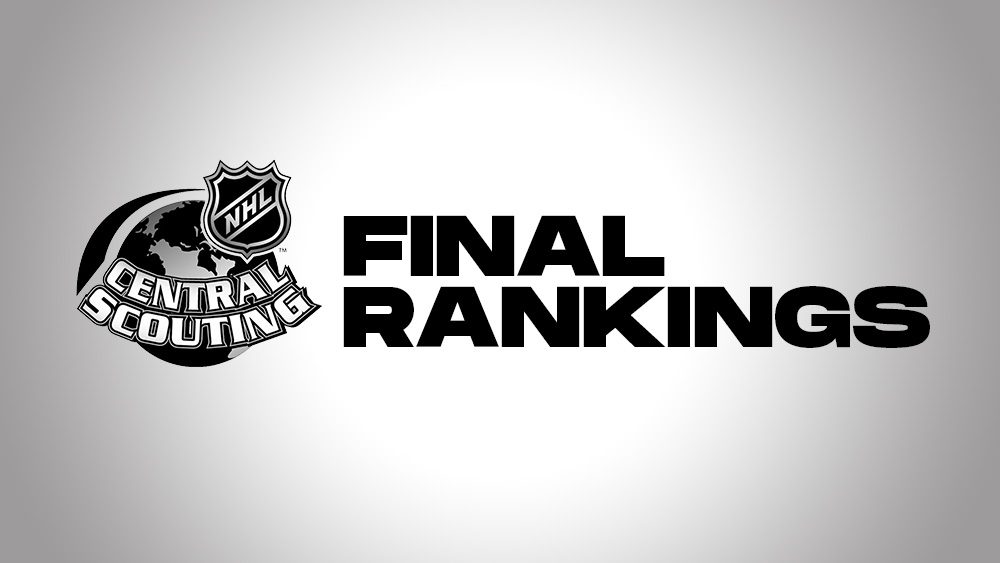 Three players from University of Michigan ranked among top six in North America
NEW YORK (May 27, 2021) – Owen Power (Mississauga, Ont.), a 6' 6" defenseman from the University of Michigan, ranks No. 1 among North American skaters for the 2021 NHL Draft as the NHL Central Scouting Bureau today released its final rankings. Power is one of three players from the University of Michigan to be ranked among the top six, alongside No. 3 center Kent Johnson (Port Moody, B.C.) and No. 6 center Matthew Beniers (Hingham, Mass.). No NCAA team has ever had three players selected in the first round of the NHL Draft in the same year.

"For the University of Michigan, this season was a once in a lifetime occurrence where three of the best prospects in the NHL Draft class competed on the same team," said NHL Director of Central Scouting Dan Marr. "Each plays a different position and style, and all contributed as freshmen. Credit to Coach Mel Pearson for placing them in leadership roles to contribute and develop at the NCAA level. He helped guide them to be the best they could be."

Rounding out the top-five North American skaters are No. 2 Mason McTavish (Carp, Ont.), a center for Peterborough of the Ontario Hockey League who played on loan with Olten of the Swiss second division in 2020-21; No. 4 Luke Hughes (Manchester, N.H.), a defenseman from Team USA's Under-18 National Team Development Program and the brother of recent high-end selections Quinn Hughes (No. 7 by VAN in 2018) and Jack Hughes (No. 1 by NJD in 2019); and No. 5 Dylan Guenther (Edmonton, Alta.), a forward from Edmonton of the Western Hockey League.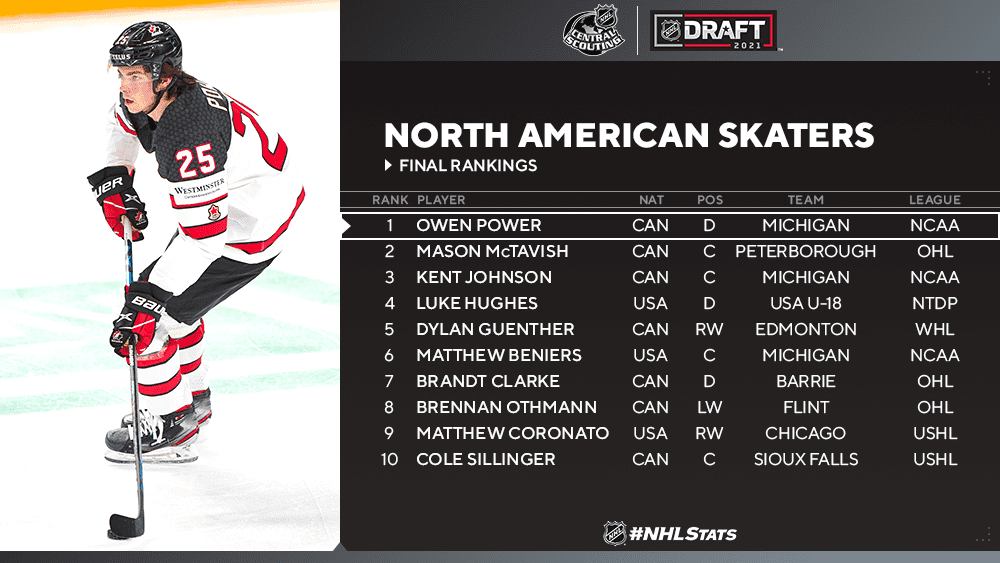 Power can become the third NCAA player taken with the No. 1 overall pick, and first since the Islanders selected goaltender Rick DiPietro out of Boston University in 2000. The other: Michigan State forward Joe Murphy (1986 by DET). The highest selected player out of the University of Michigan was defenseman Aaron Ward – the original Jets picked him in the No. 5 slot in 1991.

"Power is an excellent package of NHL size, skating and attributes which he utilizes effectively in all situations," said Marr. "His hockey sense is intuitive and instinctive. A very fluid and agile skater who can transition quickly on plays and separate himself from checking. He plays a mature game for his age and is at the top of this Draft class."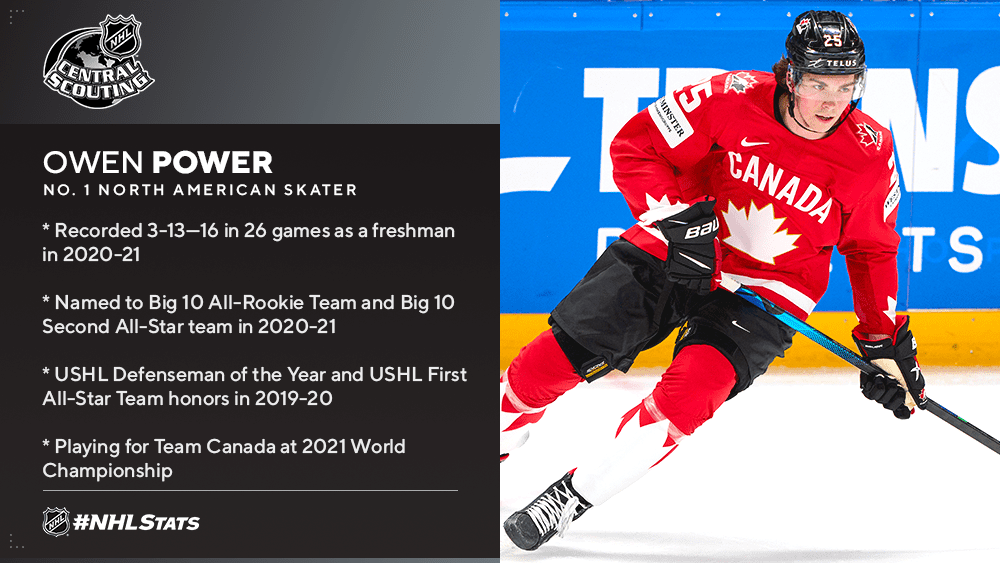 McTavish, a Canadian national who was born in Zurich, Switzerland during his father's professional hockey career, had ties to both countries in 2020-21. He played 13 games on loan to Olten in the Swiss second division because the OHL was unable to play this season and also helped Canada earn gold at the Under-18 World Championship for the first time since 2013.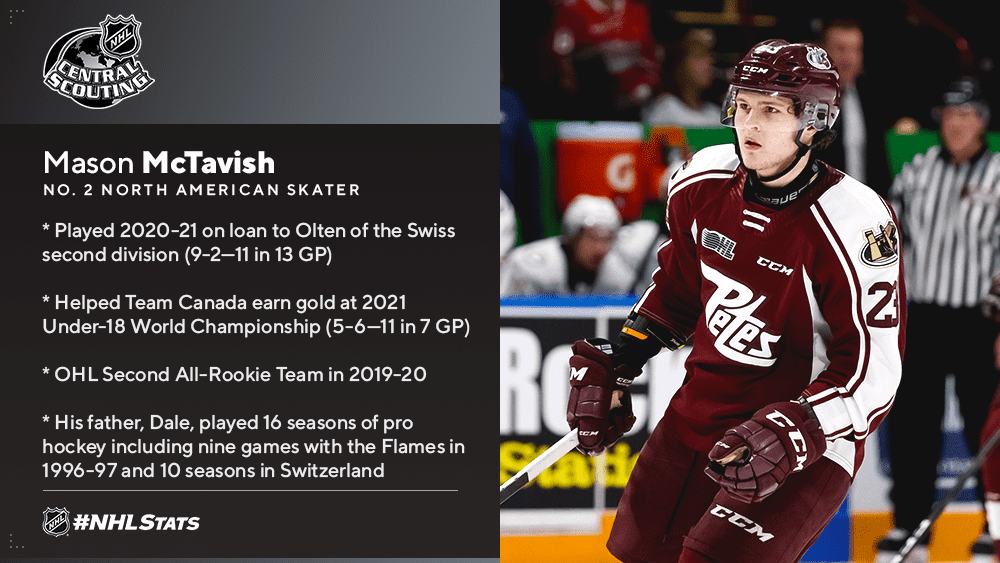 William Eklund (Stockholm, Sweden), a left wing for Djurgarden of the Swedish Hockey League, tops all international skaters while Sebastian Cossa (Hamilton, Ont.) of Edmonton in the WHL and Jesper Wallstedt (Vasteras, Sweden) of Lulea in the Swedish Hockey League rank No. 1 among goaltenders on the North America and International lists, respectively.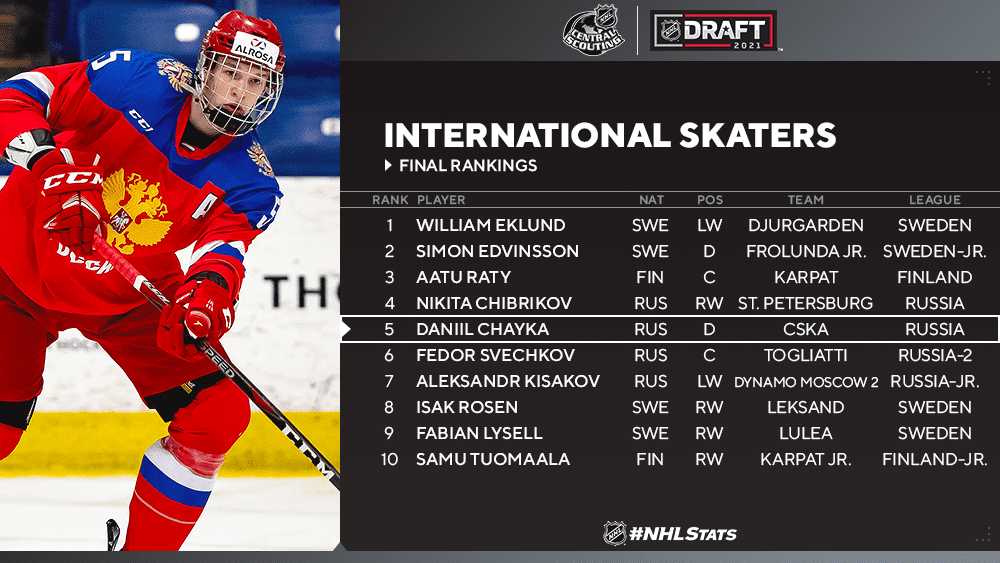 "Eklund is a speedy winger who played a big role on Djurgarden in the Swedish Hockey League," said Marr. "He competes and works hard with excellent hockey sense, quickness and elite puck skills to be both a playmaker and a scorer. A scoring threat on every shift, he plays bigger than his size and plays to win."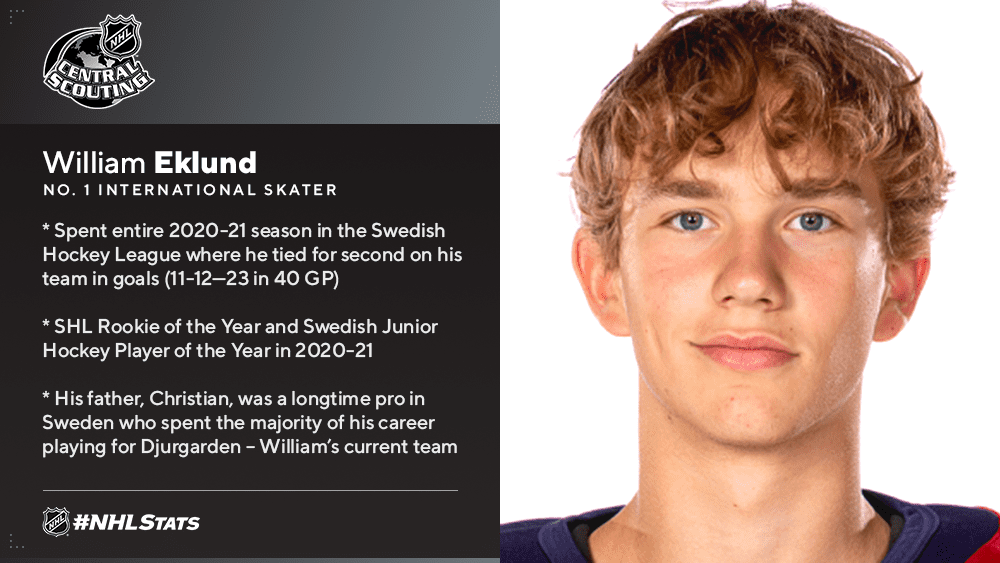 The final rankings feature the top 224 skaters and 32 goaltenders in North America as well as the top 150 skaters and 13 goaltenders internationally.

In its 46th year of operation, NHL Central Scouting provides evaluation and scouting of draft-eligible players to NHL member clubs. Headed by Director of Central Scouting Dan Marr, NHL Central Scouting employs eight full-time scouts throughout North America. To report on prospects playing internationally, the NHL employs the services of Goran Stubb and his staff at European Scouting Services based in Finland.

The 2021 NHL Draft will be held virtually over two days from July 23-24, 2021.

For NHL Draft history visit https://records.nhl.com/draft.
COURTESY NHLmedia.com