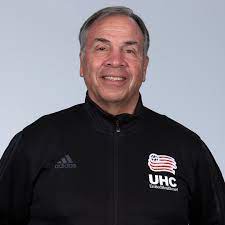 ARENA ENTERS YEAR THREE AT HELM OF REVOLUTION
Bruce Arena continues climbing the MLS record books in what is now his
17th MLS season as a head coach. Already the winningest active coach
in MLS, he eclipsed the late Sigi Schmid last season for most MLS Cup
Playoff games coached (54).
Arena owns 255 combined regular season and postseason wins in MLS.
In 2019, he became the second head coach in MLS history to eclipse 700
regular season points earned, joining Sigi Schmid (843). With an all-time
regular season record of 220-132-107 (18-11-18 with New England), Arena
ranks second in league history in regular season wins and points earned.
ALL-TIME MLS COACHING LEADERS: REGULAR SEASON WINS
Rank Player Clubs Coached Wins
Sigi Schmid LA, CLB, SEA 240
Bruce Arena* DC, LA, NY, NE 220
Bob Bradley* CHI, NY, CHV, LAFC 171
Dominic Kinnear SJ, HOU, LA 170
Peter Vermes* SKC 157
Among MLS coaches with at least 100 games coached, Arena also owns
the second-best winning percentage:
ALL-TIME MLS COACHING LEADERS: WINNING PERCENTAGE
Rank Player Clubs Coached Winning %
Brian Schmetzer* SEA .616
Bruce Arena* DC, NY, LA, NE .596
Octavio Zambrano LA, NY .587
Bob Bradley* CHI, NY, CHV, LAFC .575
Jesse Marsch CHV, NY .563
*Min. 100 games coached
The five-time MLS Cup champion last year improved his all-time playoff
record to 35-13-6, and maintained his undefeated record in playoff games
where his teams score first (29-0-3). His 35 playoff wins are the most alltime. Arena has reached the conference finals eight times in his career,
and advanced to MLS Cup seven times in his previous 16 seasons.
ALL-TIME MLS CUP PLAYOFF LEADERS: WINS
Rank Player Clubs Coached Wins
Bruce Arena* DC, LA, NY, NE 35
Sigi Schmid LA, CLB, SEA 26
T-3. Bob Bradley* CHI, NY, CHV, LAFC 15
T-3. Dominic Kinnear SJ, HOU, LA 15
T-3. Brian Schmetzer* SEA 15
*Active MLS Head Coach.
Arena's five MLS Cup victories are unlikely to rivaled anytime soon, as no
other active coach has more than two trophies under their belt. The only
other active MLS coaches with MLS Cup wins are Bob Bradley (1998),
Caleb Porter (2015 & 2020), Brian Schmetzer (2016 & 2019), and Greg
Vanney (2017).
COURTESY NEW ENGLAND REVOLUTION COMMUNICATIONS