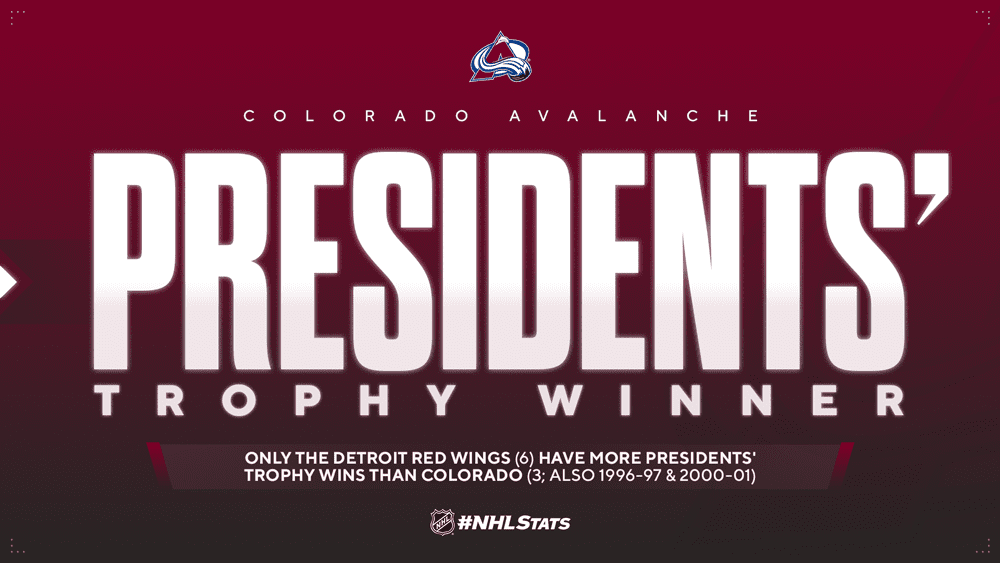 Avalanche Finish as No. 1 Seed in NHL Standings for Third Time in Franchise History
NEW YORK (May 13, 2021) – The Colorado Avalanche have claimed the 2020-21 Presidents' Trophy as the team with the best overall record, winning their final game of the regular season to overtake the Honda NHL West Division rival Vegas Golden Knights.
The Avalanche (39-13-4, 82 points) clinched the third Presidents' Trophy in franchise history (also 1996-97 and 2000-01) with a victory against the Los Angeles Kings Thursday to pull ahead of the Golden Knights (40-14-2, 82 points). Colorado finished as the top seed by virtue of the regulation wins tiebreaker (COL: 35, VGK: 30).
Colorado's rise to the top of the NHL standings was aided by a 15-game point streak that spanned from March 10 to April 5 (13-0-2) and fell one shy of the franchise record set in 2000-01 – the last time they won the Presidents' Trophy (and the Stanley Cup). The Avalanche, who had a 4-3-1 head-to-head record against the Golden Knights in 2020-21 (VGK: 4-4-0), then concluded the regular season with a five-game winning streak and franchise record-tying 17-game home point streak (16-0-1 from March 10 to May 13).
Colorado is the fifth franchise to win the Presidents' Trophy three or more times since its inception in 1985-86, following the Detroit Red Wings (6), Boston Bruins (3), New York Rangers (3) and Washington Capitals (3). Only Detroit (5) and Washington (3) have claimed the award as many times since the Avalanche began play in Denver in 1995-96.
The Avalanche also claimed the No. 1 seed in the Honda NHL West Division, their 12th division title in franchise history (10th since relocating to Denver in 1995-96) and second in the past 17 seasons (also 2013-14: Central Division).
The Avalanche will face the St. Louis Blues in the First Round of the 2021 Stanley Cup Playoffs, with Game 1 scheduled for Monday, May 17, at Ball Arena in Denver (10 p.m. ET on NBCSN, SN1, TVA Sports).
COURTESY NHLmedia.com