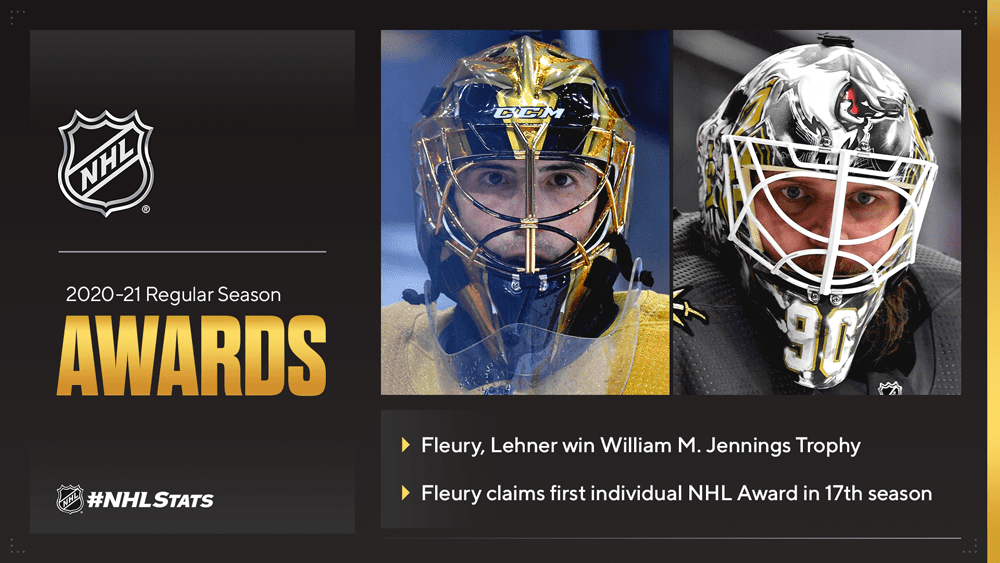 NEW YORK (May 12, 2021) – The Vegas Golden Knights tandem of Marc-Andre Fleury and Robin Lehner have won the 2020-21 William M. Jennings Trophy as the goaltenders who played for the team allowing the fewest goals during the regular season. Vegas yielded a League-low 124 goals in 56 games, four fewer than its closest competitor (NYI: 128 GA).
The minimum games played requirement of 25 games was prorated to 17 appearances due to the 56-game schedule, making both Fleury (26-10-0, 1.98 GAA, .928 SV%, 6 SO) and Lehner (13-4-2, 2.29 GAA, .913 SV%, 1 SO) eligible for the award – a first for the Golden Knights.
Fleury, who climbed two spots into third place on the NHL's all-time wins list in 2020-21, ranks among the League leaders in wins (3rd; 26), shutouts (3rd; 6), goals-against average (4th; 1.98) and save percentage (5th; .928). He is the first goaltender in League history to claim his first individual NHL Award in his 17th season or later.
Lehner, who won the Jennings Trophy with the New York Islanders in 2018-19, is the seventh goaltender to claim the honor with multiple clubs (also Ed Belfour, Manny Fernandez, Jaroslav Halak, Dominik Hasek, Patrick Roy and Roman Turek).
This is the sixth NHL Award collected by the Golden Knights, adding to the five earned during their inaugural season in 2017-18: the Lady Byng Memorial Trophy (William Karlsson), Mark Messier NHL Leadership Award (Deryk Engelland), Jack Adams Award (Gerard Gallant), Jim Gregory General Manager of the Year Award (George McPhee) and Clarence S. Campbell Bowl as Western Conference champions.
Vegas (40-14-2, 82 points), the current No. 1 seed in the NHL standings, is one of two teams still in contention for the 2020-21 Presidents' Trophy – the Honda NHL West Division rival Colorado Avalanche (38-13-4, 80 points) sit two points back with one game remaining (May 13 vs. LAK). The Avalanche (34) hold the Regulation Wins tiebreaker against the Golden Knights (30).
COURTESY NHLmedia.com