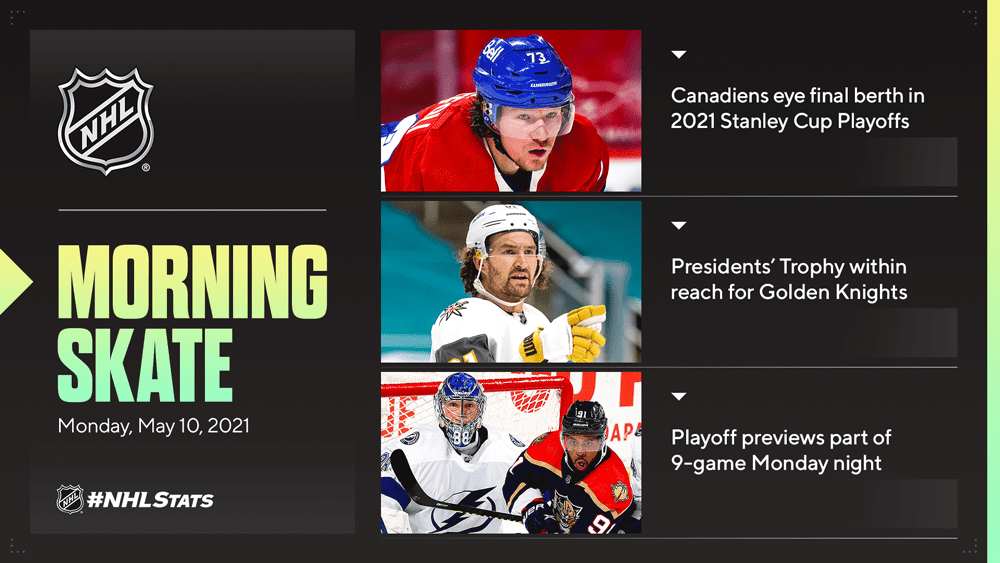 THREE HARD LAPS

* The final playoff spot, Presidents' Trophy and last division crown all are up for grabs on a nine-game Monday in the NHL.
* The Canadiens can lock up the 16th and final spot in the 2021 Stanley Cup Playoffs when they face the Oilers at Bell Centre. Montreal will clinch if they get at least one point.
* The Golden Knights will look to claim their third division title and first Presidents' Trophy when they battle the Avalanche at T-Mobile Arena. Vegas would clinch both with a victory of any kind.

STANLEY CUP PLAYOFFS PICTURE COULD COME INTO FOCUS TONIGHT
With 24 games remaining in the 2020-21 regular-season, Monday could create a clearer picture for the 2021 Stanley Cup Playoffs. Still to be determined are one playoff spot, one division crown, the Presidents' Trophy winner, six of eight First Round matchups and nine playoff seeds.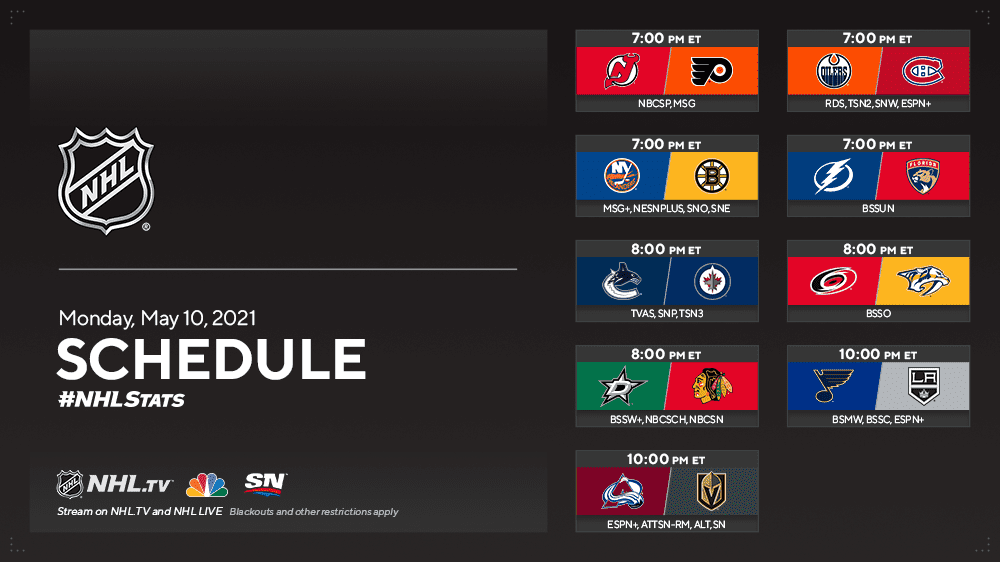 WHAT'S AT STAKE TONIGHT?

* The Canadiens (24-21-9, 57 points) can claim the 16th and final berth in the 2021 Stanley Cup Playoffs when they open a two-game set against the Oilers (33-18-2, 68 points). Both of the First Round matchups in the Scotia North Division could materialize on Monday – if the Canadiens clinch and the Jets claim as many or more points as Montreal does tonight, it would lock in Toronto vs. Montreal and Edmonton vs. Winnipeg series in the First Round.
* The League-leading Golden Knights (39-13-2, 80 points) would simultaneously secure their first Presidents' Trophy and third division crown if they defeat the Avalanche (36-13-4, 76 points) in any fashion. Vegas can become the first franchise in the NHL's modern era (since 1943-44) to finish atop the League standings within its first four seasons – the current benchmark in that time frame is five campaigns, set by the Oilers in 1983-84.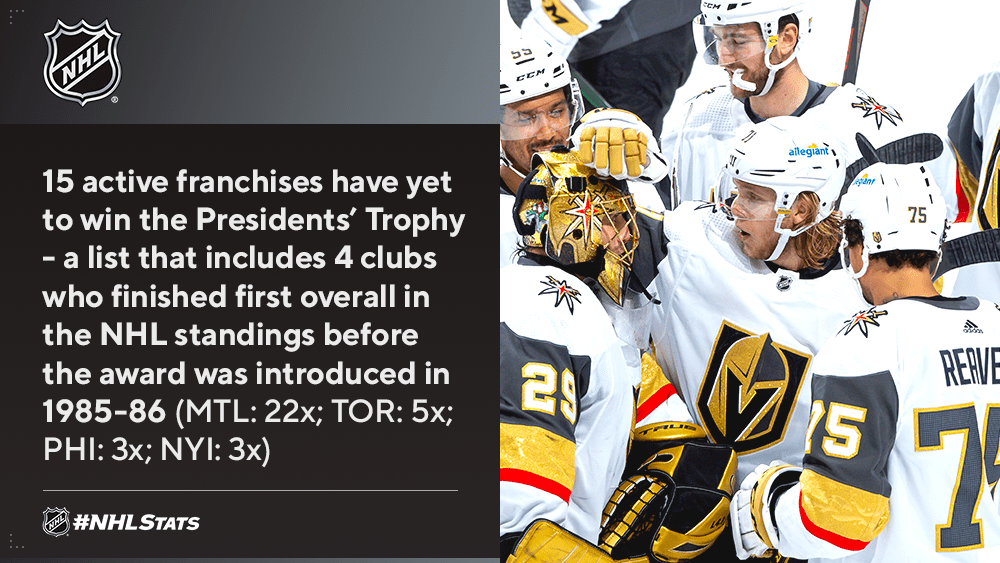 * A Vegas victory would confirm opening-round meetings between the Golden Knights and fourth-place Blues (24-20-9, 57 points) as well as the Avalanche and third-ranked Wild (35-14-5, 75 points), with home ice advantage still to be determined in the latter matchup.

* Florida (36-14-5, 77 points) and Tampa Bay (36-16-3, 75 points) will battle for home ice advantage in their head-to-head First Round series when they meet for a second straight game tonight. The Panthers would clinch the No. 2 seed for the first-ever playoff meeting between the intrastate rivals if they get at least one point.

* Matchups in the MassMutual East Division First Round also can be confirmed tonight. The Bruins (32-15-7, 71 points) would clinch the No. 3 seed if they get at least one point against the fourth-ranked Islanders (32-17-6, 70 points) – that would lock in Pittsburgh vs. New York and Washington vs. Boston in the opening round.
FLAMES STAY IN THE HUNT FOR STANLEY CUP PLAYOFFS
Johnny Gaudreau and Matthew Tkachuk each tallied 1-2—3 to help the Flames (23-26-3, 49 points) halt Ottawa's three-game winning streak and six-game point streak, keeping their playoff hopes alive in the process. In order to reach the postseason, Calgary needs to win each of its four remaining games (with at least one ROW) – all against Vancouver between Thursday and May 19 – and for Montreal to finish with regulation losses in each of its two remaining games.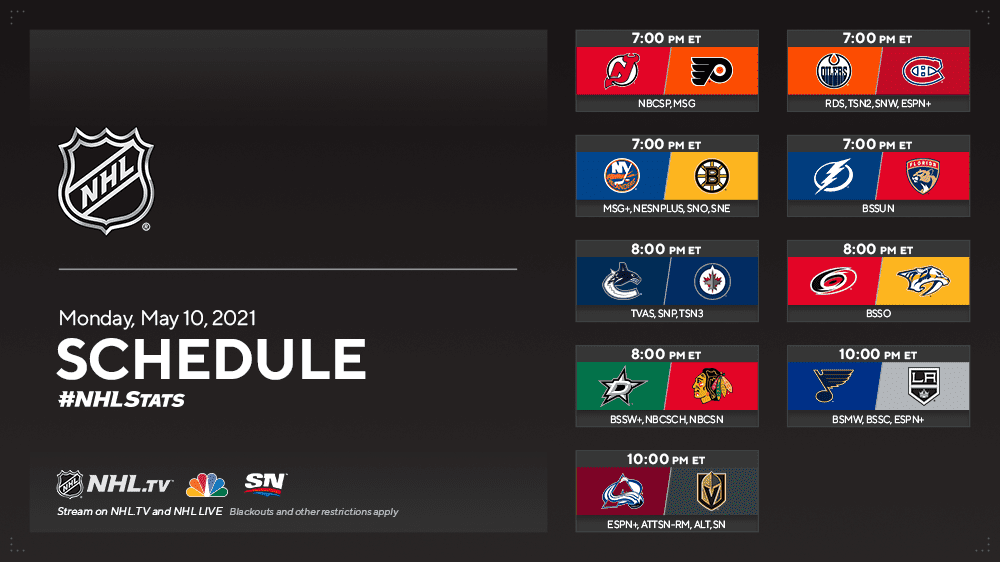 COURTESY NHLmedia.com