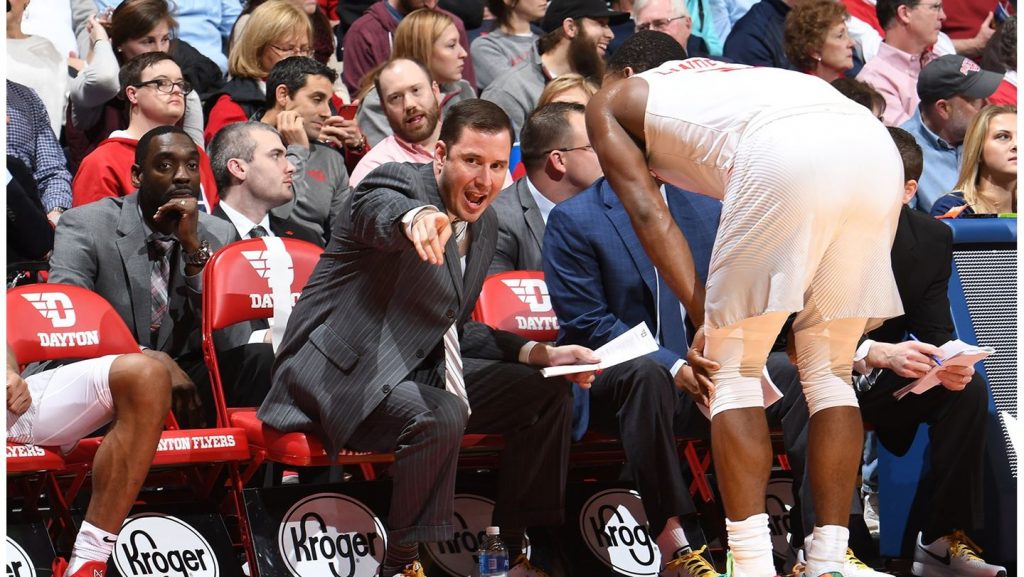 Wed, May 5, 2021
Florida Grad Has Previously Worked With Flyer Coach Anthony Grant At VCU, Alabama & UD
DAYTON – University of Dayton men's basketball coach Anthony Grant has announced that James Kane, who has worked with Grant at every one of his head coaching stops, will return to the Dayton coaching staff as an assistant coach. Kane replaces Anthony Solomon. Kane was on Grant's first staff at UD in 2017-18. He returns to the Flyers after three seasons as an assistant coach at Iowa State.
"We're excited to announce the addition of James Kane to our coaching staff," Grant said. "James brings a wealth of experience and knowledge to our program. Having served on our inaugural staff here at Dayton and in various roles with me over the past two decades, James also provides a familiarity with our coaches, support staff, and style of play. He is a relentless worker, teacher, & communicator, and excels as a builder of relationships and trust. He compliments our staff extremely well and will transition seamlessly into our culture and identity."
Kane first met Grant while Grant was on the coaching staff at the University of Florida, and Kane was an undergraduate student there. Grant gave Kane the opportunity to begin his career in college basketball when he hired Kane as a graduate assistant at VCU in 2006-07. Kane moved up to video coordinator at VCU for two years, and then went to 'Bama with Grant for two more seasons as video coordinator in 2007.
Kane then moved into coaching on the court at Murray State where he spent six seasons with the Racers, including four on Steve Prohm's staff. Kane played a major role in Murray State's success from 2011-17. The Racers were 151-52 record in those six seasons. Murray State advanced to the postseason three times, including the second round of the NCAA Tournament in 2012.
The Oakland Park, Fla. native first came to Dayton when Anthony Grant was named the Flyers' head coach in 2017-18, and immediately made an impact, when he was an integral part of recruiting Jalen Crutcher to UD. After the initial year at Dayton, Kane rejoined Prohm at Iowa State.
In Kane's first season in Ames, Iowa State went 23-12 overall and won the Big 12 Tournament. The advanced to the NCAA Tournament and were led by All-American Marial Shayok, the son of former Dayton Flyer Makor Shayok.
Among the 10 NBA players Kane has worked with are Shayok, and Cousy Award winner Ja Morant at Murray State.
While gaining a reputation as a tireless recruiter and for being outstanding in player development and game planning, his origins as a video coordinator under Grant at VCU and Alabama give him a unique skillset for using technology in the college game.
Kane graduated from the University of Florida in 2005 as a merit scholar with a degree in sport management and a minor in business administration. He spent the 2005-06 season interning for the NBA's Charlotte Bobcats in basketball operations and scout analysis. In 2006, he earned a master's degree in sport management from VCU's Center for Sport Leadership. He attended the Top Connect Assistant Coaches Conference in 2019 and 2020.
A Colombian-American, Kane is a member of the Latino Association of Basketball Coaches.
COURTESY DAYTON MEDIA RELATIONS