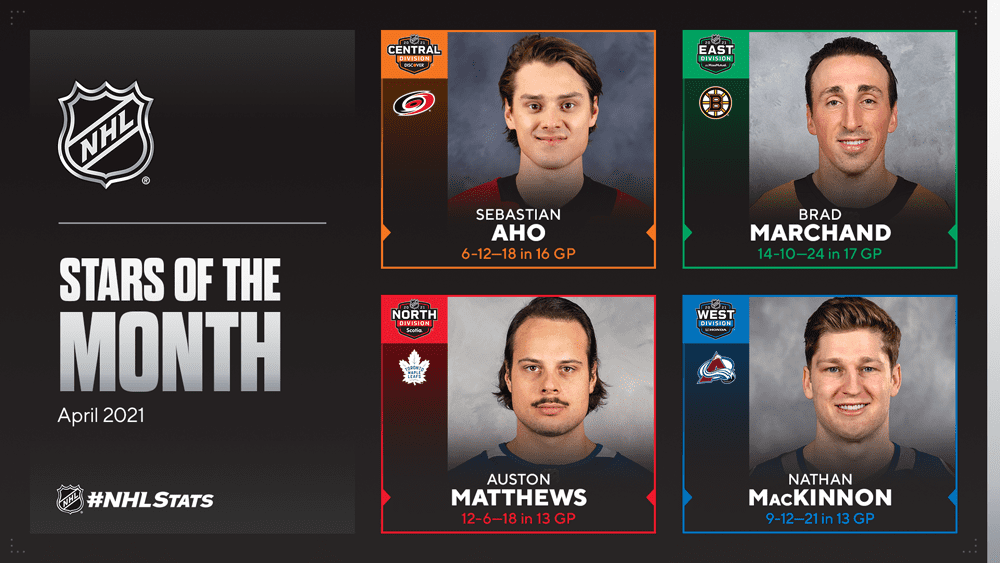 NEW YORK (May 1, 2021) – Carolina Hurricanes center Sebastian Aho and Wake County chief operating officer Johnna Sharpe (Discover NHL Central Division), Colorado Avalanche center Nathan MacKinnon and associate nurse manager Alyssa Laabs (Honda NHL West Division), Boston Bruins left wing Brad Marchand and registered nurse Meaghan Quinn (MassMutual NHL East Division), and Toronto Maple Leafs center Auston Matthews and clinical resource leader Sarah Rumbolt (Scotia NHL North Division) have been named the NHL's "Stars of the Month" for April.
Throughout the 2020-21 season the NHL is celebrating the remarkable efforts of the off-ice stars who make it possible for us to play our games amid a pandemic by honoring frontline healthcare heroes from the regions represented by the League's weekly and monthly "Stars."
More on each frontline healthcare hero and NHL player can be found below: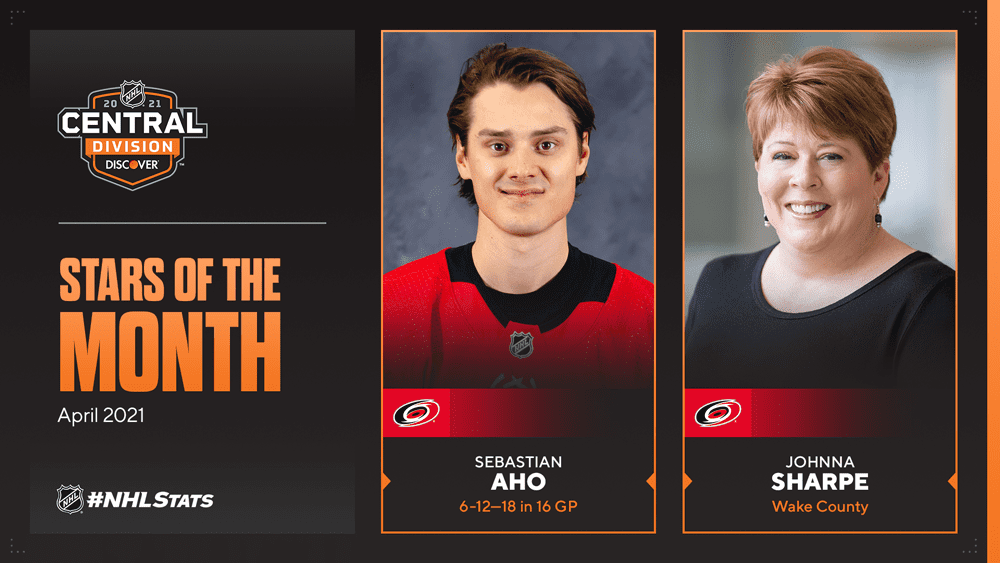 DISCOVER NHL CENTRAL DIVISION – JOHNNA SHARPE AND SEBASTIAN AHO
Sharpe serves as the chief operating officer for Wake County, N.C., where she has been at the forefront of the fight against COVID-19 while leading TEAM WAKE's public health efforts. A passionate public servant, Sharpe has helped combat the deadly virus by both developing plans for community testing sites and creating awareness campaigns about those locations, including the mass vaccination drive-through at PNC Arena – the home of the Hurricanes. Her leadership of the county's public health efforts has ensured that the health and safety of local citizens always comes first.
Aho registered 6-12—18 in 16 contests to power the Hurricanes (33-10-7, 73 points) to a League-best 24 April points (10-2-4), helping the team clinch its third consecutive playoff berth and move to the top of the overall NHL standings. Aho found the scoresheet in 11 of his 16 appearances, capped by a six-game point streak to close the month (April 20-29: 3-8—11). He also scored a trio of game-winning goals: April 8 vs. FLA, April 22 at FLA and April 27 at DAL. The 23-year-old Rauma, Finland, native leads Carolina with 21 goals, 51 points and six game-winning goals through 50 total outings in 2020-21. Among players to debut with the franchise, Aho ranks fourth with 142-172—314 through his first 360 career games, behind only Ron Francis (131-286—417), Kevin Dineen (173-170—343) and Sylvain Turgeon (173-147—320).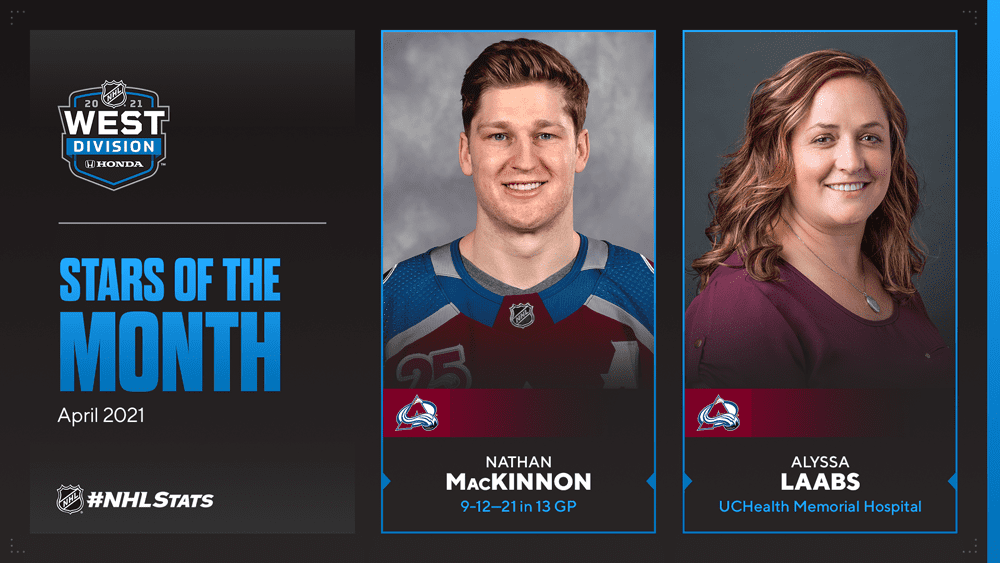 HONDA NHL WEST DIVISION – ALYSSA LAABS AND NATHAN MacKINNON
Laabs, who has worked in critical care for seven years, serves as an associate nurse manager in the intensive care unit (ICU) at UCHealth Memorial Hospital in Colorado Springs, Colo. When the pandemic surged beyond the walls of the ICU, Laabs made sure the hospital's staff was prepared and was redeployed back to bedside to take care of the sickest COVID-19 patients. She also organized a "Wellness Wednesday" program for the hospital's nursing staff, providing those who still were feeling the effects of the pandemic – even after the swell of patients – space to share their stories so they could confidently return to the amazing work they do.
MacKinnon factored on more than half of Colorado's goals during the month (21 of 40), topping all players in the Honda NHL West Division with 9-12—21 in 13 games as the Avalanche (32-12-4, 68 points) went 9-4-0 in April to secure their fourth straight playoff berth. He registered points in all but his final outing of the month, including consecutive three point-performances April 22 (0-3—3) and April 24 (1-2—3), both at STL. MacKinnon recorded five other multi-point games, highlighted by a pair of tallies and the game-winning goal April 2 vs. STL. The 25-year-old Halifax, N.S., native – who paced the League with 11 power-play points in April (5-6—11) – ranks fourth in the NHL with 19-42—61 through 44 total contests this season, also sitting among the League leaders in power-play points (3rd; 25), shots on goal (3rd; 184) and assists (t-5th; 42).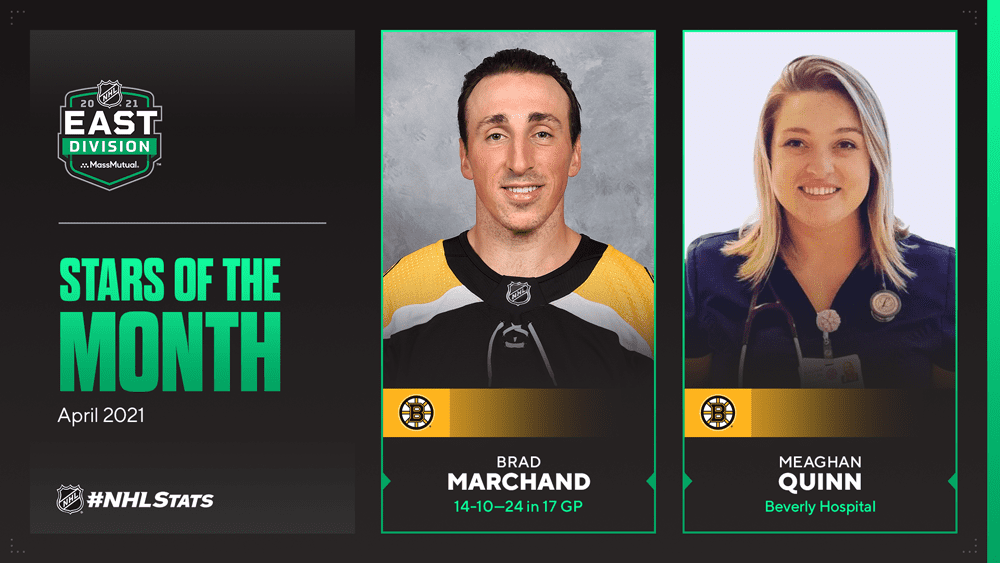 MASSMUTUAL NHL EAST DIVISION – MEAGHAN QUINN AND BRAD MARCHAND
Quinn works as a labor and delivery nurse at Beverly Hospital in Beverly, Mass. She switched to that unit – her dream job – right before the pandemic, but soon realized help was needed in her old department, which had transformed into a COVID-19 response floor. Quinn – who is heralded by coworkers not only as a great nurse but also an amazing woman – quickly contacted her former floor manager as well as administration at the hospital, asking if she could return to her prior job. After being given the green light – and while still being oriented in her new unit – she picked up extra shifts to serve on the frontlines of the pandemic.
Marchand paced the NHL with 14-10—24 in 17 outings, also topping the League in goals (14), shorthanded goals (3) and game-winning goals (t-4) to power the Bruins (29-14-6, 64 points) to an 11-5-1 April. He collected points in 11 of his 17 contests, highlighted by a trio of four-point performances: April 3 vs. PIT (3-1—4), April 6 at PHI (1-3—4) and April 18 vs. WSH (2-2—4). Marchand also scored in 10 of his April appearances to more than double his goal total for the season and become the first Boston player with 14 or more goals in a single calendar month since December 1982 (Barry Pederson: 15 G). The 32-year-old Halifax, N.S., native has skated in 47 total games this season, placing among the League leaders in shorthanded points (1st; 7), shorthanded goals (t-1st; 4), goals (t-3rd; 27), shooting percentage (5th; 22.0) and points (7th; 60).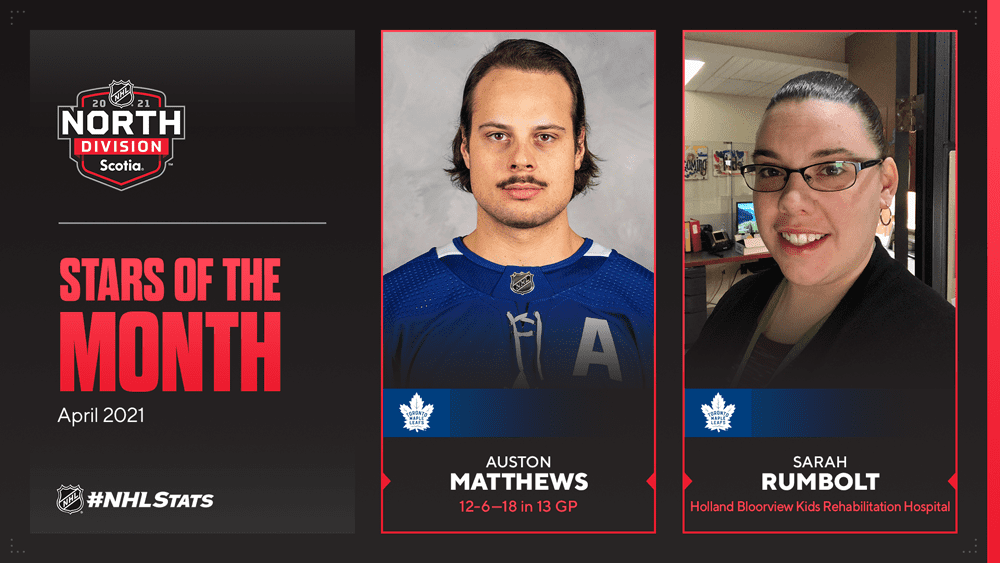 SCOTIA NHL NORTH DIVISION – SARAH RUMBOLT AND AUSTON MATTHEWS
Rumbolt serves as a clinical resource leader on the specialized orthopedic and developmental rehab unit at Toronto's Holland Bloorview Kids Rehabilitation Hospital, where she has worked as a nurse for 13 years. Rumbolt initially pursued a career in nursing because it promised her the opportunity to make a difference in the lives of others each day. She is a caring and compassionate leader who prioritizes the safety and well-being of children and their families. Rumbolt, who is praised as a role model, mentor and leader to frontline nursing staff, is most proud of the exemplary collaboration and dedication she has witnessed over the past year.
Matthews, who earlier this season helped Toronto virtually visit more than 100 children from Holland Bloorview, ranked second in the NHL with 12 goals in 13 April games (12-6—18) to propel the Maple Leafs (32-13-5, 69 points) to a 9-3-2 month and their fifth consecutive playoff berth. Matthews found the scoresheet in 10 of his 13 appearances, including goals in nine of those contests. He registered four straight multi-point performances from April 4-10 (7-3—10), capped by his third career hat trick and eighth career four-point effort April 10 vs. OTT (3-1—4). Matthews also scored a trio of game-winning goals, including back-to-back such tallies to close the month (April 28 at MTL and April 29 vs. VAN). The 23-year-old Scottsdale, Ariz., native tops in the NHL in both goals (36) and game-winning goals (11) through 46 total outings this season (36-24—60).
COURTESY NHLmedia.com