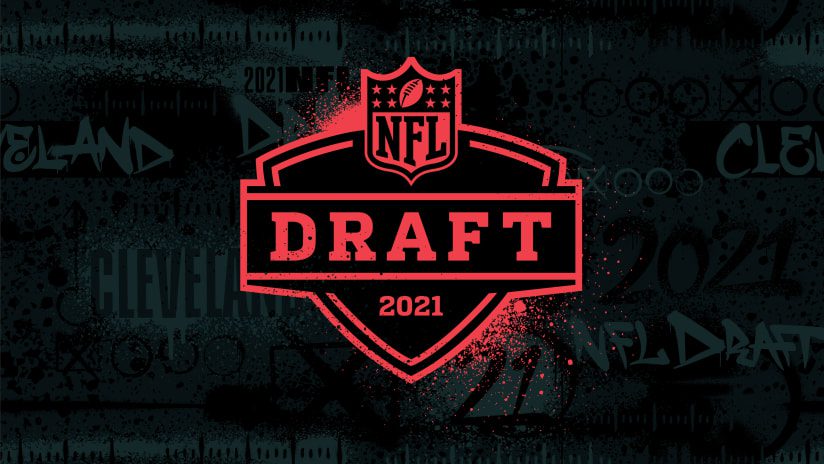 FIRST ROUND FATHERS & SONS
In 2019, the San Francisco 49ers selected Ohio State defensive end NICK
BOSA with the second overall pick and he joined his brother, JOEY BOSA
(No. 3 overall in 2016, San Diego Chargers), and his father, JOHN BOSA
(No. 16 overall in 1987, Miami) as first-round selections.
Additionally, Pittsburgh selected linebacker DEVIN BUSH JR. 10th overall
in 2019, who joined his father, DEVIN BUSH SR. (No. 26 overall in 1995,
Atlanta), as a first-round selection in the NFL Draft.
Bosa and Bush became the 10th and 11th players to join their fathers as
first-round selections since 1967.
The father-son combinations to each be drafted in the first round since
1967: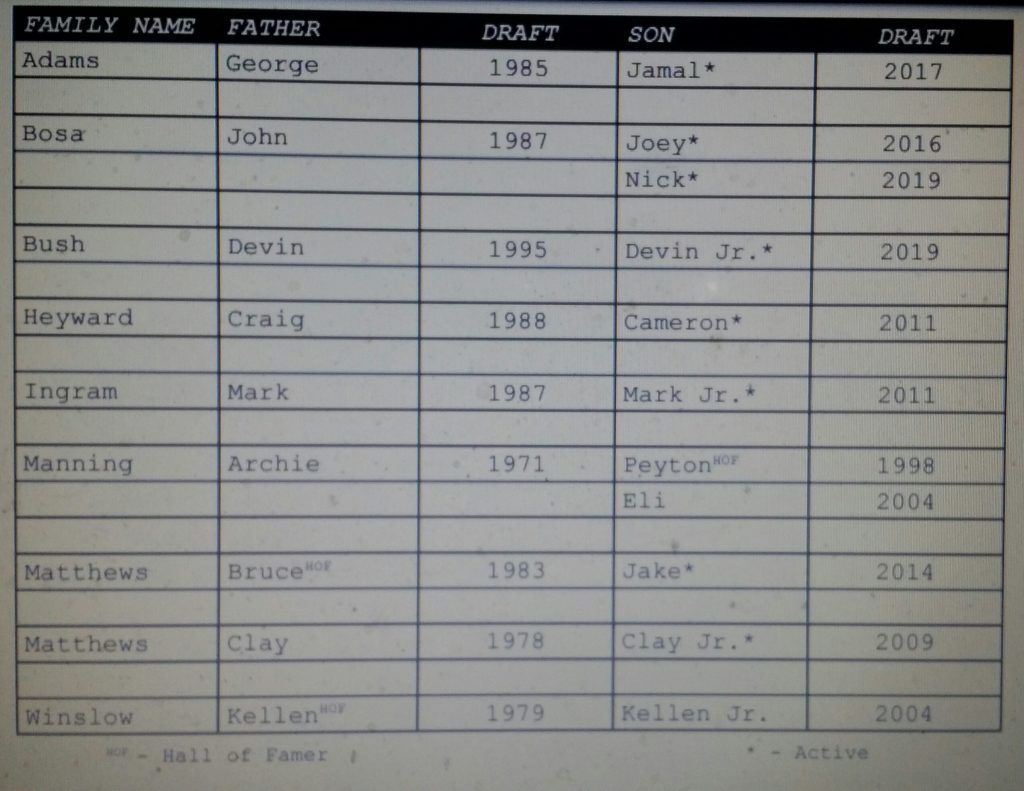 FAMILY TIES
Below are a few of the connections between prospects eligible to
be selected in the 2021 NFL Draft and family members with NFL
experience:
Wake Forest DL Carlos Basham: Cousin, Tarell, plays LB for the
Dallas Cowboys
Ohio State LB Tuf Borland: Father, Kyle, played LB for one season
with the Rams
Georgia Tech LB David Curry: Father, Buddy, was an eight-year
NFL veteran and was named AP Defensive Rookie of the Year in 1980
with the Atlanta Falcons
Stanford C Drew Dalman: Father, Chris, was a seven-year NFL
veteran who won Super Bowl XXIX with the 49ers prior to coaching
in the NFL
Ohio State OL Wyatt Davis: Grandfather,
Willie Davis (right), was a 12-year NFL
veteran, five-time Pro Bowler and selected to
the Pro Football Hall of Fame
Alabama LS Thomas Fletcher: Father, Tom,
played for the Seahawks & the Raiders
Arkansas QB Feleipe Franks: Brother, Jordan,
plays TE for the Cleveland Browns
Duke CB Mark Gilbert: Cousin, Darrelle Revis, was an 11-year NFL
veteran, seven-time Pro Bowl selection, Super Bowl champion and
member of the NFL 2010's All-Decade team. Uncle, Sean Gilbert, was
an 11-year NFL veteran and the No. 3 overall selection in 1992 NFL
Draft.
South Carolina CB Jaycee Horn: Father, Joe
(right), was a 12-year NFL veteran and fourtime Pro Bowl selection
Boston College OL Alec Lindstrom: Brother,
Chris, plays G for the Atlanta Falcons
Stanford T Walker Little: Grandfather,
Gene, and great uncle, Jack, played in the
NFL in 1950's
Syracuse CB Ifeatu Melifonwu: Brother, Obi, plays DB for the San
Francisco 49ers
Central Michigan QB David Moore: Uncle, Nick Williams, was an
eight-year NFL veteran
FAMILY TIES
Purdue DT Lorenzo Neal: Father, Lorenzo
(right), was a 16-year NFL veteran, four-time
Pro Bowler and member of the NFL 2000's AllDecade team
Iowa LB Nick Niemann: Brother, Ben, plays
LB for the Kansas City Chiefs
UCLA DE Osa Odighizuwa: Brother, Owa, was
a two-year NFL veteran
Louisiana Monroe TE Josh Pederson: Father, Doug, was a 10-year
NFL veteran and head coach for Philadelphia Eagles Super Bowl LII
Championship team
Clemson WR Amari Rodgers: Father, Tee Martin, was a three-year
NFL veteran
Florida State CB Asante Samuel Jr.: Father,
Asante (right), was a 11-year NFL veteran,
four-time Pro Bowl selection and two-time
Super Bowl champion
Notre Dame WR Ben Skowronek: Former 12-
year NFL veteran QB Trent Green is an uncle
by marriage
USC WR Amon-Ra St. Brown: Brother,
Equanimeous, plays WR for the Green Bay
Packers
West Virginia DT Darius Stills: Father, Gary, was a 10-year NFL
veteran
Wake Forest WR Sage Surratt & North Carolina LB Chazz Surratt:
Brothers are both 2021 NFL Draft prospects
Alabama CB Patrick Surtain II: Father,
Patrick (right), was a 11-year NFL veteran
and three-time Pro Bowl selection
USC DT Marlon Tuipulotu: Cousin, Fili Moala,
was a six-year NFL veteran
Auburn CB Christian Tutt: Uncle, Danny
Verdun Wheeler, played in the NFL
Oklahoma State CB Rodarius Williams: Brother, Greedy, plays CB
for the Cleveland Browns
Florida CB Marco Wilson: Brother, Quincy, plays CB for the New
York Giants
COURTESY NFLmedia.com