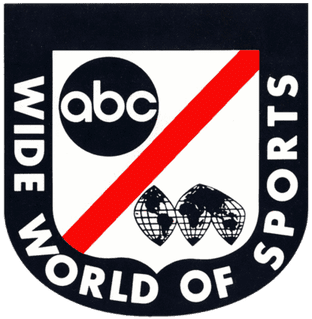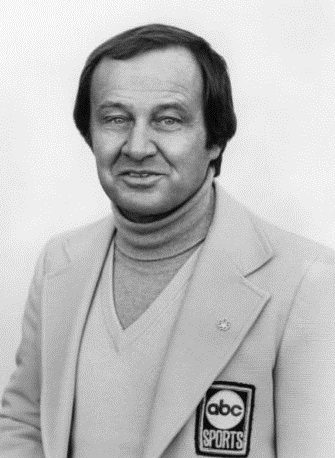 FROM WIKIPEDIA COMMONS
ABC's Wide World of Sports was an American sports anthology television program that aired on the American Broadcasting Company (ABC) from April 29, 1961 to January 3, 1998, primarily on Saturday afternoons. Hosted by Jim McKay, with a succession of co-hosts beginning in 1987, the title continued to be used for general sports programs on the network until 2006. In 2007, Wide World of Sports was named by Time on its list of the 100 best television programs of all-time.
Weekend sports news updates on sister radio network ABC Sports Radio, operated by Cumulus Media Networks, continue to be branded under the similar title ABC's World of Sports. The program also lent its name to an athletic facility at Walt Disney World, the ESPN Wide World of Sports Complex – which was originally known as Disney's Wide World of Sports Complex from its opening in 1997 (one year after The Walt Disney Company acquired ABC and an 80% stake in ESPN) – until 2010.
History
Origins
Wide World of Sports was the creation of Edgar Scherick through his company, Sports Programs, Inc. After selling his company to ABC, he hired a young Roone Arledge to produce the show.
The series' April 29, 1961 debut telecast featured both the Penn and Drake Relays. Jim McKay (who hosted the program for most of its history) and Jesse Abramson, the track and field writer for the New York Herald Tribune, broadcast from Franklin Field with Bob Richards as the field reporter. Jim Simpson called the action from Drake Stadium with Bill Flemming working the field.
During its initial season in the spring and summer of 1961, Wide World of Sports was initially broadcast from 5 p.m. to 7 p.m. Eastern Time on Saturdays. Beginning in 1962, it was pushed to 5 to 6:30 pm, and later to 4:30 to 6 pm. Eastern Time to allow ABC affiliates in the Eastern and Central Time Zones to carry local early-evening newscasts.
The end of Wide World of Sports
In later years, with the rise of cable television offering more outlets for sports programming, Wide World of Sports lost many of the events that had been staples of the program for many years (many, although not all, of them ended up on ESPN, a sister network to ABC for most of its existence). Ultimately, on January 3, 1998, Jim McKay announced that Wide World of Sports, in its traditional anthology series, had been canceled after a 37-year run. The Wide World of Sports name remained in use afterward as an umbrella title for ABC's weekend sports programming.
In August 2006, ABC Sports came under the oversight of ESPN, under the relaunched banner name ESPN on ABC. The Wide World of Sports title continues to occasionally be revived for Saturday afternoon sports programming on ABC; it was used during the 140th Belmont Stakes as a tribute to Jim McKay following his death in June 2008, and in 2017 it was used for the revival of the Battle of the Network Stars. Most of ABC's sports programming since Wide World of Sports ended as a program has been displaced from ABC and moved to ESPN; the cable network began producing its own anthology series on Saturday afternoons in 2010, ESPN Sports Saturday, which consists of documentaries originally featured on ESPN's E:60 and 30 for 30 programs, and a modified version of the ESPN interactive series SportsNation, titled Winners Bracket.
"The thrill of victory … and the agony of defeat"
The melodramatic introduction became a national catchphrase that is often heard to this day. While "the thrill of victory" had several symbols over the decades, ski jumper Vinko Bogataj, whose dreadful misjump and crash during a competition on March 21, 1970 was featured from the early 1970s onward heard over the sentence "…and the agony of defeat", became a hard-luck hero of sorts, and an affectionate icon for stunning failure. Previously, the footage played with that phrase was that of another ski jumper who made a long, almost successful jump, but whose skis lost vertical alignment shortly before landing, leading to a crash.
Later in the 1990s, an additional clip was added to the "agony of defeat" sequence after Bogataj's accident: footage of a crash by Alessandro Zampedri, Roberto Guerrero and Eliseo Salazar during the 1996 Indianapolis 500 showed a car flipping up into the catch fence. The "oh no!" commentary that accompanies it, however, is dubbed from commentary by Benny Parsons of Steve Grissom's crash in the 1997 Primestar 500 (part of the NASCAR Winston Cup series). Bogataj's mishap is also commemorated in Rich Hall's book Sniglets as "agonosis", which is defined as "the syndrome of tuning in on Wide World of Sports every weekend just to watch the skier rack himself."
TODAY'S ALMANAC
1810s
1860s
1890s
1900s
1930s
1940s
1950s
1960s
1970s
1980s
2000s
2010s
COURTESY www.almanac.com