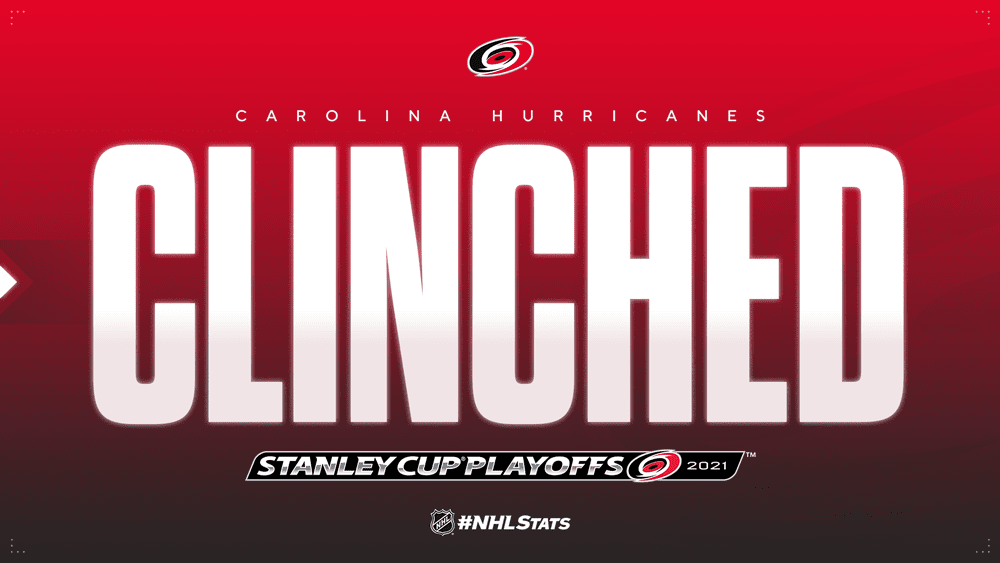 CLINCHES THIRD STRAIGHT STANLEY CUP PLAYOFF APPEARANCE
Ten #NHLStats about the Carolina Hurricanes, who are headed to the postseason for the third consecutive season and 16th time in franchise history (8x as Carolina, 8x as Hartford).
1. The Hurricanes have reached the playoffs in three consecutive seasons for the first time since moving to Raleigh in 1997-98 and second time in franchise history – the Whalers made seven straight appearances from 1986 to 1992.
2. Captain Jordan Staal leads all current Hurricanes players in career playoff goals (27), assists (19), points (46) and games played (96) and is one of three members of the roster with a Stanley Cup (2009 PIT). He can join his brother, Marc Staal (107 GP), as the second member of his family to skate in 100 career playoff games; only eight sets of brothers in League history have accomplished the feat. Their other brother, Eric Staal (now with the Canadiens), is the Hurricanes/Whalers franchise leader in career playoff goals (19), and points (43).
3. Cedric Paquette (2020 TBL) and Teuvo Teravainen (2015 CHI) are the other Hurricanes to win the Stanley Cup. Paquette will aim to become the second player in as many seasons, fourth in the NHL's expansion era (since 1967-68) and ninth in League history to win a championship in consecutive seasons with different teams; he would be the second to do so by leaving the Lightning to join the Hurricanes (Cory Stillman).
4. Sebastian Aho has had 12 points in each of his first two trips to the postseason, pacing the club in scoring in both 2019 and 2020 (totaling 8-16—24 in 23 GP). He has at least one point in 74% of his playoff appearances (17 of 23 GP), trailing only Nathan MacKinnon and Mikko Rantanen (both 81%, 22 of 27 GP) for the highest such percentage since 2019 (min. 20 GP).
5. Andrei Svechnikov (7-5—12 in 15 GP) can become the second player in Hurricanes/Whalers history to skate in the postseason in each of his first three NHL campaigns (Scott Young: 1988–1990).
6. Head coach Rod Brind'Amour captained Carolina to its first Stanley Cup in 2006 and ranks among the top three in career playoff games played (1st; 72), goals (2nd; 18), assists (3rd; 20) and points (3rd; 38). Brind'Amour (12-11 in 23 GC) also trails only Paul Maurice (25-28 in 53 GC) and Peter Laviolette (16-9 in 25 GC) on the franchise lists for career playoff wins and games among head coaches. Overall, he has participated in 94% of all Hurricanes playoff games since the club relocated to Raleigh in 1997-98 (72 GP + 23 GC of 101 total games).
7. After going 0-3 in Game 7s while based in Hartford, the club has posted a perfect 5-0 record in the seventh game of a series since relocation – including a double-overtime multi-goal comeback win in the 2019 First Round. Rod Brind'Amour scored the winning goal in the first such contest for Carolina (2006 Conference Finals).
8. Alex Nedeljkovic can become the fourth rookie goaltender to play a playoff game for the Hurricanes (CamWard in 2006) or Whalers (Peter Sidorkiewicz and Kay Whitmore, both in 1989). Ward is the only one of that group to record a postseason victory, posting 15 of Carolina's 16 wins that year to claim both the Stanley Cup and Conn Smythe Trophy.
9. JaccobSlavin had nine assists in the 2019 First Round, a franchise record by any player in a single series. Only eight other defensemen in NHL history have had nine or more assists in one playoff series: Paul Coffey (2x), Al MacInnis, Erik Karlsson, Kris Letang, Larry Murphy, Mark Howe and Phil Housley.
10. Vincent Trocheck (0-3—3 in 10 GP) is one of three Hurricanes skaters with playoff experience who is in search of his first career postseason goal (Brett Pesce: 0-6—6 in 15 GP and Morgan Geekie: 0-1—1 in 8 GP). His first career playoff point came in a Panthers uniform, in Game 6 of the 2016 First Round against the Islanders.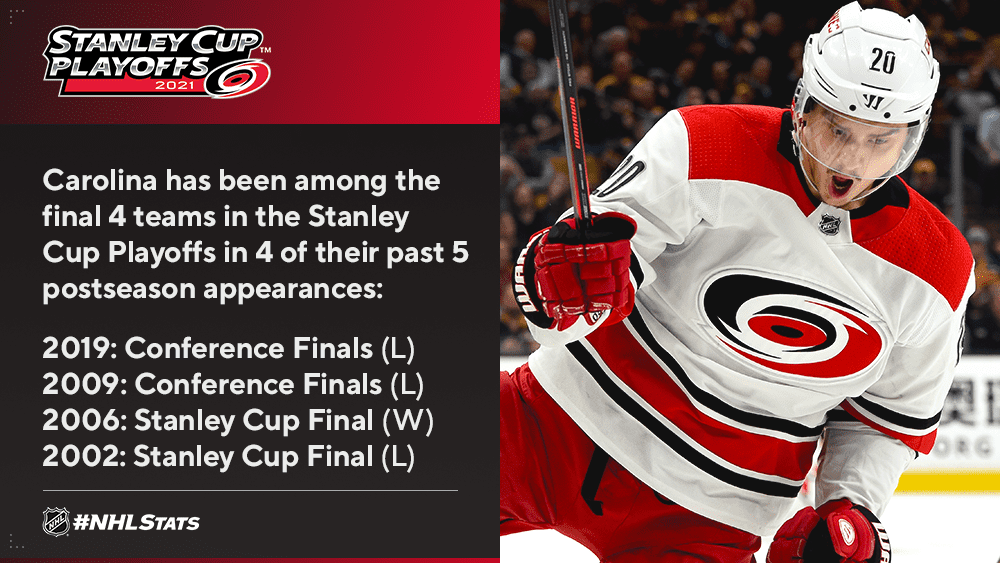 COURTESY NHLmedia.com