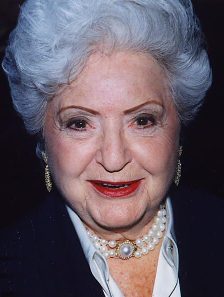 FROM WIKIPEDIA COMMONS
Ruth Marianna Handler (née Mosko; November 4, 1916 – April 27, 2002) was an American businesswoman and inventor. She served as the president of the toy manufacturer Mattel Inc., In 1959, she invented the Barbie doll, which sold over a billion worldwide. She was the founder and president of the world's largest toy company, which at its peak had 18,000 employees and annual sales of over $300 million. In 1974, the Handlers were forced to resign from Mattel, and in 1978 Ruth Handler was convicted of false reporting to the Securities and Exchange Commission.
Formation of Mattel
Innovative Idea
Her husband Elliot Handler and his business partner Harold "Matt" Matson formed a small company to manufacture picture frames, calling it "Mattel" by combining part of their names ("Matt" and "Elliot"). Later, they began using scraps from the manufacturing process to make dollhouse furniture. The furniture was more profitable than the picture frames and it was decided to concentrate on toy manufacturing. The company's first big-seller was the "Uke-a-doodle", a toy ukulele.
Barbie
Ruth Handler claimed her daughter Barbara,re-teen, played with paper dolls by pretending they were adults. Handler noticed that in such play, children would act out future events, rather than the present. Handler noted the limitations of the paper dolls, including how the paper clothing failed to attach well. She wanted to produce a three-dimensional plastic "paper doll" with an adult body and a wardrobe of fabric clothing, but her husband and Mr. Matson thought parents would not buy their children a doll with a voluptuous figure. While the Handler family was vacationing in Europe, Ruth Handler saw the West German Bild Lilli doll (which was not a children's toy, but rather an adult gag gift) in a Swiss shop and brought it home. The Lilli doll was a representation of the same concept Ruth had been trying to sell to other Mattel executives. This doll was different than the baby-like dolls the girls would play with during this time, and Ruth was inspired. Up until that point, there was a lack of dolls for girls who were old enough to comprehend the basic concepts of being a teenager and adulthood. Barbie aimed to directly fill that gap in the industry.
Once home, she reworked the design of the doll and named her Barbie after the Handlers' daughter, Barbara. Barbie debuted at the New York toy fair on March 9, 1959, but was not an immediate success. When Disney introduced The Mickey Mouse Club children's television show, Mattel invested heavily in television advertising. The TV commercials for the Barbie doll paid off and Barbie rocketed Mattel and the Handlers to fame and fortune. Subsequently, they would add a boyfriend for Barbie named Ken, after the Handlers' son, and many other "friends and family" to Barbie's world.
TODAY'S ALMANAC
Every Year
1520s
1790s
1820s
1860s
1880s
1890s
1900s
1920s
1930s
1940s
1950s
1960s
1970s
1980s
2000s
2010s
COURTESY WIKIPEDIA COMMONS & www.almanac.com